In Stride
How Strava Fame Became a Burden for Molly Seidel
The star runner's decision to be less public on the app illustrates how pro athletes have to find a tricky balance between privacy and exposure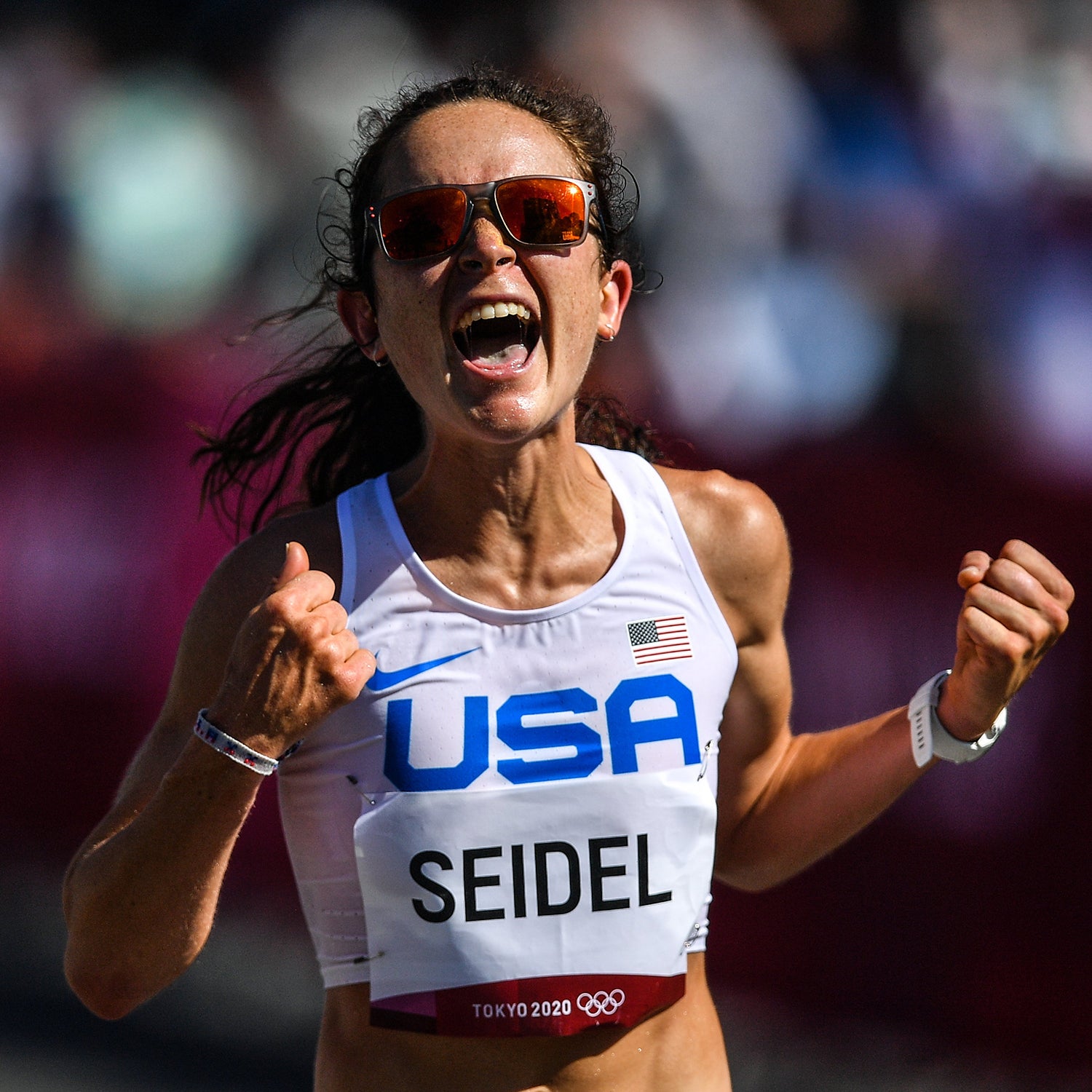 Ramsey Cardy/Sportsfile/Getty
Heading out the door? Read this article on the new Outside+ app available now on iOS devices for members! Download the app.
Back in January 2018, the fitness app Strava got some unwanted publicity when its heatmap feature allegedly revealed the locations of covert military bases. Although there was no evidence that the safety of military personnel had been compromised, the media coverage at the time was damning. A Guardian article noted that the platform was potentially divulging "extremely sensitive information" about troops stationed in Syria and Afghanistan. Meanwhile, a Wired article suggested that the app made it easier to track the so-called "patterns of life" of the intelligence community. The Pentagon eventually issued a memo curtailing the use of GPS-enabled fitness apps in sensitive locations.
Needless to say, it isn't only soldiers and clandestine operatives who have an interest in keeping their "patterns of life" discreet. Just ask Molly Seidel. Last month, the Olympic bronze medalist and longtime Strava user announced on Instagram that she would be making most of her runs private "to be more respectful of my own sanity." This was news, in part, because Seidel is the embodiment of a successful distance runner in the social media era. Ever since her surprise second place finish in the 2020 U.S. Olympic Trials, she has accrued a considerable following—220,000 followers on Instagram and 68,000 on Strava—supplementing her superhuman athletic feats with an affable, runner-next-door internet persona. When Seidel posted her Olympic bronze medal-winning performance on Strava (title: "full send in Sapporo") it received the most "kudos" for a women's activity in the history of the app. Canadian Running proclaimed that Seidel was "the new Queen of Strava."
Sometimes, however, such prestige comes at a price. Seidel says she started using Strava years ago, when she was still undecided about her future as a pro runner, as a way for her to connect with the Boston running community. After she became famous overnight as the newly minted Olympian who worked as a babysitter and barista, it became more difficult for her to maintain a low-key profile on the app. "Over the last two years, it's changed so much," Seidel says. "I think I've always been someone who is very open and honest about my training and my life, but it's easier to do that when not a whole lot of people are paying attention. This is nothing against Strava, but the number of people has been kind of overwhelming, so it's lost some of that fun-ness."
On the one hand, that might just be part of the deal when you acquire a large public platform. As a Puma-sponsored Olympic athlete, Seidel inevitably became a little more self-conscious about what she posted. Was occasional profanity still acceptable? But while such concerns apply to all social media, Strava poses a unique challenge. The stakes of putting yourself out there are different when doing so entails sharing your geographical location with the world. Once you have tens of thousands of followers you might be less inclined to have your daily running route become public knowledge. When I asked whether there were specific incidents that ultimately led her to go dark on the app, Seidel said that there were, but declined to go into detail. "I've had a few people really overstep boundaries and that kind of ruins it," she says. "I would still share my training publicly if I could. It's just that it becomes a safety issue at certain points and it only takes one person who doesn't understand those boundaries to make it become dangerous all of a sudden."
When she first announced that she would be making her account less public, Seidel also noted that Strava could become "overly competitive" and "glamorize overtraining." This was interesting coming from an Olympic medalist who has logged 130-mile training weeks, but also a testament to Seidel's appeal. After all, which Strava-addicted amateur athlete isn't at least a little familiar with the ceaseless one-upmanship engendered by segment leaderboards. Amelia Boone, the Colorado-based attorney whose weekend warrior exploits in obstacle course racing and ultrarunning have turned her into a kind of niche celebrity, says that she has toyed with the idea of concealing her Strava profile, but that her concerns were less about privacy and more about, as she put it to me, "falling into the comparison trap." Indeed, Boone says that when she first started using Strava, she had a private profile and used a pseudonym to protect her ego. She started sharing her training two years ago and now uses the app primarily as a tool to find new routes and to track her workouts. "I've been lucky in that I haven't had any creepy encounters via Strava," Boone says. "Honestly, I've met a ton of great people since we share similar running and biking routes. So I think it's a risk tolerance thing."
In response to a request for comment on Seidel's decision, a Strava representative gave the following statement: "We fully support Molly and are impressed by how she is using her voice to raise awareness for the importance of controlling the information and data you share publicly… We care deeply about athlete safety and fully support athletes using privacy and map visibility controls to customize how they share information and tell their story." To that end, Strava offers a vast menu of privacy features. For instance, it allows users to hide the start and end points of activities, or to prevent specific addresses from appearing on maps. Of course, the most foolproof measure, short of getting off the app altogether, is just making most activities private, at which point Strava becomes more of a personal training log than a social network.
Indeed, Seidel's decision to dial back her Strava presence suggests an inherent tension in the constantly evolving model of what it means to be professional endurance athlete in our hyper-connected age. Since elite marathoners only compete a few times a year, they are incentivized to maintain and grow their fan bases over social media. Those like Seidel, who can do it in a way that feels sincere and not over-burdened by constant sponsor shoutouts and product promo are rewarded with large followings and, presumably, better economic prospects. But being good at this kind of thing also means sacrificing a degree of privacy—whether it's sharing very specific GPS data from your long run, or feeling obligated to be publicly introspective after a crappy race. Whenever I see an extremely raw, emotional post by a well-known athlete, I can't help wondering why this person felt a need to share something so intimate with thousands of anonymous lurkers.
But, I'm still going to read it. It's hard to deny that greater access to an athlete's inner life enriches the experience of being a sports fan in 2022. Seidel knows this as well as anyone. "I actually don't want to be that cloistered athlete who only races twice a year and where you never know what's going on with them," she says. "I think the greater accessibility and openness is cool, but at the same time we need to protect ourselves. And it's not just us as pro athletes. I think with anyone who uses social media, there's this pressure to have a very public face, and a feeling that you owe it to people to explain every aspect of your life. It didn't used to be like that."
Lead Photo: Ramsey Cardy/Sportsfile/Getty
Trending on Outside Online