In Stride
Why Des Linden Still Loves the Pursuit
The two-time Olympian is motivated for this year's Boston Marathon, even as she considers a prospective career as an ultrarunner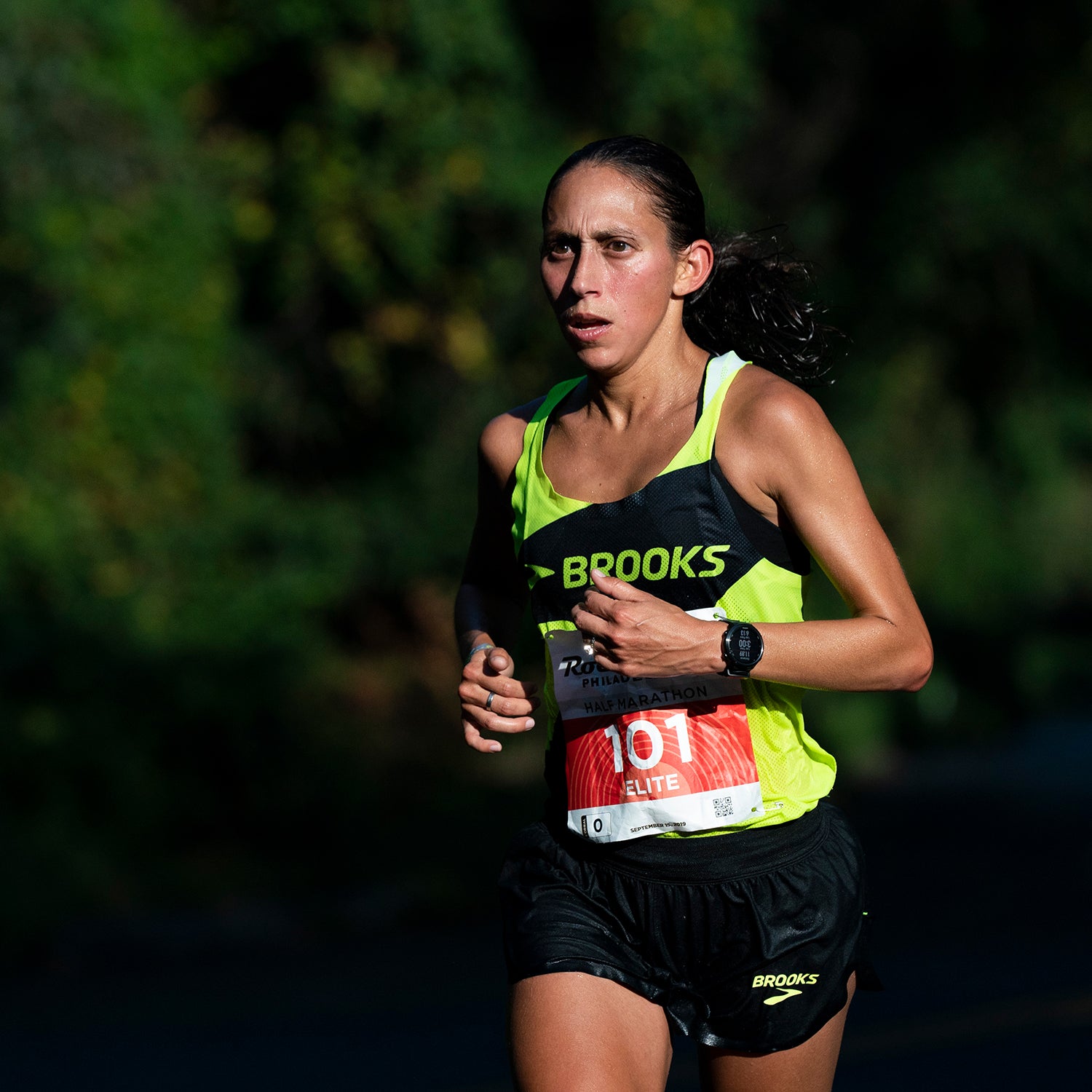 Heading out the door? Read this article on the new Outside+ app available now on iOS devices for members! Download the app.
Last week, on Patriots' Day, Des Linden announced that she would be taking part in this year's Boston Marathon, which is scheduled for Monday, October 11. A few days before that, Linden launched her ultrarunning career by setting a world record in the 50K in a paced, low key event in Eugene, Oregon; her official time of 2:59:54 made her the first woman to break three hours in the distance. The 50K was Linden's first major event since February 2020, when she narrowly missed making her third U.S. Olympic team in the marathon, finishing fourth at the Trials in Atlanta. As it stands right now, Linden is the first alternate if one of the three women currently going to Tokyo can't make the trip.
The 2018 Boston Marathon champion is also turning 38 this year—an age when most elite-level distance runners have either retired, or are at least contemplating the end of the road. (Linden's two-time Olympic teammate Shalane Flanagan was 38 when she retired in 2019.) As she proved in last year's Trials however, Linden is still very much capable of taking a shot at glory on the day. Her performance in the 50K suggests that another competitive career might be on the horizon.
I spoke to Linden about her ultra debut, the eternal appeal of the Boston Marathon, what it means to be an understudy for the Olympic team, and what keeps her motivated to put in the miles.
OUTSIDE: Congratulations on your 50K. I know you've been asked some version of this question many times, but how did it compare to the marathon, especially in the late stages? Was it more painful? Less painful?
LINDEN: To a certain degree it was more painful because it's a longer wait until the hard part—just more time grinding towards the inevitable. But those last five, six miles were very similar to the fatigue in the marathon when you're trying to manage all that glycogen depletion and mental fatigue.
Was there a sense in which it was less mentally taxing because you were mainly competing against the clock and didn't have to be as aware of what other runners were doing? 
I think so. That's why I like being in the big city races, particularly without pacers, because there's an element of strategy. But I do think this was interesting in that there were no crowds and you had one objective that you were very aware of. So it was mentally taxing in the biggest way. There was not a lot of excitement around it, so I had to keep myself engaged and remind myself to keep my foot on the gas and that this is important.
Right, so maybe there was more pressure in a way, since this was sort of the Des Linden show and if you had DNF'ed, or failed to get the record, the whole event could have been regarded as a failure?
One hundred percent. You want it to be a good show. That was part of hyping it up. Making people interested by adding that pressure, so that it wasn't easy to step off if it went sideways and knowing you've got to finish no matter what. I think there's still something to be learned and shared about falling short. Obviously that wasn't the goal, but I think if you get to the finish line and then talk about how it all went sideways, you still have a show. That's the type of thing that can happen in a race this long, where it's just not manageable and you have to step off. So I did feel nerves that aren't usually there when it came to that component. I knew everyone put in a huge effort to get that thing ready. The last person needed to make it a successful event was me. You don't want to let everyone down.
Another difference between ultras—especially ultras in a pandemic year—and big city marathons is the crowds. You just announced that you will be racing Boston in the fall. How much is the sheer scale of such an event part of the allure?
Being on the Verrazano Bridge in New York City, or heading into Boston in the middle of the road—there's only one day a year you get to do that and it's really pretty special when there's this sea of humanity behind you, following in your footsteps. You feel connected to the people watching, because it's their community, and their road and they are sharing it with you. I just love that feeling on the day, where everyone is involved in this celebratory event and we're all adding our own flavor to it, to make the event what it is, from the last person across the line to the winner out front. It's been what's been missing during this time, that community aspect where we are all sharing something. That is the appeal. It's always been the appeal, and I think that it's even stronger right now because we've gone without it for so long.
You mentioned in another interview that you want to keep racing Marathon Majors until, I think the phrase you used, they "get too far away from you." How do you decide when to call it with competing at that level? Is it about being able to go into a race with the mindset that you have a shot at winning?
That's going to be the toughest thing—figuring out the when. I want to feel like I'm competitive. Up front is one thing, but maybe top five, top ten. I'm pretty close to the Masters age group (40 and up), so maybe that's the thing to shoot for. I don't know what it's going to look like yet, but I feel like I'll be able to feel it. When I feel like I'm starting to embarrass myself then I'll hang 'em up for sure. For now, I can stay competitive and be in that top five or top ten, and occasionally take swings at the front or the podium. When that starts to slip away, I'll reevaluate and figure out what competitive means and what it looks like when it's time to hang it up.
Also, I'd imagine, there's the question of just having the desire to train at that level.
Yeah, that's key. The training is so much work. This may be a simple way to look at all of this, but when I started, my high school coach told me to make sure it's always fun. And that's something I still look at when I'm committing to these races and the three-month build-up or whatever it is. Am I enjoying this? Is it fun? Because it takes up a ton of time and if it's just a hardcore job that always feels like work, well, there's a lot of other things that I could be doing. If it's fun—and that usually ties in to being competitive—then I'll keep going.
Can you expand on what you mean with "fun" in this context? Obviously you're going to have days where workouts don't go as planned, or when you just really don't feel like doing the work. 
I think it's the goal—the question of whether the goal is worth the chase. I definitely go through ups and downs and slumps along the way, but I love going to Boston. That's so much fun for me. When I put it on my schedule, it never feels like it's going to be a grind to get to the start, but there's always a sense of: How can we maximize it? What can I do differently? How can I get better? What does the competition look like? All of those things are fun and fascinating for me because I love chasing down that race. I think it was kind of an interesting thing when people were wondering if I was going to skip the Trials to do Boston. I was honestly considering it because the Trials didn't have enough of that fun aspect for me to take me away from Boston, but doing both was something I thought was interesting. Not every single day is going to be great, but it has to be something I'm excited about.
It's been exactly ten years since you set your marathon PR in that thrilling race where you came within a few seconds of winning the Boston Marathon. When you compare yourself to the runner you were a decade ago, how has your approach changed, if at all? Has speed work gotten harder or is that not something you pay attention to? 
I'm totally aware of it. I don't really feel like I spent enough time on speed stuff where I can see the decline, but I'm also afraid to really dig into speed stuff because I think recovery takes longer and I might be a little bit more fragile and the intensity would be more likely to injure me. And I think at my age, injury is like career death. So, we'll touch on speed work, but I wouldn't spend a focused segment where I'm trying to get better at the 5K because, even though I think I could be decent, it might cost me a season in the marathon. I'm way more likely to apply maturity to situations in training. Like recognizing that a rest day is more valuable here, or saying that I'm going to push this workout because I want to be more recovered for it, whereas in the past I was more rigid about sticking to a schedule.
You are the first alternate on the Olympic team. How does that impact your training? Are you conscious at all about needing to be reasonably fit around mid-August? Is there enough overlap with your Boston cycle?
I think I'll be ready and fit. And I'd hopefully have enough time to get sharp. If I don't get called up, I'll be ready and fit and we'll be able to build off of it and then get sharp for Boston. So it's going to be a planning thing with my coach, but I think we can make sure that if I get the call and I need to go, I'll be ready to do something pretty good. But I'm not expecting that at all. My training will be more prioritized for Boston, but in such a way where I can adjust if I have to. I don't think that will be too difficult, unless we're in a place where I'm expected to get ready three days out.
Has your successful ultra debut whetted your appetite to do more longer races in the future?  
One hundred percent. I like taking down new challenges. It's easy to compare ourselves against our past performances in the marathon and these other distances, but when it comes to trail and ultra races, I don't have any marks, so it's just a fun new territory. And the ultra community has just been super inviting and awesome. I think that will definitely be the next step. We'll see how soon it comes. Maybe it's going to be dabbling and mixing it up with these road marathons, or maybe it's going to be further on down the line, but it's something I'm definitely going to explore.
Lead Photo: Patrick McDermott/Getty