This Woman Used Ultrarunning to Heal from Abuse
Devon Yanko was sexually abused as a teenager. It took hundreds of miles for her to run away from the trauma.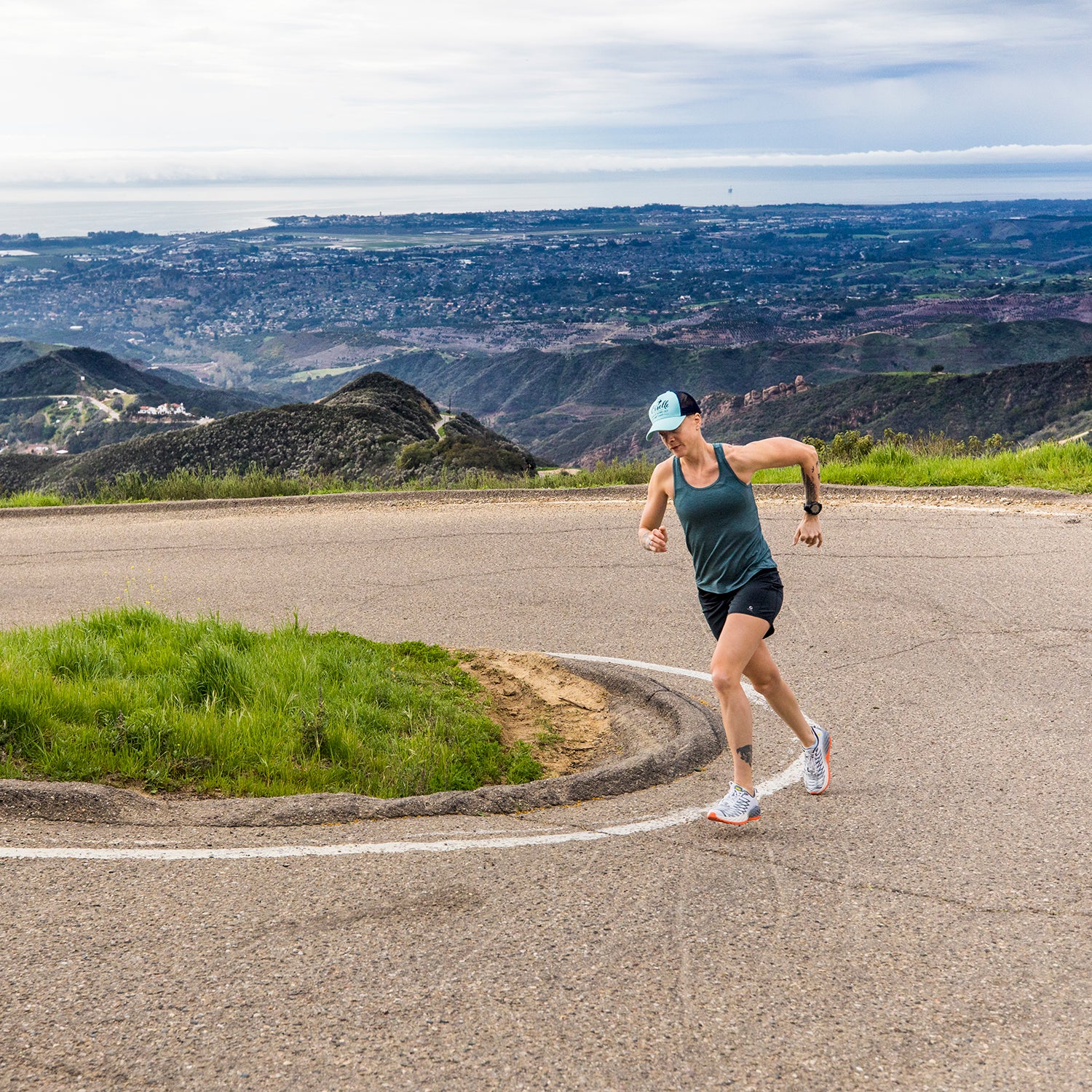 Heading out the door? Read this article on the new Outside+ app available now on iOS devices for members! Download the app.
Devon Yanko is on a long run near Mount Tamalpais, the hilly, coastal state park just north of San Francisco. As the miles tick away, images of her life scroll through her mind like a virtual scrapbook. The longer she runs, the deeper it goes. "When I'm running, especially an ultra distance, I spend a lot of time ruminating," Yanko, 35, says. "You can't hide from the past. At a certain point, you're going to get worn down."
For Yanko, now a professional ultrarunner, running became a way not just to escape the trauma from her past, but to overcome it. "When you're in the middle of a 100-mile run, there's no level of positive thinking that can override the pain of that distance," she says. "As a person who spends a lot of time in my inner world, when I'm out there running, that's not a process that shuts down. It becomes more acute."
But what, exactly, is she running from? It all started when Yanko, a Seattle-area native who grew up as Devon Crosby-Helms, picked up basketball in middle school. Because she was tall and fast, the game came naturally to her. It gave her a sense of community and identity. Her dad left when she was six, so her mom was raising her and her sister alone. "Basketball showed me the potential for sport to be a positive influence in my life," Yanko says.
Six feet tall by her sophomore year in high school, Yanko became a founding member of an elite, now-defunct girls' team in Seattle called Players Only. The girls were a tight-knit group—the team practiced daily and traveled to games together, and the players slept over at each other's houses. They were all working toward the same goal: earning a college scholarship to play ball.
Their coach was a 40-year-old man named Tony Giles, and for Yanko, he became almost like the father figure she didn't have. They spent many hours together, traveling to games and long practices, and she grew to trust him. But after a few months of grooming, their relationship off the court became more intense, and one day at his house, she says Giles convinced her to have sex with him. Yanko was 15.
"He was a charismatic personality and a master manipulator," Yanko says. "Afterward, I thought, what just happened? It's really complicated. You have this terrible thing that's happening, but the powerful influence of this person rules everything. Hiding that secret became my top priority."
For the next three years, the abuse continued intermittently, and Yanko kept quiet. She thought she was the only one Giles was treating this way, but eventually she started to notice patterns in his behavior toward other players. "There's a part of you that almost doesn't want to know who else this is happening to," Yanko says. "You're holding onto the hope that maybe it's just you. Nobody wanted to talk about it." Plus, Giles held the key to something very powerful that Yanko and her teammates needed: potential college scholarships. Turning him in or admitting what was happening meant risking her entire future.
Yanko became reserved and withdrawn. Even when she earned a coveted basketball scholarship to Fresno State University in California, it wasn't enough to lift her spirits. She tried to leave Seattle and the abuse behind, but three months later, she dropped out of college. Yanko gave up her scholarship, moved back to Seattle, and eventually transferred to the University of Washington. She quit basketball for good. "I left expecting this immense relief, like I would be able to start a new life," she says about her move to California. "But everything in my life had a foundation of nontruth, and I just couldn't move on from that."
When she returned to Washington, Yanko says she realized one of her friends was also being sexually abused by Giles, who was still working as a coach. That was enough to make her finally come forward. "I knew I couldn't save myself, but I could save other people by speaking up," she says. "That was powerful enough for me to say, 'Let me be the last person he does this to.'"
At 18, Yanko told the police what Giles had done. Some of her teammates and their parents called Yanko a liar. "It was like I announced I have the plague—everyone took a step back," she says. But soon, one other former player came forward with evidence that forced Giles to take a plea deal. He pled guilty to sexual misconduct with a minor and was sentenced to 40 months in prison. Eventually, several other women came forward, but the statute of limitations had run out. (Giles has since returned to prison for identity theft in 2010 to hide his criminal history, and was arrested in 2013 for making sexually explicit comments to a young woman—a felony for someone previously convicted of sexual assault.)
Yanko, who calls herself "a lifelong fan of therapy," was issued a therapist from the state of Washington. It helped, but not enough. She couldn't escape the feelings of self-doubt, fear, and loneliness. In high school, she ran a half marathon with minimal training and did surprisingly well. So, to fill the hole that basketball left in her life, Yanko started running again. "That's where I learned the power of running as a tool for working through emotions," she says.
In 2003, at age 21, Yanko studied abroad in Cape Town, South Africa, and signed up for another half marathon, which she ran even faster than her first. Two years later, while living in London after college, she ran her first marathon, in Edinburgh, Scotland. "I was more hesitant with running than with basketball," Yanko says. "I was good at it but not great. I never had aspirations of doing it professionally."
But within a year, Yanko had run three marathons, dropping her time from 3:38 to 3:08. She was hooked. "That was when I thought, I don't suck at this," she says. Yanko read Dean Karnazes' book Ultramarathon Man and, at age 24, signed up for her first ultra, the Headlands 50K in California's Marin County, a race many of the sport's top runners compete in each year. She ended up in the top ten, and at the finish, well-known elite runners Nikki Kimball and Connie Gardner came up to Yanko and asked, "Who are you?" Those two women ultimately helped bring Yanko into the sport, mentoring her from early on.
"The community is one of the fundamental reasons I became an ultrarunner. They were so welcoming," Yanko says. "You sit around after races, you hang out. It was that team aspect that I had missed and lost from basketball. It helped heal that wound. Up until that point, I didn't really trust anyone. I didn't have many close friendships. The ultrarunning community showed me that these are good people and that we're all just weirdos running around in the woods."
Now 36, Yanko has gone on to become a five-time member of Team USA in the 100K. She's won the San Francisco, Oakland, and Napa Valley marathons. She previously held the fastest known time on the Grand Canyon Rim-to-Rim-to-Rim. Yanko travels the world competing, but running is a hard thing to make a living at, so she got a job as a librarian, then later went to culinary school and worked as a personal chef. She married ultrarunner and professional baker Nathan Yanko, and, in 2013, with funds from a Kickstarter campaign, they opened M.H. Bread and Butter, a bakery and café in San Anselmo, California. Yanko is currently getting a business degree to give her more skills for running the operations side of their bakery.
Four years ago, Yanko opened up about her sexual abuse in a story in Trail Runner magazine, and she spoke about it in a 2017 short movie by filmmaker Billy Yang. In October 2017, amid the flurry of the #MeToo movement, Yanko wrote a blog post about her abuse. "Here we are, 17 years later," she wrote. "I don't think about that time in my life a great deal, I did the healing work I need to…The thing that is important for me to share is that we do have power to change things. We do have power to fight back and stand up."
Yanko says she doesn't want to be known as the runner who was sexually abused. That's not who she is or what defines her. "People tend to want to put you in a box and give you an identifier," Yanko says. "I'm very much fine being an advocate for talking about abuse and advocating for what comes after, but it's one part of my story. All things did not begin and end with this part of my life."
Lead Photo: Courtesy Hoka One One