How to Set Running Goals as You Age
We asked ex-Olympian, coach, and elite Masters runner John Henwood for his advice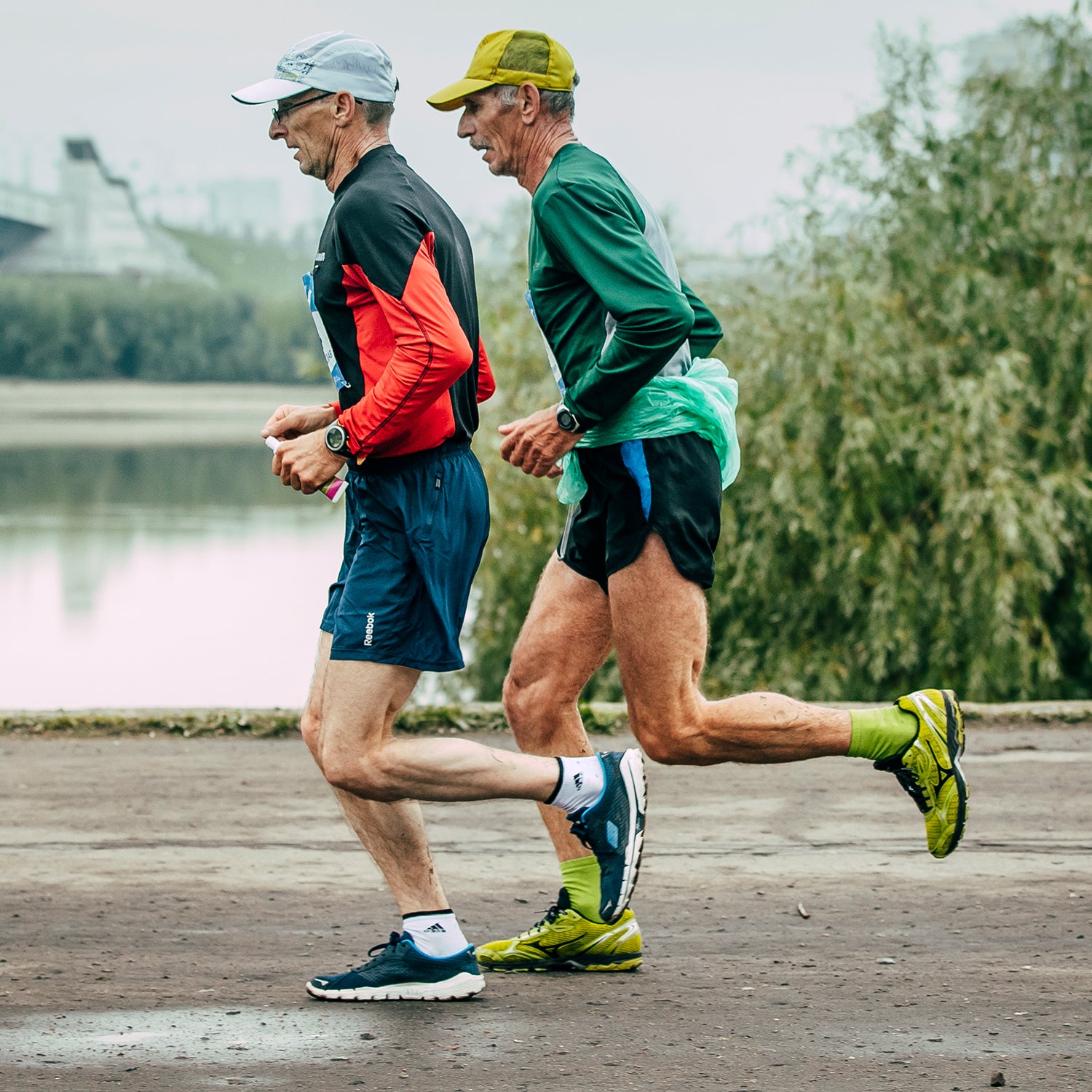 Heading out the door? Read this article on the new Outside+ app available now on iOS devices for members! Download the app.
In his prime, John Henwood was a world-class runner who, representing New Zealand, made the 2004 Olympic final in the 10,000-meters. Back then, he never thought that he'd still be racing once his fastest years were behind him. He was wrong. At age 45, Henwood is now coaching the New York-based Henwood Hounds running club, and is one of the best Masters athletes on the city's very competitive racing scene. Last year, for instance, he nearly broke 16 minutes in a hilly 5K in Harlem, winning his age group.
 
Although his top priority is training his athletes, Henwood still enjoys mixing it up in local races. We asked him for a few words of advice for his fellow Masters runners.
Your Fastest Years Could Be Ahead
It's no big secret that many runners are motivated by the prospect of getting better and producing faster times. Those who, like Henwood, competed at a very high level in their youth, will obviously have a tough time setting new personal bests in their 40s. But the vast majority of runners are not ex-Olympians. In fact, Henwood says that several Masters runners only discover their potential later in life.
 
"You actually find a lot of the Masters are getting better in their 40s, because they sometimes have more time to themselves than in their 20s and 30s," Henwood says.
 
"A guy I know, he's 42 years old and he took three minutes off his half marathon time and ran 70 minutes. I met a girl in the gym who was 47 and I helped her run under three hours for the Boston Marathon—which was a ten-minute PR. A lot of these New Yorkers in their 40s have never been on a decent training plan before and usually have no problem getting a PR. I have athletes on my team who are improving in their 60s."
Don't Forget to Lift Weights
Strength training for runners has increasingly become the norm, as prominent elites like Jordan Hasay are known to hit the weights. Henwood says that most of his athletes do strength and cross-training, regardless of their ability level. With the continuous decline in muscle mass that typically sets in around age 40, strength training takes on increased importance as athletes get older.
 
"You take a 70-year-old and give them some strength training and the recruitment of muscle fibers is huge, but they can lose it just as quickly," Henwood says. "My runners that are around 60 might only run three to four days a week and spend the rest of their training time in the gym."
Don't Be Ashamed to Use the StairMaster
Beyond strength training, Henwood's advice, particularly for older athletes, is not to neglect the gym when it comes to cardio workouts. In particular, he recommends building aerobic fitness on machines other than the treadmill. This approach can be very beneficial for runners who plan to eventually incorporate some more intense interval workouts and threshold runs outside, since it allows them to build up base fitness without hammering out miles on the pavement and risking injury. 
 
"With the Elliptical and the StairMaster you can work really hard to get your heart rate up and you get your lungs in shape before you hit your threshold work outside," Henwood says. "That will make your threshold work a lot easier. It's going to hurt no matter what, but it'll hurt less if you do some more cross-training in advance."
Worry About Your Effort, Not Your Pace 
One inevitable fact of being a Masters athlete is that it can take much longer to get in shape, or, as Henwood puts it, to get your body to "click." Declining VO2 max levels and muscle mass mean that older runners need to be more patient when it comes to building fitness.
 
That's why Henwood recommends prioritizing perceived effort during workouts in the early stages of a training cycle, rather than trying to run at a specific pace, or hitting specific splits in interval workouts. Runners should allow themselves to establish a baseline during those first few faster workouts. Save the worrying about your times for later in your training cycle.
Savor the Joy of Being in Shape
Regardless of whether you're just discovering running in your 60s or if you're a former world-beater, getting in shape is a transcendent experience. So, embrace it. "There's nothing better than to run up a hill and, after four or five breaths, you've recovered and are running along, talking with your mates. That's what got me into running in the first place," says Henwood.
He also says that the most inspiring thing about coaching Masters athletes is the way they continue to be motivated throughout their lives. Apparently, it rubbed off on him. 
"When I was in my twenties, I thought that no way am I going to become one of those slow old people—there's no way I'm going to keep doing this after being an Olympic athlete," he says. "And then, suddenly, I was so wrong. I found that I needed to compete against myself. That what keeps me going."
Lead Photo: sportpoint/iStock