In Stride
Inside Meb's Win at the Boston Marathon
Four days after becoming the first American man to win the Boston Marathon since 1983, Meb Keflezighi was in high demand. But he took a few minutes to discuss with us exactly what was going through his head during the courageous run.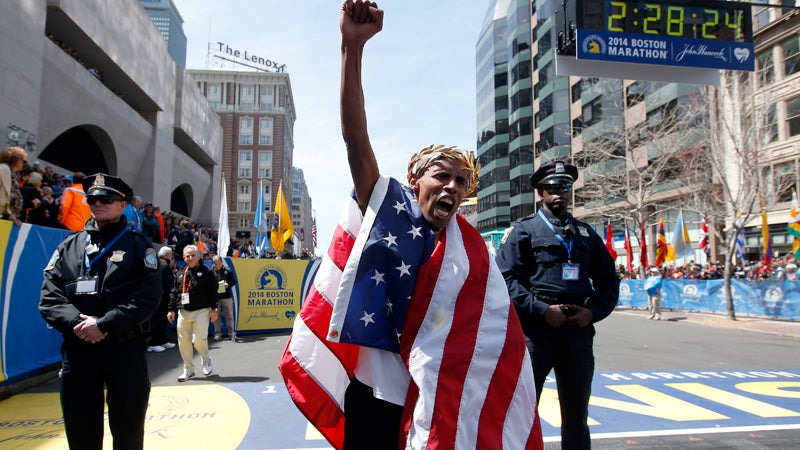 Heading out the door? Read this article on the new Outside+ app available now on iOS devices for members! Download the app.
A month ahead of the Boston Marathon, we asked Meb Keflezighi what it would take for him to win the race where he had finished third in 2006. At first, he was coy. And then he answered: "If they let you go, you gain confidence, spread the gap, and you're going to be home free."
Monday, against all odds, he did just that—during a mostly-solo effort that culminated in a victory and a new personal best time of 2 hours, 8 minutes, 37 seconds (just two weeks before his 39th birthday). In the wake of his win, we caught up with Keflezighi to discuss exactly what was going through his head during his momentous run.
OUTSIDE: Did you plan from the outset to make a huge gap that would be impossible to close?
KEFLEZIGHI: Absolutely not!
How did you build your 80-second lead? Did you hammer or were you running steady?
Five miles into it, the pace slowed down. I said no, I'm going to make it an honest pace. Josphat [Boit of the U.S.] and I broke away after eight miles. I knew what was coming but I don't know if he did, so—l decided to go.
How did you finally drop Boit?
4:31 or 4:30! [laughs] And he was probably slowing down. I could sense his breathing. He hit me once on the back of the foot. He apologized, but I knew that when people get tired they can't really concentrate effectively.
You ran solo for most of the race. Is it as hard as everyone says?
Very difficult. Especially in a marathon. I've done it before, in a 15K, and the San Jose Half. For whatever reason, they didn't want to go, or they miscalculated that they're dealing with a silver medalist, a New York City champion, and fourth at the [2012] Olympic Games. At about 21 miles, I started looking back because I had no idea what was going on.
When you didn't see anyone, did you think "Yay!" or "Uh oh"?
Both. "Yay" I think I can win it and "Uh oh" because I don't know how many of them are will work together to catch me. My pace wasn't outrageous. If I'm healthy, I can maintain it, but things got a little doubtful at mile 22, 23, down the hills when my quads were hurting. At 24, I felt like throwing up. Then I'm like: collect yourself. To my surprise, I was still running fast. At that point, I didn't know if [Wilson Chebet of Kenya] was going catch me, but I thought about plan B. I kept extending the lead. Going toward Boylston, I used the curves to surge and tried to use the crowd to help me push.
Since Monday, have you talked to anyone else who was in the elite pack? Any idea why they let you get so far ahead?
I really haven't. I talked to Nick Arciniaga [the top American finisher who placed seventh behind Keflezighi]. Nick did say something about the group—and I don't know who was in the group. I can't say. I wasn't there. Abdi [Abdirahman] called me.  He said there was talk about this and that. But he just said congratulations. You did the work. If they did [try to help], I will say thank you.  At the same time, I was not in my comfort zone by any means. I was trying to extend the lead as much as I can, and trying to push the pace constantly to get to the finish line. They made a mistake and let me go early on. Racing is racing. If somebody wants to go, you can't really them to wait.  So I don't know. I don't know what happened.
From what I've read, Ryan Hall was telling the Americans not to surge or pace a chase. But do you really think the Africans would care about it if Americans with non-threatening PRs surged?
It doesn't add up, it doesn't add up. I don't know.  As a competitor, you can't tell them to go this pace or that pace because there are so many guys who might say, you know what? I'm going to surge. They probably miscalculated who's up there, and misjudged who I am. Guess what? It doesn't matter any more.
Did you know you ran a negative split by five seconds?
I didn't see what our halfway split was. I missed it. I asked Josphat Boit. He didn't know. My Garmin watch said I was 13.79 or something. I was trying to do the math in my head. I just kept the same pace and said don't worry about it—just go for the title.
What about your PR? Was that your aim?
My goal was to win the race, goal number one. Goal number two was to be on the podium.
Has anything unexpected since the Monday? Has your old sponsor Nike called?
No, I don't think they will. But President Barack Obama called on Tuesday. He said you made America proud; it couldn't have come at a better time; job well done. We talked for about three or four minutes.
He was president when you won the New York City Marathon, so it was his second call?
He never called me in 2009.
Have you had time to run since Monday?
I haven't gone running yet. I can't even walk right now. The wound on the ball of my left foot is so deep from 2007 at the Gate River Run and in 2011 the Breathe Right aggravated it. [In 2011, he ran the entire New York City Marathon with a Breathe Right strip in his shoe.] To this day, I'm still draining the blood blister and water blister. A couple doctors from the Red Sox drained it, and a doctor in New York drained it.  Coach Larsen drained it. I drained it at least seven times myself [since Monday]. I was hurting bad going through those downhills. I had to dig deep to make it happen. I'm paying for it now, but it's such a great honor to come in first.
Are you walking around in flip flops?
I can't do that. I have to have a cushion. I'm not stepping on it. I'm more walking on the sides. Today's the only day, with a cushion with a hole in it, I'm walking somewhat normal. Other than that, everything is OK, I think.
Do you have another marathon in you?
[Laughs] Eh, yeaaaaaaaah, yeaah, I think there is, but I haven't run yet.
Given the way you won Boston—planned or not—would you ever run solo for half the race again? Is that your new thing?
Why not? If I'm fit and healthy. It was a calculated, good decision. I thought a few people would go with me but they didn't and it worked out to my advantage.
Lead Photo: Elise Amendola/AP