In Stride
How Retired Pro Runners Move On 
When you spend your youth chasing highs, what comes next?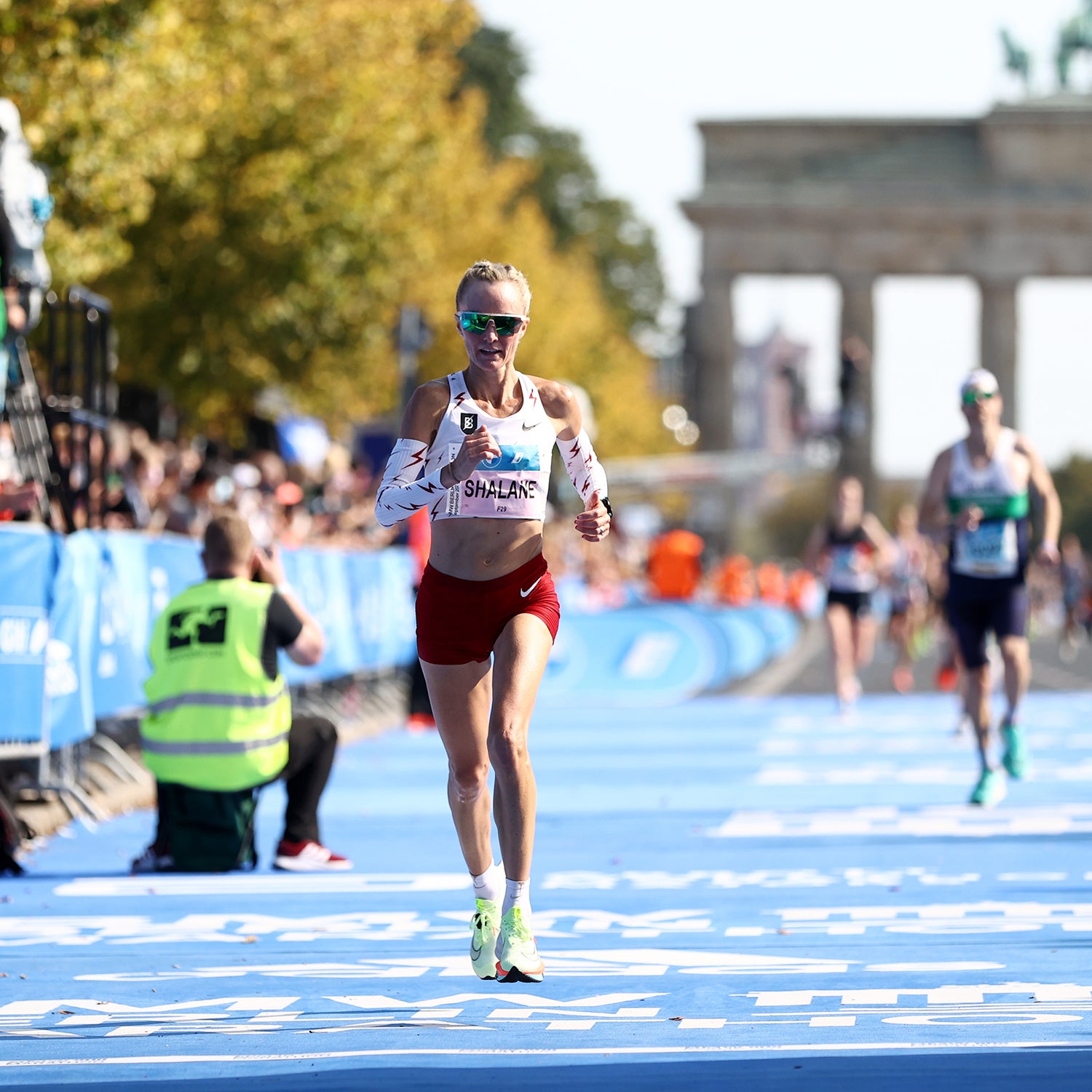 Heading out the door? Read this article on the new Outside+ app available now on iOS devices for members! Download the app.
In October 2019, Shalane Flanagan, one of the most accomplished and beloved American distance runners of all time, announced on Instagram that she was retiring. "I've experienced otherworldly highs and abysmal lows," she wrote in the post. "Each season, each race was hard, so hard. But this I know to be true: hard things are wonderful, beautiful, and give meaning to life. I've loved having an intense sense of purpose." It was a fitting sign off for Flanagan, whose career had been defined by her reputation as a hyper-competitive perfectionist. She was a self-described "alpha among alphas." It was hard to imagine her moving on.
But she did. Since her retirement, Flanagan has been coaching at the Bowerman Track Club, her former team. Last year, she and her husband adopted a child. Despite these new commitments, however, something was still missing. When it was announced that, due to the pandemic, all six Marathon Majors would take place between September 26 and November 7, Flanagan stated her intention to run every race. What's more, she committed to completing each one in under three hours. She appears to have underestimated her own ambition: five marathons in, her slowest effort was a 2:46:39 in Chicago. After the in-person Tokyo Marathon was canceled, she ran a virtual version of the event in 2:35:14. Next weekend, she will complete her project in New York City and there is speculation that the alpha among alphas might feel compelled to hammer the five boroughs for old times' sake. As for the question of why she was doing this, Flanagan told Women's Running that not having a running goal had left her feeling unmoored and a little depressed. Running, she said, made her feel "most alive."
On the one hand, retirement must be liberating for professional runners, at least those who are in a good enough spot financially to no longer depend on sponsorship money and appearance fees. After years of sacrifice, it must be a relief to be freed from the pressure of having your livelihood depend on the outcome of a single race. By the same token, however, one wonders whether civilian life might lack the intensity, the frisson, of elite-level competition. It's a rare thing to have a job that provides the affirmation of knowing that you are among the best in the world at what you do. When you've dedicated your youth to that singular pursuit, it can be a hard act to follow.
After he retired in the fall of 2017, Meb Keflezighi, who among other triumphs won both the New York City and Boston Marathons during his illustrious career, says he was still running about ten miles a day at around six-minute per mile pace, though he wasn't sure what he was doing it for. In January of 2018, he went for an "easy" run with his old coach Bob Larsen on the bicycle and felt compelled to do a workout, just to "test his body." He ran mile repeats and closed with a 4:36 final rep, at altitude. For a while, Keflezighi considered making a comeback, but an illness in the months before the 2020 Olympic Trials ultimately made the decision for him.
"You go through that confused state—call it loss, or uncertainty, or wondering if you retired too soon," Keflezighi told me. He has embraced a new identity as a "soccer dad," attending his daughter's practices when he is not engaged with projects for his foundation, or testing product for his longtime sponsor Skechers.
"It's really not bad: to be on a soccer pitch with my hot tea and watching a soccer game, versus doing a 15-mile tempo," Keflezighi says on the perks of retirement. "But do I miss competing? Sure I miss it. It was the thrill of a lifetime."
The former 800-meter runner Nick Symmonds, who competed in the 2012 Olympic final in the event, a race that is still regarded as perhaps the best 800 in history, likens the process of retiring to being weaned off a drug. "I'm not talking about the crowds alone, although that's a huge part of it, but just the dopamine hit of running a new personal best, or crushing a workout. You have to find a way to replace that somehow," Symmonds says.
When running is your vocation, the satisfaction of "crushing a workout" goes beyond the ego boost of performing at your physical peak; there's also the comfort of having a clear, unambiguous metric for what constitutes a successful day. "It's so black and white, simple, and satisfying," says Symmonds. "I definitely miss that. Life gets more complicated as you get older and I don't have simple days anymore."
Nonetheless, Symmonds says that he is "much happier" today than when he was competing. He has found new purpose in developing his business, RunGum, and maintaining a robust YouTube channel whose content sometimes feels like material for a midlife crisis-themed game show; a frequent conceit is Symmonds challenging strangers to a footrace and offering cash prizes to anyone who can beat him. It's egotistical, silly, and extremely entertaining.
Meanwhile, former pro marathoner Kara Goucher has maintained her connection to the sport by embarking on a career as a broadcast journalist for NBC. In recent months, she was a commentator for the U.S. Olympic Trials, the Tokyo Games, and the Chicago and Boston Marathons. One of the perks of the job, Goucher told me, was getting a vicarious thrill of being close to the action of elite-level competition. It gave her, "a bit of that old feeling," and the sense that it was "still part of her life."
Goucher never officially retired from pro running and has been dabbling in the world of ultra-racing, which might have eased the transition for a runner who, like Flanagan, had an all-or-nothing approach to the sport. "I personally didn't feel a loss of identity," Goucher says, regarding her decision to, as she puts it, "step away" from road racing. "I just missed the challenge of it all. I missed the hard work and then the opportunity to see the result. After years and years of preparing for challenges and goals, I missed that cadence in my life."
Of course, an existence defined by constant striving might only be sustainable for so long. Lauren Fleshman, a world-class 5,000-meter runner who retired in 2016 says that, while the process of deciding when to retire was "excruciating," once she moved on, life got "significantly better." Almost by definition, being an elite-level athlete requires you to keep pushing for the next performance threshold.
"Pro athletics is very emotionally turbulent," Fleshman says. "That felt invigorating for a long time, like I was living life to the fullest, but I also started to see that I didn't know how to be still with myself. I didn't know how to maintain consistent self-worth without relying on achieving."
From her current vantage as a businesswoman, author, and mother of two, the main thing Fleshman says she consistently misses from her track days is the camaraderie of life on the road. For her, the pro athletics circuit conjures memories of "navigating buses to random dilapidated workout tracks, or having long drawn out coffees, or sharing enough mini fridge supplies to make a passable dinner."
Fleshman added that it "was not a sad feeling to miss those things," thereby invoking what we might call the nostalgist's conundrum: the pleasure of remembrance is only available for days that are irrevocably gone.
Lead Photo: Maja Hitij/Getty