In Stride
The DACA Runner Who Can't Race the Olympic Trials
Argeo Cruz ran the standard. But he had a much tougher obstacle to contend with.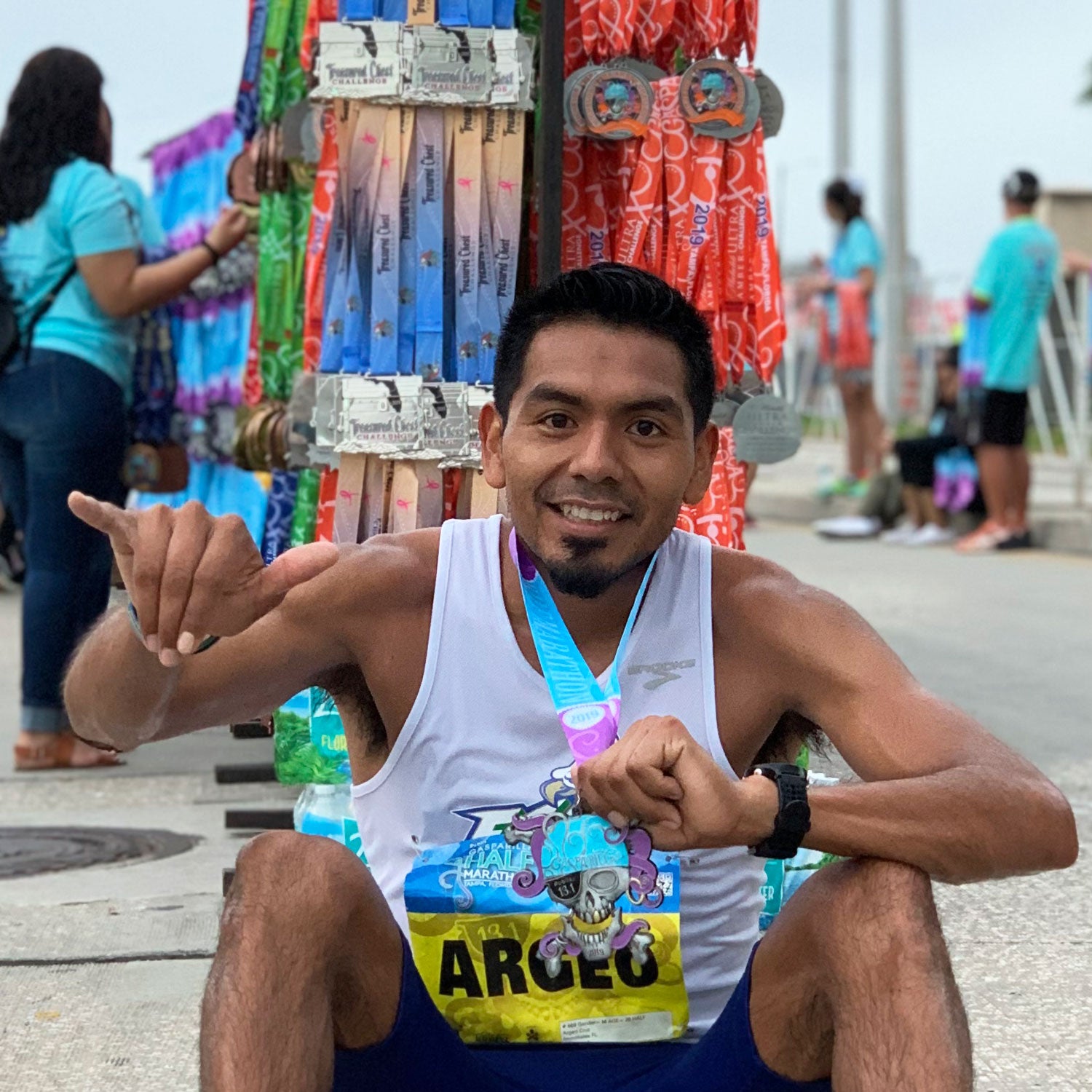 Courtesy Argeo Cruz(Photo)
Heading out the door? Read this article on the new Outside+ app available now on iOS devices for members! Download the app.
By the time the qualifying window for the 2020 U.S. Olympic Team Trials in the marathon closed on January 20, 260 men and 511 women had earned their right to participate in the race, which is taking place this Saturday in Atlanta. The entry standards, which stood at 2:19:00 and 2:45:00, respectively, ensured that some athletes got in by the skin of their teeth, while others came tantalizingly close. 
After he crossed the finish line at the Houston Marathon in January, Argeo Cruz thought that he belonged in the former category. The 27-year-old, who works as an assistant coach at Florida Gulf Coast University in Fort Myers, ran a PR of 2:18:39 in his third marathon. "2020 US Olympic Trial Qualifier!" Cruz wrote in an ecstatic Instagram post. Soon after finishing the race, the Atlanta Track Club, which is putting on the Trials, sent him an application so that he could secure his spot in the Trials. 
It was only then that Cruz realized that he had a problem that transcended the challenge of sustaining 5:18 pace for 26.2 miles. Although he has lived in this country since he was 11 years old, he is not a U.S. citizen—a prerequisite for Trials eligibility. Instead, Cruz, who was born in Mexico, is one of the roughly 700,000 people who are here on the Deferred Action for Childhood Arrivals program, more commonly referred to as DACA. The policy, which was introduced by the Obama administration in 2012, temporarily protects unauthorized immigrants who came into the country as children from deportation and gives them an opportunity to apply for a work permit. It does not, however, offer a path to citizenship. A few days after his initial announcement, Cruz posted on Instagram again to inform his followers that he was not a 2020 US Olympic Trials qualifier after all. "But I have no regrets," Cruz wrote in the post. "I am very happy to hit the time standard and reach a new level of fitness."
In a phone interview, Cruz said that he was so focused on hitting the time standard that he hadn't really considered that his DACA status might be an issue. "I didn't see it as an obstacle until I realized, okay, wait, this is going to be the main conflict now," Cruz says. Only when he contacted USA Track and Field, the sport's national governing body, to explain his unique situation did he realize that he wouldn't be allowed to run. 
From an outside perspective, it may sound odd that Cruz was unaware that not being a citizen would keep him out of the Trials. After all, the event is intended to decide who will represent the United States in a major international competition. Even if the majority of runners taking part have no plausible shot at finishing in the top three and making the team (and Cruz would have belonged to this contingent), a huge part of the event's appeal is that, at least in theory, everyone standing on the start line is a prospective member of Team USA. 
Then again, for Cruz, as for so many who take to the sport, running has always been a kind of psychological refuge. Among other things, it was an activity where he could allow himself to briefly forget about his tenuous immigration status. Seen this way, it makes sense that he wouldn't have expected a bureaucratic hurdle to impact this particular aspect of his life. 
"When I was in middle and high school, running helped me escape from fear of deportation, and from bullies when I would struggle to speak English," Cruz says. "I would push myself so hard in workouts to help me forget about my circumstance and instead I would focus more on what I can control. I am very thankful to find running as my escape because I was a kid full of fear."
Cruz hasn't been back to Mexico since he first came to the United States, more than 15 years ago. (DACA recipients who leave the United States risk not being allowed to re-enter.) He says that he considers himself American. This country, after all, is where he attended high school and university, and where he met the people who, as he puts it, helped him accomplish all of his athletic and academic milestones. As is the case with most runners who are taking part in the Trials, Cruz says the main draw of participating would have been the chance to represent his local running community on a national stage. (He has succeeded, albeit not in the way he may have intended; his bio is still listed on the official page of Trials participants.)
In the past, DACA recipients who had not been convicted of a felony could renew their status every two years. Of course, as anyone who has followed the tortured discourse around the program will know, DACA itself is very much in jeopardy. After President Trump called for the program to be canceled in 2017, it was only saved through legal challenges in the lower courts. This year, the Supreme Court is expected to decide whether the executive branch has the power to terminate DACA, in which case thousands of immigrants like Cruz would lose their legal status. 
Should this come to pass, it is not necessarily in Cruz's best interest to share his story with the wider public. Nonetheless, he has made up his mind to be a vocal advocate for others in his position.
"I am very blessed for all the opportunities I have had with DACA," he says. "But I hope congress can change the fate of DACA recipients and allow us a path to citizenship in the near future. That way I can actually participate in the US. Olympic Trials in 2024."
Lead Photo: Courtesy Argeo Cruz