Running Legend Frank Shorter On Boston
Once a contender, now a commentator, the marathon gold-medalist heads back to America's most iconic race. We caught up to hear his thoughts on last year—and predictions for this year's event.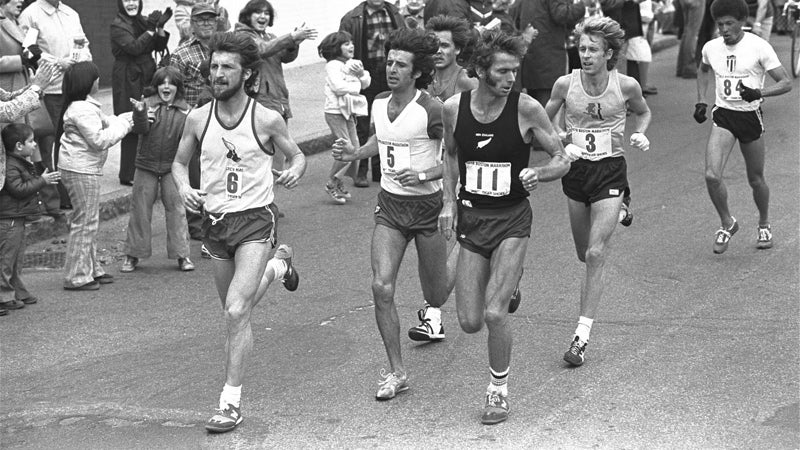 ASSOCIATED PRESS(Photo)
Heading out the door? Read this article on the new Outside+ app available now on iOS devices for members! Download the app.
Marathoner Frank Shorter—who won gold at the 1972 Summer Olympics and silver at the 1976 Games—is often credited with starting the running boom across the United States in the 1970s. But despite his storied career and a 2:10:30 marathon PR, he never managed to crack the top three at Boston—or race to his own expectations there, for that matter.
Marathon
https://www.youtube.com/embed/kouxbyy3hoM

Frank Shorter runs through downtown Munich during the Olympic Marathon on September 10, 1972. Shorter went on to win the event.
"Boston was not my best course," he says, noting that biomechanically, he's not engineered to conquer the 480-foot net downhill course as quickly as, say, Bill Rodgers, who won Boston four times between 1975 and 1980.
"In 1978, I really got in there with Bill," Shorter, now 66, remembers. "We went through halfway in 1:04 together, through Wellesley, and my left ankle blew up. I finished in about 2:18; Bill won the race and ran 2:10:13. Two days later I was on the operating table in Eugene, Oregon. I had a fracture of my left ankle."
Last year, however, Shorter found a way to race Boston without worrying about hills or ankles. He agreed to commentate the race for Universal Sports, which allowed him "to compete, at least from the neck up." Little did he know that role would endanger his life and give him a front-row seat to the Boston bombings, which he describes as not unlike his experience at the Munich Olympics in 1972.
Here, he tells Outside about his experience with both attacks, what he's expecting on April 21, and how you can tune into the most anticipated marathon in history on Patriot's Day.
Talk about your experience at Boston in 2013.
I was on my way to a meeting for the Marathon's wrap-up show at 4 p.m. I was judging my progress by someone about 20 feet ahead of me carrying a child on his shoulders, but we weren't moving. I happened to be right in front of Lord & Taylor, so I made a right turn in to the vestibule. The door closed behind me, and I heard the first explosion.
I thought to myself: that was a bomb. And I think that was based on my experience in Munich in 1972. Dave Wottle was sleeping in our room, with his gold medal on the dresser and his new wife, Jan, in there with him. So I was sleeping on the balcony on a mattress I pulled out there. (I was running the Olympic marathon in four days—of course I'm sleeping on a balcony on a mattress!) And I heard the shots; it was four in the morning, and I thought: those are gun shots. I've been here two weeks, and that's the first time I've heard that kind of sound. That's not a door slamming.
And so I knew immediately that a bomb had exploded in Boston. And I also knew instinctively that people from the crowd were going to start coming through the doors behind me. And so I went through the second set of doors, and I'll never forget, there was a lady standing behind one of the counters all alone. I looked at her, and I heard the second bomb go off behind me—through the doors, directly across the street.
All the people who came in through the doors behind me were walking very purposefully, but not racing. No one was trying to get ahead of anyone else. My instinct—and I think everyone's—was to go where you were supposed to be (so everyone knows you're okay, and so you can find out they're okay). So I went to the trucks and met up with the production people near the finish area.
We happened to be right at the medical tent. The impulse is "what can I do?" but then I started to realize that I couldn't do anything. When the shock started to wear off, I realized the best thing to do is get out of the way. But that's not your first reaction. You don't try to flee the scene. The people who responded and ran toward what had happened, that's a stronger aspect of human nature—to want to see what you can do.
What are you anticipating for Boston 2014?
This year, people are going to be more vigilant but in a way that they're not really thinking about the bad consequences. If you see a knapsack next to a trashcan, you're going to do something. But its not like you're going to say "uh-oh, what's out there?" You can't let the fear control what you do. Its really one of those situations where you just go on and move forward.
Everyone is actively supporting each other through their movement, though the fact that they're running Boston. That's a strong statement. It's one thing to say "oh, this is how I feel," but it's another to say "I'm going to run 26.2 miles to show you how I feel," and the people running next to you are saying, "yeah, I'm doing the same thing."
What does commentating the race involve?
I'm at the finish line, watching on monitors. People will be out giving reports along the way. To be honest, I'd rather be out on the course because you can see stuff. You can see faces and how relaxed runners are and how aware they are of what's going on. And who's looking at whom; very often, you sort of get the sense everyone's watching one particular person. 
During the commentary, I really try to project myself into the race. I'm researching and watching the runners the same way I would if I were competing against them. I've been talking to people, Geoffrey Mutai, for example, who won last year's race. Mutai has shown is that he, biomechanically, moves in a way that allows him to run downhill really well. He's gotta be the favorite if he's in any kind of condition.
On the women's side, there are actually more women than men who have run really, really fast. There are ten women who've run under 2:24. On the women's side you're going to have to watch the start of the race. The women in Boston tend to run in groups longer. They run smarter for a longer period of time. And so you just have to wait and see who's starting to look good, who's having a better day.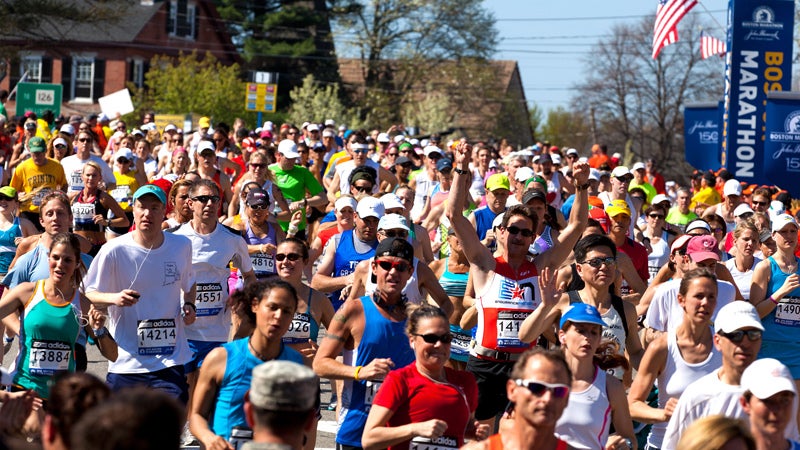 How to Watch Boston 2014:
Universal Sports Network's coverage of the 118th Boston Marathon includes the following (all times are Eastern): 
Tuesday, April 15
6 p.m.: Boston Tribute Special covering the Boston Athletic Association's official tribute to those affected by the tragic events of 2013
7 p.m.: 2013 Boston Marathon Encore Presentation 
Saturday, April 19
4 p.m.: Live Boston Marathon preview show from the finish line, featuring analysis of the elite field and interviews with other participants
Monday, April 21
8:30 a.m.: Live Pre-race show
9:30 a.m. to 12:30 p.m.: Exclusive live national coverage of the 118th Boston Marathon, live from Copley Square. Coverage of the world's oldest annual marathon will showcase an expanded field of 36,000 runners tackling the historic 26.2-mile course, including many of the sport's elite marathoners and wheelchair racers.
12:30 p.m.: Live post-race show
4 p.m.: Live wrap-up show
8 p.m.: Encore presentation of USN's exclusive national coverage of the 118th Boston Marathon
All of Universal Sports' distribution partners will provide free previews for the week leading up to and the day of the 2014 Boston Marathon including Time Warner Cable, Cox Communications, Verizon FiOS, Google Fiber, satellite providers DIRECTV and DISH, and numerous regional cable and IPTV operators in markets across the country. Comcast does not carry Universal Sports Network.
Viewers can also watch online at UniversalSports.com.
Lead Photo: ASSOCIATED PRESS
Trending on Outside Online