Scott Jurek's Champagne Problems
The ultrarunner set a new record on the AT and found himself at the center of a debate about how we should use the wilderness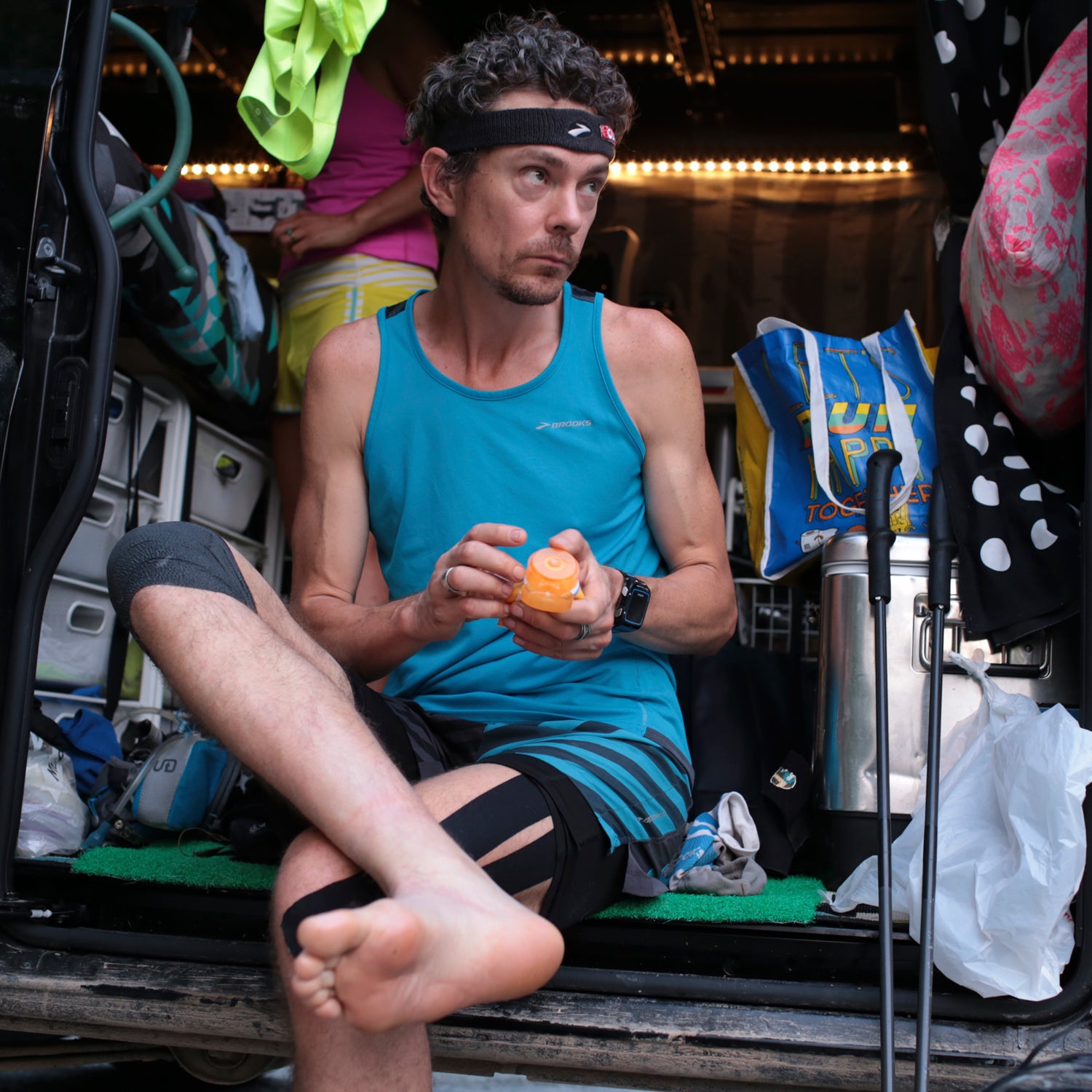 AP(Photo)
Heading out the door? Read this article on the new Outside+ app available now on iOS devices for members! Download the app.
Last week, ultrarunner Scott Jurek set a new record for through-hiking the Appalachian Trail, finishing in 46 days 8 hours and 7 minutes. When he reached the summit of Maine's Mount Katahdin—whose  5,269-foot summit sits within a state-administered wilderness area in Baxter State Park—he popped the cork on a bottle of champagne, NASCAR style. His supporters were there to greet him. So was a ranger with a summons for violating park and wilderness regulations—specifically being up there with a group of more than 12 people (at least 35 were visible in one photo at the finishing party), drinking (the champagne), and littering (the champagne hitting the ground). A reporter from the Portland Press Herald did a nice job detailing the specifics after everyone else missed it. 
Jurek had just shuffled 2,200 miles—nearly 50 per day—and probably deserved a little slack for where his champagne foam splashed. But that's not the point that Baxter Park Director Jensen Bissell was really trying to make when he cited Jurek. The citations were about the commercialization of the wilderness, and Bissell had at least 46 days to ponder his meeting with Jurek. "With all due respect to Mr. Jurek's ability," Bissell later posted on the park's Facebook page, "Baxter State Park was not the appropriate place for such an event."
On their face, the citations may have seemed heavy handed and, well, dickish in their aim to sully a hard-won feat. After all, if we spend even five minutes worrying about Jurek, that's outrage we won't be using to contemplate Shell's arctic drilling, a new Big Creek mine and road into the Frank Church Wilderness, overgrazing in the arid Gila, or a proposed gold mine threatening the Yellowstone River in Paradise Valley, Montana. 
But Bissell's stand against Jurek is useful as a conversation starter. It gets at a larger debate that's taking shape over the commercialization of wilderness by professional adventure seekers and content creators. A few months ago, I wrote a story about how people were getting into trouble for failing to get permits for photography and filming that were later deemed to be commercial. Jurek's highly publicized and sponsor-heavy run represents a different kind of commercialization, but one that is also on the rise. Ten years ago the term "professional athlete" was used to describe somebody who was paid to play organized sports, not somebody who was an employee or contractor for the marketing arm of a gear company. Now athletes have their own social-media bullhorns—Jurek has 162,000 fans on Facebook—to promote both their own exploits along with the messages they're paid to deliver by sponsors. 
Bissell, knowing that he'd come under fire for peeing in Jurek's punch bowl, wrote a long explanation of this particular violation in his post. 
Let's be clear and concise, Scott Jurek's physical abilities were recognized by corporations engaged in running and outdoor related products. The race vehicle used to support Scott in his run, as well as Scott's headband, clearly displays these corporate sponsors. The sponsors are providing money and equipment to support Scott's run in exchange for advertisement and engagement that they expect will protect or increase their market share and improve their profits. Included in this exchange are media companies such as "The Game Changers, LLC" of Laguna Beach CA, who were hired to capture video and photographic coverage of Scott's run to enhance the opportunities for commercial benefit from his run.

When Scott arrived at Baxter Park to complete his run at the northern terminus of the Appalachian Trail, he brought all of this to Baxter Peak, in Maine's largest wilderness."
Scott Jurek's champagne problem is one that every athlete, personality, adventurer, photographer, and filmmaker needs to pay special attention to. As wooded areas continue to get more crowded, citations for unauthorized commercial use are going to become more common and get issued for lesser infractions. 
It's yet another case of the strange hypocrisy of public lands that we're all trying to navigate.  On one hand, we're constantly being told—by authors like Richard Louv and office holders like Interior secretary Sally Jewell—that more people need to get out and experience nature. And on the other, when people actually do get out, they trample everything, as in Denali National Park where rangers recently asked people not to post GPS tracks of their off-trail hikes for others to follow. 
Part of the difficulty is in understanding the difference between parks and wilderness. For the uninitiated, wilderness is the highest form of protection the government can use to designate a tract of land. National Parks are called the crown jewels of American preservation, but in practice they tend to serve more as flypaper to keep the masses out of the wilderness and on paved scenic loops. In many places, there are wilderness areas within national and state parks in addition to more developed front country areas.
In his essay "The Abstract Wild: A Rant," Outside contributor and Teton mountain guide Jack Turner lamented the sorry state of national parks: "It results from carefully crafted management plans that channel the flow of tourists according to maximum utility—utility defined by the ends of entertainment, efficiency, and resource preservation. The problem is not what people do in the parks, but what they are discouraged or prevented from doing. No one, for instance, is encouraged to climb mountains, backpack, or canoe alone. Hikers are discouraged from traveling off trail, especially in unpatrolled areas with difficult rescue." And at the same time, traffic jams in Arches National Park this spring sparked a serious conversation about whether the park should require reservations for all arriving tourists. (But, alas, still no serious talk of unpaving the roads, replacing them with a Mall of America–sized parking lot at the entrance, and requiring everyone to walk, jog, or ride a bike inside the park boundaries.)
Wilderness is different. And the battle between Jurek and Bissell illustrates the ambivalence we all feel about it: Wanting more adventure in wild places—real adventure, not canned and shepherded package tours and commercial trips. Wanting to test ourselves against an unfeeling landscape. And at the same time hoping that we're not ruining the place or commodifying it by our very presence. All that hand wringing leads us to the current question: Should a sponsored athlete like Jurek be required to file for a special-use permit before he undertakes an adventure that's arguably commercial in nature? By Bissell's logic, he should. But depending on your viewpoint, he's either ahead of the curve or out on a limb.
Last winter, when Tommy Caldwell and Kevin Jorgeson completed their Dawn Wall project on El Capitan—in a federal wilderness area, in Yosemite National Park—it was a huge climbing milestone. It was also one of the most valuable marketing coups in the history of adventure sports. Faster than Super Bowl championship caps are printed, brown-paper shopping bags cropped up at REI stores printed with images from the Dawn Wall. There's a Dawn Wall movie in the works. Dawn wall pint glasses. American Alpine Club Dawn Wall commemorative posters. Caldwell and Jorgeson's sponsors, including Patagonia, Black Diamond, Adidas, and others, will collectively build many millions of dollars worth of ad campaigns around this one event. 
"The battle illustrates the ambivalence we all feel about wilderness: Wanting to test ourselves against an unfeeling landscape. And at the same time hoping that we're not ruining the place or commodifying it by our very presence.
The rangers at Yosemite, for better or worse, gave Caldwell and Jorgeson a very different reception than the one Jurek received in Maine. No citations were issued. 
"For the Dawn Wall, we treated it as a breaking news event," Yosemite spokesman Scott Gediman explained to me in an email. "To that end, there were no permits for the climb or the filming. There was news filming, of course. And other filming as well. Climbing, as a rule, does not require a permit. Therefore, we're good with everything that Tommy and Kevin did. We just wished them congratulations when the came down, and we (NPS) facilitated both  the news conference and the interviews. This, too, had its own set of 'challenges' that we worked out. But, again, nothing that Kevin or Tommy did violated any rules."
There's a real question of whether sponsorship is tantamount to commercial use. It's bigger business for gear brands than any guiding outfit or gift shop. It's also a huge pain for individuals, most of whom live hand to mouth, and can barely balance a checkbook let alone navigate a federal bureaucracy. When I've produced commercial shoots, I've found the process mostly frustrating but occasionally easy to navigate when we've used a professional location manager. It all makes me wonder: should the next Dawn Wall climbers get a permit? Should a kayaker file for a permit, even if he's only filming with a GoPro? Should Scott Jurek file special use permits with each of the federal and state agencies that manage land the Appalachian Trail traverses? 
In Jurek's case, his camera team did file for film permits in Baxter State Park but were still issued a separate citation for filming within 500 feet of the summit of Mount Katahdin, a theoretically more sensitive area they were not supposed to enter.  
One person who's thinking about the paradox of loving wild places to death is Alpinist founding editor Christian Beckwith. He recently launched a thought conference called Shift that aims to get recreators to think harder about the impact they're having on wild places. At this summer's Outdoor Retailer Trade Show, his group plans to issue a seven-point framework document called "The North American Model for Recreation and Conservation." It's an acknowledgement that, at least around Beckwith's home in Jackson Hole, there are probably too many people in the woods.
Another group that's thinking about commercial use in wilderness areas is the U.S. Senate. The current draft of the Sportsmen's Act of 2015 contains language that would allow film crews of five people or fewer to purchase annual commercial filming permits good on all federal land that's otherwise open to the public. Wilderness Watch, a conservation group based in Montana, recently sent out a newsletter warning its supporters that the bill, if enacted, would open the wilderness to rampant commercialization. 
I'm torn. I think we could use more bikes and fewer cars in the front-country areas of national parks and forests. More ultrarunners and fewer pack trains and cattle herds in the wilderness. But even though I know that the adventure-sports world is full of well-meaning idealists who would give their limbs to save the world, I also know that commercial use is commercial use. It's relentless. It does not turn back or make other plans when it rains. It does not suffer the tree limb that stands between the tripod and the beautiful waterfall. And it does not stop 500 feet shy of the summit. 
Lead Photo: AP