The Sports Shrink: Michael Gervais, Psychologist to the Stars
When elite athletes like three-time Olympic volleyball gold medalist Kerri Walsh and daredevil spaceman Felix Baumgartner are in a slump, they go see Los Angeles sports psychologist Michael Gervais. Sometimes boosting your performance requires sitting on a couch.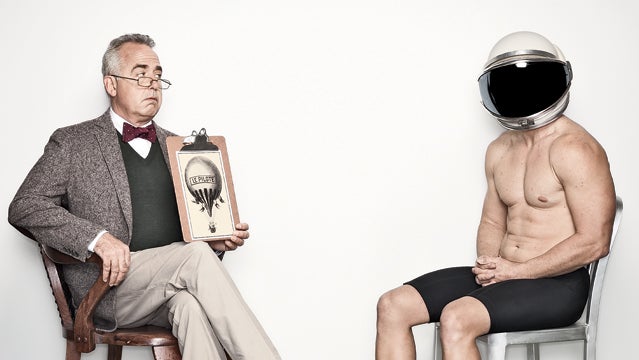 Dan Winters
Heading out the door? Read this article on the new Outside+ app available now on iOS devices for members! Download the app.
Six feet two inches of lithe muscle and golden skin, Kerri Walsh folds her lanky frame into a black leather chair at the Diagnostic and Interventional Surgical Center (DISC) in Marina del Rey, California, and tucks her knees to her chest. She towers on beach-volleyball courts, but in a baggy sweatshirt and pink flip-flops she seems more guarded than dominating. It's May 2012, and the London Olympics loom. Alongside teammate Misty May-Treanor, Walsh has already won two gold medals, and she wants another. But after a frustrating week of practice games against international competition on Manhattan Beach, she needs a mental tune-up.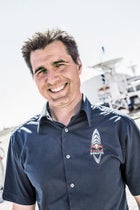 Michael Gervais.

Andy Walshe, director of Redbull's high-performance program.
"I'm holding on too tight," she says, "and when I make a mistake, I'm pissed."
Kicked back in a matching chair a few feet away, index finger on his cheek, psychologist Michael Gervais listens with a trained intensity born of years spent discerning deeper meanings and motivations. "Bring to life a time on the sand when you were in a great space," he says. "A moment that's amazing."
Walsh is quiet for several seconds, then shrugs. She says she can't think of a perfect moment.
"Did I say perfect?"
"No," she says, "but ideal."
Gervais' eyebrows rise. "Do those words mean the same thing to you?"
Walsh nods.
"They do? Hmm…."
Walsh knows this is about to get uncomfortable. Gervais will take her off the court and dig into her dilemma of trying to be a good wife and mother and win another gold. Right now she's struggling—when she's with her family she's thinking about volleyball, and when she's on the court she's feeling guilty about not being with her husband and two kids. Walsh and May-Treanor opened the 2012 season with a lackluster few tournaments, and they're running out of time to prepare for London. Gervais will force Walsh to peel back some scabs, and she will cry. But she knows she'll play better for it.
Walsh and dozens of other athletes who work with Gervais call him their secret weapon. His clients include snowboarders, swimmers, basketball players, golfers, and the NFL's Seattle Seahawks. As a member of Red Bull's high-performance team, he has taught the energy-drink maker's athletes how to calm their minds for competition. He has guided them through grueling, weeklong mental boot camps involving meditation, yoga, and sensory deprivation to sharpen their minds. And in 2010 he helped save the now famous Stratos project, Red Bull's NASA-style mission to carry Austrian BASE jumper Felix Baumgartner 24 miles above the earth for the highest-ever free fall. That summer, after garnering worldwide media attention in the run-up to the planned September launch (including an August 2010 cover story in Outside), the project was suddenly in jeopardy. The reason: Baumgartner was afraid of his space suit.
That fact will surprise anyone who first encountered Baumgartner after his successful jump last October, when he triumphantly greeted the press looking the part of the fearless stuntman—all command and control. But back in 2010, during training exercises, Baumgartner suddenly found the tight confines of his Stratos suit and helmet terrifying. Simply looking at them triggered surges of anxiety and hyperventilation. The more he tried to suppress the anxiety, the worse it got—so bad that it seemed Stratos would be shelved permanently. Hoping to get the project moving again, Red Bull called in Gervais. The two weeks of intense sessions with Baumgartner that eventually got Stratos back on track—more on those in a minute—offer a unique glimpse into Gervais' methods.
The best way to think of Gervais is as a race-car mechanic who tweaks high-performance machines. Most psychologists repair the faulty ignitions and thrashed suspensions that keep us from being roadworthy, so we can get around OK and not be a danger to others. This is a sickness model, trying to make those toward the left side of the bell curve more like everyone in the average-Joe middle. But Gervais works at the other end of the curve, in that thin zone of specialness, making the very best better by helping them understand their own minds.
Sit next to Gervais on an airplane and he'll tell you he sells time-shares. It's a clever conversation ender, because as soon as he reveals that he's a sports psychologist they're asking how they can get their six-year-old more excited about soccer.
His clients don't need motivation. They're disciplined, regimented, and driven, accustomed to both pain and deprivation, and they often have high-stakes incentives for self-improvement: a gold medal, a lucrative sponsorship, an extra million dollars in their contracts. "Most of us want to grow, but few want to do the hard work to change," he says. "The greatest have a vision, and they commit to follow it. They have great capacity to experience what's uncomfortable, because they know that's the way to self-mastery."
But Gervais' athletes aren't immune to the hang-ups that stymie the rest of us. They worry about failure or try to please everyone. They argue with their spouses and stress over money, even if the checks have a couple more zeros. But their physical and mental landscapes are less cluttered, or at least better mapped, with fewer unknowns. They've spent years honing their bodies. They already work with nutritionists and strength coaches and understand better than most of us how subtle changes in sleep, diet, or exercise manifests in performance. And for Gervais, their chosen sports provide ideal feedback, with clear metrics for progress. Did performance improve? A stopwatch or scorekeeper offers enticing clarity compared with the sometimes vague and imprecise self-reporting of feelings and emotional states that most psychologists have to work with.
Gervais, now 40, first learned about the power of the mind during surf tournaments as a teenager in Redondo Beach. In the lineup at local amateur events, sometimes alongside much more experienced surfers, performance anxiety would overwhelm him. "I was competing against men way out of my league. My girlfriend would show up, my parents, and I couldn't even feel my surfboard," he says. "One of these men paddled by and said, 'Gervais, why don't you stop thinking about everything that could go wrong and just enjoy it?' I flipped it around and pictured myself enjoying it."
He didn't know it then, but he'd just used visualization, one of the five core mental skills he now teaches clients. The others: self-talk, arousal control, goal setting, and pre-performance routines. Many top athletes already do some version of these on their own, even if they haven't put the name to it. "A lot of what I do is getting people to develop a sense of insight into how they work best and then the conviction to commit to that way," he says, "even when it's difficult or goes against what most people are doing."
After earning his master's in sports and exercise psychology in 1998, Gervais began working as a consultant with high school and college athletes and the now defunct Long Beach Ice Dogs hockey team. He discovered his specialty was in one-on-one problem solving, helping high performers overcome what he says is a universal challenge for top athletes: "Being able to fully trust themselves and trust their skills in progressively higher stakes, and being able to harness the activity of their mind so they can be more present." He earned his Ph.D. in 2004 and was soon working with top professionals.
Sports psychology had come a long way since its origins more than a century ago in the U. S. In the early days, the focus was almost exclusively on research, with groundbreaking experiments that tested the reaction speeds of football linemen and found that cyclists clocked faster times when competing against others than riding alone. The therapeutic model, however, took much longer to make inroads. In 1938, Coleman Griffith, considered the father of sports psychology in this country, was hired by Chicago Cubs owner Philip Wrigley after his team crumbled late in the season and lost the pennant to the New York Giants. The manager, Charlie Grimm, wanted none of it and discouraged the players from cooperating.
With that sort of skepticism, top athletes working with "headshrinkers" was slow to take hold. Much of the resistance, says Seahawks coach Pete Carroll, came from the organization, not the athletes. "For a coach to let someone from the outside come to talk to your team, that means you don't have the answers yourself," he says. "The athletes have always been willing. They'll take whatever advantage they can get."
Carroll, who studied sports psychology in graduate school and was head coach at the University of Southern California for a decade, had been approached by many sports psychologists over the years to help his players, but he always declined. He met Gervais in 2011, and he liked his approach. "He's the best I've ever been around," says Carroll, "and I've been looking for these guys for years."
Today, nearly every professional sport incorporates mental training. The U.S. Olympic Committee now has five full-time sports psychologists, and many more athletes meet with independent specialists like Gervais. As the field has gone mainstream, an athlete meeting with a psychologist has lost much of its stigma. In 2010, Los Angeles Laker Ron Artest even thanked his psychiatrist on live television after the Lakers clinched the NBA title. Many of the athletes in this piece declined to be mentioned by name—not because they're afraid of being seen as weak but because they don't want to reveal a competitive advantage.
Surprisingly, Gervais' sessions sound a lot like traditional counseling, with questions about background and athletes' relationships with their parents. "I have a lot of conversations about their sport," he says, "but most are about them as a person." This follows a pattern: start with a problem on the field, find its root cause in the athlete's life, and develop an array of tools to address it. Often the issues are subtle. An athlete might feel he's plateaued and can't reach the next level, no matter how hard he's trained, or his personal relationships suffer because of his devotion to the sport. But sometimes his clients' problems are more acute, like a figure skater who can't stick a landing or a basketball player who loses his cool after missing a few shots.
Or a daredevil who's afraid to wear his space suit.
DURING A 27-YEAR career in adventure sports, Felix Baumgartner has flown across the English Channel with a carbon-fiber wing on his back, jumped off some of the world's highest buildings, and leaped into a 600-foot cave in Croatia. He's had plenty of dicey moments in situations that would paralyze most of us. It's no wonder, then, that when Baumgartner found himself nearly hyperventilating in the space suit, he and the project's managers were baffled. According to Baumgartner, he'd never experienced this kind of anxiety before. "I thought it would get better, but it became worse," he says. "Everyone put their trust in me. It was embarrassing."
Initially, the Stratos team chalked up the symptoms to a lack of cardiovascular fitness. Yet even after a weeks-long training regimen in the summer of 2010, the labored breathing continued. Baumgartner tried to fight the feelings of panic, and early on he was able to wear the suit for up to an hour during exercises at the Stratos facilities in the desert outside Lancaster, California. But soon he could barely stand a few minutes. As the mission foundered in the fall of 2010, a Stratos team member popped into the Santa Monica office of Andy Walshe, the director of Red Bull's high-performance program, looking for a stationary bike Baumgartner could use to train. That chance encounter saved the project.
In 2007, Red Bull had hired Walshe, an expert in the science of human movement, to build a training program for its stable of sponsored athletes, now numbering 500 in 160 sports, mostly action and adventure: cliff diving, wingsuiting, rally-car racing, snowboarding. He had created a similar program for the U.S. Olympic Ski and Snowboard Association, leading to several gold medals in 2006 in Turin, Italy. At Red Bull, Walshe started from scratch, encountering many athletes, like Baumgartner, who didn't grow up in sports with established development pipelines. "We didn't even have coaches for a lot of our athletes, and it struck me how damn good they all were," Walshe says. "They taught themselves and figured out how to deliver at the highest levels, how to manage themselves under pressure, how to be fit enough to do what they want to do." Walshe assembled a crew of coaches, doctors, nutritionists, and trainers to fine-tune the Red Bull athletes' bodies, and he brought on Gervais to hone their minds.
By then, Gervais had established himself as one of the best sports psychologists in the business, working with professionals in all the major team sports, as well as with big-wave surfers and ultimate fighters. He already had offices in Marina del Rey and Manhattan Beach (which he still maintains), but he was intrigued by the Red Bull opportunity. He and Walshe bonded over a shared fascination with how people become masters in their field. To understand this at a neural level, they're even working with Los Angeles tech company Neurotopia to compile a database of elite performers' brain patterns using quantitative electroencephalographs, or QEEGs, which measure electrical currents generated in various regions of the brain. They're particularly interested in athletes who explore the edge of what's possible, often doing things that no one has done before. Mapmakers, they call them. Walshe compares them to early explorers like Ferdinand Magellan, who attempted to circumnavigate the globe in the face of mass skepticism. "Ninety-nine point nine percent of people said, 'You can't do this.' And he said, 'You know what? I think you're wrong.' And then he went and did it," Walshe says.
Baumgartner, who was planning to leap out of a capsule into space, not knowing what would happen when he broke the sound barrier, fit this mold. Only now anxiety had grounded him. After hearing about the panic attacks, Walshe persuaded Baumgartner to speak with Gervais in the fall of 2010. Together they quickly identified the deeper problem. The Stratos project involved more than a dozen people, and for the most part, Baumgartner's previous stunt work hadn't required him to rely so extensively on such a large team. The suit came to represent Baumgartner's perceived lack of control. Once the helmet was on and the visor closed, he couldn't even breathe on his own.
"In my whole life I'd never asked for help," Baumgartner recalled last fall when I reached him by phone. "I'd always had an answer for everything. Of course, I'd had nervous moments, but I was always able to deal with the anxiety." By the time he met with Gervais, he said, "I knew I couldn't help myself."
TO BETTER UNDERSTAND WHAT Baumgartner was experiencing, Gervais decided to go to the Stratos headquarters and try on the equipment himself. Just getting into the 100-pound suit and backpack parachute took 15 minutes, with someone else dressing him. The helmet fit tightly around his cheeks, exacerbating the sense of confinement. And with the visor closed, the outside world fell away. Gervais remembers listening to his own breathing, loud inside the helmet, as though he was scuba diving. Then he entered the tiny capsule where Baumgartner would have to sit for several hours during the final jump mission. Gervais sweated and labored to make what he felt should have been easy movements. Finally, he stood on the tiny platform and imagined what Baumgartner would be seeing, the earth spread out below him.
Gervais and Walshe decided that he needed to shift Baumgartner's perception of the suit from something that was triggering anxiety to something vital for the mission's survival. Instead of dealing with the space suit in a physical way, Gervais spent early sessions describing it to Baumgartner. He told him to picture the suit, imagine himself touching it, putting his feet in the suit, then his arms. "On a scale of one to 10, relaxed to panicked, where's your mental state?" Gervais asked. Four. They didn't move further until Baumgartner had relaxed, using breathing exercise and self-talk.
Once Baumgartner could discuss the suit without panic, Gervais showed it to him. This is classic fear extinction through exposure: present a patient with a small dose of discomfort, and once he's comfortable with that, up the exposure. "We made a commitment to see this through," Gervais told the visually anxious stuntman, "so we'll sit and look at the suit all night if we have to."
Baumgartner's anxiety level dropped—confirmed by the heart-rate monitor he wore during the sessions—and they moved on to touching the suit and, finally, wearing it. First a foot, then the legs, the arms, the helmet, everything closing in on him now.
During one early session while wearing the suit, with just Gervais and Walshe in the room, Baumgartner had worked himself into a panic within a few minutes. Gervais and Walshe traded worried glances. Maybe this wouldn't work. But allowing him to take off the suit at the moment of extreme anxiety would just reinforce the fear. Gervais had another approach for Baumgartner—taking his mind somewhere else. Our brains can quickly shift between thoughts, but we can't think about two different things at once. As the anxiety rose, Gervais had Baumgartner spell words backward or do simple math calculations, just enough mental effort to take his mind off the suit.
"We're not leaving," Gervais told him. "You'll have to fall asleep in this thing."
Those small, progressive steps had led to a turning point. "Guys, I've got it," Baumgartner told Gervais and the others a few days after his last panic attack. "I'm fine." Gervais stayed on as the Stratos psychologist, sitting in the mission-control room during the test jumps and the final record-breaking leap last October, but Baumgartner never had another problem wearing the suit.
SOMEDAY, GERVAIS WILL HAVE an office right on the beach, and he'll plop two chairs in the sand and chat with his clients as they watch the sunlight shimmer on the waves. Which is more than just aesthetics: the light twinkling on the water keys the left brain, he says; the vastness of the ocean keys the right.
But for now, he's on the move all day between his offices, squeezing in appointments on the phone while I ride shotgun in his BMW sport-utility vehicle. In the back, his surfboard shares space with his son's car seat. Most mornings he'll surf or paddleboard before work, or do an hour of yoga, but today is all business. He calls a surfer to congratulate him on a recent championship and dissects a golfer's hang-up of obsessing over the tee shot. ("This isn't going to stop until you make a commitment to stop it," Gervais tells him.) He orders an ace pitcher with a 100-mile-per-hour fastball to approach 18 strangers before their next meeting and tell them something he finds beautiful about them, to push him outside his comfort zone. And to a young water-polo player hoping to eventually make the Olympic team, he offers blunt advice: "Being the best in the world isn't easy. And if you knew what I know, you probably wouldn't want to do it."
Gervais gave Walsh a similar warning before he started working with her three years ago, when she was already the best in the world. "He asked me repeatedly, 'Are you sure you want to do this? Because you're going to be different. Do you want to go into the dark side of you as much as the light?' I said, 'Yeah, I need to be a different, better person.' Now I'm way more present and way more focused than I've ever been."
Walsh, who eventually learned to make peace with her dual role as mom and world-class athlete, won her third gold medal in August—and she was hardly the only of Gervais' athletes to benefit from his services last summer. His clients brought home five gold medals from London.
After a phone call with the Seahawks' Carroll and before his weekly meeting with a race-car driver, Gervais pulls his vehicle to the curb outside the DISC Sports and Spine Center in Marina del Rey, where he's a partner. His cell phone on speaker, he settles into his seat for a quick meditation session. On the other end of the line is one of the world's fastest swimmers, sitting on a couch in his L.A. apartment.
"Give your body permission to be present with this process," Gervais says. "Deep breath in…. Out…. Pause at the bottom. There's nowhere to go and nowhere to be, so allow yourself to be here right now." Gervais has worked with the swimmer for several months on managing outside stressors that distract him in the pool. This is the first meditation session, which he knows can seem too soft for many athletes, too far removed from athletics. But it's not about athletics anyway. That's just the proving ground for how well they're living. "Where does the amazing and beautiful take place? In the present moment," he told me earlier. "If I can teach people how to be quiet in their minds, I'm going to increase their experiences of the beautiful and the amazing."
Now his voice is low and smooth, and it's nearly putting me to sleep. "Notice the effects of gravity right now on your body," he says. "Let gravity pull your feet down into the floor, into the earth's core. Let your hamstrings melt away, and all the little muscles around your knees."
As traffic zips by, Gervais talks the swimmer through his body, through the organs, into his mind. "Connect to that place in you that water cannot wet, that the wind cannot blow, and that fire cannot burn," he says. "Without judgment, observe the activity of your mind by guiding your mind to one thing at a time. This is what it means to be present. Now allow every cell in your body to be open."
The silence stretches for a long moment.
"Are you still there?" Gervais asks.
The voice on the other end sounds dreamy and tranquil but tinged with surprise.
"That was amazing."    
Trending on Outside Online