Survey Says!
Smart trend or exercise fad? We sorted out the tired and the wired to find 2004's fitness winners.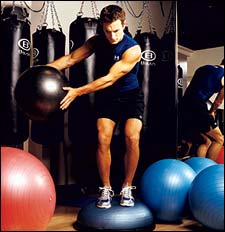 Heading out the door? Read this article on the new Outside+ app available now on iOS devices for members! Download the app.
WE FEEL YOUR FRUSTRATION. Every day you're bombarded by a cacophony of so-called fitness gurus, diet proselytizers, and doctors with magic pills, all claiming to have the answer to your performance needs. It's enough to make you throw up your hands and succumb to Starsky & Hutch reruns. So let us help. We surveyed more than 50 of the country's experts in exercise science, coaching, nutrition, equipment, and health to find out the best trends for 2004. What does this list mean for you? A spiced-up conditioning routine, guaranteed results, and a whole new way to think about fitness.
2004's Best Fitness Trends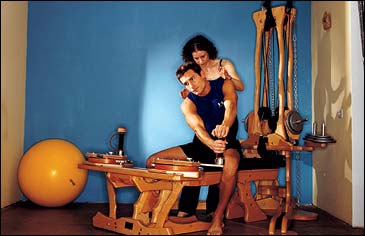 THE BIG TWIST
THE TREND It may look like Dr. Seuss's idea of a weight machine, but the Gyrotonic Expansion System (GES) is actually a weight-and-pulley-based system that offers a CORE-CENTRIC WORKOUT. Athletes work through circular, pulling movements—envision a lat pull-down with a twisting motion—that address the reality that, since the human body doesn't move in a straight line, neither should our workout exercises. Now being taught in more than 400 fitness centers in North America, Gyrotonic, which was created by Juliu Horvath, a former dancer with the New York City Opera, combines the principles of ballet, swimming, gymnastics, tai chi, and yoga in a regimen that simultaneously increases strength and flexibility. "I'm seeing a huge increase in the number of athletes—especially men—taking up Gyrotonic," says Maureen Wilson, who trains pro hockey, tennis, and baseball players at Sweat Co. Studios, in Vancouver, B.C. "They're all looking for that edge that no one else has, and they can see how the movements in Gyrotonic will help in anything from their golf swing to rock climbing."

WHAT'S IN IT FOR YOU By lifting the weights in fluid, arcing motions—as opposed to Pilates' mostly linear movements—you'll build powerful, 360-degree grace throughout your core. "It will improve rotational strength for a rock climber or windsurfer who needs core strength but also smooth coordination and mobility," says Wilson.

GET STARTED Private classes range from $45 to $75 per session, and certified instructors can be found on the Gyrotonic Web site. (570-828-0003, www.gyrotonic.com)
THE FAST AND THE FURIOUS
THE TREND To RESCUE THE TIME-DEPRIVED, gyms such as New York Sports Clubs—found in New York, Boston, Philadelphia, and Washington, D.C.—now offer 22-minute-long XpressLine circuit programs, which situate eight strength machines, like leg press, lat pull-down, and biceps curl, in a row. The circuit machines are sectioned off from the rest of the club, and a trainer sits there solely to move people through the circuit as quickly as possible.


WHAT'S IN IT FOR YOU "You never stop moving, so you get strength training and 20 to 30 minutes at an elevated heart rate," says John Agoglia, a former personal trainer who edits the fitness trade magazine Club Industry. The circuit targets all your major muscles: chest, back, shoulders, arms, legs, hips, and stomach. "It isn't going to turn someone into an athlete, but it's a legit way to keep fit," says Agoglia.


GET STARTED Any gym with a full range of weight machines qualifies as a speed-circuit destination. The key is to move from station to station without rest. Start with a five-minute warm-up on a treadmill, then shoot for one circuit of eight reps at each machine.
The Great Escape
Beach Style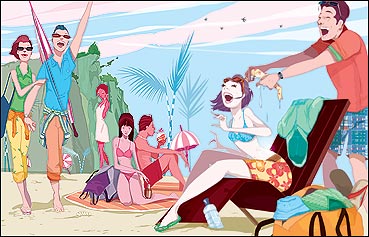 Welcome to the Sands
LEFT SIDE: On her, sleeveless cotton-and-Lycra polo T-shirt ($65) by RALPH LAUREN GOLF (888-475-7674, www.polo.com); cotton-mesh zip-up hoodie ($48) by BANANA REPUBLIC (888-277-8953, www.bananarepublic.com); cropped embroidered-cotton chinos ($68) and rubber flip-flops ($13) by J.CREW (800-562-0258, www.jcrew.com); black-frame sunglasses with gray lenses ($154) by PERSOL (888-589-6884, www.persol.com). On him, cotton polo shirt ($53) and multi-striped cotton dress shirt ($87) from POLO BY RALPH LAUREN; striped grosgrain-ribbon belt ($10) by LANDS' END (800-963-4816, www.landsend.com); cotton-twill chinos ($60) by J.CREW; sunglasses by SERENGETI; stainless-steel Premier Alarm Chronograph ($450) by SEIKO (800-782-2510, www.seikousa.com).

RIGHT SIDE: On her, bikini top ($72) by WATER GIRL BY PATAGONIA (800-638-6464, www.patagonia.com); cotton terry-cloth hoodie ($48) and polyester shorts ($50) by PATAGONIA; tortoiseshell sunglasses ($159) by persol. On him, supersoft cotton T-shirt ($25), cotton pocket polo T-shirt ($34), and patchwork cotton shorts ($48) by J.CREW; wire-frame shades ($154) by PERSOL; T-Race watch ($350) by TISSOT (800-284-7768, www.tissot.ch). At her side, water-resistant Adventure Tote ($22) by l.l.bean (800-441-5713, www.llbean.com). In the bag, women's summer-weight cashmere sweater ($398) from RALPH LAUREN GOLF; men's suede thongs ($80) by BØRN (888-444-2769, www.bornshoes.com); reversible hat by J.CREW ($28).
LOWER THE BAR
THE TREND The low-carbohydrate weight-loss craze has trickled into the sports nutrition market with LOW-CARB ENERGY BARS that have roughly the same calorie count—around 270—as regular bars. But in the case of PowerBar's ProteinPlus Carb Select bar and EAS's Myoplex Carb Sense bar, you're chewing down 22 and 30 grams of protein, respectively, and only two grams of net carbs; regular PowerBars have 42 grams of carbs. (The low-carb bar uses carbs in the form of fiber and sugar alcohol, which, unlike simple sugars, have a negligible effect on your blood-sugar levels.)


WHAT'S IN IT FOR YOU Fewer carbs and a full dose of vitamins and minerals. "They'll help you stick to a low-carb diet while still recovering from a weight-lifting workout," says Eric Zaltas, a nutrition consultant to PowerBar.


GET STARTED Available for $1 to $3 each, anywhere energy bars are sold.
THE DRIVE TO STABILIZE
THE TREND In addition to strength, cardio, and flexibility, athletes are adding more BALANCE WORKOUTS to their fitness regimens. "People can do a lot of things at once with a balance workout," says Kristi Molinaro, an instructor at both Crunch Fitness and Equinox in New York City. "They strengthen their core muscles as well as their stabilizers, the muscles that keep your ankles, knees, hips, and torso upright." Working on balance has become a cause unto itself, and balance-training classes are springing up all over the country. The most popular use the BOSU Balance Trainer. "More than 1,700 health clubs in the U.S. now offer BOSU classes," says David Weck, the San Diego–based inventor of the device—basically a rubber dome attached to a wooden platform—which is used in everything from abs classes to Pilates workouts. "Instructors are creating balance programs for every level and type of athlete."

WHAT'S IN IT FOR YOU Balance is key to all sports, whether you're paddling Class V whitewater, running down a steep section of trail, or lifting your tennis racket for an overhead smash. Any BOSU exercise—from sit-ups to one-legged squats to push-ups—strengthens the joint muscles that keep you stable.

GET STARTED Learning balance is easy: Start by standing on one leg, then bending over to touch the ground and standing back up. Repeat ten times and then switch legs for another ten reps. If you want to ramp up your learning curve, find a class. BOSU maintains a database of health clubs offering balance sessions on its Web site. Or buy your own BOSU ($130) and create a total-body workout with help from a BOSU instructional video. (800-321-9236, www.bosu.com)
DO THE POLYNESIAN
THE TREND Though the sport is thousands of years old, OUTRIGGER CANOEING is enjoying a renaissance. Participation, in the form of one-, two-, or six-man boats, has grown 30 percent annually since 2002. Today there are more than 500 outrigger clubs worldwide—from Duluth, Minnesota, to Kamakura, Japan—and nearly 300,000 paddlers in the U.S. alone, says Todd Bradley, a design partner in Outrigger Connection Worldwide, a Honolulu-based boatbuilder that tracks participation stats.

WHAT'S IN IT FOR YOU An aerobic workout that "has all the cardio benefits of running, cycling, or swimming," says Doug Hiller, an orthopedic surgeon and president of Labman Hawaii, which specializes in exercise performance research.

GET STARTED Outrigger canoeing is a beginner-friendly sport, and most local clubs welcome newbies. Go to www.koa.org or www.eastcoastoutrigger.com for info on a club near you.
2004's Best Fitness Trends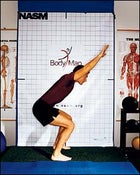 Great Directions: Body Map, your atlas for fine-tuning form.
AGGRESSIVE POSTURE
THE TREND To take the guesswork out of CORRECTING MUSCLE IMIBALANCES, gym-goers can now turn to Body Map's software system to identify them. "It's an assessment tool that looks at dynamic postural movement," says Tyler Wallace, director of clinical services for the Calabasas, California–based National Academy of Sports Medicine, which developed the software. How does it work? An athlete does five body-weight squats and five one-legged squats as a digital camera snaps the exercise from a different angle each time. A trainer then uploads the photos to a laptop, and the software compares the client's form with the ideal movement pattern. The computer then spits out a seven-page assessment based on the differences, and a customized set of stretches and exercises to fix the problem area—be it weak glutes or a strained lower back.

WHAT'S IN IT FOR YOU By quickly identifying and correcting any structural weaknesses, you'll achieve better posture, skeletal alignment, and stability, reducing your chances of injury while dialing in your performance.

GET STARTED Log on to www.nasm.org, to find a club or trainer in your area that offers Body Mapping. The cost is roughly $250 per session.