American Gladiators
The masochistic sport of obstacle racing has exploded in popularity. Nick Heil tries to understand why so many are signing up for the misery.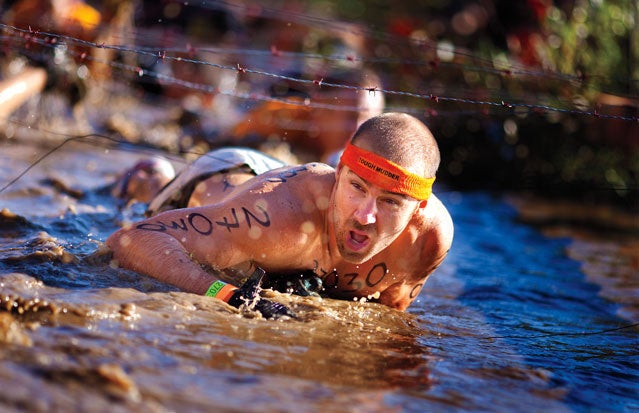 Weston Walker
Heading out the door? Read this article on the new Outside+ app available now on iOS devices for members! Download the app.
LAST AUGUST, nearly 5,000 people gathered in Killington, Vermont, to compete in the Spartan Beast race, a 12-mile cross-country run up, down, and across the ski hill's muddy slopes. A guy in a red cloak and Spartan war helmet announced the rules—"no whining, no complaining"—prompting a loud "Ah-roo!" from the crowd. The course featured more than a dozen obstacles, including a mud bog strung over with barbed wire, a greased climbing wall, a hurdle of smoldering hay bales, and a final gauntlet of brawny, shirtless "warriors" waiting to thrash racers with padded cudgels.
Cringe and Bear It
Three of the most twisted challenges in obstacle racing
Spartan Race:
The barbed wire is 100 yards long, and it's often hung lower than military standard over nasty mud-and-rock terrain.
Death Race:
Competitors memorize a Bible verse at the top of a hill, then run 2.5 miles to the bottom carrying a log. If they're able to recite the verse without missing a word, they move on. If not, they run back up and try again.
Tough Mudder:
Organizers call it electroshock therapy—an obstacle consisting of dangling live electrical wires.
Tough Guy Challenge

Scenes from the Tough Guy Challenge in Wolverhampton, England
Tough Guy Challenge

Scenes from the Tough Guy Challenge in Wolverhampton, England
Tough Guy Challenge

Scenes from the Tough Guy Challenge in Wolverhampton, England
Yeah, it hurt, but that's part of the allure. Obstacle races combine mud and trail runs with boot-camp obstructions and even mind games, all designed to result in mental and physical collapse. Last year in the U.S., roughly a million people signed up for events in the four most popular series: Spartan Race, Tough Mudder, Warrior Dash, and Muddy Buddy. None are more than ten years old, but already there's talk of world domination in the air. "By the end of 2012," Tough Mudder's website says, "we aim to replace Ironman as the preeminent brand in endurance sports."
Nobody's quite sure what's driving the sudden interest in hell-week-as-sport, but sheer novelty has to be part of it. "It's a lot more fun to compete in, more fun to train for, and more spectator-friendly," says Hobie Call, an air-conditioning technician from South Jordan, Utah, who has won 11 of these races. Joe Desena, Spartan Race's founder and a former Wall Street trader, agrees. "People have grown bored with traditional linear races," he says.
Apparently, they're also tired of made-for-TV adventure ordeals like Eco-Challenge, which ended in 2003, and Primal Quest, which is rumored to have seen sponsor cash dry up. Last year, Desena put on 29 Spartan events in 16 states, from three-mile sprints to the 48-hour Death Race (see Mark Jenkins's firsthand account of the latter in "Bury My Pride at Wounded Knees," November 2010). In 2012, Desena plans to hold up to 40 events.
The rise of obstacle races comes just as high-intensity workout trends like CrossFit are mushrooming, giving Spartan, Tough Mudder, and other competitions massive social-media potential. In October, in advance of the Death Race, Desena announced that racers who failed to hype the event online would have an extra obstacle added to their race. ­Cultish tactics like these have helped Spartan galvanize a network of more than 630,000 Facebook fans, up from 50,000 a year earlier. Tough Mudder has over a million.
And then there's the quasi-military motif of many of the events. "Mention anything about the armed forces on our forum," says Desena, "and you get a thousand replies." Though race participants are mostly civilians, some, like Jeff Cain, 41, a University of Kentucky professor who's completed two ­Warrior Dashes and two Spartan races, appreciate the soldier's-­fantasy-camp vibe. "I love the battle," says Cain, "without the bullets."
Indeed, obstacle-course challenges take much of their DNA from boot-camp classics like the 18-year-old Camp Pendleton Mud Run, held near San Diego, and Staffordshire, England's Tough Guy Challenge. Founded in 1986 by an eccentric ex-officer in the ­British Army, the Tough Guy originally included a 40-foot crawl through flooded tunnels and long mud slithers with machine-gun blanks fired overhead. In 2011, more than 5,000 people competed.
Stateside, the impressive turnouts have made obstacle-course events a commercial windfall. Last June, Beaver Creek, Colorado, attracted more than 20,000 people to its first Tough Mudder. By comparison, the XTerra off-road triathlon championship, held there in July, drew just 2,000. "Tough Mudder was among the biggest summer weekends in the history of Beaver Creek," says Tim Baker, the resort's executive director. "Our lodging was sold out for two nights."
Desena says he's fielded countless inquiries from officials as far away as Japan and Australia who want to host races. He also claims he's been offered millions by investors. So far he's declined. "We want to change people's lives," he says, "not just make a bunch of dough."
Of course, the events haven't been without incident. At the 2009 Tough Guy in England, 600 people were treated for hypothermia. After the Spartan Sprint in Birmingham, England, a woman posted a photo of herself lying in a medical tent, with the caption "The sweetest feeling! Spartan medal and broken ankle." At the 2011 Warrior Dash in Kansas, one man died of heatstroke and another of unknown causes.
"These races introduce a lot of risks," says Jean Knack, executive director of the Road Runners Club of America, which hosts hundreds of traditional marathons each year. "We don't encourage members to participate in events with man-made obstacles where there's a decent chance of getting hurt."
Knack, like others in the running community, doesn't seem too concerned that obstacle racing will bleed the ranks of traditional competitions. While there's some overlap, she says, "it's a popular trend. We'll have to see what happens down the road. Let's not forget what happened to inline skating."
Indeed, it seems unlikely that obstacle racing will replace tri anytime soon. "Triathlon, from beginner to pro, is as healthy and vibrant as ever," says Chuck Menke, marketing and communications director for USA Triathlon. The numbers would seem to bear that out: in 2010, 2.3 million people entered 3,500 sanctioned triathlons, a 55 percent increase over the previous year, according to the Sporting Goods Manufacturers Association.
But even if obstacle racing has a long way to go, it's starting to draw top talent. Hobie Call qualified for the U.S. Olympic marathon trials with a 2:16 before switching disciplines. Last year, he took up another Desena publicity challenge—a $100,000 prize for anyone who could win 14 of 16 events—and was on track to collect until he nearly became hypothermic during the Death Race.
The only other Spartan event Call entered and didn't win was the Spartan Beast, at Killington. That win went to Marc-André Bédard, 25, a member of the Canadian biathlon team. Bédard passed Call near the end of the course, then had to swim across a pond, ascend a rope, and crash through the Spartan bullies at the finish. "It was really tough, but I loved it," says Bédard. "It's the most excited I've been about an event since the Olympics."
Trending on Outside Online