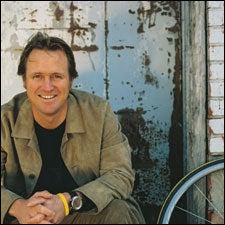 Allison V. Smith
Heading out the door? Read this article on the new Outside+ app available now on iOS devices for members! Download the app.
TECHNOLOGY HAS MEANT GREAT THINGS for the fitness industry, but that doesn't mean you can't get real results from "old school" workouts. When I coached the U.S. National Cycling Team, from 1990 to '97, I used the mountains behind my Colorado Springs cabin as a training ground for young racers, including Lance Armstrong and George Hincapie. Cyclists don't need big upper bodies, but they do need functional strength—and I needed firewood. So I had my riders split wood and hike in the mountains with heavy packs. It was a low-tech approach that delivered benefits on the bike by developing broad-based strength off it. And it still works. The following can get you in all-around shape without computer readouts or club membership dues.
Chris Carmichael

EXPRESS TRAIN with Chris Carmichael
STADIUMS: Big steps isolate the powerful muscles of your lower back, butt, and hamstrings and also build core and hip stability. Find a stadium and run up the bleachers, then descend the staircase. Continue for 15 solid minutes. Gradually work up to nonstop 30-minute sessions.
BURPIES: To work your upper-body, core, and leg muscles all at once, stand with your feet shoulder width apart and your arms at your sides. Squat down and place your hands flat on the floor, thrust your feet back to pushup position, then quickly bring them back between your hands. From there, jump as high as you can, throwing your arms above you. Land in a standing position and start again. Do three sets of ten.
CHRIS CARMICHAEL COACHED LANCE ARMSTRONG TO SEVEN STRAIGHT TOUR DE FRANCE WINS.