The Best Athlete in the World Right Now Is an 18-Year-Old Swimmer, and What She's Doing Is Nuts
An inside look at Katie Ledecky's rise to greatness that will leave even non-swimmers awestruck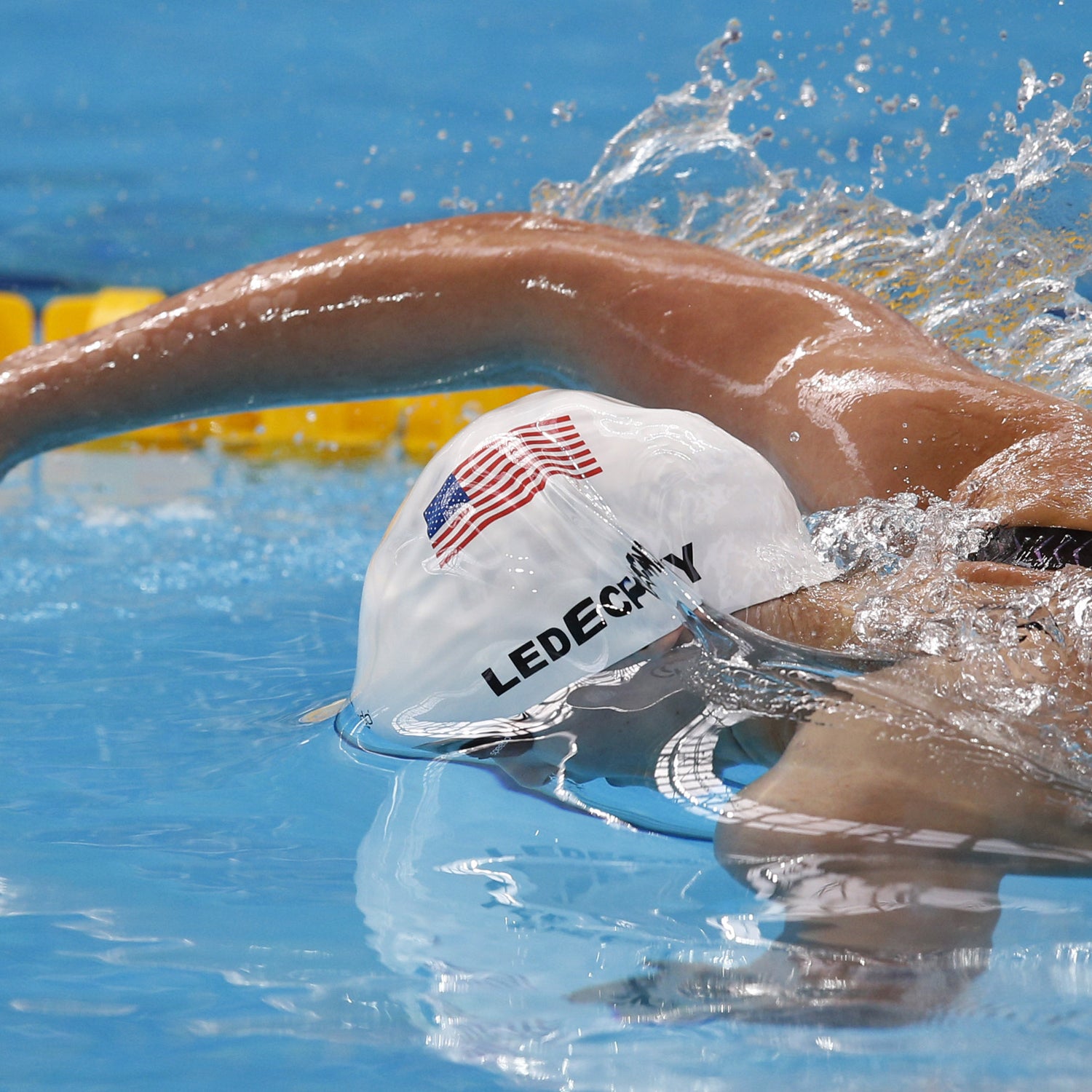 Heading out the door? Read this article on the new Outside+ app available now on iOS devices for members! Download the app.
At the FINA World Championships in Kazan, Russia, last week, 18-year-old Katie Ledecky became the first swimmer ever to win the 200-meter, 400-meter, 800-meter, and 1,500-meter individual freestyle races during a single meet. It may not be the most impressive accomplishment in the history of swimming—other athletes have won more events in a single competition (Michael Phelps's eight gold medals at the 2008 Olympic Games, for instance)—but those feats included a variety of strokes and relays. No one has ever dominated a single stroke across such diverse distances like Ledecky did in Kazan. 
While simultaneously beating everyone at just about every distance involving freestyle, Ledecky set three world records and swam an impressive 1500m/200m double—with less than 30 minutes between races. Her world championship week "ranks right up there with Jim Ryun's sub 4-minute high school mile, Eddie Merckx's cycling dominance, and Secretariat's Triple Crown as among the most remarkable endurance performances ever," says Michael Joyner, a physiologist at the Mayo Clinic and world-renowned expert on health and human performance.
I asked Joyner to help me, a non-swimmer, wrap my head around Ledecky's world championship week. "Imagine a runner sets a world record in the 5K, then 30 minutes later, runs a world-class 800-meter sprint, and then a day later, wins world championships in the mile and 800." What Ledecky did, Joyner says, was simply "insane." The fact that she won long distance events like the 1500m and 800m as well the shorter 200m in the same meet puts Ledecky's accomplishment "on a different level than even what Michael Phelps has done."
"Imagine a runner sets a world record in the 5K, then 30 minutes later, runs a world-class 800-meter sprint, and then a day later, wins world championships in the mile and 800," says Dr. Michael Joyner.
Ledecky's physiology is undoubtedly superb. At 6'0'' and 155 pounds with a huge aerobic engine, Joyner says she is perfectly built to be a great female swimmer. What sets her apart, however, is her form. According to Joyner, unlike in other endurance sports such as running and cycling, where efficiency may boost performance by a mere few percentage points, technique can be a make or break factor in swimming. 
"While discussion about physiological differences [between Ledecky and everyone she leaves behind] are somewhat speculative, there is one aspect of fast swimming that is wholly empirical and entirely visible," says Terry Laughlin, swim stroke specialist and founder of the popular Total Immersion swimming program. "Form, and in particular, stroke length relative to height." The longer your stroke length, the more efficient you are in the water. 
Laughlin, who repeatedly watched recordings of Ledecky's world championship races, notes that at times when Ledecky was pushing hardest—like during the final 50 meters of her come-from-behind 200m win—she increased her stroke length by up to 5 percent, something he calls "stunning."  While the form of most swimmers deteriorates when they are redlining, Ledecky's does the opposite: it improves. "I don't think this is conscious," says Laughlin. "It's that when she reaches deep, her instinctive way of doing so is highly effective," he says. 
Stroke length happens to be highly coachable; but the ability to keep it together at the end of an all-out effort is not. Joyner puts it another way, saying of Ledecky: "This is a person who is able to maximally push herself at something that can be extremely painful and maximally relax at the same time. That's her real gift."
Ledecky's gift for fiercely smooth propulsion has propelled her to the top of her sport, perhaps to the top of all of sports, over the last three years, but the scariest part of Ledecky's dominance might just be her young age. Endurance athletes tend to peak late, in their late 20's or even early 30's. Joyner and Laughlin both believe that Ledecky's best years are yet to come.  
In the near term, Ledecky is taking a year-off from college to train for the 2016 Olympics, after which she'll enroll at Stanford University. But before she shifts focus to winning Olympic gold medals, she is taking care of some lingering high-school matters. In an interview with NBC following her unprecedented performance, Ledecky told commentators that she needs to complete a few more driver's education classes before she can get her license, and that she is looking forward to "sitting on the couch drinking milkshakes" after having her wisdom teeth removed.
Lead Photo: AP