Damage Control: The Best Recovery Tools
Don't just sit there. Get the most from your training by recovering right.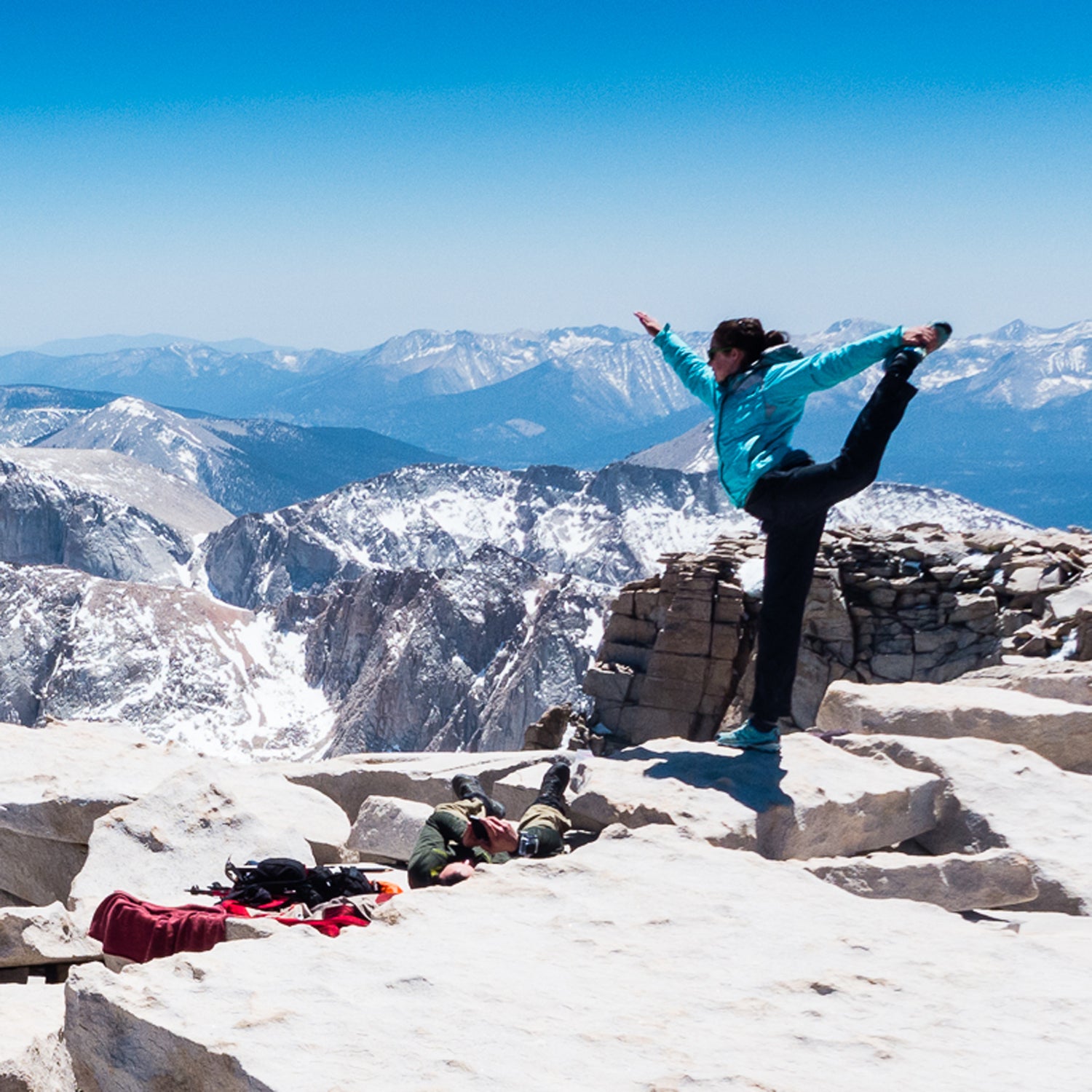 Heading out the door? Read this article on the new Outside+ app available now on iOS devices for members! Download the app.
You have options for soothing your tired muscles after a good workout—a whole spectrum of options. On one end: Try a smartphone aid to help you pass out, since sleep is one of the best recovery tools. Or choose rollers and massage tools with smart upgrades if you need a little extra help. And for full-body training pains, pick up comprehensive systems complete with a hefty carrying case (and price tag). We've done the testing; all you need to do is know your knots and make your choice.
The Stick Sprinter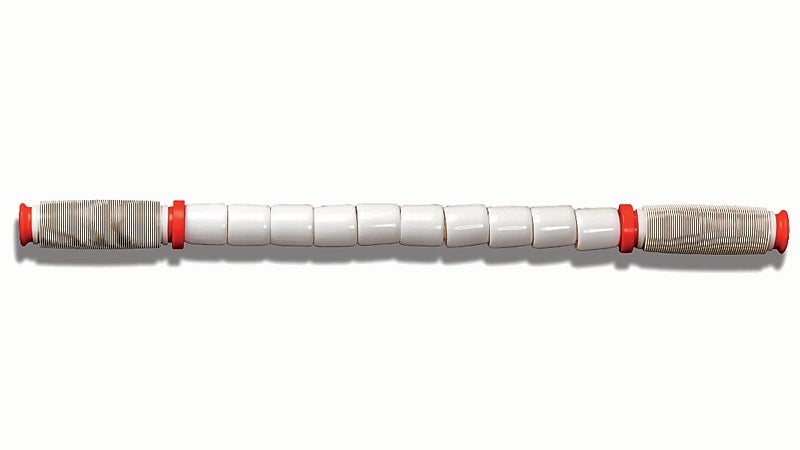 With the Sprinter, you control the pressure, so rolling out large muscles like quads or hamstrings takes just a swipe. And because it's thin and only 19 inches long, it travels easy, too. $35; thestick.com 
---
NormaTec MVP Recovery System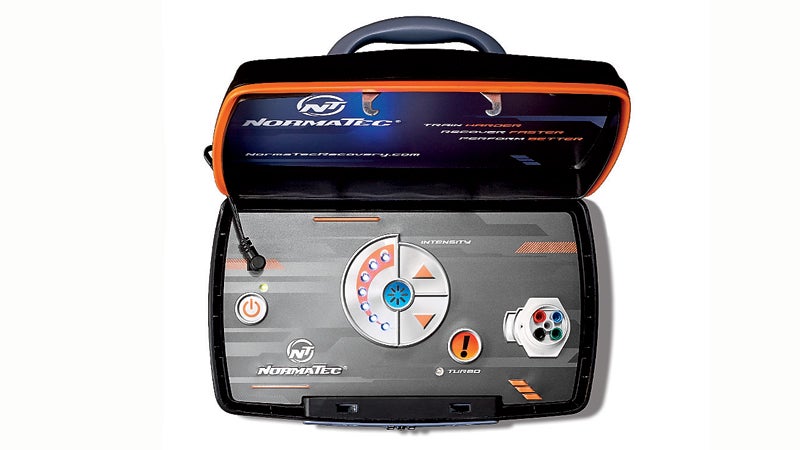 Hook up the compression boots (not shown) to boost circulation to tired muscles. Arm and hip sleeves (from $450) complete the package. $1,750; normatecrecovery.com 
---
110% Double Life Shin/Calf sleeves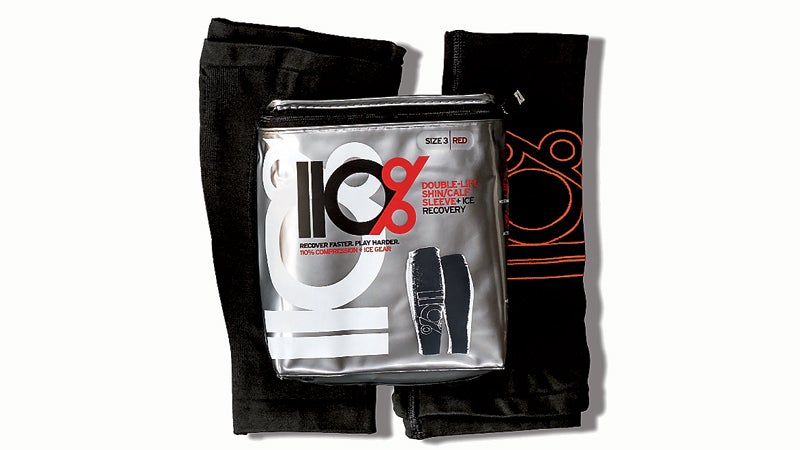 The tried-and-true rest-ice-compression-elevation (RICE) recovery protocol has never been simpler, thanks to 110%. Its compression sleeves have pockets that hold the included ice packs. Also available for knees, thighs, and arms. From $50; 110playharder.com 
---
Marc Pro electrical muscle stimulator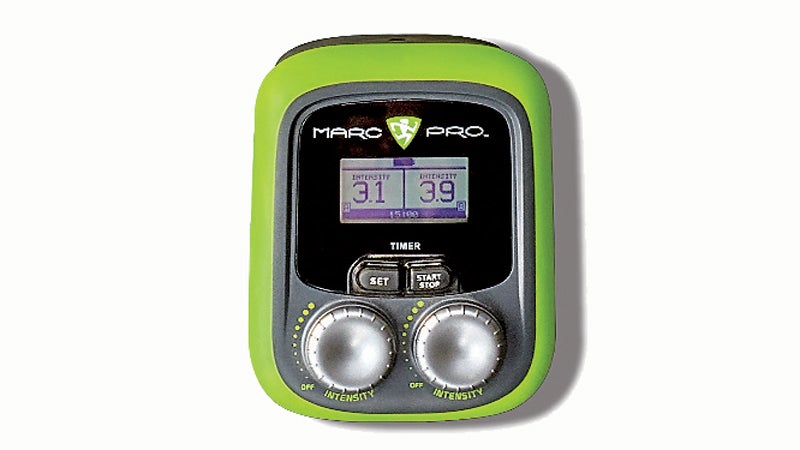 Electrical stimulators like the Marc Pro create small contractions that increase blood flow to sore tissue, flushing out waste and delivering more oxygen and nutrients for faster healing. Researchers aren't yet convinced the process enhances performance, but they do think it reduces soreness. $650; marcpro.com
---
TheraBand Stretch Strap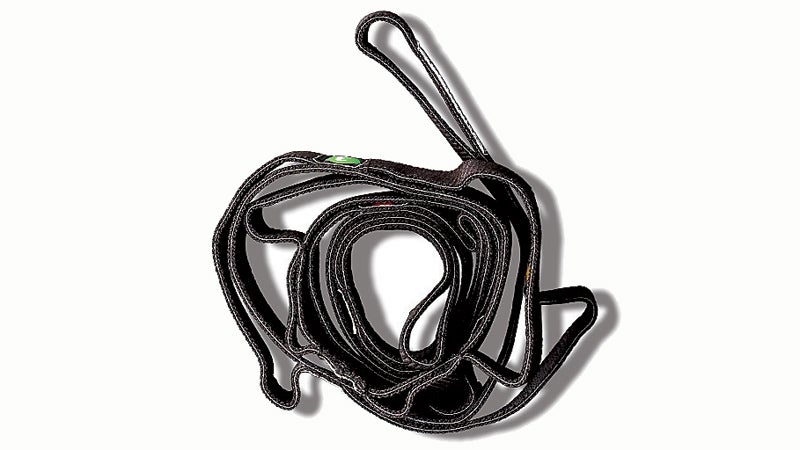 Studies suggest that maintaining a normal range of motion, like being able to bend forward 90 degrees, helps prevent injuries. The Strap allows you to loosen up stiff joints with static and dynamic stretches. $27; thera-band.com 
---
The Orb massage ball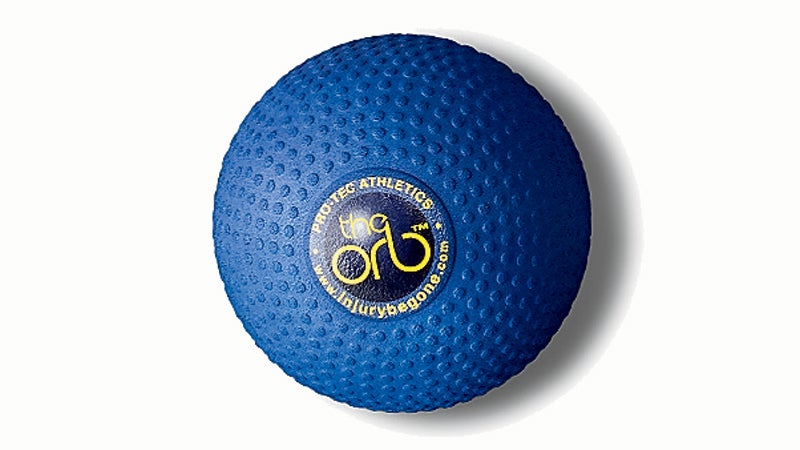 Tiny knots develop in muscles when they're injured or overworked. Applying pressure is the best way to help them release. No time for a massage? The Orb is the perfect alternative. Roll around on one until you find a knot, then press down and leave it there for as long as you can stand it. $20; pro-tecathletics.com 
---
TriggerPoint Cold Roller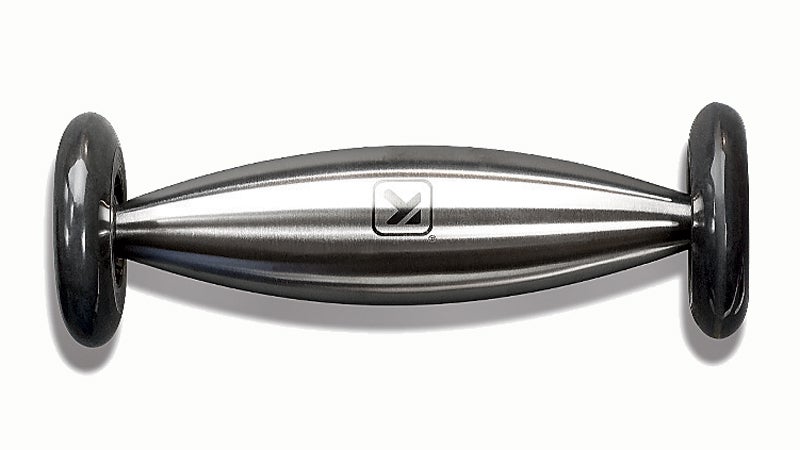 The stainless-steel Cold Roller gets deep into calves, hamstrings, quads, and shoulders, thanks to its hard, rounded design. And if you leave it in the freezer for an hour, it ices your muscles at the same time. Just be sure to wipe it down with a warm towel before you use it, or you'll get freezer burns on top of your knots. $80; tptherapy.com
---
Deep Sleep with Andrew Johnson app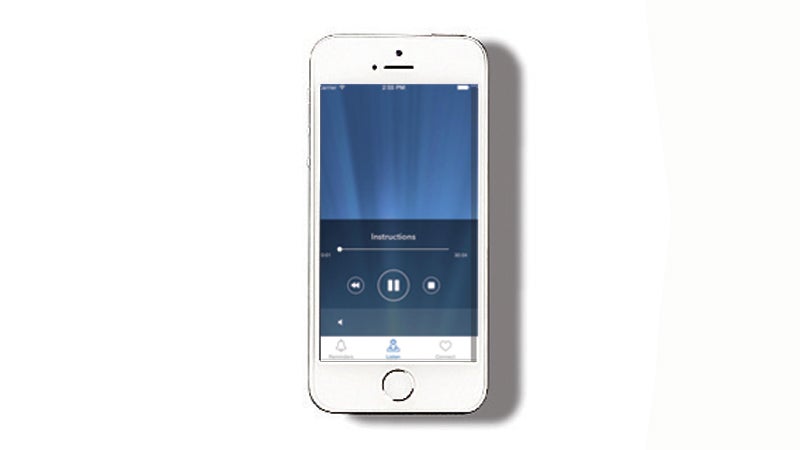 Lack of sleep not only hurts performance, it impairs recovery by reducing protein synthesis and increasing inflammation. Deep Sleep, a meditation app from hypnotherapist Andrew Johnson, helps quiet prerace nerves to help you pass out faster. For Android, iOS, and Windows; $3
---
Game Ready system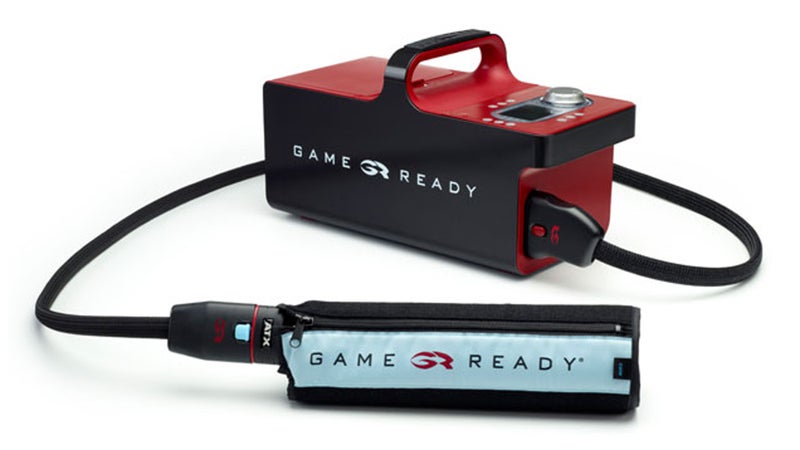 The Game Ready uses both ice and compression simultaneously to treat injury-induced pain and swelling. More than a dozen attachments for shoulders, elbows, hips, and the lower back let you target specific body parts. $2,800, gameready.com
---
TriggerPoint The Grid Mini foam roller
The size of a cantaloupe, the Mini fits easily in a backpack. Even better, it has different density zones for variable therapy;  the smaller squares feel like a firm finger-tip massage, while the bigger sections give a softer feel. $25, tptherapy.com
---
Gaiam Reversible Travel yoga mat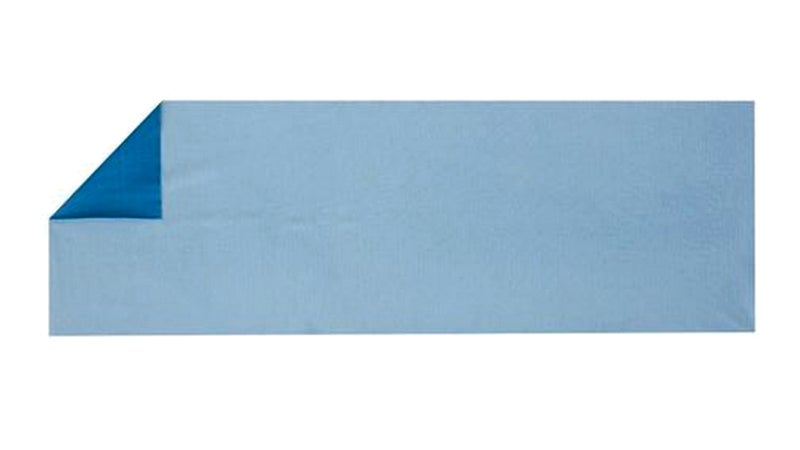 At only one pound and 1.5 millimeters thick, this yoga mat packs down to the size of your wallet. The top isn't overly sticky, making it a good surface for foam rolling. Take it anywhere to set up a place for recovery exercises. $30, gaiam.com
---
Roll Recovery R8 roller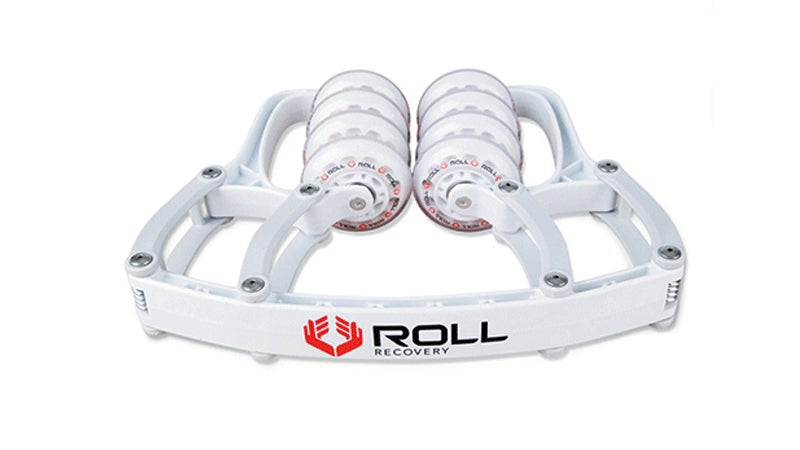 The spring-loaded jaw-like device clamps down on sore muscles for a deep massage. Just stick a quadricep or calf inside and roll the eight Rollerblade-like wheels back and forth. The only downside: It's nearly impossible to get a hip or glute in its grip. $119, rollrecovery.com
---
Peloton Prescription
Cannondale Pro Cycling veteran Ted King's recovery secrets
"Getting out of your dirty clothes is kind of a mental-recovery straightaway."
"Post-race I make stir-fry: heavy on the vegetables, spiced up with Sriracha; a complex carb like brown rice; and an egg on top. Prep and cooking is so easy, you're eating within the 60-minute glycogen-restoring window."
"Nap. If you sleep an extra hour every day, each week you're sleeping an entire night more than someone who doesn't nap."