Does Distance Running Decrease Muscle Mass?
I want to add miles for my ultra training, but I'm concerned about breaking down my body. Will longer runs wreck my hard-won muscle tone?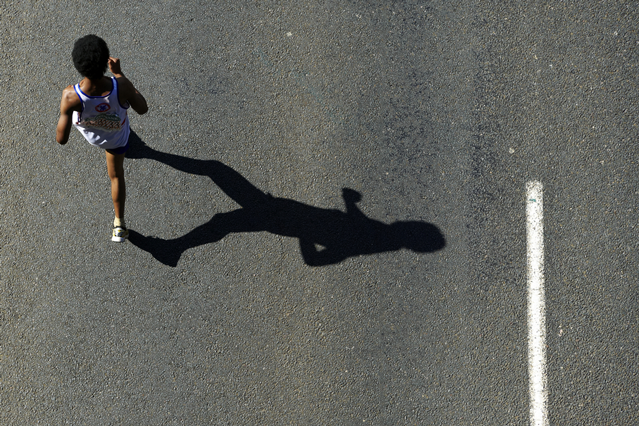 Heading out the door? Read this article on the new Outside+ app available now on iOS devices for members! Download the app.
It can, but it doesn't have to.
If you're looking at runners who dominate marathons such as Kenyans Mary Keitany and Wilson Kipsang, you've probably noticed that they're very slim. Skeletal, even. The New York Times pegged four-time Boston Marathon winner Robert Cheruiyot's height and weight at 6-foot-2 and 143 pounds. Why so small? Because the "more you weigh, the harder you have to work to lift your body and the slower you will be," the article explains.
Often marathoners welcome the calorie incineration a high-mileage regimen creates as an opportunity to drop any unwanted weight, including excess muscle. But if you don't want to shed your shredded six-pack or cut quads, consider this: you won't if you eat enough.
"Caloric intake must be matched to caloric expenditure," says Lauren Antonucci, a certified sports dietician and nutrition consultant for the New York Road Runners. "When that is accomplished, muscle mass can be maintained."
She recommends that runners concerned about dropping weight get their resting metabolic rate professionally tested. That way, they'll know exactly how many calories they need to keep their weight stable.
And don't gorge yourself on protein thinking it'll maintain your muscles. Antonucci recommends taking in 1.6 to 1.8 grams of protein per kilogram of body weight, but no more than two grams per kilogram per day. That's about 109 to 122 grams per day for a 150-pound person, or 136 grams max. Above that, Antonucci says, "those are basically calories you're wasting. Extra protein doesn't do anything for you if it's above and beyond what your body needs."
So to recap: Make sure you're taking in as many calories as you're burning, and you should maintain your muscle mass. If you're doing that, and your protein intake is above 2g/kg of body weight per day, cut it back to the recommended range, and replace the excess protein with carbs and fat.
Now go crush your next marathon (here's a handy how-to guide), and be sure to flex for your finisher photo.