Endurance Mice Live Longer
Heading out the door? Read this article on the new Outside+ app available now on iOS devices for members! Download the app.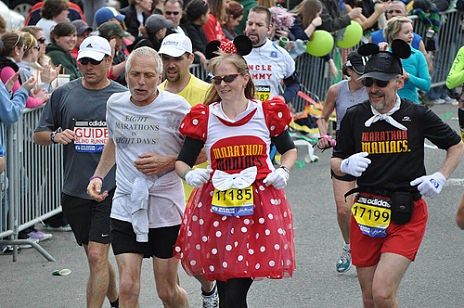 Courtesy of Flickr
Want to live longer? Feel youthful? Look younger? Become an endurance athlete.
Premature aging in most organs was completely prevented in mice that ran on a treadmill three times a week for five months, according to a study by McMaster University researchers in Canada. The mice were genetically engineered to age quickly; those that had endurance exercise training appeared younger and healthier than their sedentary siblings that were balding, graying, unsocial and less fertile.
"We have clearly shown that there is no substitute for the 'real thing' of exercise when it comes to protection from aging," says Mark Tarnopolsky, principal investigator of the study. "Others have tried to treat these animals with 'exercise pill' drugs and have even tried to reduce their caloric intake, a strategy felt to be the most effective for slowing aging, and these were met with limited success."
Tarnopolsky's co-author, Jacqueline Bourgeois, says simply: "The recipe for healthy aging is very simple, and that's exercise." Their findings were published today in the science journal Proceedings of the National Academy of Sciences.
For more on exercise pills in mice, read "Faster. Higher. Squeakier." in the February 2011 issue of Outside.
–Whitney Dreier