Fast and Furious
The three secrets of hyper-efficient fitness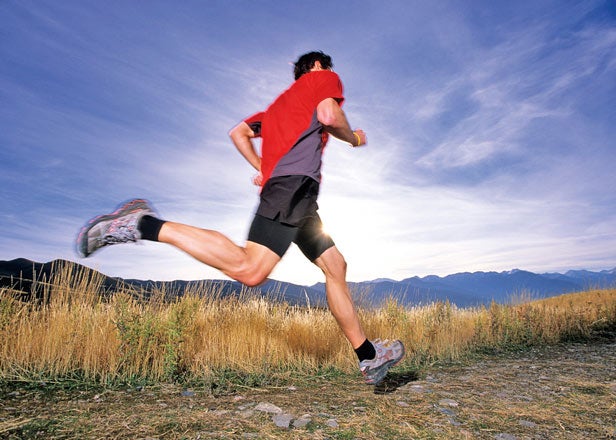 Heading out the door? Read this article on the new Outside+ app available now on iOS devices for members! Download the app.
GO HARD
THE BIG IDEA: High-intensity intervals force your body to adjust quickly.
WHY: Your body adapts when it's pushed to the limit. Redlining for short periods lets you reap the benefits of high output while allowing you to recover between efforts. Researchers at Ontario's McMaster University have shown that two weeks of high-intensity training produces the same performance benefits as two weeks of endurance training, but in 75 percent less time. "The key is progressive overload, which means adding work in amounts incrementally more than your body is used to," says Derick Williamson, a sports scientist at Durata Training. "Intervals use high intensity to get the most overload in the least amount of time."
DO IT: Once a week, perform short intervals (three to five minutes) at 100 percent effort to boost your VO2 max, the peak quantity of oxygen your body can take in and utilize. After at least one recovery day, do a workout composed of longer intervals (eight minutes or more) at 70 percent effort to increase your lactate threshold—the level of output your body can sustain over time.
Get Real
THE BIG IDEA: Set fitness goals that are in line with your time constraints.
WHY: You won't get into ultra-endurance shape if you don't have time to log plenty of long, slow miles. Following a plan of short, high-intensity workouts gets you ready for short, high-intensity performances. "You're not going to do well at an Ironman or a stage race on six hours a week," Carmichael advises. "But you'll be surprised with the results you can get at one-to-three-hour events."
DO IT: Shift your focus to sprint-distance events. Aim to set a new best time in a 10K instead of a marathon; set your sights on a local criterium or mountain-bike race instead of a century. Do as much training as you can close to your race pace. Invest time in your weak spots, not your strengths. If you're already muscular, scratch the weights. Flexible? Minimize stretching. And scale back long warm-ups and cooldowns. Ten minutes before hard interval workouts, and five after, is all your body needs.
Rest Right
THE BIG IDEA: Forget about recovery workouts—and don't shortchange yourself on sleep.
WHY: The benefits of high-intensity training are maximized by downtime. So if you have only a few days a week to train, no problem. Those other days are rest days. "A high-intensity workout is effective for amateurs because they have recovery time built into their week," Carmichael says. What's more, a Stanford University study of collegiate swimmers found that athletes who lengthened their sleep to ten hours a night posted faster reaction, turn, and finish times.
DO IT: Try to commit to three or four very hard workouts each week, then take it easy the other days. If you have a hectic week, dial back the training, not your shut-eye. "Athletes who are putting in high-intensity workouts need to commit to at least eight hours of sleep a night," says Wallenfels.