Laura Val Has Never, Ever Met a Pool She Didn't Like
The 65-year-old swimmer has set 355 world records. And she's still going.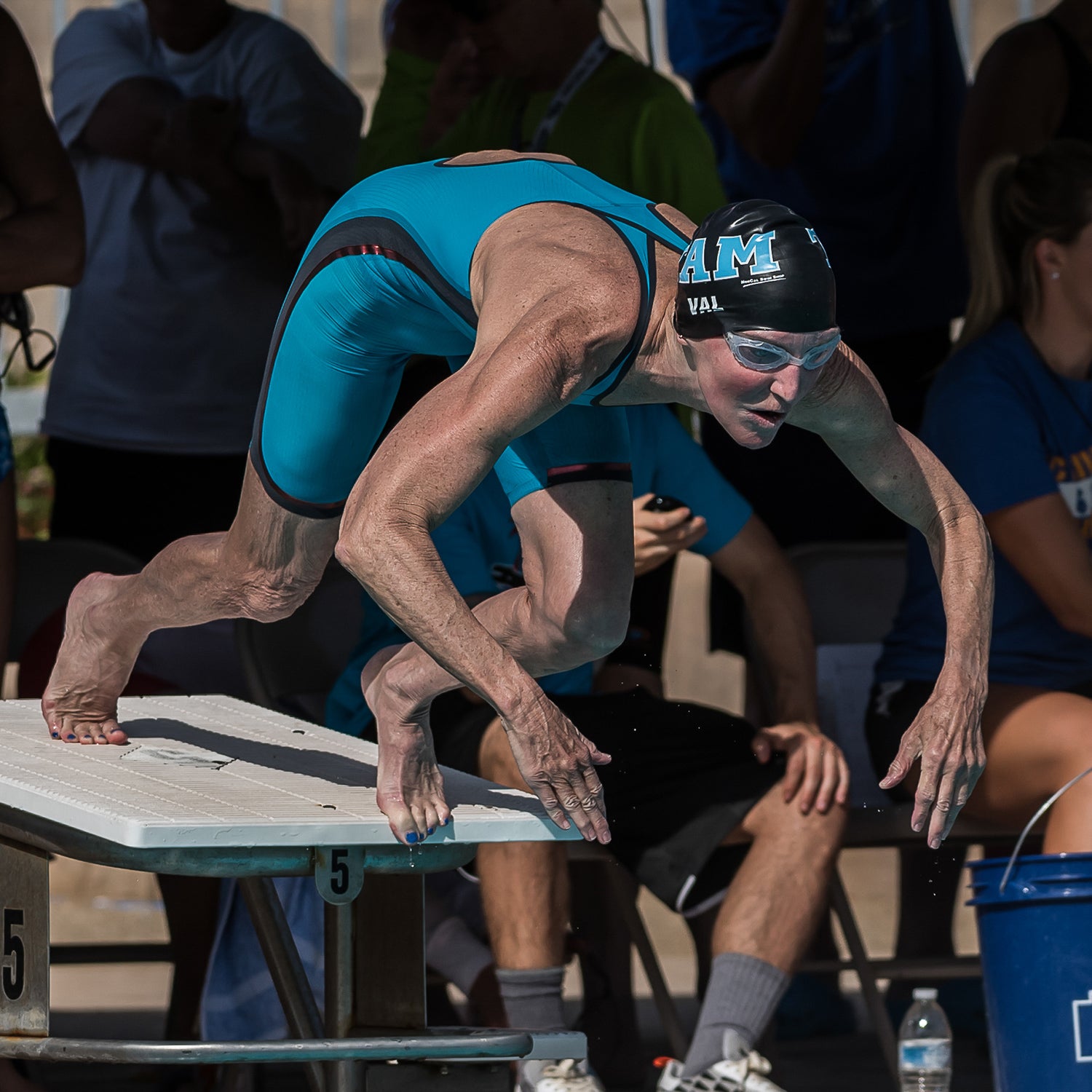 Peter H. Bick/U.S. Masters Swimm(Photo)
Heading out the door? Read this article on the new Outside+ app available now on iOS devices for members! Download the app.
When one of the most decorated swimmers in masters history steps onto the starting block ahead of a race, she has her own unique visualization technique. "I tell myself that I'm swimming against 65-year-old women," says Laura Val, who during her long and impressive career has set 355 world records—nine times more than a swimmer named Michael Phelps. The nurse and grandma just won another seven gold medals at this month's FINA World Masters Championships in Budapest. "I guess I think that because I don't feel like I'm actually a 65-year-old woman."
"Laura doesn't beat people in her age group," says Vic Hecker, who coached Olympians as far back as the 1970s and now regularly coaches his Las Vegas, Nevada Masters teams to national acclaim. "She crucifies them."
Take, for example, one 2016 meet at San Francisco's Olympic Club when Val set four masters age-group (for 65 to 69 year olds) world records in one race. En route to winning the 1,500-meter competition, she also set records at 200 meters (2:25.41), 400 meters (5:06.74), and 800 meters (10:34.67). She bested the world record for 1,500 meters by nearly 1.5 minutes, touching the wall in 20:21.61. "The others have a rough time competing with her," says Hecker, who coaches Val whenever she's in Vegas visiting her two daughters and three grandchildren.
Her utter dominance is made even more remarkable when you consider that Val isn't exactly some pro swimmer. She's never been to the Olympics, though she's beaten former Olympians. When she's not setting records in freestyle, backstroke, or butterfly, at distances often ranging from 50 to 1,500 meters, she's working full-time, managing a surgical staff in a northern California medical clinic. She doesn't train with obsessive specificity, seldom practicing her starts or flip-turns. She isn't overly careful about her diet, although her 5-foot-7 frame is remarkably lean, and she finishes every workout with a protein shake. (Val, at 65, is sponsored: P2Life gets her energy food; Blueseventy gives her swimsuits.) She doesn't go to the weight room.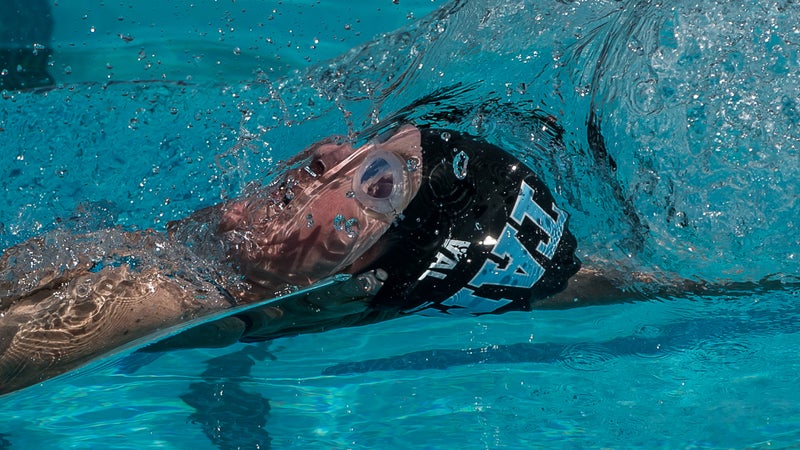 "I don't know that I have a story," she says. "I haven't overcome hardship."
Except, we might argue, hurdles including age, apathy, and getting out of a warm bed at 5 a.m. to swim just about every morning for the last 30-plus years. 
Val simply savors her sport. She thrives on the daily rhythms of being in the pool for 90 minutes, often six days a week. She visits with her swimming pals in and out of the water. "I can't identify with people who say they've burned out," says Val, who gets in her home hot tub every night to relax and to stretch. "For me this is a way of life."
The fact that swimming is a lifestyle choice has helped Val never get discouraged by slowing times as she ages. (Then again, it's tough to complain much when, at 49, she swims a lifetime best 53.2 for 100 yards.) She refuses to think that the 355 world records she's set since starting her masters career in the mid-1980s is terribly special. "You have to understand that this really isn't the world of Michael Phelps," she says. "I try to have some perspective. It's just masters."
Val is enjoying herself, and in doing so, she helps inspire athletes of every age. "The adrenaline rush is cool. To me those pre-race butterflies are not a bad thing," she says. "I get to the start of a race and feel so good about it, and about myself. I look around and think, how many older women are doing this?"
Lead Photo: Peter H. Bick/U.S. Masters Swimm
Trending on Outside Online