The New Icons
The Longer the Race, the Stronger We Get
At the outer edges of endurance sports, something interesting is happening: women are beating men
Heading out the door? Read this article on the new Outside+ app available now on iOS devices for members! Download the app.
Among the world's most celebrated long-distance footraces, the Ultra Trail du Mont Blanc is known for being particularly brutal.
The 106-mile course through the French, Swiss, and Italian Alps climbs more than 33,000 feet as it loops around its namesake peak. The weather can be savage—heavy rain, frigid nights, hot and humid days. In August 2013, Rory Bosio took off from the start line without grand expectations, having never won a major event. She trailed well behind the leaders for the first six hours. But as the race stretched into the evening and most competitors slowed, ­Bosio held her pace. When the lanky, brown-haired American runner in pink shoes and a blue running skirt crossed the finish line in 22 hours 37 minutes, she'd destroyed the women's record by two and a half hours. Bosio took seventh place overall, becoming the first woman to crack the top ten at the event and beating dozens of elite pro men.
The XX Factor Issue

Our special issue highlights the athletes, activists, and icons who have shaped the outside world.
It wasn't the first time a woman broke through at a major endurance competition. In the early aughts, Pam Reed won consecutive 135-mile Badwater Ultramarathons. Back then her victories were considered anomalous, especially since the next fastest women were more than seven hours behind her. ­Bosio's Mont Blanc race, however, is just one of a recent string of noteworthy female performances. A year earlier, obstacle racer Amelia Boone took second overall at the World's Toughest Mudder, a 24-hour championship race during which she covered 90 miles. She finished a full ten miles ahead of the third-place finisher, also a woman.
Last summer, Lael Wilcox became the first woman to win the Trans Am, a 4,300-mile unsupported cycling sufferfest from Oregon to Virginia. She completed the route in just over 18 days after passing Greek rider Steffen Streich in the middle of the final night. (When she caught him, Streich proposed that they ride together to the finish. Her response: "No way, it's a race.") In one weekend this past December, women runners took five outright victories in ultramarathons across the country, with 42-year-old Caroline Boller setting a new course record at the Brazos Bend 50-mile trail race in Texas.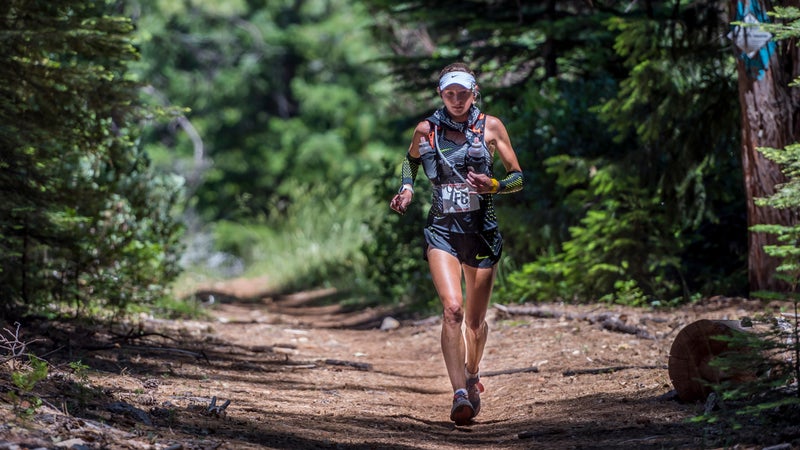 To be clear, female victories in mixed-gender events remain rare. In the marathon, top women ­finishers are about 15 minutes slower than the top men. But the growing number of standout performances by women in ultra-distance events has athletes, coaches, and researchers believing that ­women may still be far from achieving their full ­potential as athletes. The sentiment is buoyed by the simple fact that women have been compet­ing in ­endurance sports in large numbers for a ­rel­atively short amount of time. The first woman wasn't allowed in the Boston Marathon until 1971, seventy-four years after the event was born. Scientific understanding of women athletes is also sorely lacking. Until Bill Clinton signed the 1993 National Institutes of Health Revitalization Act, which required most federally funded research to include them, women were excluded from the majority of studies of exercise and biomedicine. Even now there are only a handful of researchers focusing on female athletic performance.
The consensus among scientists is that men have several key physical advantages over women that make their edge at the elite level insurmountable in all but a few highly specialized sports. But they also concede that we're only beginning to understand what women endurance athletes are capable of. A growing pattern of race results suggests that the longer and more arduous the event, the better the chances women have of beating men.
---
In 1992, UCLA exercise physiologists Brian Whipp and Susana Ward published a study in the journal Nature predicting that within five years, women would begin to outperform men in long-distance running events like the marathon. Twenty years after the enactment of Title IX of the Education Amendments Act, which barred the exclusion of women from educational programs or activities at schools receiving federal funding, female participation in sports was booming and records were being constantly broken. According to Whipp and Ward, women were improving so much faster than men that they were on a clear trajectory to surpass them.
"Women have smaller muscles, but their muscles don't tire as quickly."
The researchers were wrong, and the study was criticized as overly simplistic—­statistical modeling taken to an extreme. But the work called attention to the phenomenal advances of female athletes over the previous two decades. Most of the progress was the natural result of women getting a fair chance to compete. Fewer than 300,000 girls played high school sports before 1972; today more than 3.3 million participate. In 1972, eight women completed the Boston Marathon; in 2016, more than 12,000 women finished.
Performance improvements have been equally dramatic. Paula Radcliffe's world-record marathon time of 2:15:25, set at the 2003 London Marathon, is 30 minutes faster than the women's record from the mid-1970s. (The men's time dropped by only five minutes over the same ­period.) ­Women triathletes cut two and a half hours from the fastest ­female time in 1980, while men have shortened theirs by an hour and a half. In professional tennis, the top-ranked women now routinely hit ­faster serves during matches than some of the men do. The top three ­women golfers on the LPGA tour outdrive lower-ranked pro men.
Across many sports, though, the closing of the gender gap has largely stalled out, with the fastest ­women about 10 percent slower than the fastest men in cycling, swimming, speed skating, rowing, kayaking, and the marathon. The exception is ultra-­distance events. Over the past decade, the rising popularity of especially punishing mixed-gender contests like 100-mile-plus runs, cross-country-cycling events, and grueling obstacle courses have given women the opportunity to compete directly alongside men, with intriguing results. According to Ultrarunning magazine, between 2000 and 2016, the number of ultramarathon finishers jumped from about 13,000 to more than 88,000, with women increasing from less than a quarter of finishers to more than a third. At the infamous Hardrock 100 race, a woman has been among the top ten at eight of the past nine events, with two women breaking the top ten in both 2015 and 2016. Women have also begun to crack the top 20 at the prestigious Leadville 100 mountain-bike race, with Sally Bigham taking 14th last year and Annika Langvad doing the same the year before.
Researchers, meanwhile, suggest that women are going to con­tinue to improve at a much faster rate than men. According to Sandra Hunter, a professor of exercise science at Milwaukee's Marquette University who has spent the past 20 years studying female physiology with an emphasis on athletes, the difference in current participation rates accounts for roughly 34 percent of the gap between men's and women's race times.
Female athletes are well aware of this kind of data. "Women's fields are growing fast, and records are falling," says Rebecca Rusch, 43, a seven-time world-champion mountain biker who has com­peted against men in endurance events for 25 years. "Which just means we haven't got anywhere close to maxing out our genetic ­capabilities yet."
---
In endurance sports, five phys­iological factors play a big role in determining athletic ­potential. Men have definitive advantages in three of them—heart size, lean muscle mass, and VO2 max (the body's ability to ­deliver oxygen to muscles). But then there are those other two, central drive and movement economy. The former is the rate at which the nervous system sends signals to muscles and is critical to maintaining an ­intense effort over time. The latter is how efficiently the body moves, which is dictated by coordination and joint stability. Both central drive and movement economy can be improved through training, and along with a host of smaller variables, they may have an equalizing effect on male and female athletic potential, especially in endurance sports.
"All these guys will go out hot, and hours later I catch them. They always ask, 'Why do you start so slowly?' And I answer, 'Why do you finish so slowly?'"
A 2012 study by researchers at England's Canterbury Christ Church University found that improvements in propelling effi­ciency of swimmers can account for sizable differences in performance
between athletes who have a similar VO2 max. Earlier work has shown that athletes with lower VO2-max scores can perform at the same speed and intensity of their more genetically gifted rivals in a range of activities by developing superior movement economy.
"Proper form counts way more than many athletes realize," says Mayo Clinic physiologist Michael Joyner, a renowned expert on health and human performance. "Depending on the sport, you can often overcome having a smaller engine if you're a better driver."
Form is particularly important in long-distance swimming, where small inefficiencies add up over thousands of strokes. So it's not surprising that, as Swiss sports scientist Beat Knechtle has pointed out in several published papers, women outperform men in two of the three most challenging open-water ultra-distance events worldwide: the 20.1-mile Catalina Channel Swim, off Southern California, and New York's 28.5-mile Manhattan Island Marathon Swim. (Men are faster in the third, across the English Channel.) Similarly, there's no difference between the genders in sport climbing, a discipline that requires precise movements. In 2012, 11-year-old Ashima Shiraishi became the youngest person, male or female, to complete a 5.14c route.
"While men are stronger, technical climbing involves a lot more than pure strength," says 24-year-old Sasha DiGiulian, the 2011 ­female sport-climbing world champion. "There's a lot of technique and endurance. Women can outperform or at least match men."
Another significant factor is fatigability, an exercise-induced reduction in performance. In a review of ­existing studies published last year in the journal Medicine and Science in Sports and Exercise, Hunter wrote that the available data, though limited, indicates that women are more resistant to muscle ­fatigue than men during long efforts. In 2004, Hunter conducted a study that measured the fatigability of subjects completing an isometric arm contraction. Women were able to perform a task until failure ­almost three times longer than men, 23.5 minutes ­versus 8.5. Hunter says this is due ­largely to two factors. The first is the ­difference in muscle properties between the ­sexes—women have a greater number of fatigue-­resistant fibers, which are utilized during sustained low-­intensity exercise, while men have faster-­contracting fibers, which are better for powerful short movements. The second factor is blood flow: men have larger muscles that demand more blood, so their hearts have to work harder.
"Women have smaller muscles, but their muscles don't tire as quickly," says Hunter. If a man and a woman put the same amount of effort into a long, slow physical task—one that mostly involves muscle endurance or is more skill based—the woman will take longer to fatigue, she adds. Other research indicates that women are faster to recover from physical exertion than men, regardless of the intensity of the effort.
Female endurance athletes also have a metabolic edge, by deriving more of their energy from fat, compared with males, when performing moderate-­intensity aerobic exercise. This is a distinct advantage in longer events, because fat is a slower-burning fuel than carbohydrates. While men must consume calories hourly, if not more frequently—an action that itself requires more energy than simply metabolizing available fat—­women can keep trucking along.
What is certain: every day more and more girls and women will play sports. They will continue to close the performance gap with men. 
Then there's the mental game. Here women come out ahead in the key art of race pacing, a trainable skill that men seem to have a harder time refining. According to Danish statistician Jens Jakob Ander­sen's massive marathon study, female runners pace 18.6 percent better over the course of a race than males. "Men may be more likely to adopt a 'risky' pace where an individual begins the race with a fast early pace (relative to their ability), and this increases their likelihood of slowing later," Anderson wrote in his analysis. Put another way, the boys blow up.
Rebecca Rusch has seen this play out many times on endurance-­biking courses. "All these guys will go out hot, and hours later I catch them," she says. "They always ask, 'Why do you start so slowly?' And I answer, 'Why do you finish so slowly?' "
---
While women do appear to have some biological advantages in endurance, those advantages remain poorly understood because of a lack of research. Right now it's about what we don't know. How do differences between the sexes translate across a range of sports and conditions? There are lots of hypotheses but no conclusions.
Within endurance-sports communities, athletes readily swap baseless theories. Among the most common—usually put forth by men—is the idea that the demands of childbirth program ­women to tolerate the agony of ultra-distance events. There is no research to support this. To date, studies of pain tolerance have asked par­ticipants to rate pain levels in surveys. Across the board, men claim that they experience less pain than women. Scientists have speculated that the responses may not be meaningful, however, since males are fre­quently culturally conditioned not to express how much something hurts.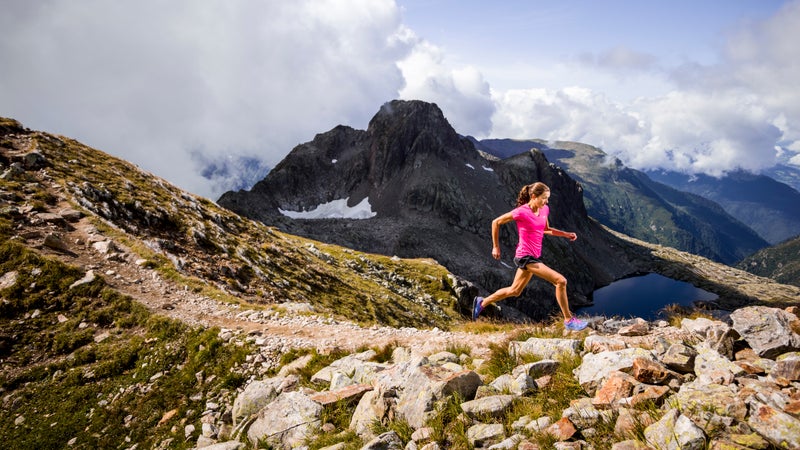 Similarly, while women's hormonal cycles likely have a significant impact on performance, researchers are still trying to under­stand this dynamic. Studies have shown that hormonal fluctuations can alter metabolism, meaning that women need to fuel differently at different times in their cycle. Other work indicates that there might be an optimal window for competing. In one study, South African scientists found that almost three-quarters of female cyclists were faster in a time trial during their pre-­ovulation surge of estrogen. ­According to exercise physiologist Stacy Sims, the best time for women to race is right before or after they get their period. That advice undercuts a long-standing practice among some elite athletes of taking drugs before a competition to prevent their period from starting, either to avoid the hassle or because they ­believe menstruation makes them weaker. Sims says that a lack of understanding has hindered both women's performance and scientific studies. In her 2016 book, Roar, the first endurance-training manual written for women, she notes that researchers often don't acknowledge how sharp hormonal fluctuations can influence performance data. "I'm so tired of seeing women blame themselves for results that were based entirely on their cycles," she says.
What is certain: every day more and more girls and women will play sports. They will continue to close the performance gap with men. And in those crazy-long races when, many hours in, everything hurts and the guys who went out way too fast are bonking, and the others are stopping every 30 minutes to suck down an energy gel, women will breeze past them on their way to the finish line.
That's Rory Bosio's plan, anyway. "When I placed in the top ten overall at Mont Blanc, I wasn't thinking about my place or winning the race," she says. "I honestly just wanted to finish. It helped me run with a lightness and focus that was all my own. That might be the difference between men and women—the ability to tune out the noise and just race."
Meaghen Brown has beaten hundreds of men since she started racing ultras in 2012.