The Machine That's Churning Out Triathlon's Future Female Olympians
Inside the wildly successful USAT College Recruitment Program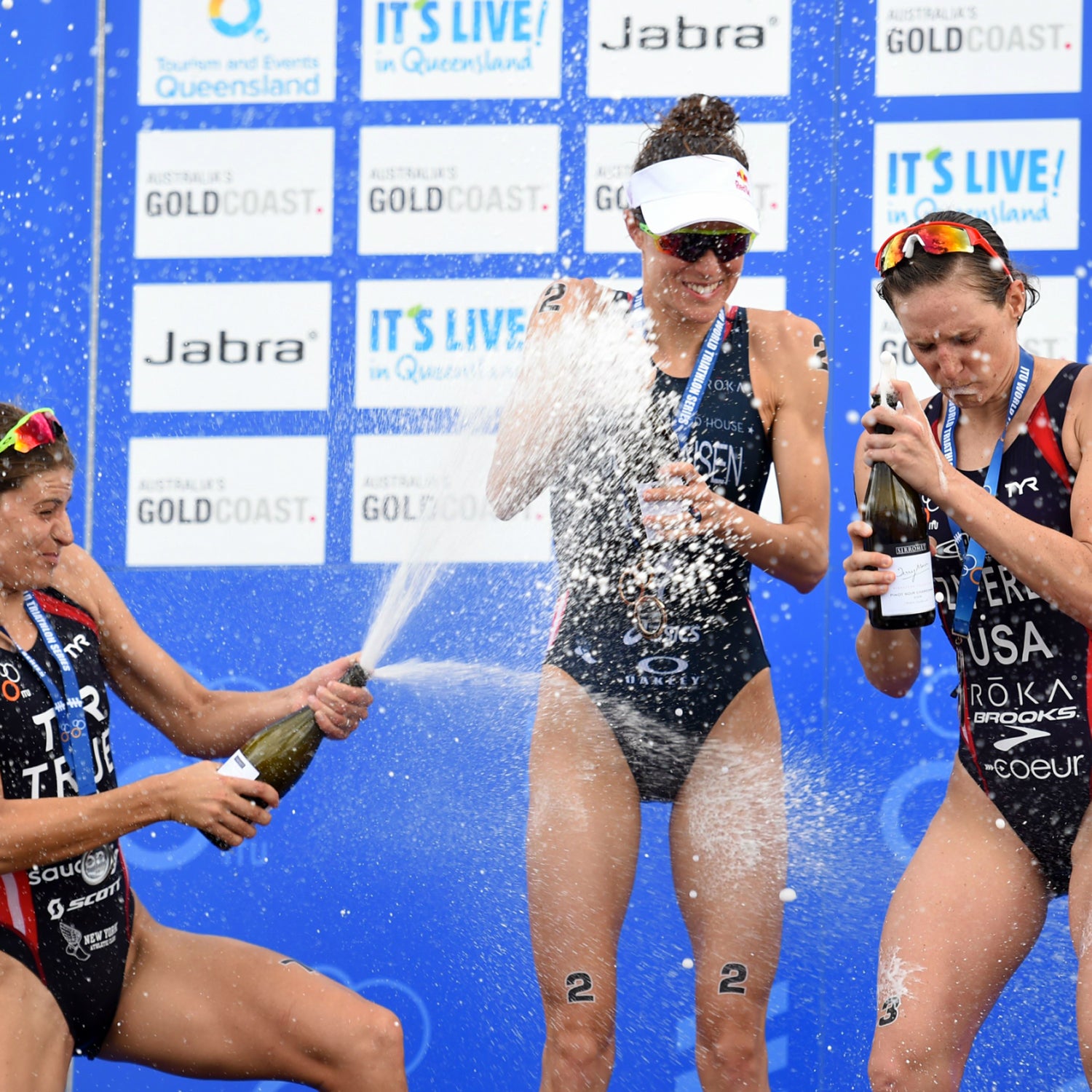 USA Triathlon(Photo)
Heading out the door? Read this article on the new Outside+ app available now on iOS devices for members! Download the app.
Never has an American triathlete won Olympic silver or gold. But in the build-up to Rio 2016, American triathletes have dominated international competitions, and are poised to step up to the top levels of the podium at next year's Olympics—all because of a special recruitment program started six years ago.
USA Triathlon, the sport's national governing body, started the Collegiate Recruitment Program in 2009 after recognizing that virtually all of the triathletes who competed for the U.S. in the sport of Olympic triathlon had come from a single-sport collegiate athlete background, and were learning the other two sports on their own. Take for example Susan Williams, a former collegiate swimmer at the University of Colorado and the only U.S. triathlete to medal in the Olympics, was working for aeronautical firm Lockheed-Martin when she tried her first recreational triathlon at 24. Though she only placed second in her age group, she was inspired enough to start working part-time to give herself enough time to train on her own, eventually turning pro. In an interview with Babbittville Radio, she says she suffered through a lot of transition errors in her early races, including stopping to change her shorts.
Now the CRP has created what's proven to be a direct path to success. Here's how it works. 
The program is spearheaded by former Olympian and professional triathlete Barb Lindquist, who identifies and recruits athletes who are typically among the best collegiate swimmers and runners in the U.S. She sells triathlon on Olympic dreams and a chance to compete at the highest international level. 
Lindquist says the CRP's ideal recruit swam and ran in high school and was then good enough to get a scholarship to run or swim in college. Given that or a similar background, the program relies on established performance benchmarks—running and swimming standards for a variety of distances—to determine endurance talent. 
After that, Lindquist has one more seemingly obvious trait she looks for: athleticism. "Some high-level runners and swimmers are just good at that one sport, and you when you take the fish out of water you realize they are only meant to be in the water," says Lindquist. The program looks for athletes that have the body awareness, balance, and feel that allows them to pick up and hone two other disciplines, especially under the typical high-intensity ITU/Olympic race conditions in which athletes race very close to each other in packs during the swim, bike, and run.  
After the athletes are identified, Lindquist typically doesn't have to do much persuading. "There are more on the border athletes interested that we have to turn away than those not interested who we have to convince," she says.  
The program looks for athletes that have the body awareness, balance, and feel that allows them to hone two other disciplines, especially under the typical high-intensity ITU/Olympic race conditions.
For those athletes on the fence, the biggest obstacle is often another career option. "It just happens that the athletes we recruit are smart and have the world at their feet, so the biggest barrier is that they have other life options in more traditional career paths," says Lindquist.
Take Gwen Jorgensen, for example. After running and swimming at the University of Wisconsin, Madison, she figured her competitive days were behind her and had taken an accounting job in corporate America. Even after being identified and recruited by the CRP program, she was unsure about leaving her corporate position. Still working part-time at Ernst and Young, she didn't compete in her first triathlon until a year after her college graduation. Thankfully for U.S. medal hopes, she embraced the CRP program and has developed into a world-class triathlete. Now, four years after joining the CRP, Jorgensen is ranked the best female triathlete in the world.
Once athletes like Jorgensen are committed, they enter a highly individualized coaching and training process that guides each of them through the program.  "This is essential," says Jarrod Evans, USAT National Development Coach, "as athletes come in with not only differing strengths and weaknesses but also differing chronological and training ages and respective sports specialties." To get an idea of an athlete's skill set and physiology, athletes complete baseline swim, bike, and run testing. Then coaches make an individualized assessment about the best training path.  
Ideally athletes then train for a year with Evans at the Collegiate Recruitment Programs' Scottsdale training center, enabling USAT to fully support them. Athletes who need to train closer to home are set up with a local coach that can recruit training partners for the athlete. Currently the CRP Resident Program has three women and four men training in Scottsdale, and two athletes training outside of the program with local coaches, and the program isn't looking to expand.
Growing the number of athletes in the program isn't as important as developing quality triathletes, says Lindquist. In line with the goal of emphasizing quality over quantity, qualifying standards have tightened over the last six years. "Because the Olympic Team is only 3 men and 3 women, we don't need to ID and develop 10 athletes a year," writes Lindquist in an email.
 
One goal that has so far eluded the CRP program lies in the development of their male triathletes, as none from the program have approached the success of Jorgensen or Katie Zaferes, a CRP recruit who swam and ran in high school, ran at Syracuse University, and now, only four years after becoming a triathlete, is ranked number two in the world.  
At this point, fewer male athletes have followed the model seen with many of the successful female graduates of the program; swimmer in high school and runner in college. Lindquist says part of the difference may be that the young male runners are less likely than females to continue swimming through middle and high school, so there are fewer males fitting the ideal mold from which the CRP has been recruiting. The program is taking steps to address that issue, but those steps are a highly guarded secret. Lindquist says she doesn't want "to give away all of the secrets."
Whatever happens in the Olympics, it's clear that great athletes can be made. Talent has brought these former collegiate athletes to the starting line, but the Collegiate Recruitment Program has developed that talent and given them the tools that may enable them cross the finish line in first.
Lead Photo: USA Triathlon