Niche Sports and the Doping You Don't Hear About
Cycling and track athletes cause a stir when they're caught cheating—but in smaller (and less well-funded) arenas, others may be getting away with it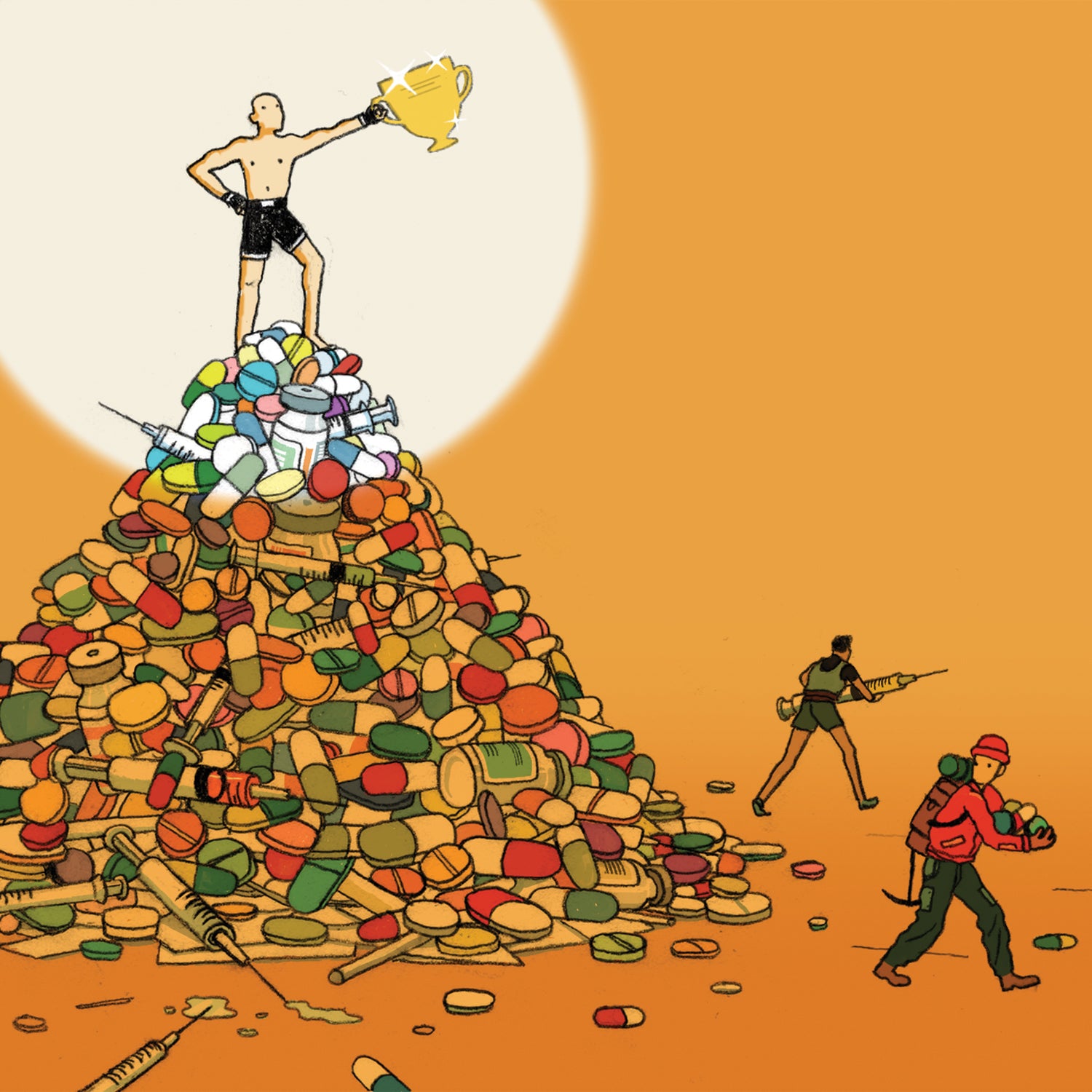 Heading out the door? Read this article on the new Outside+ app available now on iOS devices for members! Download the app.
This January, at the center of a Las Vegas arena, Anderson Silva secured his legacy as one of the best mixed-martial artists in history. The 40-year-old Brazilian fighter battered his opponent in five rounds of hooks, jabs, and kicks in a fight put on by the Ultimate Fighting Championship.
But four days later, the Nevada Athletic Commission announced that the fighter had tested positive for the steroid drostanolone in the run-up to the fight. It was a body blow to a sport long troubled by rumors of doping. Not only that, but Silva's opponent in that fight, Nick Diaz, also allegedly tested positive for marijuana in a post-fight test.
As drug scandals buffet marquee sports like pro cycling, track, and Major League Baseball, relatively low-profile, low-budget niche sports are trying to navigate the same treacherous waters. While cage fighting shares few things in common with ultramarathon running, obstacle course racing, CrossFit or mountaineering, there is one important common denominator: each sport is wrestling with the potential for doping—and the public-relations damage that comes with it. It's also becoming more apparent that it doesn't take the lure of Olympic gold or a seven-figure contract to make athletes cross the line.
Not only that, but as doping has grown increasingly sophisticated, anti-doping efforts have been forced to become more comprehensive. Confessional memoirs and legal documents surrounding the Lance Armstrong affair revealed a bag of tricks. Athletes hid from drug testers, took tiny doses of steroids that flushed from their bodies in hours, and used hard-to-detect blood transfusions or custom-made drugs not on the testing list. Two pro cyclists this year were busted for allegedly using a blood booster that hasn't reached the market yet. New allegations of systematic doping among Russian athletes, leveled by an independent commission for the World Anti-Doping Agency, underscores the challenges facing doping police.
That puts smaller sports, many without deep pockets, in a tough spot. Do you go all in to address a problem that might not be there? Do you test just at competitions, speak out against doping and hope this inoculates you from a scandal? Or do you carry on with business as usual.
"If more people want to see testing and want a clean sport, then it will force the hands of the race directors," says Ian Torrence. "But I don't know if people care."
The responses to possible drug abuse are as varied as the sports. A few of these niche sports have robust, year-around drug-testing. Others test only at competitions, an approach so vulnerable to abuse that it's hardly better than not testing at all. Often, the difference comes down to how much the organizations behind the sport are willing or able to spend. "Some of these fringe sports might not have enough money to spend thousands of dollars testing at every event," says Daniel Eichner, the former science director at the U.S. Anti-Doping Agency, who now runs one of two U.S. drug testing labs certified by the World Anti-Doping Agency.
"The question with these new sports is what are they trying to accomplish?" says Dr. Michael Joyner, an expert in human performance at the Mayo Clinic, who helped with a recent articles about gaps in drug testing by the investigative website ProPublica. "Are they trying to let this not be a pharmaceutical arms race, or are they involved in some sort of brand protection?"
Eichner points to UFC as a surprising bright spot. Soon after the doping allegations against Silva surfaced, the Las Vegas-based company announced plans for an ambitious new drug-testing program. In April they hired one of the country's best-known anti-doping cops to build and run it. Jeff Novitzky was a federal agent who made headlines for the investigation that ensnared Olympic sprinter Marion Jones in what became known as the BALCO scandal. He was also a central player in doping investigations of Lance Armstrong and several top Major League Baseball players. Today, Novitzky sounds like a missionary: "I truly, based in my experience, believe we have the most comprehensive, robust anti-doping program in all sports in all the world."
He ticks off a list of features to back up such a bold claim: The drug testing and decisions about penalties will be handled by the U.S. Anti-Doping Agency, shielding it from potential meddling by UFC promoters. Athletes will be subject to year-around "surprise" testing, to guard against people doping during training, but not right before fights. Testers will use a "biological passport," much like pro cycling, that looks for telltale fluctuations in body chemistry to highlight hard-to-detect doping. Sentences will be more severe, starting with two-year bans. The effort will cost millions, and could reveal some unpleasant news, Novitzky says.
In the arena of fitness competitions, CrossFit is the big brand. The CrossFit Games feature a prize purse topping $2 million. And with that have come warnings that the sport is ripe for problems. Asked about doping in a 2013 interview, top CrossFit athlete Dan Bailey says, "Our testing procedure could and should be improved. I think as the sport gets more popular, the purses get bigger, sponsorships get bigger. Because the incentive is just there, and nobody's perfect. People are going to dive into that, I'm sure, at some point."
CrossFit has responded with a testing program featuring some of the same strategies as the UFC. Some CrossFit Games participants are tested at competitions, and in recent years the company started out-of-competition testing. It's not clear how much advance warning athletes get for these tests. The CrossFit guidebook notes people might be notified ahead of time by text or e-mail. Bailey, in another interview, says he was given 24-hours notice. Drug testing experts say immediate, unannounced tests are most effective, because it's harder for athletes to dodge a tester or let drugs flush from their bodies.
The testing has tripped up several CrossFit athletes. Most recently, in July the company announced sanctions against four athletes. Two tested positive for steroids during competitions, one was sanctioned for skipping an out of competition test, and another had a positive steroid test blamed on a tainted supplement. 
It's also not clear what drugs CrossFit is testing for. The company's guidelines to athletes say only that it "may" test for a long list. CrossFit doesn't mention a biological passport. A CrossFit spokesman declined to discuss the program.
Eichner says he isn't familiar with CrossFit's operation. But when he sees the athletes in fitness competitions or extreme obstacle-course races on television, alarm bells sometimes go off. "I've been in this business for a while and I can look at these people and know if they've got a problem." he says.
"When you start to introduce large prize purses," says Adrian Bijanada, "some athletes may view it as tempting enough to do something that is unethical."
Far from the realm of muscle-bound gladiators, ultra-distance running faces a similar quandary. As traditional track and field is wracked by repeated positives, and claims that the governing authority is turning a blind eye, and cover-ups in Russia, some wonder whether the small world of ultrarunners should step up its efforts. The sport has already shown it's not immune. Several top runners in South Africa's 56-mile  Comrades Marathon have tested positive, including one this year. Today, the approach to drug testing is "all over the map," says Ian Torrence, an ultra-distance running coach and race organizer in Flagstaff, Arizona, who wrote about drug testing for the ultrarunning website iRunFar.com.
The International Association of Ultrarunners, which oversees world championships and sanctions some other ultra-distance races, has drug testing at events, and out-of-competition tests for top performers. But at many of the independent races, it's up to the individual organizer. It can be an expensive headache for races that often barely break even, Torrence says. "If more people want to see testing and want a clean sport, then it will force the hands of the race directors," he says. "But I don't know if people care."
Ultrarunning isn't alone. The OCR World Championships, a fledgling obstacle course race in the genre that includes popular series such as Tough Mudder, was the first of its kind to drug test at its 2014 race in Cleveland, Ohio. "When you start to introduce large prize purses, you are unfortunately are going to get some athletes who may view it as tempting enough to do something that is unethical," says Adrian Bijanada, the race organizer. He acknowledged testing at the event wouldn't catch people cheating other times of the year. But he hopes it's a first step toward more frequent testing of top athletes at other competitive obstacle course events.
Meanwhile, elite mountaineering has taken a very different approach. As climbers chase ever-faster speed records, and the publicity and sponsorship dollars that come with them, doping could offer an edge. Faced with a strong libertarian streak and the logistics of drug-testing on remote mountains, the International Mountaineering and Climbing Federation is telling alpine climbers to let their conscience be their guide. "For most people any 'rules' would be unenforceable and have to be a personal decision. The underlying principle must be honesty with oneself and honesty with one's peers," the federation's medical commission wrote in a 2014 report.
It's a striking departure from the increasingly invasive measures in some sports. Mountaineering has a long history of using supplements to boost performance. Bottled oxygen is the most obvious example. Talk of everything from EPO to steroids has circulated in the climbing world. (See "Climbing's Little Helper") The laissez-faire strategy makes sense given mountaineering's free-spirited, individualist culture, say Chris Weidner, a climbing guide and journalist who has written about drug testing for climbers. When it comes to concerns about cheating, doping ranks well below proving that someone actually summited.
The conclusion to all this is that even niche sports are going to have to contend with increasing concerns about doping. But without large regulatory bodies setting standards and controlling the process, people wanting to know what's being done to keep their favorite sport clean will need to read the fine print. 
Lead Photo: Dadu Shin