The Other Side of The Mountain
The U.S. military has always excelled at training soldiers, but they've had a tougher time helping them adjust to peace. The author joins 11 combat veterans in Nepal as they test the most promising new postwar therapy: adventure.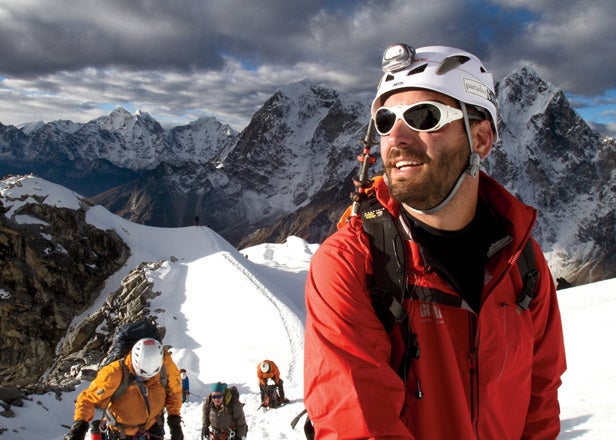 Heading out the door? Read this article on the new Outside+ app available now on iOS devices for members! Download the app.
TWO YEARS LATER AND STILL HE IMAGINED HIS BLINDNESS AS A TERRIBLE DREAM. He'd wake up and see again. The mountains. A wife whose face he knew only by touch. The sunrise. Everything. His last vision of this world was a dusty, darkened street in northern Baghdad while at the wheel of an enormous armored vehicle. The bomb was simple but lethal: a metal tube stuffed with explosives and capped with a concave copper disk. Powered by the blast, the disk transformed into a jet of molten copper that bored through the thick front passenger door. Shrapnel sliced through his friend Sergeant Victor Cota, then into him. Metal punched through his right temple, ruptured his eyes, gouged holes in his left thigh and right biceps, and mangled his left forearm. Face crushed and body scorched, he was covered in so much of Cota's blood that fellow soldiers thought he was dead, until he stirred from unconsciousness and wiped his face. Cota died in the truck, and Private First Class Steve Baskis woke up a week later in Walter Reed Army Medical Center to more pain than he'd ever felt and a doctor telling him he'd never see again. Yet he carried an optimism many couldn't understand. "I just love living, more than anything," he'd often say.
Eric Weihenmayer, Lobuche

Weihenmayer, in front, approaching the summit
Chad Jukes, Lobuche

Veteran Jukes
Veterans' Climb Group Photo
The entire team, including soldiers, guides, climbing Sherpas, trekkers, and porters, with the Lobuche summit in the background.
Before the deployment, his father made him promise that he wouldn't give up on life if he came home broken. So he learned to navigate a darkened world, ran in the Chicago Marathon and finished a half Ironman triathlon. He married a specialist in blindness rehabilitation and trained for the Paralympic cycling team. Baskis knew many wounded who'd become mired in desolation and anger. That wasn't him. He pushed and suffered and didn't quit. But now, as he gulped thin air and tripped and stumbled over rocks, the frustration swelled, and he wondered whether the final 2,000-foot ascent might break him. "I'm not going to make it if it's like this all day," he said. "I don't know if I have enough in the tank."
Beneath Baskis, several more climbers whose bodies had been battered by war were scattered on rope teams along the rock slabs. They'd had legs taken by explosions and crashes, brains rattled by bombs, and spirits hammered by loss and fear and the disorienting journey home from the battlefield. Those moments, the worst of their lives, had brought them here: working up the side of 20,075-foot Lobuche in Nepal's Himalayas, hours before dawn. For some it was their first trip to a foreign country not at war. They climbed alongside their expedition teammates—ten mountaineers who had scaled Everest in 2001, including Erik Weihenmayer, still the only blind person to summit that peak. Weihenmayer and his friends, many of whom had since become professional mountain guides, wanted to commemorate the climb. Leading ten injured veterans up Lobuche, in Everest's shadow, seemed an appropriate parallel. "An expedition has the ability to renew you, to renew your soul," Weihenmayer had told the veterans several days earlier in Kathmandu. "I've been on dozens and dozens of expeditions, and I've died and been reborn on every one."
The two groups had far more in common than each had first imagined. Usually, the language of war translates crassly to athletics. A playing field is not a battle­field; athletes are not warriors. But mountaineering approximates many elements of soldiering—a team trained to operate in extreme conditions straining toward a coveted piece of ground as the world falls away, until life is reduced to a small pocket of space and time. Death lurks in both as well, from an avalanche or a buried bomb, a misplaced step or a mortar barrage. I had served two tours in Iraq as an infantryman, and as we prepared for the summit push the night before at our 17,000-foot-high camp, the mood was electric, nervous, and giddy; it reminded me precisely of the energy before a mission, the mix of joking and seriousness, rechecking gear and rehearsing plans. I could have been back in Baghdad.
At least bombs weren't a concern; just breathing was hard enough. "I can't believe how much energy it takes to talk," a marine named Dan Sidles told me as we pawed up the slabs. There was little conversation anyway; most of us retreated inward, searched for purchase on the rocks, and tried to find a rhythm to our steps and breaths.
But near the front of the column, the slabs steepened and Baskis's optimism dimmed. He tapped and scraped his trekking poles against the rocks, probing for solid ground and for voids where he might step into nothing. His atrophied left hand, with its shredded nerves and blood vessels, ached in the cold. After the slabs, we would have another 1,500 vertical feet of snow and ice before he reached the summit—a summit Baskis would be able to stand on but not see.
He smashed his knee into a boulder and pain rocketed through his leg. "I don't want to go on," he said. "I want to turn around."
"This is no longer about you," said Jeff Evans, a few feet below him. Evans was the leader, the owner of Mountain­Vision Expeditions and a part-time physician's assistant from Boulder with 20 years of experience at high altitude. He recognized Baskis's problems as mental, not signs of altitude sickness or potentially fatal cerebral edema. Baskis needed a push. "You're doing this for all the men and women who have been injured," he continued. "You need to man up and do this."
The teammate in front of Baskis jangled the bell and Baskis followed. Behind him a string of headlamps bobbed and the soldiers scaled the giant slabs, their worlds reduced to individual bubbles of light, somewhere between the battlefield and home.
WE'D STARTED the expedition a week and a half earlier, with a flight from Kathmandu to Lukla, at the mouth of the Khumbu Valley. It was the middle of October, high season for trekkers headed to Everest Base Camp, five miles northeast of our objective. The guides had chosen Lobuche as a middle ground of challenge and accessibility, a demanding summit they felt most of the group could reach. After nine days of trekking, taking our time to acclimatize, we'd camp at 17,000 feet, then climb the final 3,000 vertical feet to the summit in one long push. The route included a few intensely steep sections, but except for two hanging seracs below the summit, there was limited danger. This expedition had more unique challenges. Of the 11 veterans on the trip, three had lost a leg, one was blind, at least seven had sustained traumatic brain injuries, and several were suffering from varying degrees of post-traumatic stress. The guides could only guess how these problems might manifest themselves when we got on the mountain.
We began our trek by following the Dudh Kosi, the Milk River—the famous torrent that drains Everest. A mile outside Lukla, we paused on a promontory, and Cody Miranda, a former Marine Corps staff sergeant, pulled in a long breath and blew it out slow. His face showed deep relief, as though he'd just burst to the surface after being held underwater. Our brief stay in Kathmandu had worn him down. "I couldn't take another day in that city," he said. "I just can't handle it."
As soon as he'd boarded the plane in California, he'd considered getting off, and that stress ratcheted higher in Kathmandu, where pedestrians share the narrow streets with motorbikes that weave between clusters of tourists and cars that race by with only inches to spare. For Miranda, the anxiety worsened by the hour. His chest tightened, his head throbbed, and his eyes grew tired from flitting across the faces, doorways, and rooftops, scanning for threats. "When you've been to a place where anything can happen, you never let go of that," he said. "They say don't be hypervigilant. Well, hypervigilance keeps me alive. Do I really want to lose that?"
Miranda is 38, blond-haired and block-jawed, a barrel of muscle, but speaks softly and wears a slight smile, half entertained, half wary. He served 18 years in the Marine Corps, much of that with Force Recon, a special-operations unit. He was hit by two explosions in the early days of the Iraq war—the first an underwater mine, while clearing the port of Umm Qasr, the second a rocket-propelled grenade that rattled his brain and wrecked his short-term memory. He spent more than a year in a San Diego naval hospital. One of his few constants over the past several years has been his best friend, Katherine Ragazzino, also on the climb, a fellow marine and patient at the hospital, where they were both treated for brain injuries and post-traumatic stress. Rizzo, as she is known to everyone, was a little ways behind us on the trail. She calms him, he said, and helps him see the world around him as less threatening. "Inner peace. That's really what I need," Miranda said. "I don't have any. Ever."
Miranda had been groomed for some of the military's most difficult and dangerous tasks, and he was outfitted with a lethal skill set at great expense of time and money. The military has always excelled at building and maintaining its fighting force, but it's the unbuilding of soldiers that's tricky. Helping them reintegrate to the world they left behind can be harder than healing their physical injuries. I had been luckier than Miranda and many of the other Lobuche veterans. I returned from Iraq physically whole, and the dreams, frightening and surreal, which can last a lifetime for some, faded after several months. I didn't know the pain and frustration of learning to walk on a new leg or stumbling through blackness that stretches forever. But I knew about coming home and not being home. I knew that I was most comfortable around those who had been under fire, and I wondered if it was me who'd changed or everyone else. I knew that war could twist and warp what was once accepted as truth and make you a stranger to friends, a stranger sometimes even to yourself.
For soldiers who bring home mental traumas, and those who feel alien in the world they return to, the Veterans Administration provides individual and group therapy sessions and readjustment counseling, and medication for more severe cases. But as the wars have stretched on, as more soldiers have come home with post-traumatic stress and ever more have taken their own lives, the government has looked beyond traditional treatment methods. For the same reason millions of us take weekend camping trips, using mountains and rivers as stepping stones on the path back home has gained popularity in recent years: the wilderness gives respite. Both the VA and private groups have launched scores of outdoor programs for combat vets to snowboard, rock-climb, mountain-bike, surf, fly-fish, and canoe. World T.E.A.M. Sports—The Exceptional Athlete Matters—which organized the Lobuche climb, has sponsored several veterans' events, among them a 3,700-mile coast-to-coast bike ride last summer that included two of the members of our expedition, Chad Jukes and Nicolette Maroulis. Weihenmayer first worked with World T.E.A.M. Sports in 1997, when he cycled the length of Vietnam with his father, Ed, who flew fighter jets for the Marine Corps, and several other Vietnam veterans.
"It's giving vets a chance to reconnect with themselves without any outside noise, any outside chatter," said Lobuche guide Luis Benitez, who climbed Everest with Weihenmayer and then summited that mountain five more times guiding clients. Benitez has worked for 19 years with Outward Bound, which first took veterans on wilderness expeditions after the Vietnam War. "It's giving them a chance to unplug from a process that tells them they're broken, that they need fixing, that they're not capable of much," he said, "and it gives them the space to be capable, in pretty incredible settings."
Some of the programs, Outward Bound included, incorporate formalized introspection, adding a defined emotional journey to the physical one, the sort of group sharing sessions Benitez had been leading for years. As they planned the expedition, the team agreed that it should be more than just another summit push. "I want everyone to come away from this feeling like they have had some therapy and feeling like they have been rehabilitated," Evans told me. This was delicate. While many of the guides had spent years working in emotionally charged situations, helping clients through moments of crisis at high altitude, none of them were trained as therapists. "If you're going to start opening doors in terms of therapy and trying to help people heal, you need to be very, very careful," Benitez said. "If you're not equipped to deal with what you find on the other side, you can do more harm than good."
Benitez, who was charged with leading these discussions, started slow. The first night of the trek, he asked for an end-of-day accounting, some highs and lows from the previous hours, maybe an unexpected conversation along the trail or a sore stump that made hiking difficult. But by the fourth day, he wanted to go deeper. We gathered outside the Khumbu guesthouse, high on the hillside above the warren of cafés and shops of Namche Bazaar, a picturesque setting for a therapy session. Who, Benitez asked, had helped them or hindered them in their recoveries?
"I tear down a lot of things around me," Miranda said. "I'm my own worst enemy, and I have been for quite some time. As they say in those AA meetings, go back to the people you've hurt and try to make amends with them. I feel like I have to do that, and my list is so long." He turned toward Rizzo, who sat on the other side of the circle. "I'm sorry for some of the things I've done, Katherine. I don't mean them, and you know I'd give my left arm and leg for you."
Rizzo sobbed. "When you get this type of injury," she said, "you hurt others and you don't mean to."
"For some reason, she keeps trying to help me," Miranda said. "I hope I can pay it back someday."
Like Miranda and Rizzo, several of the veterans had been in therapy for a few years, for both physical and mental wounds. Most could mark their progress—running on a new prosthetic leg, less-intense headaches, fewer nightmares. Others couldn't. "There's been three times I've gotten close to just shooting myself," Ashley Crandall, 27, told the group. She wiped a strand of long brown hair from her face and stared at the ground. "The last two months, I've been getting closer and closer to that point." She served eight years in the Army and the National Guard as a helicopter mechanic, including two deployments in the Middle East. For the past two years she'd been a patient at Walter Reed, where she underwent a battery of treatments, from cognitive therapy to drug cocktails. Nothing had worked, and she had started believing that her post-traumatic stress was permanent.
"I work with a lot of amputees, and I see the whole spectrum: 'My life is great' to 'I want to kill myself,'" Chad Butrick told her. Stocky and red-bearded, with an intense gaze, Butrick lost his right leg below the knee in a 2005 vehicle accident after leaving the Army and now works for Boulder-based Paradox Sports, which helps people with disabilities rock- and ice-climb, kayak, and mountain-bike. "One of my favorite quotes is from Henry Ford: 'If you think you can, or you think you can't, you're right.' It's less of a destination than a decision," he said. "The only thing that stands in your way is you."
"I disagree," Crandall said. "I've made the decision to be happy. I've made the decision to move on with my life. I've made plans, and it doesn't work. You have to have someone else pull you out of that."
"You can't wait for someone all the time," Baskis said. "Your support network is very important, but a lot of it's yourself, too."
"It's the self-realization, the finding peace with yourself, that's hard," Rizzo said.
AFTER SEVERAL DAYS of trekking, the veterans were holding up well. The ampu­tees hadn't reported any serious issues with stumps or prostheses. Many of those with post-traumatic stress, like Miranda, said the mountains calmed them. And Baskis, while frustrated moving over rocky terrain, was in his usual good spirits. He navigated much the way Weihenmayer does, using trekking poles for guidance and support, with a teammate walking just ahead jangling a bell and another following behind, calling out major obstacles and drop-offs.
Still, the guides knew altitude could exacerbate any simmering problems. While the veterans relaxed at the teahouse and wandered the narrow streets of Namche Bazaar during a rest day, the guides gathered in a bakery around a long table and plotted the summit push. "There are going to be a lot of issues," Evans said. He'd gotten a glimpse a day earlier, crossing a ravine high above the river. "Rizzo had problems walking down the steps after the bridge. Pure anxiety attack."
Maybe they needed to further refine expectations, Benitez suggested, so the veterans understood it would be OK to turn around before the summit. They knew this would be tricky. Climbers don't climb mountains halfway. While some are more summit-obsessed than others, most withstand the deprivation, stress, and fatigue of long expeditions because they want to stand on top. For those in the military, trained to accomplish a mission, take a piece of ground, even when the costs are high, this sort of single-mindedness can be even more deeply ingrained.
The issue had first come up during a three-day shakedown trip in August in the Colorado Rockies, where we practiced rope skills and self-arrests with our ice axes on St. Mary's Glacier and trekked to James Peak. At 13,300 feet, it was the highest most of us had ever been. We sat in a loose circle at our camp on the edge of an alpine lake, eating bagel sandwiches, a break from climbing and rappelling on the glacier. The expedition's amputees—Matt Nyman, Jukes, and Butrick—had spent several years mountaineering. But the rest of the veterans, myself included, had never worn crampons.
Evans, our expedition leader, preached the need to find a slow, steady rhythm during the Lobuche climb. Exert yourself too hard one day, he said, and your body might not recover. "You're not the typical people. That's why we want to hang out with you," Evans said. "But sometimes you can be stubborn. Don't let the military mindset of pushing through, sucking it up, dominate."
"We've done that so many times," Rizzo said. "When you're hurt, you don't tell anyone."
"Don't try to hide things that you think aren't important," guide Charley Mace said. "I've seen clients try to hide things. They wanted the mountain so bad, and they were willing to risk themselves."
Now, with just a few days of trekking remaining before our summit bid, the guides needed a consensus on the veterans' abilities and the likelihood of getting everyone to the top of Lobuche. "We do not want to have a meltdown in the middle of that ridge, because then we'll have some serious shit," Sherman Bull said. At 74, he was the most senior member of the expedition. In 2001, he'd become the oldest person at the time to summit Everest. He works as a surgeon in Stamford, Connecticut, and he often viewed our expedition through the prism of caregiving. He was wary of problems that the guides, untrained in therapy, might not be able to handle. "There are some very fragile people up here," he said, "and they may freak out."
Mountain guides can walk knife-edges, mile-long drops on both sides, with the sure-footedness of goats. After years of repeated exposure, they become habituated, gradually overcoming natural fears. Someone new to the mountains can be incapacitated by the apparent danger, just as a soldier who spends his time on a protected base can suffer legitimate post-traumatic stress from a rocket that lands a football field away. He feels mortal danger. Reactions differ, and this unknown was what gave the guides the most anxiety as we prepared to leave Namche Bazaar.
"There needs to be a doorway to disengage," Benitez said.
Evans shook his head. Once the summit push was under way, that would be too late. "On a fixed line, on the side of a hill," he said, "we can't have someone disengage."
WE MOVED A FEW MILES UP the valley each day, and while the distances felt short, our bodies worked hard adjusting to thinner air. I spent most of my days hiking alongside Dan Sidles, a former marine who survived two tours in Iraq. Of the veterans on the climb, Sidles, now 29, had experienced some of the heaviest combat. "Fighting is all I know," he told me. "That's it."
In the Marine Corps he'd found a family he could rely on, and he fit the image perfectly—an all-state football player from middle-of-nowhere Iowa, huge chest and arms that strain stitching on a shirt. While in the Corps, he covered his upper body with tattoos, a canvas of destruction and loss. BROTHERHOOD stretches across his stomach. An angel and a devil perch on his shoulders. On his lower back, a marine kneels in mourning beneath FALLEN BROTHERS NEVER FORGOTTEN. But his first tattoo as a marine, LAUGH NOW, CRY LATER, inked across his chest, seemed prophetic.
We hiked together for hours, sometimes in silence but often in deep conversation. On the trail after breakfast one morning, Sidles told me he'd dreamt the night before that he was holding a guy by his feet and snapping him like a dusty rug. "He must have done something to piss me off," Sidles said. "I haven't had a dream like that in two years."
"Why now?" I asked.
"Probably because I've been dredging all this stuff up," he said. "Everyone here wants to hear about it. Back in the civilian world, no one wants to hear that shit." The few times he did talk about it, when people asked, their reactions told him he'd made a mistake.
His reentry was typical. Because such a small fraction of citizens serve in the military, there is a general deference to those who do, perhaps tinged with guilt that during these years of war, life went on much the same for most Americans. Society doesn't know how to deal with people who have suffered and killed on its behalf. So people put yellow SUPPORT OUR TROOPS bumper stickers on their cars, shake soldiers' hands in airports, and tell them they can't imagine what it was like over there, because, really, they can't. But the effects of being at once celebrated as heroes, pitied, and dismissed can be devastating, particularly for psychologically wounded vets like Sidles. As I listened to his story, I wondered whether climbing a mountain might be an ideal salve, an extended trip between the intensity of combat and the mundane realities of home, a chance to decompress before behaviors had become too deeply entrenched, compounded by years of secondary and tertiary effects of the trauma—lost jobs, broken marriages, drug and alcohol addictions, estranged relationships.
After Sidles's first deployment, for the invasion of Iraq, he was depressed, but everyone was. He and his friends drank and stewed, and when they returned to Iraq a year later, their moods improved. "We were there to kill the bad guys, so when we did it, we were happy. I was happy. I loved it," he said.
During his second tour, which included weeks of street-to-street fighting during the first battle of Fallujah, Sidles was hit with two IEDs. The first time, no one in the truck was hurt. The second bomb, bigger and closer, ripped into them. Sidles couldn't feel the left side of his face. Blood spattered onto his body armor. When he could hear again, the only sound was his friend in the backseat, now missing his left arm. "It was the worst scream you'll ever hear. Horror. It was crazy. Insane." But when a medic took Sidles's vital signs a short time later, they were normal.
On his next patrol, his truck parked atop a bomb that didn't explode. "What do you do? You shake it off. You can't dwell on that stuff. You just can't." But the mind stores trauma like messages piling up on an answering machine. And no matter how habituated the psyche becomes to the craziness and fear of combat, some experiences defy its ability to file them away. Cracks appear in that storage vault.
For Sidles the moment came on a rooftop in Fallujah, where he had just hunkered down with his three-man machine-gun team. Gunfire erupted from buildings on three sides. Bullets snapped overhead, and rocket-propelled grenades screamed past, barely missing the rooftop. The only way down was a ladder, exposed to the insurgents' fire. Bullets riddled the building and sprayed pieces of cement. Sidles sent his men down the ladder while he raked the surrounding buildings with machine-gun fire. Then he was alone on the roof. Images swept through his mind, the best moments, mostly laughing with friends, his 22 years replayed in seconds. "Every choice I had made in life led me to that rooftop, and it was all over," he told me as we sat on a stone wall outside the monastery at Tengboche, one of the holiest sites in the Khumbu Valley. The morning fog had lifted, and we waited for the monks to start the puja, a cere­mony blessing our expedition. "I was going to be killed by another human being, and there was nothing I could do about it," he said. "I don't think you're ever the same after that. A piece of you is taken."
He came home alive but drank and fought and lost count of nights spent in jail. He skirted other arrests because many cops go easy on wounded vets. In 2008, Sidles was arrested for drunk driving, and while in jail for two weeks he thought about Iraq, and his behavior after the war, and decided he was blaming the world for the way his life had turned out. "It was devastating," he told me. "I had thought I was the man's man. What I thought about myself wasn't true at all."
He tried counseling, but the therapist hadn't been in combat, and that, Sidles said, "is like me giving mothering advice to a mother." Instead, he watched documentaries and read books on post-traumatic stress, and he saw his own life in those stories. He moved to Phoenix, worked as a fitness instructor, drew disability pay, and spent the rest of his time alone. "Fighting in the war shaped who I am. I don't want to be that," he said. "But if I'm not that, then who the fuck am I?"
Finally, in the spring of 2010, he called his case manager at the Veterans Administration and told her nothing was fun anymore. She asked him if he'd like to climb a Hima­layan mountain.
By the time we'd reached base camp, with our dozen brightly colored tents clustered around the long mess tent on a 16,000-foot grassy plateau, Sidles had found much of what he'd been missing: camaraderie, shared history, and the thrill of the unknown. "Here, you have to keep your wits about you or you could die. And it's hard for me to pay attention to things if there isn't anything scary," he said. "When you get out of combat, you're kind of lost because you don't have that threat."
This is a common feeling among combat vets, and some military units have tried to soothe that need by establishing formalized programs like platoon rock-climbing, bungee-jumping, and rafting trips—better to get a thrill in a controlled environment than by rocketing down the highway on a motorcycle at 140 miles per hour, as many do. In one more day we'd begin the climb, and Sidles was looking forward to the high stakes of the mission. "Your mind almost needs that. That challenge. That adrenaline," he said. "I hope I can get that back, if that makes sense. To a lot of people, it doesn't."
MIDNIGHT, SUMMIT DAY, and the team took its first casualty. For the past 24 hours, Rizzo had been dogged by headaches, diarrhea, and nausea, during the rest day at base camp and as we hiked the 1,000 feet to our high camp. She felt no better when she woke up, and she worried, above all else, that she would be a liability for the group. Rizzo stepped from her tent wearing a down jacket and fleece hat. Miranda, her best friend, was already dressed for the climb—boots, gaiters, climbing harness, headlamp. She stood close to him, and they spoke in hushed voices. He shook his head. "If you're not going," he told her, "then I'm not going either."
They stepped into the mess tent, where soldiers and guides of the first of the two climbing groups sat eating oatmeal. "While my mind says I can do it, my body is in a lot of pain," she told them, then turned to Miranda. "I know you want to stay behind," she said, tears pooling in her eyes, "but I have my sponsor's flag, and I'd like you to take it up there for me." Miranda slid his arm around her back. "I can't do that to you," he said. "This is my summit. It's not about a flag for me. It's not about a mountaintop. I've left a lot of people behind, and I'm not going to leave you behind, too."
The tent fell quiet. "I'm so proud of you both," Benitez said, his voice tight. "I can't even begin to tell you."
"We'll get that flag up there," Evans said.
"It's the tightness we had in the military that we miss in the outside world," Miranda said. "This is a reflection of that, and it's a good thing to hold on to. It's about the guy next to you, in this case my best friend." Rizzo leaned her head on Miranda's shoulder. Weihenmayer sat next to Rizzo, and a tear slid down his cheek.
Around 1 a.m., the first climbing group filed out of the tent and into the darkness. They skirted the lake and scrambled through the streambed and onto the rock slabs. Headlamps twinkled like a string of Christmas lights, and the jangle of bells carried through the still air. Ten minutes into the climb, the expedition lost another soldier. Ashley Crandall, struck with a panic attack, stumbling and hyperventilating, couldn't go on. Benitez walked back down the hill with her, and she climbed into a tent with Miranda and Rizzo as the second group filed out of camp and onto the rocks.
We sidestepped and duck-walked across the slabs and stared at the narrow wedges of light that guided our progress. We'd prepared for cold weather, but the air was warm, barely at freezing, and we were soon stripping layers. After several slow hours in darkness, without any perspective of our surroundings, we stood on a rock outcropping in the pale blue light before sunrise and saw heavy gray clouds on the southern horizon. A gauzy veil of falling snow covered Ama Dablam, a spectacular mountain eight miles to the southeast.
The sun crept up behind Everest, and hours passed in the same monotonous rhythm—step, breath, step, breath, step—punctuated by the crunch of ice axes stabbing into snow and crampons kicking steps. Leg muscles twitched from fatigue. The front of our column snaked up the snow toward a 300-foot runnel, at times steeper than 60 degrees, the last major obstacle before the summit. Charley Mace took over leading Baskis. "Deep breaths," he said. "Deep breaths." Baskis's legs were strong from bicycling, but he was tired. He clutched the ascender with his good hand and leaned back, essentially pulling himself forward by doing one-armed pull-ups. "You're not using your legs," Mace said.
Throughout the trip, Weihenmayer and the guides had peppered Baskis with suggestions on crossing tricky terrain. Though they spoke from deep experience—as one of the world's most accomplished blind athletes and those who had been guiding him for years—Baskis had grown frustrated with the continuous recommendations. "I can't go on," he said. "I should have trained harder."
"Stop complaining," Mace said. "Push on."
Baskis leaned forward and took a step, using his legs more. They trudged up. A few steps. Pause. A few steps. Pause. Mace described regular markers so Baskis could visualize the progress. Three hundred feet. Two hundred. One hundred. "We're almost there," Mace said.
Finally, Weihenmayer called down from the summit, just a few feet above them. "Who's that huffing and puffing?" Baskis sucked down deep breaths. He kicked his feet into the slope again, and the ground leveled. "You're on top," Mace said. Weihenmayer hugged Baskis, and Baskis wept. He could hear the summit. Voices no longer bounced off snow and rock but instead carried on the wind into openness in all directions. In his mind, he saw around him a ring of shark's teeth, an endless wave of jagged mountains smeared with snow, and he saw Everest, looming in the east.
By 10 a.m. we were all on the summit. Many cried and hugged. I was too exhausted to have much sense of accomplishment. I stared blankly at Everest, eight miles east and nearly 9,000 feet higher, in awe that so many around me had been there. We took pictures with the American flag and sponsors' flags, and Mace pulled out a tie-dyed flag with a huge peace sign that had accompanied him to summits for 20 years.
And that was it: months of planning and training reduced to a half-hour sitting in the snow. We clipped into belay devices and started down.
SIDLES AND I had just returned to high camp when Evans radioed down from the slabs and told a guide to clear out the mess tent, warm up bags of IV fluids, and ready the Gamow bag, a portable hyperbaric chamber, for amputee Matt Nyman. His brain was swelling, and if the cerebral edema wasn't reversed soon, he could die.
Evans had spent the past two hours focused on Sherman Bull, who was so exhausted on the summit that the other guides worried he wouldn't be able to descend under his own power. Bull was feeling better, and they had just rappelled down the dihedral, the steepest part of the rock slabs, when Mace walked up with Nyman, tethered to him by a short rope. Just after the transition back onto the rocks, Nyman had told Mace he felt nauseous. Now he was stumbling and speaking incoherently. His headache, he said, was an eight out of ten, a level of pain Mace and Evans took seriously. They'd both heard the story of Nyman's injury. "This guy knows how to suffer," Mace told me later.
On a July night in 2005 in Iraq, Nyman and three other commandos sat with legs dangling off the edge of a helicopter that raced low over darkened Baghdad homes. He had spent nine years with elite Army units that focused on killing and capturing high-value targets. When the bird touched down, Nyman planned to hop onto the rooftop, but as they descended, the downward blast of air from the rotors sucked a sleeping mat off the roof and into the blades. The helicopter went into an uncontrollable spin and slammed down. The rotors spun like giant meat slicers, and as Nyman fell backward they lopped off his right leg at the ankle and crushed his left foot. Launched by the helicopter's momentum, he crashed into a concrete wall. Had the spinning tail rotor not broken apart against that wall, Nyman would have been thrown through the blades. Instead, he lay dazed but conscious, with a collapsed lung and a broken left femur. Within a few seconds, he had begun twisting a tourniquet around his right shin to stop the spray of blood. As more soldiers arrived and loaded him onto a stretcher, Nyman remained conscious and held his rifle. He didn't pass out until he was on the medevac, sure that he and his comrades were safe. Evans figured the same was true now: walking down under his own power gave Nyman his best chance for survival. "If he walks, he's completely a robotic warrior," Evans said. "That dude will never stop."
An hour later, Nyman staggered into camp, leaning heavily on the walking crutches, his face pale and his eyes drawn and unfocused. "He's improving," Evans said, "but he's still very sick." In the mess tent, Nyman sat on a sleeping bag and tried to pull in deep breaths as Evans worked a stethoscope across his back. "You have wheezes," Evans said, "but you don't have fluids, and that's a good thing." Evans stuck Nyman's forearm with a needle to start IV fluids, and Nyman hassled him for missing the vein the first time, causing blood to stain his jacket. "Hangover helper," Evans said, and Nyman offered a weak smile and nodded. "My buddies and I used to give them to each other on Friday nights so we could keep drinking," he said.
Evans slipped a monitor onto Nyman's finger. His oxygen saturation was still a dangerously low 63 percent. Genetics play a big part in a climber's ability to acclimatize, and while Nyman had been a phenomenally strong and driven soldier, altitude proved harder to master. He'd been evacuated off Mount McKinley two years ago with cerebral edema before a successful summit in 2010. He ate two cups of ramen noodles—a very good sign—and Evans zipped him into the Gamow bag, a nylon tube seven feet long and two feet wide. Nyman lay on his back in the sleeping bag and peered through a tiny plastic window as Evans inflated the bag with a foot pump. As pressure built, he breathed denser air, the equivalent of being at 10,000 feet to our 17,000. Guides and veterans rotated through the tent in half-hour shifts all night, working the foot pump. By morning his headache had faded, his color had returned, and he'd climbed out of the tube. He'd once been buried in a coffin as part of a rescue exercise. A night in the Gamow bag, he said, was far worse.
THE EXPEDITION ENDED drunkenly, as expeditions often do. After three days trekking, we arrived in Khumjung, hometown of Kami Tenzing, our head Sherpa. A cold drizzle fell outside, and we gathered in the dark warmth of a teahouse. Kami and another Sherpa slipped out and returned several minutes later with a case of beer, a bottle of whiskey, and a scuffed plastic jug filled with chhaang, a milky white brew made from fermented rice. Kami passed out coffee mugs, then wandered through the group with a huge silver teakettle, topping them off before they were halfway drained. The alcohol worked through our bodies, and the din of chatter and laughter rose.
In a few days, we would peer through airplane windows at ribbons of yak trails along alpine ridges that would widen into roads bearing the first cars we'd seen in two weeks, and the mountains would deflate into hills and then flatlands, then melt into the chaos of Kathmandu, with its exhaust and dust and tourists dodging motorbikes. And then we would be home, and Nepal would grow soft at the edges, a memory, crowded by lives on hold and now resumed. "The difficult part is coming home," Weihenmayer had told the veterans. "It's just the same old world. You've had this amazing experience that's changed your life, and you're having trouble relating to people." Indeed, many of the veterans, like Sidles, were still trying to break through barriers the war had created. Again they would find themselves alone, without their comrades and frustrated by a world that doesn't understand them.
But that was still to come. The objective had been met, and what would soon be did not yet matter. The world narrowed to this dark room, the air toasted by dried clumps of yak dung shoveled into the stove. Baskis sat in a chair in the middle of the room, surrounded by a chaotic swirl of conversations, shouts, clanging glasses, and laughter. The day before, at the last group session, he had given us a glimpse into his world. "It's this deep, dark, black abyss I stare into. It's never ending," he said. He paused, started speaking again, and his voice caught. His breath came in ragged waves. "I wish I could see everything that's around me. I wish I could see the sunset and the sunrise. It would drive me up the mountain even harder," he said. "I was able to see, and I'm so glad I could see for so long. It doesn't matter how much pain and suffering, blood and sweat—I'll push as hard as I can."
Now Evans, who'd served as the DJ through the night, stepped behind Baskis's chair, iPod speaker in hand. He danced to "Mountain Song," by Jane's Addiction, and thrust the speaker toward Baskis's left ear, then his right, back and forth. "Stop! Stop!" Baskis yelled, and he laughed and swatted at Evans.
Nicolette Maroulis assumed Kami's role but skipped the cups. Instead, she roamed the room and poured streams of chhaang from kettle to upturned mouths. More whiskey bottles appeared and traveled hand to hand, then Chad Butrick pulled off his leg and filled it with chhaang. He balanced on one foot and handed his leg to Kami, who drank deep from the carbon-fiber goblet, a hiking shoe still attached, then passed it through the room. The leg filled and drained and filled again, and when the chhaang ran out, the leg sloshed with whiskey, and the night faded into a soft, smoky haze, somewhere between the mountain and the battlefield, but closer to home.