A New Program Aims to Close the Gender Gap in Sports Science Research 
Most studies on sports performance don't include women. The team behind Stanford's FASTR program is creating a new approach—and building a healthier culture for female athletes.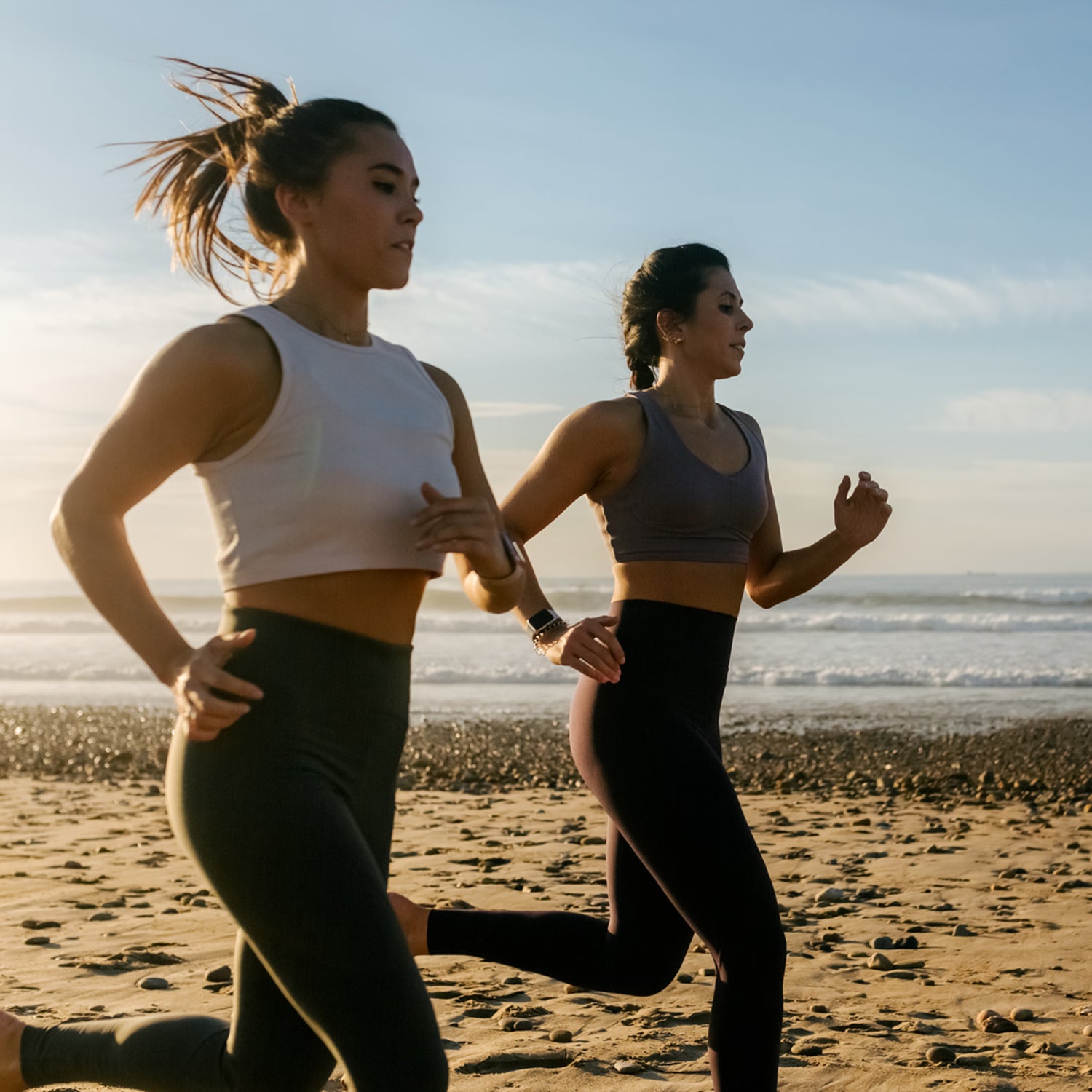 Heading out the door? Read this article on the new Outside+ app available now on iOS devices for members! Download the app.
During her intern year of medical residency in 2013, while working at a Veterans Affairs hospital in Nebraska, Dr. Emily Kraus found herself unable to climb a flight of stairs. She was training for a marathon, and her running performance had also declined in recent weeks. She mostly attributed her fatigue to the realities of the intern year—the long shifts, sleepless nights, and nutrient-poor hospital meals. But on that day, her symptoms became hard to ignore. She paused, leaned over the banister, and took a few moments to catch her breath.
When she followed up with her doctor to get blood work done, she was diagnosed with an iron deficiency. After searching for information on supplements and training protocols, Kraus quickly realized there was little information on how to safely return to training as an anemic female runner. In fact, there was little information on female runners' physiology, period. "I felt silly, because I was interested in sports medicine, so I thought I had a good understanding and knowledge base," she says. "But I was caught without adequate resources to navigate this." Kraus eventually found the right supplementation and nutrition regimen to increase her iron levels and return to her previous level of training, but only after a frustrating process.
Throughout her residency, Kraus worked with many female athletes, treating their injuries and witnessing the misconceptions they held about their bodies. These experiences, along with her personal health challenges, eventually led her to ask deeper questions about the gaps in female-athlete research. After completing her internship in Nebraska, Kraus finished her residency at Stanford, in California, where she began a career in sports medicine. In January, she teamed up with Dr. Megan Roche to launch the Stanford FASTR (Female Athlete Science and Translational Research) Program, which focuses on the gender gap in human-performance research, empowering female athletes of all levels and backgrounds to achieve longevity in sport.
Both Kraus and Roche have dedicated much of their careers to understanding female-athlete physiology—Kraus as a sports-medicine physician and clinical assistant professor at Stanford, and Roche as an epidemiology PhD candidate with a medical degree from Stanford. They're also both accomplished endurance athletes: Kraus is an avid marathoner and cyclist, and Roche is a professional trail runner and coach, a five-time national champion, and a six-time member of Team USA. With Kraus as program director and Roche as lead researcher, the FASTR team plans to upend the current landscape of female-athlete research and build a healthier women's running culture in the process.
"It's about doing the research," Roche says. "But it's also about how we frame it, talk about it, and empower female athletes through that research."
---
It's well established that women are grossly underrepresented in sports-science research. A 2014 review of 1,382 exercise medicine studies found that only 39 percent of study participants were women. Isolate sports-performance studies, and the gap only grows: women accounted for a mere 3 percent of study participants.
According to Kraus and Roche, studies too often exclude female athletes due to the complex nature of the menstrual cycle. Hormonal changes that occur throughout the menstrual cycle affect countless other health variables, from resting heart rate, to recovery metrics, and even the metabolic system. "I became frustrated as an athlete and as a coach, seeing that we're doing really awesome exercise physiology studies," Roche says. "But oftentimes we can't generalize or apply them to female athletes."
When studies on male subjects are generalized to women, it can lead to misconceptions among female athletes and their coaches. In distance running, this includes misguided notions of what a female athlete's body "should" look like and strict philosophies on how women should train and fuel. (One example of this is fasted training, which can wreak havoc on women's hormonal systems.) The impacts of such training approaches can be risky and in some cases can lead to the development of the female athlete triad or RED-S (relative energy deficiency in sport), two related conditions characterized by under-fueling, poor bone health, and a range of other physical and mental health consequences. Kraus notes that depression and anxiety symptoms are commonly found in athletes with low-energy availability and other components of the triad and RED-S. "As a clinician, when I have an athlete come in with low-energy availability, I'm also talking to them about mental health," she says.
To abate these risks, FASTR proposes a threefold approach: identification, intervention, and translation. Through multiple research projects, they will identify risk factors for bone-stress injuries and other conditions faced by female athletes. Then they will intervene by improving the available screening tools and resources to prevent under-fueling and bone-stress injuries. Finally, they will translate this research, making information on fueling, recovery, mental health, and injury prevention accessible to all athletes, coaches, and medical practitioners.
For one project, FASTR plans to collaborate with the Female Athlete Program at Boston Children's Hospital to compare the two screening questionnaires currently used to identify athletes at risk for the triad and RED-S, to determine when these tools are most effective and how they can be improved. At the same time, they will analyze the various protocols doctors are using to safely guide athletes back to sport after experiences with RED-S or the triad. They hope to create a more streamlined plan that all clinicians can use to help athletes return to sport and prevent future under-fueling and bone injuries.
Kraus and Roche are committed to including all types of women athletes in their program: NCAA athletes, high school athletes, cis women, and trans women. "Inclusion has got to be the default in every single sport environment," Roche says. "This is a human-rights issue."
One of the program's first initiatives is the FASTR Pilot Study, a series of educational videos aimed at female high school runners. The rationale behind these videos, Roche explains, is to present FASTR's research to the intended audience in an approachable way: "How do we get these findings into the hands of young athletes, parents, coaches, and people who could use the information most? How do we fill that translation gap and make the research accessible?" The videos include perspectives from role models of diverse athletic backgrounds—professional athletes, sports-equity activists, and other leaders in sport. Among them is Latoya Shauntay Snell, an ultrarunner known for her body-politics activism.
"The media often acknowledges the cosmetic things—that I'm a Black athlete, or that I'm an athlete of size," Shauntay Snell says. "But I am also an athlete with disabilities. When you have many layers to your athletic journey, it's harder to see yourself represented." Through her FASTR content, Shauntay Snell hopes to foster a sense of belonging among younger athletes.
To the FASTR team, research cannot realize its full impact if it's not communicated in a way that empowers female athletes. "Runners sometimes get the notion that female-athlete physiology is a nuisance or a burden," Roche says. "I'm excited to see the research become more inclusive of female athletes but also more positive—periods are powerful, female-athlete physiology is strong, and there are cool things happening to our bodies."
---
Last fall, the University of Oregon women's track team became the latest in a long lineup of collegiate running programs to face allegations of body shaming and an environment that enabled disordered eating. The FASTR team envisions a better collegiate running culture—one in which female athletes are celebrated for their diverse bodies and a premium is placed on nutrition and long-term health. To this end, one of FASTR's projects will expand on an existing program: the Healthy Runner Project.
The Healthy Runner Project was launched at Stanford and UCLA in 2016, to evaluate whether a nutrition intervention could improve bone mineral density and decrease bone-stress injuries in varsity distance runners. In the original study of 114 women, athletes underwent a nutrition assessment, which included a web-based screening survey, one-on-one meetings with a dietitian, and a DEXA scan to measure bone density. With the help of the dietitian, athletes set nutrition goals, such as adding snacks or increasing the nutrient density of snacks and meals they were already eating.
Fiona O'Keefe, a 2020 Stanford graduate and six-time all-American who now runs professionally for Puma, remembers the Healthy Runner Project as routine. "It didn't seem that unusual," she says. "Hearing that this is less common at other schools definitely makes me grateful that we had it in place." After promising preliminary results at UCLA and Stanford, FASTR is in the early stages of expanding this project to other PAC-12 schools. The team hopes that a focus on nutrition and long-term health can become routine in all collegiate running programs.
On paper, FASTR's aim is to lessen the gender gap in sports-science research. But Roche and Kraus are also asking bigger questions. Can something as historically rigid as medical research have a broad and inclusive effect: longevity for all women in all sports?
Looking ahead, "I hope there are more runners," Kraus says. "That means women are staying healthy and they're not dropping out of sports or getting discouraged because of injuries, body changes, or other factors. It means they are more informed about their bodies."
"I just want to make sport a fun and safe environment for everyone," Roche adds. "I want science to inform best training practices so that people can enjoy sport for a long, long time."
Lead Photo: Marco Govel/Stocksy