Try a Triathlon
Triathlons aren't just trendy. Multisport training develops balanced fitness and prevents injuries. Here's why you should dump your ordinary routine and make the switch, too.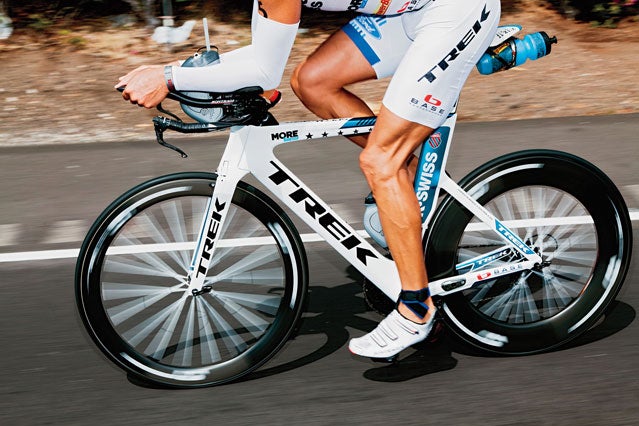 Andrew Hetherington
Heading out the door? Read this article on the new Outside+ app available now on iOS devices for members! Download the app.
Transition Time
AFTER RETIRING from an 11-year career in the major leagues, outfielder Eric Byrnes entered his first triathlon on a whim. In the summer of 2010, just three months after hanging up his glove, Byrnes was convinced by friends that two weeks of training was enough to get ready for the Olympic-distance Triathlon at Pacific Grove, near Monterey, California. His plan was to swim in a surfing wetsuit and bike on a beach cruiser.
Race Team Outside
Train for your first triathlon with our editors and get expert advice from coach Matt Dixon. Go to
The Outside Challenge
for video tutorials, interactive training plans, and helpful tips.
The Rise of Triathlon
1974
Year the first race was staged, in San Diego
Two thousand
Year triathlon debuted as an Olympic sport
4,000
Races USA Triathlon ­sanctions each year
2.3
Millions of people who raced a tri in 2010
1.5 million
Triathletes who competed in two or more events in 2010 (compared with 140,000 who ran two or more marathons)

The way Byrnes tells it, he nearly drowned in the ocean, got crushed during the bike portion, then ran a couple good miles to finish 21st out of 44 in his age group—and dead last among his friends.

"I looked at them and said, 'That's the last time any of you will ever beat me,' " says Byrnes, now a broad­caster for the MLB Network. He bought a tri bike the next day and barely a year later completed his first Ironman, in Arizona. "I'm just in love with it now," he says.

Byrnes is one of many high-­profile converts. Massachusetts senator Scott Brown, Chicago mayor Rahm Emanuel, and TV chefs Joe Bastian­ich and Rocco DiSpirito all recently began competing in triathlons. Indy-car driver Tony Kanaan says the cross-training helps his focus. MMA fighter Nick Diaz and former NFL defensive end Coleman Rudolph both race regularly for fun. Together they are part of an estimated 2.3 million people in the United States who participated in a tri in 2010, a 55 percent increase over 2009.

"It's unlike any other racing," says Rob Urbach, CEO of USA Triathlon (USAT), the sport's governing body in the United States, which has seen membership increase an astounding 557 percent in the past ten years. "There's something about the three sports combined that's transformational."

The surging numbers derive partly from the fact that triathlon has maintained its mystique even while becoming so much more accessible. "It was the intrigue of the unknown," says Byrnes of his initial interest. (He's since become obsessed with the details: swim technique, transition tactics, race strategies.)

More powerful still is the allure of truly balanced, enduring fitness. Joe Friel, author of The Triathlete's Training Bible and a former runner who turned to triathlon to help him recover from various injuries, believes multisport training leads to the kind of lean, strong body that nearly all athletes seek. "The risk of burnout and injury are diminished because it encourages people to do so many different things," he says.

According to Matt Dixon, owner of Purplepatch Fitness (see The Outside Challenge), cross-training imparts far more balanced fitness benefits than single-sport workouts do. "You can expect body composition improvements and increased cardio­respiratory health," he adds.

For many athletes, a first triathlon soon turns into a way of life. Take Matt Lieto, who as a 20-year-old college student was 75 pounds overweight. Then he watched his ­older ­brother, pro triathlete Chris Lieto, compete in the Ironman World Championship in 1998. He was amazed by the competitors' ­"energy and enthusiasm and lust for life," he says. Lieto started racing himself and within 18 months went from a self-described "slob" to con­sistently placing in the top ten at events. Now a pro himself, he still recalls his first race, California's Wildflower Triathlon, as a life changer. "I was full of joy and energy that whole day," he recalls. "I had never experienced anything like it."

USAT's Urbach has heard it before. "Not everyone can remember their first running race," he says. "But everyone remembers their first triathlon."
Sprint Start
Want to do a triathlon? Start with a sprint.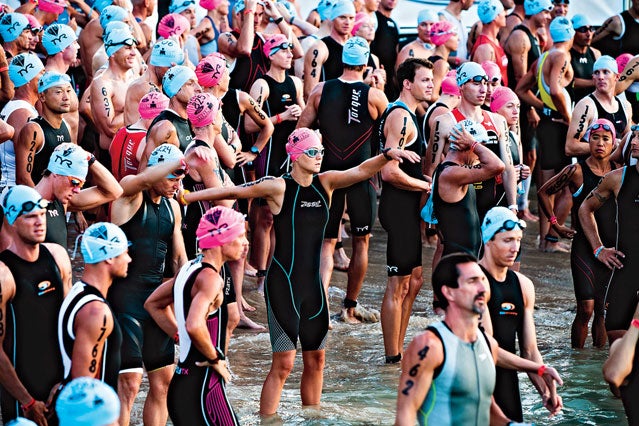 The Outside Challenge
We're so fired up on triathlon that we're hosting our own sprint-­distance event: the Outside in Aspen Triathlon, on June 9, 2012, in Colorado. A team of Outside editors begin training in March, ­following one of three custom ­fitness plans. Sign up and train with us for any sprint triathlon—or race with us in Aspen.
The reason for the boom in triathlon popularity comes down to one factor: distance. Specifically, the greater number of sprint-distance events. The shorter legs—typically a half-mile swim, 12-mile bike ride, and three-mile run—are as attractive to timid newbies ("Hey, I can do that") as they are to hard-charging competitors ("I'm gonna redline the whole way!"). Almost anyone can make it to the finish line, but how fast you get there can result in a dramatically different kind of race.
Not that it's ever easy. "Just because it's ­labeled a sprint doesn't mean it isn't challenging," says Matt Dixon, a coach and former pro triathlete. "It's going to take even the most accomplished athlete more than an hour of racing—that's not short."
For first-timers, building balanced endurance fitness, honing a race strategy, and practicing transitions will make the race go faster and boost your enjoyment. You'll taste the unique thrill of multisport racing and—perhaps even more addictive—reap the physical and mental benefits of cross-training.
Have your eyes set on an Ironman? Top coaches like Dixon and Joe Friel, author of The Triathlete's Training Bible, still recommend you start small. "Gradually working up to longer distances is the healthy way to do it," says Friel, who advises new athletes to stick with sprint races for their first year. And once you've moved up to longer events, he still recommends regular participation in sprints. "Not only are they good for developing speed," he says, "they're also good mental tune-ups for bigger races."
Tri Tips
Five ways to make the most of your first race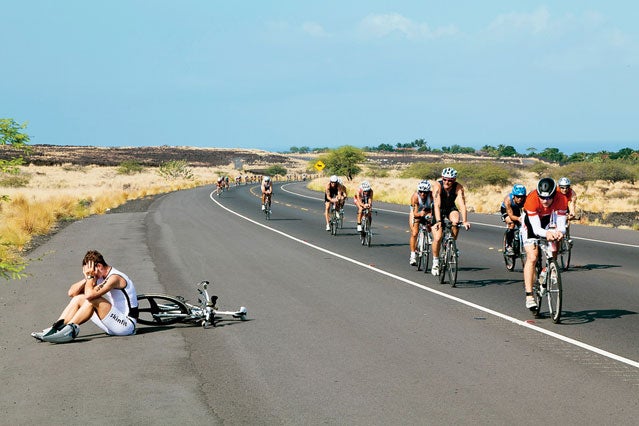 1. You don't need to mix all three disciplines into every training day, but periodic "bricks"—biking and then running—are ­essential. (Do it and you'll understand the name.)
2. Get a triathlon suit, like Sugoi's Turbo tri shorts and tank ($55 each). You can wear it during the swim, bike, and run, giving you less to worry about in transition areas.
3. Don't line up at the front of a mass swim start—you'll get clobbered by veterans. Save your energy for the bike and run.
4. On the bike leg, ride on the right and pass on the left. And this is your time to refuel, so pocket a few gel packets before setting off.
5. It's race day—don't hold back. Ignore heart-rate guidelines (expect to be 5–20 beats above your training rate anyway from adrenaline) and have fun.
Trending on Outside Online