What I Learned from Living with a Navy SEAL
In 2010, entrepreneur Jesse Itzler invited Navy SEAL David Goggins to live with him for a month, completely upending his life and fitness routine. We wondered: what habits have stuck with him?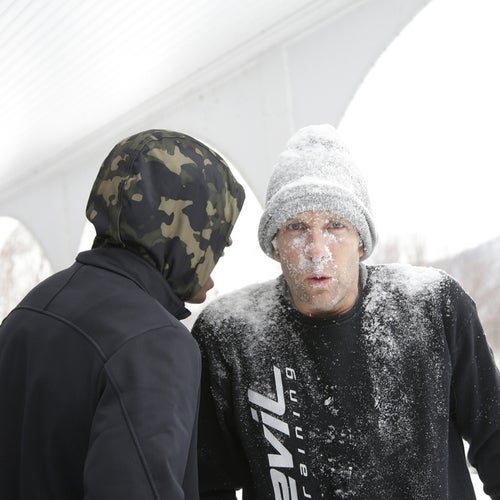 Heading out the door? Read this article on the new Outside+ app available now on iOS devices for members! Download the app.
In 2010, Jesse Itzler—a successful businessman behind ventures ranging from a prepaid private jet company, to Zico coconut water, and even the Atlanta Hawks—decided to radically change his life. He wanted to become mentally tougher and thought that the best, or at least the most effective way to do that was by inviting a Navy SEAL to live with him for a month. But he didn't call upon just any SEAL. Itzler enlisted David Goggins, who, thanks to his outrageous feats of endurance, many consider to be the toughest man on the planet. Goggins' range is impressive: he holds the 24-hour record for pullups—4,030, or 168 per hour—and has placed highly in numerous ultra-endurance races. In 2006, Goggins placed fifth in the 135-mile Badwater Ultramarathon after taking up running less than a year prior.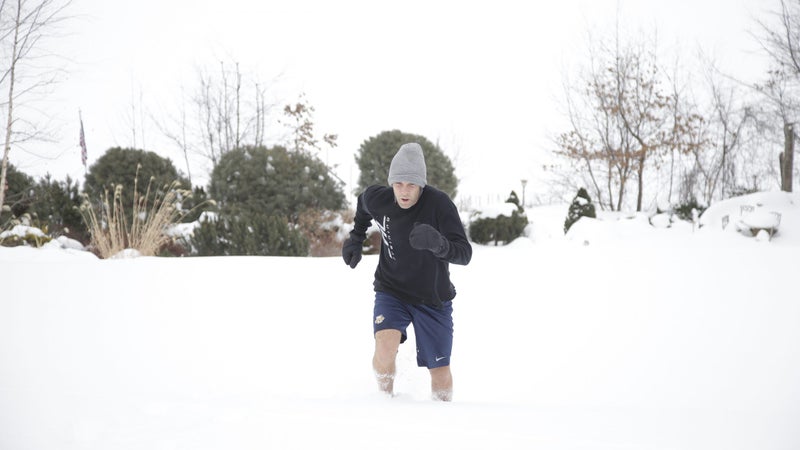 The result of Itzler's experiment was his bestselling (and hilarious) book, Living with a SEAL: 31 Days Training with the Toughest Man on the Planet, published in 2015. While it's one thing to embrace the intense lifestyle of a SEAL for a month, it's another to hold onto it for the long haul. Now that significant time has passed, I was curious to know what, if anything, had stuck with Itzler. In other words, what are the sustainable lessons of living with a SEAL? This is what Itzler told us.
---
Do Something Hard Every Day
I do a workout every morning in which I purposefully try to make myself uncomfortable. It sets me up for the rest of the day by reminding me that I can choose to be OK in the midst of tough challenges. After you've physically suffered, not much that happens in a business meeting is going to shake you up.
Don't Put Off the Little Things—Just Get Them Done
I used to delay doing stuff that I just didn't want to deal with—things like putting the garden hose away properly or doing the dishes right after dinner. Now I have this little voice in my head that says, "I know you don't want to do this, but just do it anyway." In other words, there's far less stuff that I put off until tomorrow. On the whole, I think this makes me more productive and probably even happier. Plus, it sets the tone for my whole life. It's like that old saying: "How you do anything is how you do everything."
Simplicity
I'm much more of a minimalist since living with David. This isn't to say I've given up all the things I love. It's just that, for example, I've gone from having countless pairs of shoes to just a few. I've found that eliminating not-so-important choices really frees up my mental capacity to think about the important ones.
Say No to Stuff
Goggins forced me to complete massive workouts every morning, so inherently, I had less time to do other things. As good as these workouts were for my physical health, they may have been even better for my mental health because they forced me to prioritize my time more seriously, which I still do today. I put my life into four buckets: I sleep seven hours a day. I take three hours for myself so I don't resent the people I'm closest to. I work for about eight hours. And I set aside six hours for hygiene and all the other random stuff that comes up. I don't let anything encroach upon the sleep, me, or work buckets, which means turning down unimportant things. Time is the most precious resource there is—you have to protect it.
Have a Plan
My entrepreneurial life really mirrors the mind-set of a SEAL or training for a big race: there's preparation and game planning, plus execution. To do the latter well, you need to nail the former.