What Exercises Release the Most Testosterone?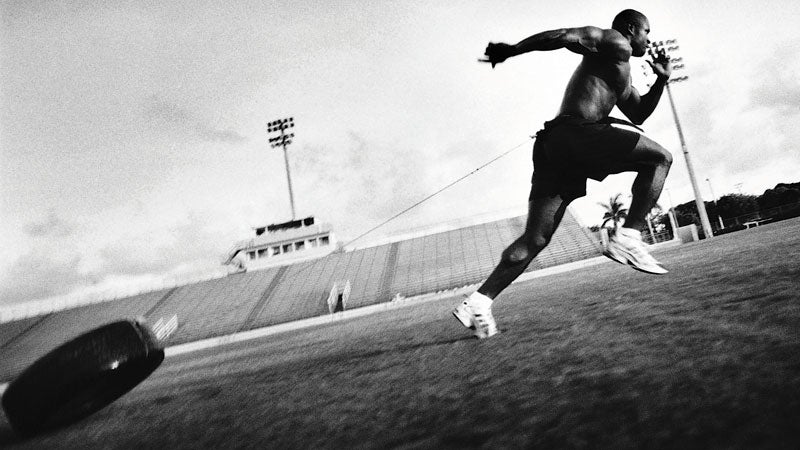 Heading out the door? Read this article on the new Outside+ app available now on iOS devices for members! Download the app.
Yes, it's true that the volume of muscle mass activated during exercise is directly linked to the testosterone response. But it's not the only factor involved. "Absolute workload (volume and intensity) of the session is also thought to be linked with the testosterone response," Dr. Amy Vivien Tanner wrote in an email. She's a lecturer in exercise physiology at the UK's University of Hertfordshire whose research focuses on the hormonal response to exercise.
"Therefore, the response will also depend on the intensity and volume of the session, in addition to the volume of muscle engaged in the session."
Running, for example, is likely to prompt a higher testosterone response than jogging for the same amount of time because you'll cover more ground at a higher intensity when you run. In the weight room, Tanner writes, "generally, hypertrophy protocols (high volume, moderate to high intensity and short rest intervals) and more likely to elicit a significant increase in testosterone than strength protocols (low volume, high intensity, long rest periods)."
Now the question becomes: What's the point in trying to get the greatest testosterone response out of your workout?
Turns out there may not be one. Evidence suggests that post-exercise elevations in testosterone may not help much with muscle growth and repair after resistance training. In fact, some researchers believe the testosterone increase, which usually lasts for up to 60 minutes after you've finished exercising, may simply occur because there is less blood flow to the liver during exercise.
The liver breaks down testosterone, so the hormone's concentration might rise because the liver hasn't had a chance to break it down yet. It's possible the only way to get an anabolic effect from testosterone is to take a supraphysiological exogenous dose of the hormone—a fancy way of saying you'd have to take steroids.
The bottom line: The more muscles you use and the greater the intensity of your workout, the higher the chance you'll trigger an increase in your circulating testosterone. However, there's controversy over the role of testosterone in muscle growth and repair after exercise; some researchers believe the hormone doesn't influence muscle growth, others do. 
Lead Photo: Digital Vision/Getty Images