What Habits Helped Alex Honnold Become Such a Good Free-Solo Climber?
Twelve insights for scaling massive vertical faces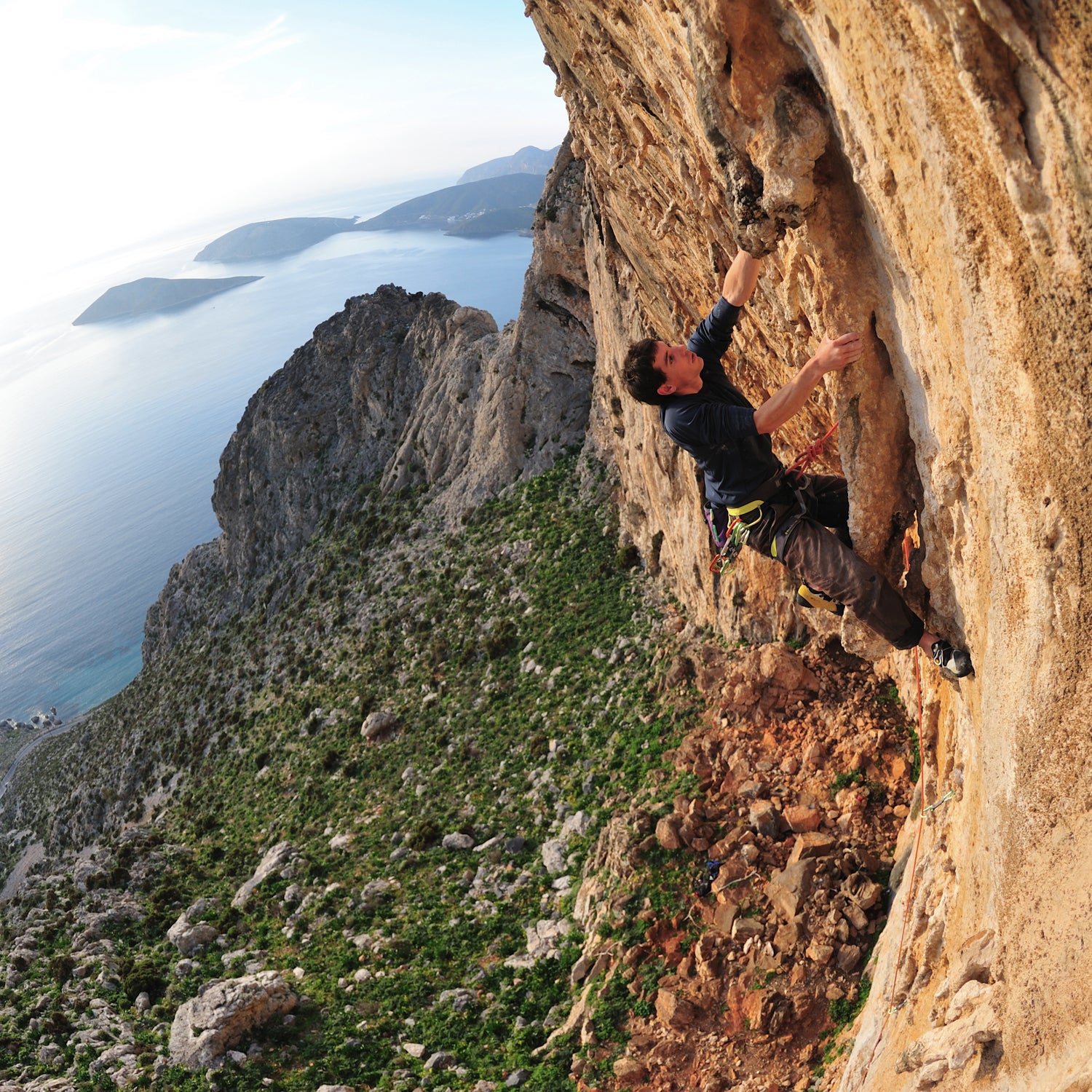 Heading out the door? Read this article on the new Outside+ app available now on iOS devices for members! Download the app.
Though his nonchalant demeanor has earned him the nickname Alex "No Big Deal" Honnold, the 30-year-old big wall climber from Sacramento, California, is, objectively speaking, a very big deal. He is widely recognized as the world's best free-solo climber, scaling massive vertical faces with no ropes or other assistance, where a single misstep can be the difference between life and death. And he doesn't just climb crazy walls; he climbs them crazy fast. The owner of countless speed records, including on Yosemite's famous El Capitan, Honnold has completed climbs in a day that take other climbers weeks. 
Most recently, he authored a new book, Alone on the Wall (Alex wrote the book with longtime Outside contributor David Roberts). It's a beautiful meditation on climbing, passion, and the possibilities that arise when mind, body, and spirit are in harmony. We caught Honnold on a rare rest day to learn more about the habits underlying his unprecedented ascent to the top of the sport. 
Bodyweight Training
When I was a teenager, I did a lot of pull-ups and push-ups. Every night before bed, I'd do 150—in sets of 30 or so. Looking back on it now, I'm not totally sure that's the best way to improve as a climber. But it did make me a lot better at doing pull-ups and push-ups. 
Getting Better 
In any sport, as you approach your own physical limits it becomes harder and harder to improve. Getting better requires major dedication and focus—really disciplined training. 
Unplug
Music can be useful during training to help get you psyched, and I still listen to music on easy climbs or in the gym. But during cutting-edge solos or really hard climbs, I unplug. There shouldn't be a need for extra motivation on big days, be it music or anything else. It should come from within. 
Climb in Your Head
I visualize all the moves and memorize the sequences to make sure I can physically climb the route. I also think about various positions, especially those that could be scary. I imagine every aspect of the climb beforehand so that nothing surprises me while I'm up there. 
Eat Sustainably
I try to keep it wholesome. I'm a vegetarian, mostly because I want to lower my impact on the earth, but also for general health.  My diet is pretty good, though I eat too many sweets. I'm losing the battle against the cookies of the world…
Dealing with Injuries
The only thing you can do is be patient and let your body recover. Try to stay engaged and train other parts of the body, like your core or opposing muscles. 
Managing Pain
The only way to deal with the "pump" (i.e., your upper body filling with lactic acid and fatiguing massively) is practice. You should get used to being pumped out of your mind during training so that when it happens on big climbs, it feels normal. It's always unpleasant, but at least you're used to it. 
Favorite Gear
I love my climbing shoes. Virtually all of my big solos have been in the TC Pros. They are the most important thing when I'm soloing. 
Learn from Others
Though I've never had any particular "mentors," per se, nor a formal coach or trainer or anything like that, I've learned from tons of climbers over the years. I've had many great partners and learned from each of them. I've also learned from the climbing community as a whole. 
Acclimating to Fear
Overcoming fear is quite the process. A big part of it is gradually expanding your comfort zone so that things that seemed scary before are no longer scary. This is such a loaded and complex question—that's part of the reason I wrote a book. If you want more details, read it! 
On Writing
I enjoyed the process of working with David Roberts and learning what it takes to write a book.  It was a great opportunity to work with someone I respect and trust, and to share my story in the way that I wanted.
Energy Balance
Big climbs energize me. It's all the other aspects of being a pro-climber that wear me down. The travel and expeditions and training can become pretty tiring. But the actual big climbs—that's what I live for. 
Lead Photo: Keith Ladzinski/Aurora Photos