A Woman's Place Is with the Powerlifters
In gyms around New York City, the Women's Strength Coalition is working to make the lifting community more inclusive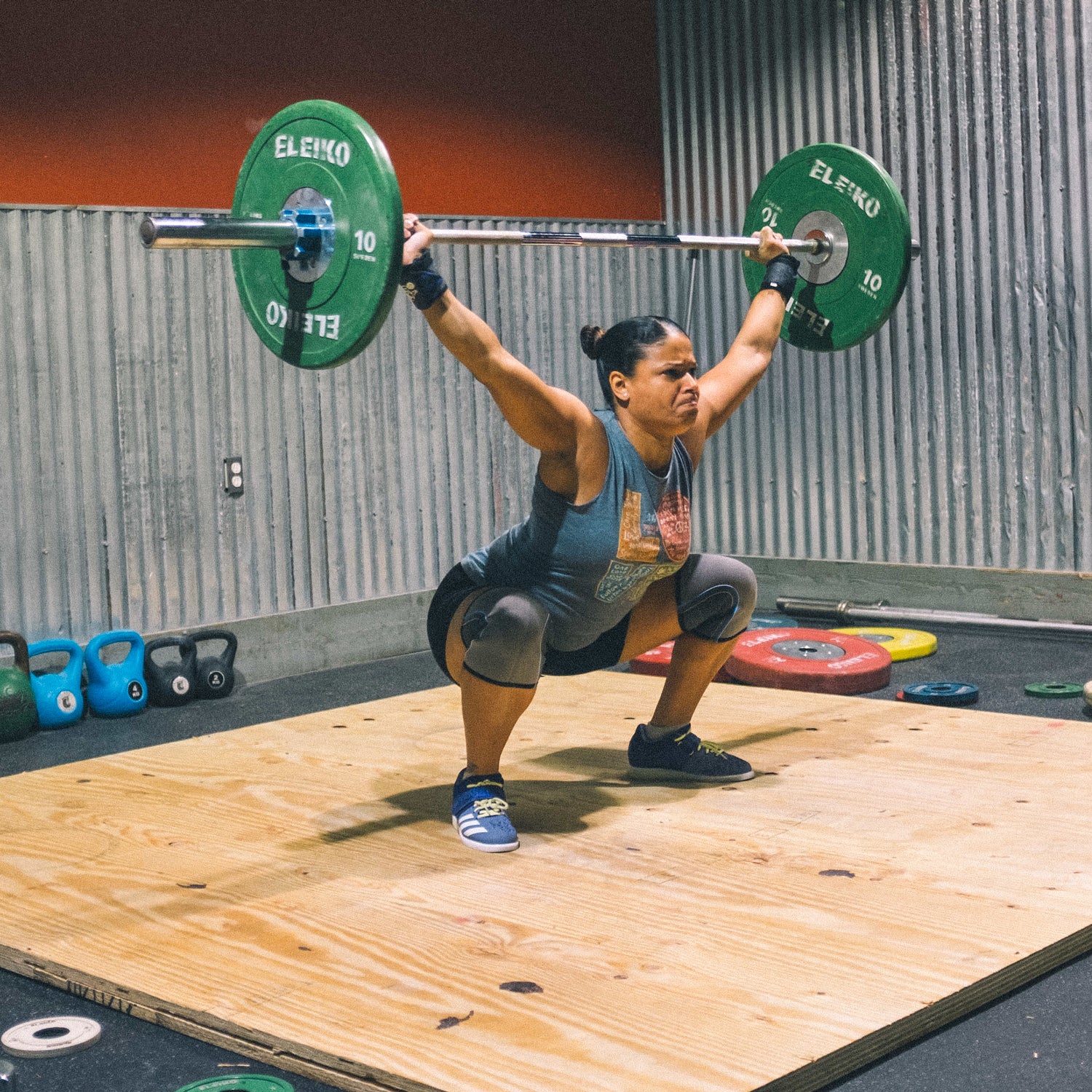 Heading out the door? Read this article on the new Outside+ app available now on iOS devices for members! Download the app.
Sitting on a gym floor in Brooklyn, Araliya Ming Senerat and two other members of the Women's Strength Coalition describe how powerlifting has helped them overcome trauma. The actual goal of powerlifting, they explain to me, is to lift the most weight. But the sport has also enabled these women to cope with eating disorders, PTSD, and suicidal thoughts. Imagine a 1980s ideal of a meathead, then add empathy and send her to therapy, and you'll have a pretty good sense of the WSC lifters' vibe.
Senerat, the organization's vice president, had been lifting for two years when she came up with a plan to commit suicide. "Powerlifting was the one place in the gym where I felt like I knew how to cope with what I was dealing with," she says. "I actually planned out my suicide, and then, the day that I decided not to commit suicide, I deadlifted 185 pounds, which was the most I'd ever done." The accomplishment kept her alive. Now she can deadlift up to 300 pounds.
Founded by Shannon Wagner in a burst of post-election ire, the WSC unites lifters under the goals of social justice and increased access to strength training. In just its first year, the organization has coordinated five charitable events in four cities. Wagner organized the first one—a powerlifting meet to benefit Planned Parenthood at her home gym, Brooklyn Athletic Club—after last year's Women's March, as she searched for an active way to channel her newfound energy. When Lift for Planned Parenthood sold out in six days, Wagner decided to turn the one-off event into an entire organization. "Powerlifting communities already exist in pockets across the country, so the idea is to tap into each of them and get them involved," she says.
Today, the WSC is a 501(c)(3)-certified nonprofit with advisory and directors boards and a network of affiliated gyms across the country. The group gets so many volunteer offers that it's having trouble finding work for everyone. The group's tagline—"Using our collective strength to impact the world in a meaningful way"—is so catchy that it makes one want to pick up a barbell immediately. The first Lift for Planned Parenthood raised more than $14,000. By June 2017, the organization went national. WSC members in New York, San Francisco, Minneapolis, and Washington, D.C., organized "Pull for Pride" competitions to fundraise for local LGBTQ charities. Next year's Pull for Pride is shaping up to be an even bigger draw, with gyms across the country already signed up to host their own affiliated competitions.
As many WSC members told me, there's a need for inclusive, deliberate planning in powerlifting. Unlike traditional powerlifting competitions, the WSC does not require lifters to identify a gender on event registration forms, weigh in before competition, or wear tight-fitting singlets. "The WSC is booming, and I'm really happy to see that," says D.C.-based lifter Breanna Diaz. "I think one reason is that this diverse group of woman-identified individuals, femme, or gender-nonconforming people have always been here in the fitness world. We just haven't had some sort of group that really represents us and is advocating for us and acknowledging us."
The hardest day of powerlifting is often the first, especially for women. As Wagner points out, even fit women often skip the weight rack. "It's just not something that women are socialized to want—to become stronger," she says. "It's a cliché at this point, but we come to the gym to get thinner and smaller." Even after you decide to attempt a lift, the sport has a built-in intimidation factor: It largely involves massive dudes picking up hundreds of pounds of steel.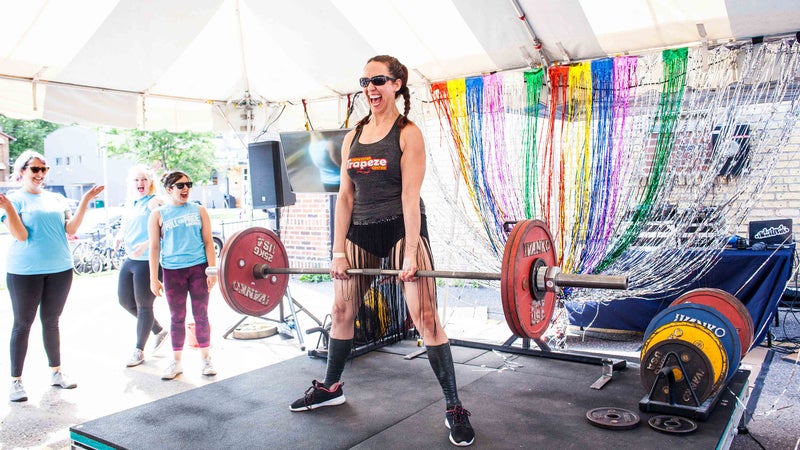 Female lifters often commiserate over the gender imbalances in the sport: Fewer women enter lifting competitions, the barriers to entry for non-cisgender people are high, and the dress codes are sexist (while men may go shirtless, women are often expected to wear tight outfits). Then there's the general lack of representation in gyms. I realized after my own sample training session (I can now deadlift my bodyweight, thank you very much) that I was instinctively keeping tabs on the muscle-bound men in tiny tank tops around me. A room full of sweaty 250-pound men certainly takes some getting used to, though during months of interviews and research, I met only sheep in wolves' spandex and many smiley giants who were eager to talk shop.
The growing sport has spawned overarching organizations like USA Powerlifting and small groups of female lifters like the Iron Maidens, but the WSC is the first nonprofit to unite the female lifting community with the issues they face outside the gym—and the first to encourage collective action. "Powerlifting is much more of a community than the standard fitness class," says Wagner. Through the WSC, she's been working to connect with existing groups of lifters and mobilize them for the greater good. Lifters love competing, she says, and this way they get to participate in society instead of "just complaining" about it from the comfort of the weight rack.
With its social justice goals and charity lifts, the WSC aims to reach beyond the fitness community. But it's also putting money back into its roots. The organization is currently raising funds to build a dedicated gym in the outer boroughs of New York City, with the goal of creating a physical and emotional safe space for woman-identified lifters. WSC members have plenty of suggestions for an ideal gym, like no wall-to-wall mirrors, which can encourage comparison or body shaming, and workout playlists without aggressive or misogynistic music. Volunteers have already signed up to offer physical therapy, support groups, and mindfulness-specialized training. Laura Khoudari, a trainer on the five-person WSC Advisory Board, has agreed to work as a trauma-informed coach. She plans to offer a sliding-scale training program for lifters dealing with trauma, chronic pain, anxiety, or depression. She doesn't want to replace conventional mental health treatment, like therapy or medication, but rather acknowledge that physical fitness can and should play a role in recovery.
"The body doesn't forget trauma," says Lisa Schieffelin, a New York–based social worker who plans to offer group support gatherings in the WSC space. "Strength training is perseverance, it's tenacity, it's failure, it's conditioning." Other WSC members believe the physicality of lifting can overflow into mental health benefits. Wagner recovered from her eating disorder when lifting helped her realize that, as she puts it, "in order to get stronger, I had to eat food." Khoudari decided to become a trauma-informed coach after she used strength training as a supplemental treatment for her own PTSD.
With its social justice goals and charity lifts, the WSC aims to reach beyond the fitness community. Thanks to thoughtful coaching and an inclusive mindset, it's also reaching within.
At a gym session in Brooklyn, I watch as Wagner works her way from 45- to 135- to 175-pound lifts. It's extra impressive when she tells me that she taught herself to lift at home via social media, using a broomstick as a barbell. In the three years since she took up the sport, Wagner has gone from a yoga teacher focused on stretching to a strength and conditioning specialist who can powerlift up to 290 pounds. For Wagner, powerlifting's incremental but tangible results offer a metaphor for activism. "You go to the gym, sometimes it goes well, sometimes it doesn't. But you know that over time that work is going to accumulate. Even if you don't have a good day on Monday, three Mondays from now you might have a good day," she explains. "Just having that faith that what you're doing is important and meaningful, I think that translates directly to social justice. Every little thing you do might seem inconsequential or like you don't matter, but you are part of this collective."
Senerat is also using powerlifting to combat her politics-fueled anxieties. "After the election, I felt like I couldn't do anything," she says. "I was just one voice. I heard about the Lift for Planned Parenthood and thought I definitely wanted to be a part of it. I feel like we can grow, try to make a difference, and create a community for women to feel safe."
In November, I attended the organization's first official strategy meeting. The conversation took place in Brooklyn over homemade energy bars. Twelve members, including a social worker, a farmer, two med students, a librarian, and a handful of trainers, discussed how to raise $30,000 toward their new gym space in a little over a month. If you happen to know an activist powerlifter, expect a friendly fundraising phone call very soon. Fundraising expert Susan Shiroma offered this insight: "Women are mad."
If some women channel that anger toward learning how to lift hundreds of pounds? Even better.