The 9 Craziest Office Perks
We've all read how Google pampers its employees with sleep pods, laundry service, and four-star meals round the clock. That's nothing compared to what other companies are doing to make their employees happy.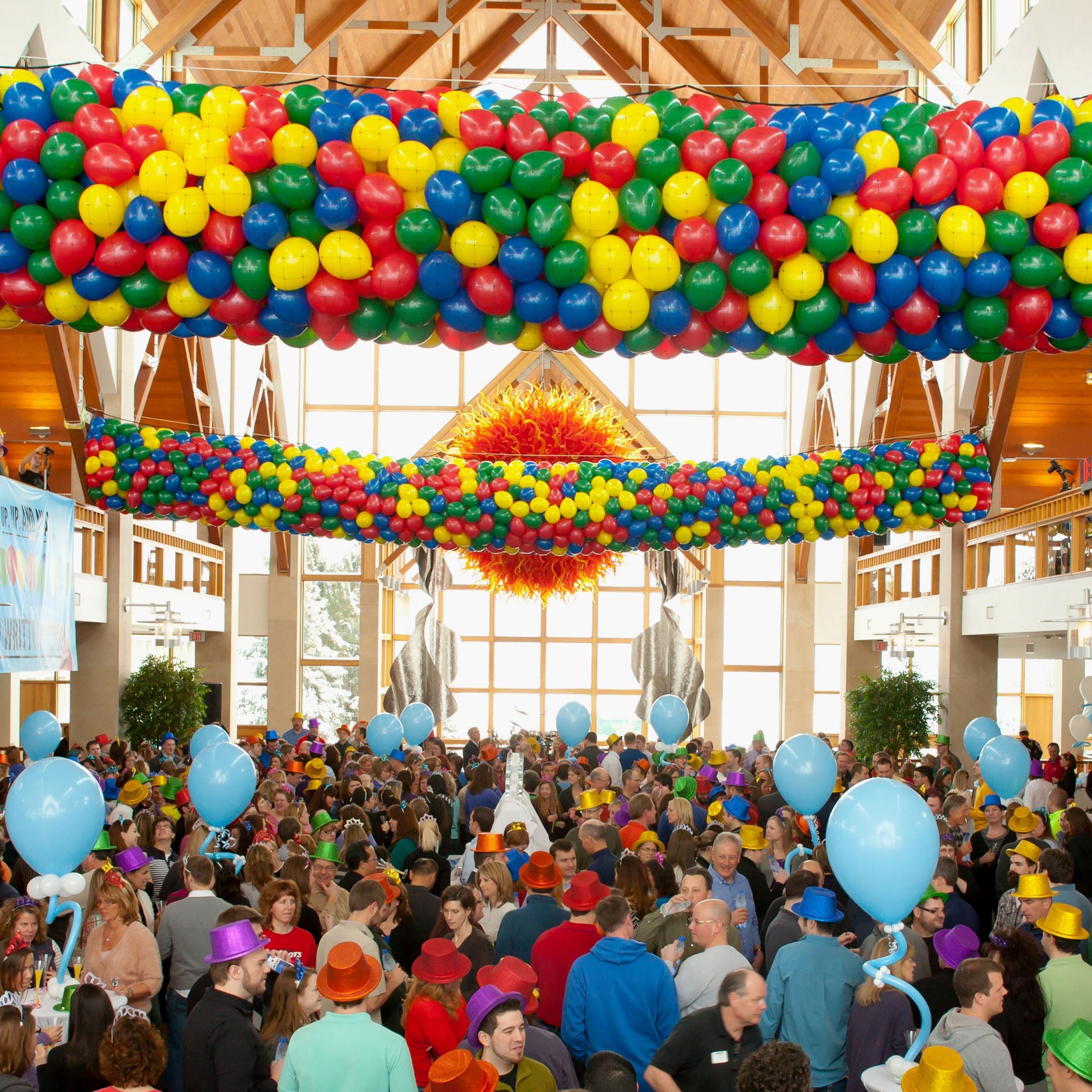 Heading out the door? Read this article on the new Outside+ app available now on iOS devices for members! Download the app.
Today, nearly two decades after the first tech bubble burst, fancy office perks have become ubiquitous in some quarters. Benefits like free lunches and unlimited vacation days are almost passé in Silicon Valley. Kegs in the break room? Big deal. Your office has an indoor playground for adults? Giant slides are so 2011.
But despite the wide-scale adoption of lavish perks at fast-growing businesses, companies still need to attract and maintain talent, and crazy freebies—particularly of the outdoors variety—are some of the best ways to stand out. Here are nine of the frothiest, nuttiest active-lifestyle workplace perks we could find.
---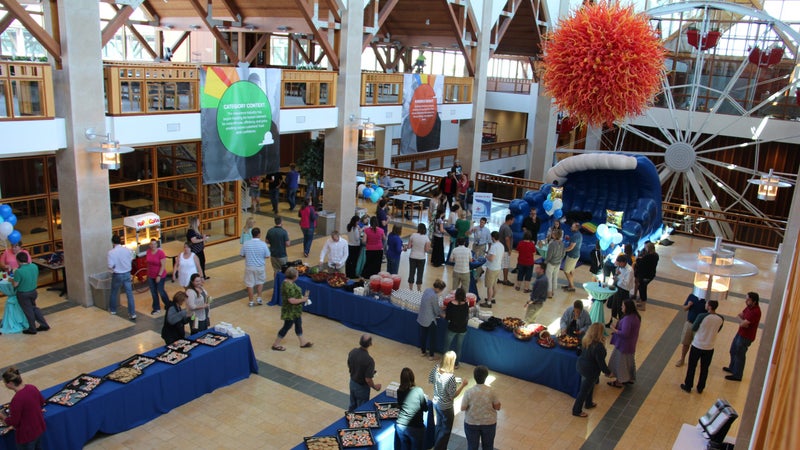 A Private Amusement Park
Although "fun office" and "insurance company" rarely appear in the same sentence, Acuity, an insurance firm based in Wisconsin, is trying to upend expectations. The company, which Pay Scale rated one of the "coolest places to work" last year, has nearly completed the latest addition to its Sheboygan headquarters: a full-size Ferris wheel. Acuity's 65-foot-high amusement park ride will serve as a constant reminder that the company "is not your typical insurance company," said CEO Ben Salzmann last year.
---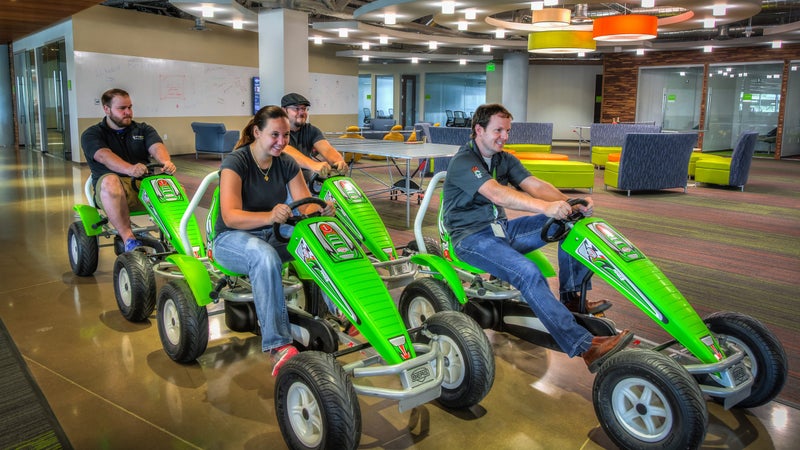 The Rat Race
The most off-the-wall perk at the new digs in Tempe, Arizona, for web hosting giant GoDaddy isn't round-the-clock gourmet meals or the big indoor slide. It's a set of pedal go-karts and an indoor race track for employees to race one another.
---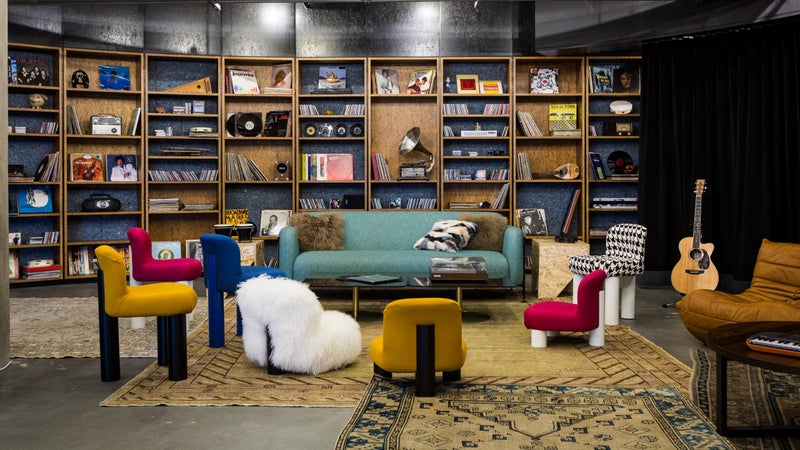 Beautiful Music
Dropbox, the San Francisco–based tech firm that stores your extra photos in the cloud, has a famously extensive range of perks for its Bay Area employees. Meals are free, gym discounts are included, and the parental leave is generous. (Until the company cut back earlier this year, Dropbox said it was spending $25,000 per employee per year on perks.) Still, Dropboxers have access to one of the most creative in-office perks available: a jam room. The company's music room comes equipped with drums, guitars, keyboards, and more, so employees can pop in to work on their "Good Riddance (Time of Your Life)" whenever they please.
---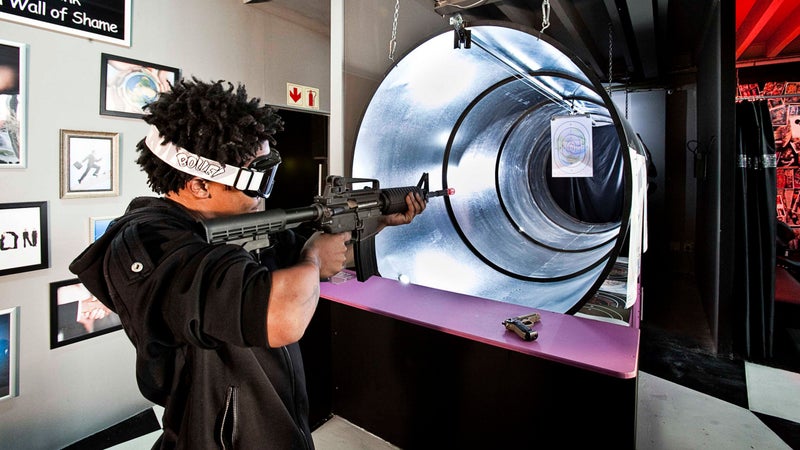 Target Practice over Coffee
Missing Link, a South African company that helps corporations create more interesting presentations, calls its employees "boredom slayers." Its offices north of Johannesburg feature a tree house, firefighter's pole, and tattoo parlor. But Missing Link's killer perk is its onsite shooting range. The fully stocked shooting gallery comes with your choice of rifle or pistol.
---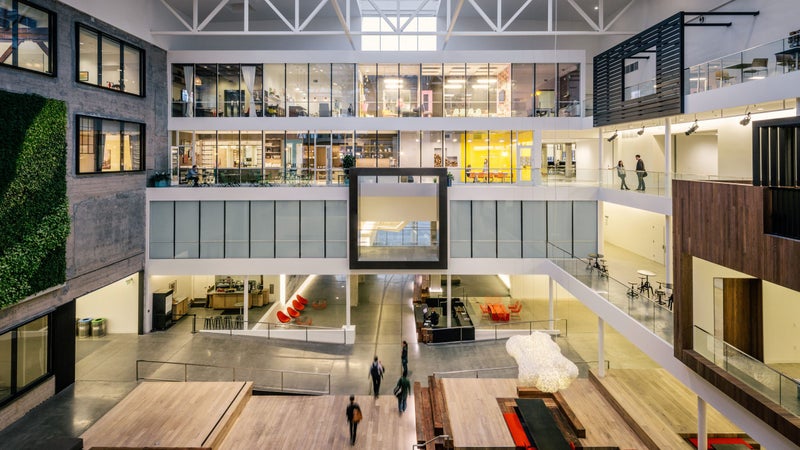 Free Roaming
The perks at Airbnb should appeal to any employee who has bought into the company's ethos. The startup—valued at $30 billion or so—gives each worker a full $2,000 in Airbnb credit to travel the world and stay in any of the company's short-term rentals. Each year.
---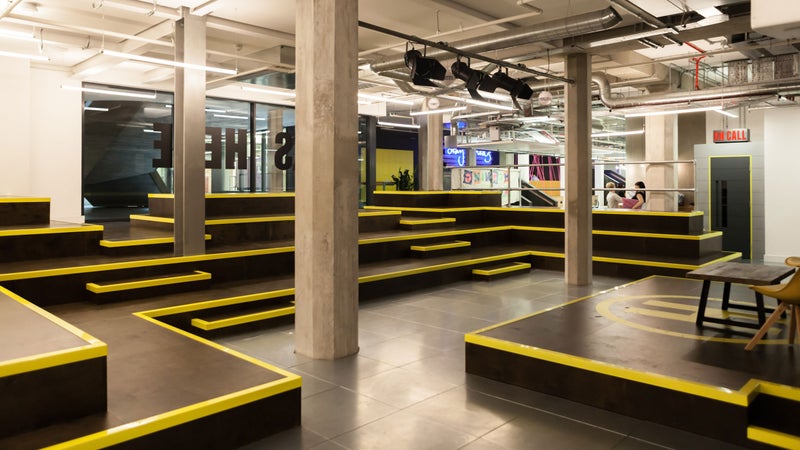 Coast into Work
The tech firms and media companies from London's nearby "Silicon Roundabout"—like Mendeley, We Are Social, and Citizen Relations PR—that have moved into a converted office building in the heart of town share a novel perk for two wheeled commuters: the world's first "cycle-in" office. The striking redesign of this nearly 100-year-old art deco office building, which previously housed a bank, includes a built-in bike ramp that leads from the front door all the way down to the secure basement bicycle parking. Employees at startups like HuckleTree, a company that manages co-working spaces, don't even have to dismount—they just ride in through the front door and wind their way down the spacious ramp. And if cycling's not your thing, the building also comes with a rooftop deck and basketball court.
---
Deep Dives
Oklahoma City–based Chesapeake Energy incentivizes its employees to get outside and stay active. The company's campus includes basketball courts, an Olympic-size swimming pool, and a rock wall. But the most surprising perk from this landlocked oil and gas company is probably the subsidized scuba lessons employees can take at a local lake.
---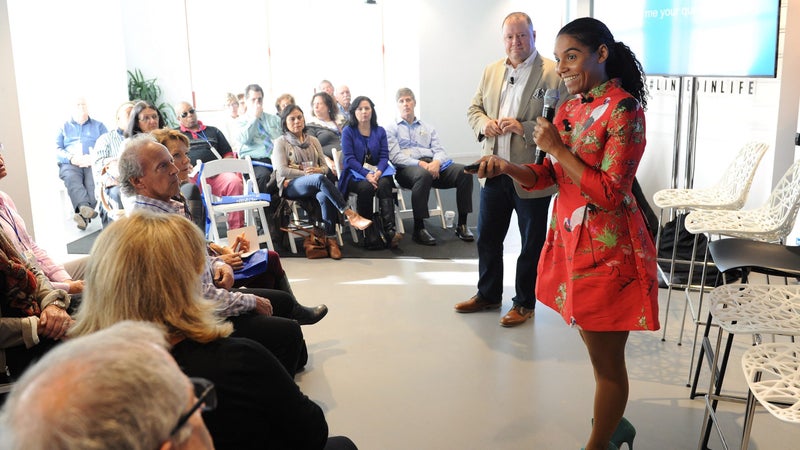 Meet the Parents
It's a growing problem facing millions of millennials each year: how to explain your job to your parents. "Chief content ninja" may look cool on a business card, but according to a survey commissioned by LinkedIn, a third of parents today don't understand their children's jobs. That's why the online social network has been hosting an annual Take Your Parents to Work Day for the past four years. The event fosters community, the site says, and employees "might be surprised at just how much [their parents] can relate and the helpful advice they'll have."
---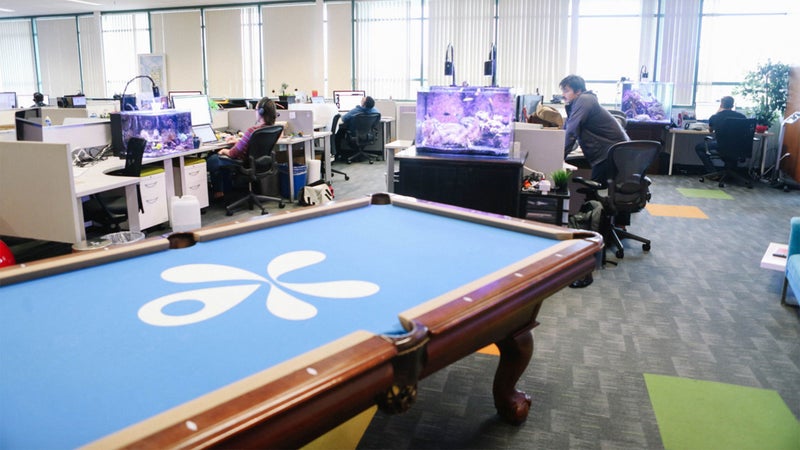 Go on a Cruise
The market for fixing your cracked phone screen is surprisingly robust. iCracked, founded to take advantage of klutzes everywhere, repairs shattered Apple products fast. The startup is based in Redwood City, right on San Francisco Bay, and keeps a surprise moored right outside the office: the company yacht. Employees can cruise the muddy shores of Silicon Valley whenever they please.
Lead Photo: Courtesy of Acuity