The Daily Rally
Audra Robbins Wants to Feel It All
Losing a close friend taught the fitness instructor that embracing your emotions is a sign of strength and growth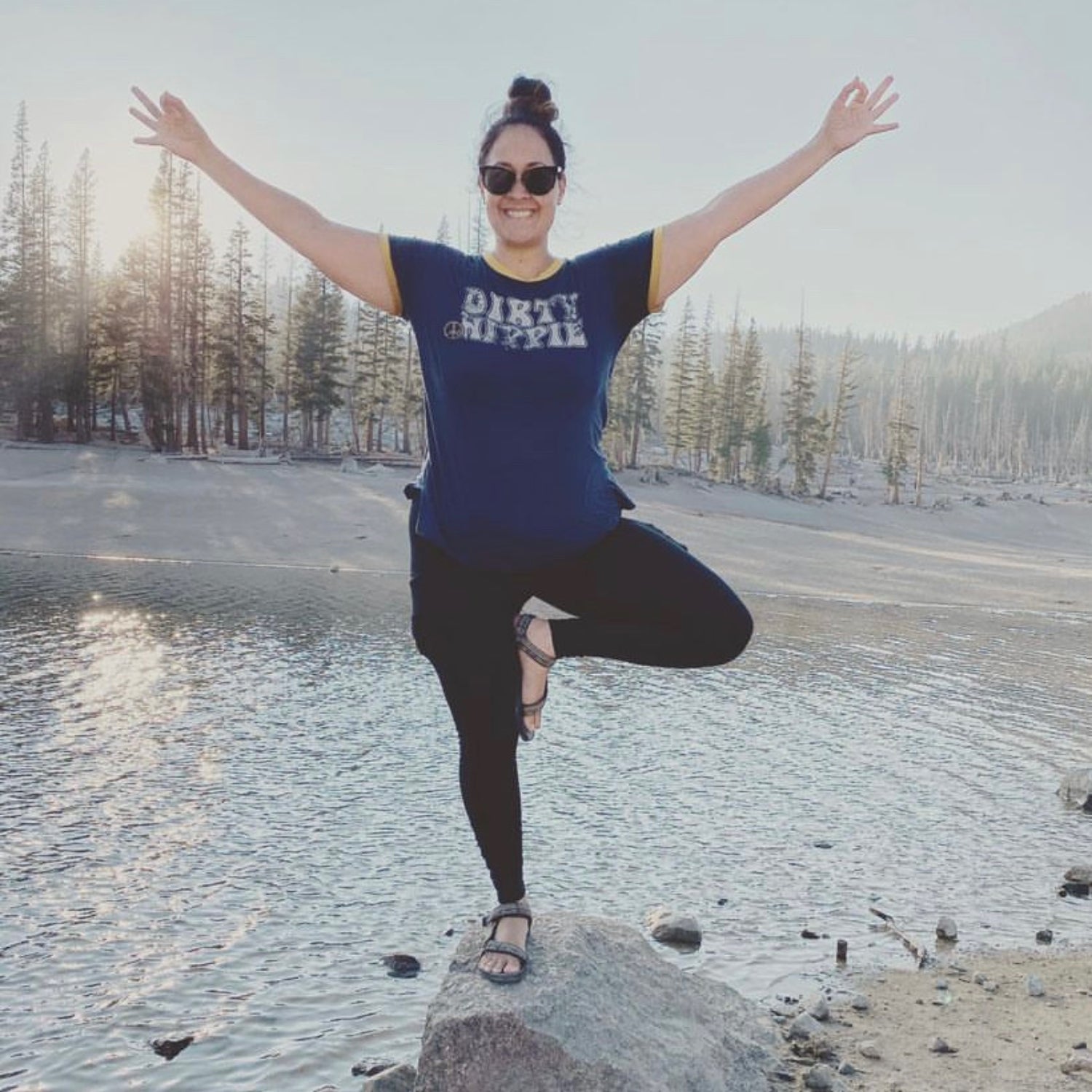 Courtesy Audra Robbins
Heading out the door? Read this article on the new Outside+ app available now on iOS devices for members! Download the app.
Audra Robins told her story to producer Stepfanie Aguilar for an episode of The Daily Rally podcast. It has been edited for length and clarity.
As we were leaving the house, I thought for a moment, Maybe I just shouldn't go. It feels weird to go on vacation for my birthday when my friend just passed away.
My nickname is Ah-Y, or sometimes A-Dog. I'm a personal trainer, and also a group fitness instructor, at a local gym here in Lancaster, California.
How would I describe myself? Adventurous, lighthearted, great sense of humor. And nature's a big part of my life. And, so are my kids, my family; I'm very family oriented. I have six kids. I would say a big accomplishment would be birthing four kids at home.
I had a friend, Beth, that was a friend of mine for maybe, gosh, 15, 16 years. She taught me almost everything that I know about life that is worthwhile. She taught me about home birth. She taught me about herbal remedies, and just natural ways of doing things. She also was a lover of nature.
She was what you would call a doula, for birthing, labor purposes. But I never really called her that. She was just my best friend that was there at birth, and would help me all throughout my pregnancy. She was just a really supportive person in my life. Just a beautiful, beautiful spirit.
Beth always heard me talk about Mammoth. Mammoth Lakes is my home away from home. I've never been more in love with a town or outdoor space or with nature than in Mammoth.
Beth was planning a trip with her husband. And I was like, Oh my gosh, you have to go to McLeod Lake, that's one of my favorite hikes because it's super short. It's nice and sweet. So if you're hiking with kids, or if you don't want something that's super strenuous and you just want to get to a place that's majestic, McLeod Lake is the place to go.
So, I gave her directions, let her know where to go. That whole moment just was super special because she was communicating, texting me like, "Gosh, this is just beautiful. It's everything that you described." And I remember her sending me a picture and everything. She just loved it. She fell in love with it just as much as I love it.
Beth had been given a diagnosis of breast cancer. But she kept the intensity of how badly she was doing away from a lot of people that she was close with, and especially from me because I was pregnant at the time. So I didn't know how badly she was going through it.
Normally, four weeks before you give birth, we have a birth team meeting for the home birth. And Beth would always attend it when she could. She had been with me through all of my births with my babies, up until that point. So I just touched base with her, and I was like, "Hey, this is our birth team meeting is happening really soon." And she was like, "OK, yeah, I'll be there."
I ended up getting a phone call from my other good friend that lived next to her, that things were looking really bad. My friend had to convince me how bad it was. And she was like, "You need to come see Beth. Because we don't know how much time we're gonna have."
All of a sudden, I realized that my days with her were down to days, if not hours. My world just crashed down.
I went to go see her, and those were my last moments with her. It was on my birthday that I found out that she had passed. I still joke around that I think she did that so that I wouldn't forget the date because I'm horrible at dates. So I think she had to plan it out, so it made it easier for me to remember her anniversary.
We were actually on our way to Mammoth. So, I thought for a moment, Maybe I just shouldn't go. But then my husband was like, "You know what Beth, she would want you to go. This is everything that makes your soul sing and is healing for you, and allows you to feel her energy. She's gonna want you to go." So, we decided that we were gonna still go.
We hiked up to McLeod Lake. That was very emotional for me to do, but as emotional as it was, it felt very healing to be in the same spot that she last was when she was there and feel the beauty that she felt.
It was peacefully still. You could hear the wind bouncing off of the lake and the light glistening. You could just hear and feel everything around you. I decided that I wanted to do an honoring of her and do a couple sun salutations. Right where she was last out when she was in Mammoth.
It was taking a moment to honor a being that I felt like impacted the whole entire earth, whether you met her or not. And it felt like for a moment, everything just stood still.
Something that Beth used to tell me all the time, that I'm probably gonna one day get tattooed on my body is, "Feel the feels." It's such a simple saying, but I was raised very much that emotion is not good. That you shouldn't show emotion, it's weak to show emotion. She taught me—and nature has taught me, as well—that to feel your feelings is actually a sign of strength and growth.
So I would say feel what you're feeling. Don't be afraid of it. Don't be ashamed of it. And everything will be OK.
Audra Robbins is an adventurous, nature loving mother of six children and a personal trainer and group fitness instructor in Lancaster, California. As a Pacific Islander, ocean love is within her blood.
You can follow The Daily Rally on Spotify, Apple Podcasts, Stitcher, or wherever you like to listen, and nominate someone to be featured on the show here.
Lead Photo: Courtesy Audra Robbins
Trending on Outside Online