Grace Staberg on the Eating Disorder That Derailed Her Skimo Season
The elite athlete opens up about the pressures to be light and fast—and her journey toward a healthier relationship with her body and performance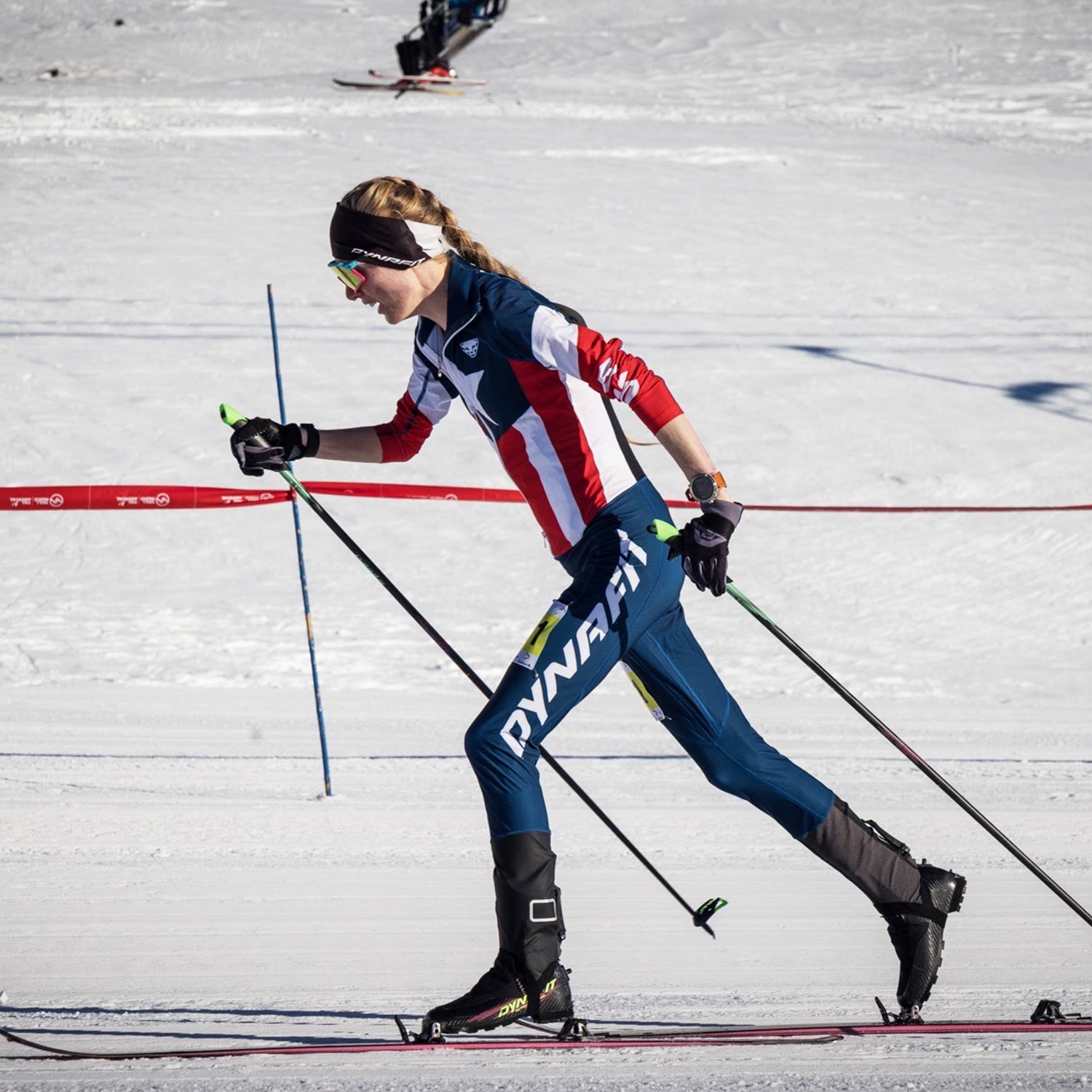 Heading out the door? Read this article on the new Outside+ app available now on iOS devices for members! Download the app.
In January, the night before the third Ski Mountaineering World Cup race, I lay awake, staring at the ceiling, hands crossed neatly over my stomach. I'm familiar with prerace nerves, but this was different: I wasn't thinking about my strategy to get to the front on the climbs, nor was I visualizing how I might minimize my losses on the steep descents in Morgins, Switzerland. I was indifferent to the race outcome; the feeling washing over me made winning feel trivial. I was terrified that if I fell asleep, I wouldn't wake up again.
As a mountain runner and skimo racer for Dynafit, I've spent the past three winters in Europe competing at the highest levels of the sport. With the support of great mentors and coaches, I've stood on World Cup and world championship podiums, set the North American women's 24-hour vertical-ascent record, and been named to multiple U.S. national teams. I'm only 20, but I've learned through my fair share of setbacks that being an athlete is a constant work in progress. This season that setback wasn't a tangible injury. It was an eating disorder relapse.
Last October, my mental and physical health began to deteriorate. Five years ago, I was diagnosed with an eating disorder, and after years of recovery I thought I had left it behind. But when it resurfaced, perhaps in part due to the pressures of elite competition and the isolation I faced living alone in Europe, I eventually decided to return home to Colorado and seek support, during the natural break in the season, after two more World Cup weekends. On some level, I knew it was unsafe to delay my recovery, so I consulted a physician in France, where I was training.
I assumed no doctor would endorse me competing, but I wanted reassurance that the consequence of racing wasn't going to be death. 
"Your BMI is too low. It's very dangerous," she said, and insisted I dramatically decrease my training load and increase my caloric intake. "If you were a French athlete, I would not let you race," she said. "I would tell you to go home until you could gain some weight. But, if you must."
The U.S. national team doesn't require medical clearance to compete, and her consultation was just that: a consult. So I stayed, and I raced. 
I climbed into second place early in the race, but I felt fragile. I was still in second at the top of the final steep couloir, but I had a panic attack and froze, devoid of the confidence I needed to descend consequential terrain safely. I had to mentally talk myself down. When I finally skied across the finish line, tears streamed down my face. I'd come in last, by a large margin, but I didn't care: I was just relieved to have finished at all.
"I feel like I'm going to break," I sobbed to my coach, "I just want to go home." In no state to race, I booked a ticket back to Colorado for the next morning, effectively ending my World Cup season.
---
When I joined the youth skimo team at the Summit Endurance Academy, a Breckenridge coaching program, in 2017, I didn't even know how to do a kick turn. But the learning curve was motivating, and I dove into the sport wholeheartedly. Things began to fall into place, and I won nationals that first spring, which qualified me for the world championship team the following winter. In a highly competitive international field, I landed three top-ten finishes and started to wonder how well I could do if I set more concrete goals.
Each winter I improved, and each season the standards I set for myself rose. I realized that winning a World Cup was an attainable goal during my first year racing in Europe. My second year abroad, I admitted to myself that I wanted to be a world champion. I committed to giving the sport my all, oblivious to the fact that it was possible to give too much.
I'd struggled with seeking perfection at all costs before. At 13 years old, the night before my state cross-country meet, I ended up in the hospital with a dangerously low heart rate and left with a diagnosis of anorexia nervosa. Recovering was the hardest thing I'd done, and before this winter, I believed I'd healed my relationship with food, my body, and the way I cope with stress.
But over the course of the 2021–22 winter, old patterns snuck back in. I put pressure on myself to perform while struggling with a keen sense of loneliness. I lived outside a small French village and had to ski three miles to the nearest grocery store, which had previously felt like an endearing feature of rural life. Yet this winter it served as a symbol of my stark isolation. Instead of sitting with the discomfort, I turned to a coping mechanism I knew all too well: underfueling. What began as eating too little to support my training sessions quickly became eating too little to support my life. I'd wake up in tears and wonder how I'd get through another day.
---
Among elite athletes, broken bodies are widely understood to be part of what you've signed up for. But a broken mind felt unacceptable, and I hid my declining health. In some respects, that was easy, because I was putting up solid race results: being lighter seemed to make me faster. I couldn't reconcile the two experiences. My athletic performance incentivized the very behaviors that were slowly killing me.
I didn't train to be thin—I trained to be fast. But in skimo, "light and fast" feel inextricably paired. We measure our gear down to the gram, and shaving a few grams off my boots could make or break a race. So I began to look at my body weight the same way, as a metric to be manipulated for performance.
Meanwhile, I continued to have objectively good performances. I felt as if I could float uphill, and despite the fact that my declining strength made me a hesitant skier, I was still the fastest climber among my peers.
A 2021 article in the Journal of Sports Science and Medicine indicated that VO2 max was one of the highest in-lab predictors for skimo vertical-race performance. A measure of maximal oxygen uptake, VO2 max is most often discussed in terms of milliliters of oxygen per minute per kilogram of body weight. I fell into the trap of assuming that lower body weight would equate to higher relative aerobic capacity and therefore better performance. My own experience—that the lighter I got, the faster I could move uphill—represented a narrative that persists in sport.
However, looking at any study in isolation ignores the individuality of each athlete. Our bodies are so much more than tools to be manipulated for performance. If you crunch the numbers on paper, it might appear that if you're lighter, you may be faster, at least at first. But for many athletes, this means chasing an unattainable standard. As both anecdotal evidence and research have shown (including a 2020 review on the consequences of low energy availability), underfueling is incredibly dangerous. "Low energy availability is a ticking time bomb for the endocrine, nervous, and metabolic systems, with scientific consensus on the harm it causes for both health and performance," says David Roche, a coach to elite endurance athletes like Clare Gallagher and Amelia Boone.
"For too long, some coaches and athletes have relied on superstition masquerading as science, thinking that changing someone's body type alters performance trajectories," Roche says. In reality, "those superstitions rely on bad data, where countless athletes are put through a meat grinder, and the few that don't break are held up as those to emulate."
The issue with using outliers as the gold standard is twofold. "Long-term, even those outliers succumb to impaired physiological function from low energy availability that makes any long-term growth impossible," says Roche. "And for the wide majority of athletes, that standard is never attainable to begin with."
---
When I made the decision to end my World Cup season early, it was almost like losing a part of myself. Coming home felt like the biggest DNF of my athletic career. But I never doubted that it was what I needed. It simply served as a reminder that doing the right thing often means doing the hard thing. In stepping back from racing, I am building back as a stronger athlete and human. The moment I stopped telling myself that elite athletes needed to look a certain way, I gave myself the opportunity to become one.
Some of the traits that make me a successful athlete—stubbornness, determination, and perfectionism—unfortunately also predispose me to disordered eating. An important step in my recovery has been putting protective factors in place to ensure that even when elite sport is a big part of my life, my health and happiness come before performance.
There is no manual for recovery, and the process looks different for everyone. I've restored weight and been cleared to return to training, but my treatment is ongoing. My support team now includes a sports psychologist and dietitian, and I meet with each of them weekly. Collectively, the team has run a full battery of tests and consulted with physicians to guide my transition back to training and competition. I have swapped active recovery for full rest days, and I am finally fueling my body appropriately. I am learning to unconditionally accept the body I can best live in and the emotions that make me human.
For now, instead of lining up with elite athletes on starting lines across Europe's peaks, I'm skiing closer to home. I've been spending a lot of time skinning uphill, solo, at Copper, my home mountain. I have moments of joy out skiing, as the sun rises over the mountains and the wind whips across my face. I have moments of deep sadness, thinking about how bad things got, how quickly normalcy slipped away. And I have moments of growth, as I sit down to a meal, caring for myself through the most simple act of self-love there is: eating.
Lead Photo: Courtesy Grace Staberg