The Best Places to Work in 2014
100 companies that believe the secret to success is empowering employees to live bigger, better lives.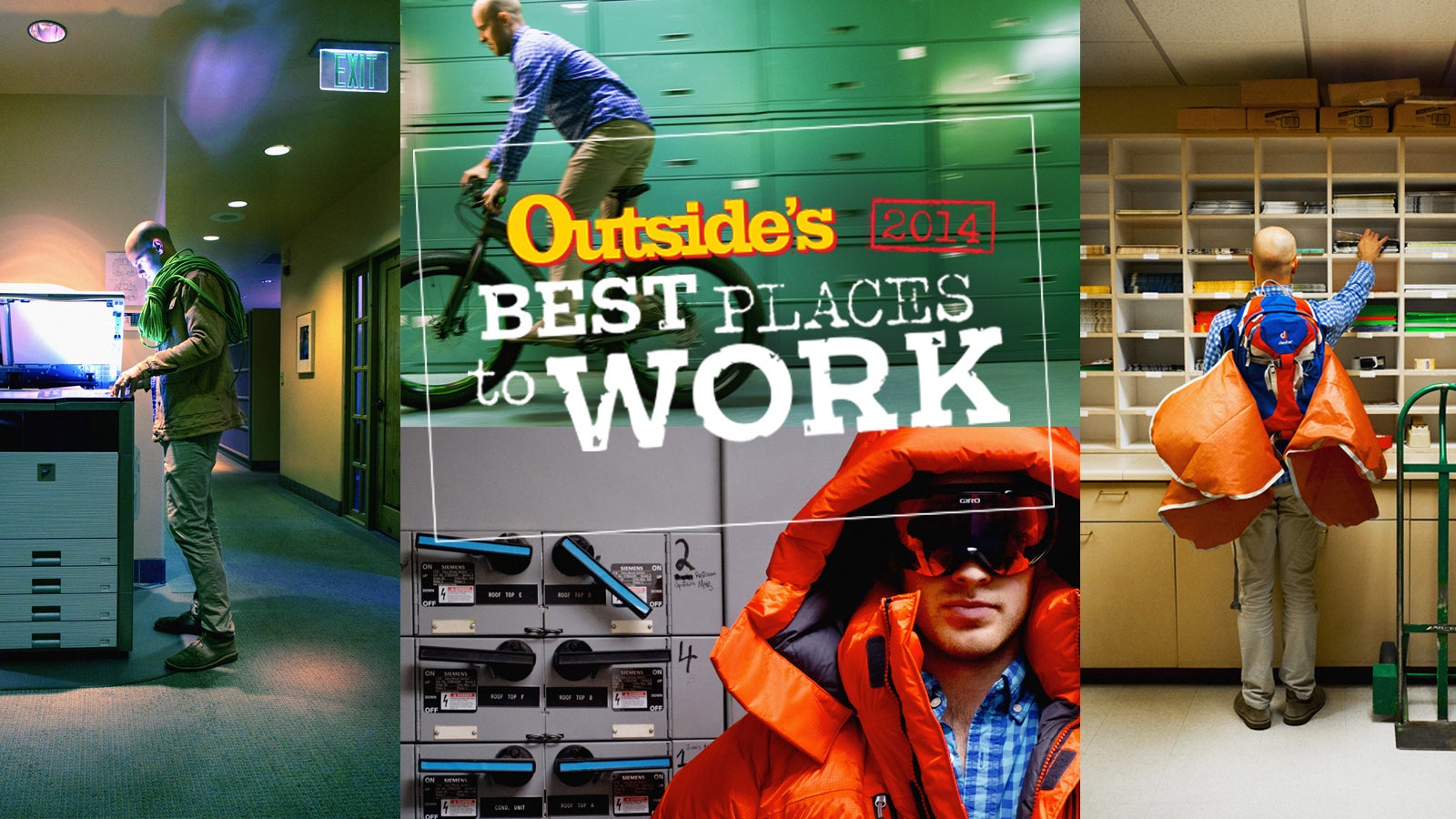 Heading out the door? Read this article on the new Outside+ app available now on iOS devices for members! Download the app.
In today's job market, there are all kinds of opportunities for adventurous souls if you know where to look. That's the point of our seventh annual Best Places to Work project. The 100 amazing companies on the 2014 list made it through a year-long vetting process overseen by our independent research partner, Best Companies Group, come in many forms, but they all agree that the secret to success is empowering employees to live bigger, better lives. Which is why they go so far as to cover your lift tickets and gym memberships, invite your dog into the office, and even pay for you to take better vacations. 
100. Strava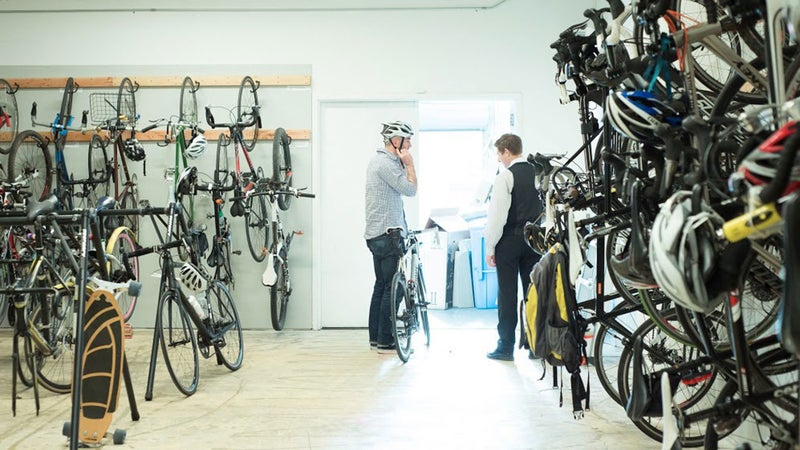 Millions of people rely on Strava to turn fitness into a social experience. No training partner? No problem. The company's apps and website make finding routes, planning workouts, sharing records, and chasing King of the Mountain (KOM) titles—course records on hills and other stretches of road and trail—the core of a new gamified fitness experience. With Strava, everyone is a competitor—and you're always pushed to break your own records.
Location: San Francisco, California
Number of Employees: 88
Company Culture: Yes, it's a competitive crew. Most employees at Strava race year-round—there's a pro cyclocross rider on staff—and stretch out in the twice-weekly yoga classes. But the morning runs and rides are followed by pastry spreads, and the vibe is more social than hard-core. Off the bike, everyone gets "Jam Days" to work on innovative personal projects. Make something great? Some departments are rewarded based on individual and team performance.
Sweet Perks: Strava will indulge your gear fantasies with a $1,000 annual stipend for gear or race entry fees. There's also the $500 gym membership reimbursement (sprinters rejoice), total healthcare coverage (so go join that CrossFit box), and five weeks of paid vacation (for that extra-long adventure race).
Bonus Points: The office is basically your fitness base camp. Yoga mats? Check. Showers? Ditto. A fully equipped bike shop and storage area to make maintenance easy? You bet.
In Their Own Words: "It's a good thing we get out for group runs and rides during the week, because the free snacks and dinners can make it hard to stay at race weight!" —Michael Oldenburg, senior communications manager
99. Mindbody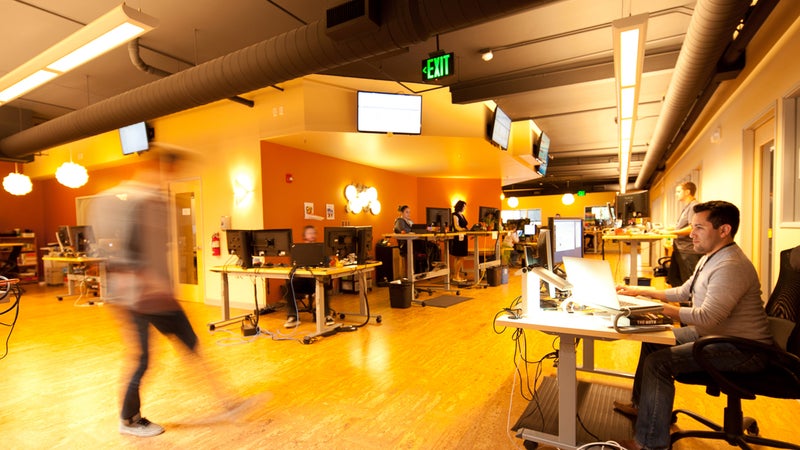 Mindbody builds healthier and happier communities through a comprehensive suite of business management software that makes online booking and marketing seamless for businesses and consumers. This company is psyched about health; the on-site yoga, massages, and standing desks make wellness an everyday activity.
Location: San Luis Obispo, California
Number of Employees: 852
Company Culture: Mindbody does adult recess. Seriously. The chill-out zones are filled with Ping-Pong tables, hula hoops, and arcade machines to keep staff energized and creative. Can't step away from the computer? Between the Friday happy hours, monthly team recognition parties—live music, beer, wine, food included—and scheduled recess sessions, Mindbody will force you to make the time.
Sweet Perks: Work hard. Get rewarded. The top 10 annual sales representatives receive complimentary trips to places like Mexico and Catalina, or adventure trips like zip-lining. Everyone else gets vouchers to local client businesses, wellness classes, personal training, and biometric screening. Ride, carpool, or walk to work? You'll earn points that can be traded in for gift cards with Visa, iTunes, Amazon, and local restaurants.
Giving Back: San Luis Obispo's bike commuters are very lucky. Each year, Mindbody hosts a bike breakfast during Bike Month to help support the local community. The company also donates a share of setup fees to its charity partners.
In Their Own Words: "Mindbody is the first place I've worked for that cares about me as a whole person, not just an employee. I know it's a cliche, but I really do look forward to coming to work every day." —Meredith Simmons, social media strategist
98. Beach Cities Health District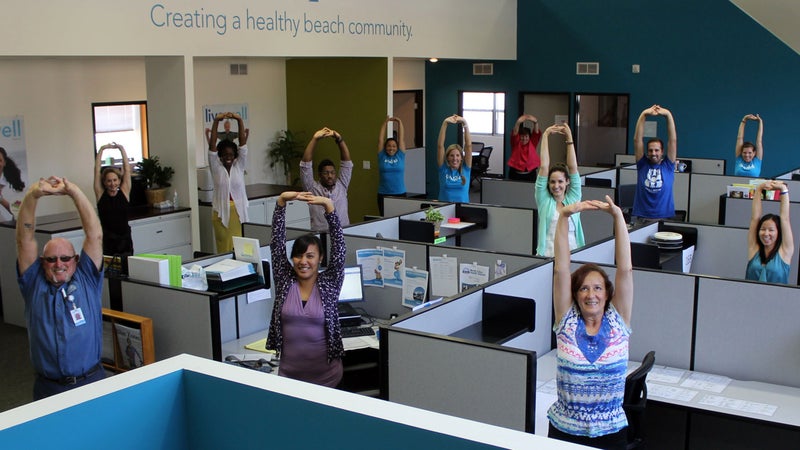 "An ounce of prevention is worth a pound of cure." It's a well-known and proven strategy, but one the modern healthcare system rarely stresses. Beach Cities Health District—which supports the communities of Hermosa Beach, Manhattan Beach, and Redondo Beach—bucks that trend by providing preventive care through wellness programs. The company practices what it preaches: Walking meetings are the regular meeting format, yearly well-being challenges kick-start personal fitness makeovers, and a six-week mindfulness series helps employees relax and refocus.
Location: Redondo Beach, California
Number of Employees: 133
Company Culture: Wellness isn't something you just do at the gym. At BCHD, health starts at work—often at lunch. The office is just a mile from the beach and the Strand, a 22-mile paved path that connects several L.A. beaches and serves as the de facto midday rest spot. There are also the Tuesday spin classes, small-group training sessions, and the Thrive to 5 employee wellness program, which pushes employees to improve their health through five key categories: physical well-being, personal emotional well-being, social well-being, bucket list goals, and group physical activity.
Sweet Perks: Employees can pursue higher education degrees through a tuition assistance program, and the 17,000-square-foot fitness facility makes achieving fitness goals almost too easy.
Giving Back: Each year, more than 600 volunteers give 36,000 hours to the community. They run errands, counsel seniors, maintain school gardens, and help families obtain health insurance.
In Their Own Words: "Working at Beach Cities Health District is my dream job. A lot of organizations talk about work-life balance, but it's something that's emphasized at Beach Cities. This organization cares deeply about creating a healthy beach community, and the well-being of employees is a top priority, too." —Dr. Lisa Santora, chief medical officer
97. Sportif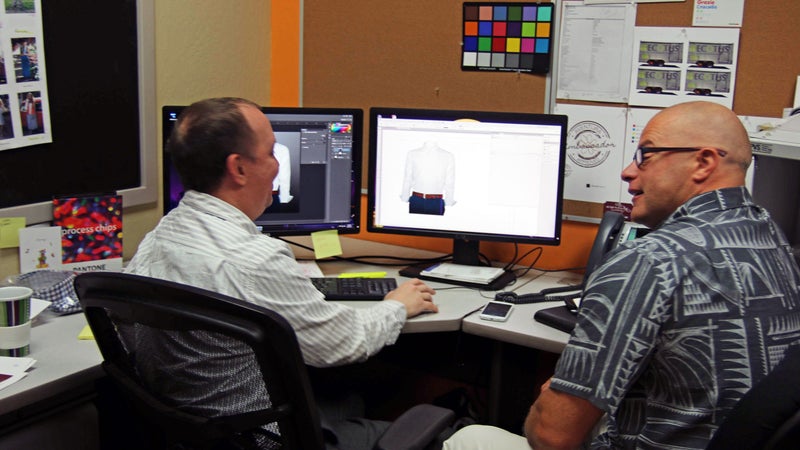 Sportif was founded in 1965 when John Kirsch began selling tennis shorts from the back of the family station wagon. A few years later, the business developed a stretch fabric that became a smash hit in the outdoor industry. Fast-forward 50 years, and the company designs, makes, and sells active yet fashionable clothing and accessories that are also environmentally friendly.
Location: Sparks, Nevada
Number of Employees: 41
Company Culture: Yearlong summer hours aren't just a nice perk at Sportif. They make staying fit and getting out of the office on the office-supplied mountain bikes, kayaks, and snowshoes a part of the lifestyle. Plus, the office is just across the street from the Truckee River and Rock Park, which offers easy access to river trails and staging for the monthly picnics and potlucks.
Sweet Perks: Each year, five employees are selected for a weeklong vacation at the company timeshare. Plus, there's a gym on site. Did we mention the yearlong summer hours?
Giving Back: Get paid to be charitable. Employees get two days of paid leave to volunteer at a charity of their choice. The company matches this give-back ethos by partnering with organizations like Northern Nevada Food Bank, Adopt a Senior, and the Good Shepherd Mission.
In Their Own Words: "I have been so fortunate to have worked with three siblings, a brother-in-law and 40-plus associates that have an average tenure of more than 10 years. In fact, we have six associates that left the business and came back for a second tour. A bit quirky, but when passing a co-worker in hallway or in break room and being asked, 'How are you doing,' or 'How is your day,' many of us will fire back, 'Just living the dream!' We work smarter rather than harder with little overtime in a very casual environment. Our highest values are placed on quality of life with family, friends, and associates at work and at play or recreation. All the while, we are passionate about designing and producing the best products for our customers (and for ourselves) to wear that help us fulfill this lifestyle dream." —John Kirsch, owner and president
96. First Green Bank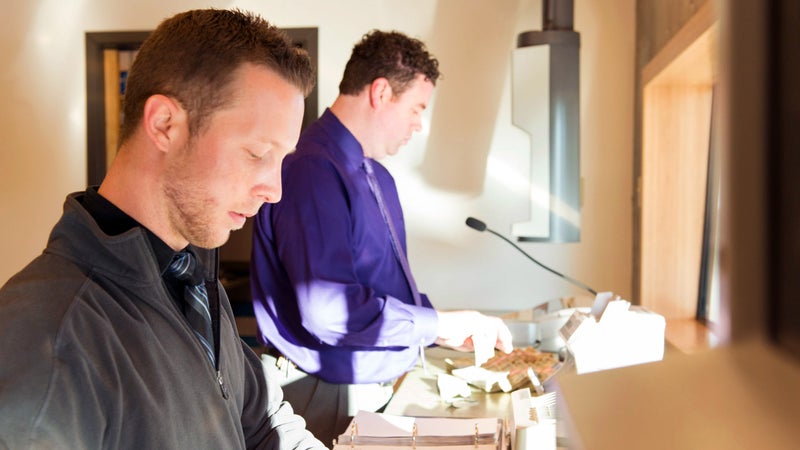 Like most banks, First Green provides basic financial services: checking and savings accounts, CDs, and commercial, residential, and consumer lending. What makes it special? The company's environmental and social mission. Since 2009, it has worked by the motto "to do the right thing" for the environment, community, and shareholders. And that's why it offers discounted interest rates for LEED projects, zero-percent interest rates for high-mpg cars (30-plus), and solar loan programs.
Location: Mount Dora, Florida
Number of Employees: 68
Company Culture: First Green Bank is headquartered at a LEED Platinum building with a living plant wall, koi pond, green roof, and a solar array. Even the condensation from the air-conditioning system is collected to flush toilets and provide irrigation. Nearby trails make running and biking on lunch breaks easy. The complimentary refreshment bar—stocked with local, fair trade, organic products—makes post-workout recovery even easier.
Sweet Perks: Get paid to lose weight. Really. The company offers a $250 award for the employee who loses the most weight each year. Need motivation to hit that goal, or are you already at racing weight? Cash in the $500 annual fitness allowance or purchase some new gear with zero-percent financing. And put on that free Fitbit to keep track of your daily activity levels.
Giving Back: It's all in the motto. Each year, the staff donates thousands of hours to community service. The bank's nonprofit First Green Foundation supports local start-up farming and water management projects and donates thousands of dollars toward solar projects through the foundation's renewable energy program.
In Their Own Words: "Feels like a team!" —Laura Close, compliance specialist
95. Backbone Media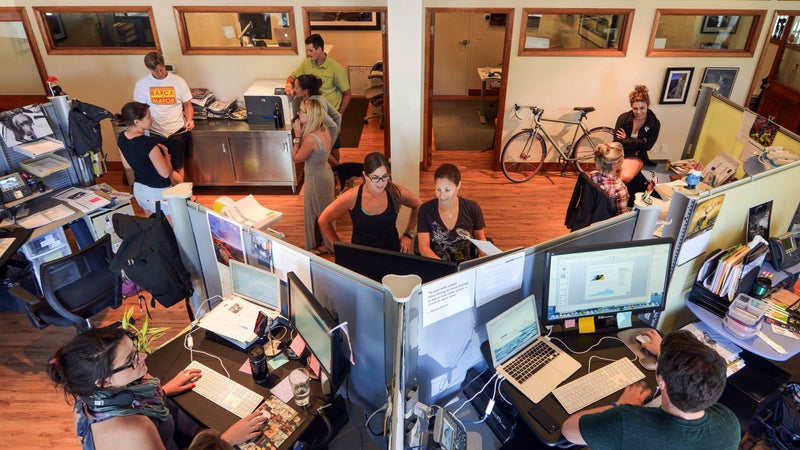 Backbone is a marketing agency that maximizes media exposure for active-lifestyle brands like Black Diamond, Big Agnes, and Eddie Bauer. The staff is also a tight-knit group of hard-charging skiers, climbers, cyclists, runners, and boaters who, perhaps because of their love for the adventure, are passionate about representing the best outdoor brands in the active-lifestyle realm.
Location: Carbondale, Colorado
Number of Employees: 37
Company Culture: Free espresso. Open-access kegerator (Roaring Fork brews). Dogs at work. Birthday breakfasts. Ping-Pong breaks. Powder days. Company retreats (winter cat skiing, summer 10th Mountain Hut trips), conferences, and writing workshops. Never-ending supplies of gear (just look at its client list). A curling league. You name it, you got it.
Sweet Perks: Stay with the company for three, five, and 10 years and you'll earn Backbone Bucks, good toward any purchase of a client's products. In the meantime, earn a year-end bonus for solid work and enjoy a 401(k) with 3.5 percent matching.
Giving Back: Backbone does local trail maintenance, and several employees are on the boards of organizations like Aspen's Buddy Program and Roaring Fork Conservancy.
In Their Own Words: "I joined Backbone a year ago, moving from New York City (8 million people) to Carbondale (8,000 people). It's been the best transition not only for my life, but also my career. Backbone has provided me with a great culture and environment that's allowed me to be more creative than I have ever been in my career. That's due to the amazing scenery, the encouragement from leadership and co-workers, and having a real work-life balance." —Holly Potter, client development and strategy
94. Patagonia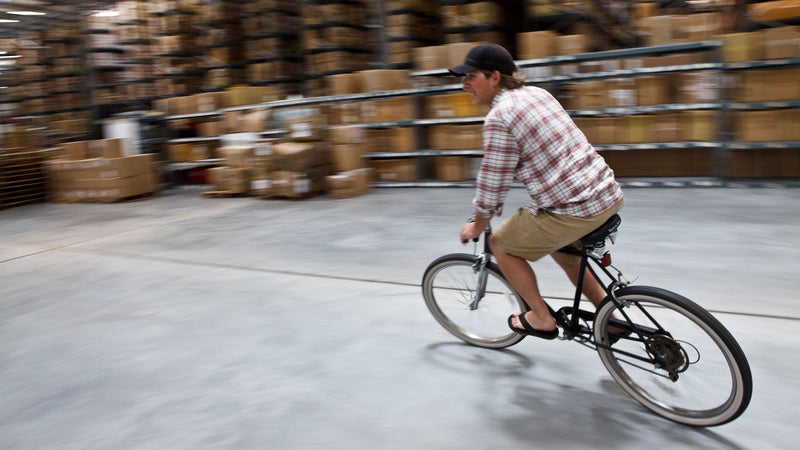 Patagonia founder Yvon Chouinard started out as a blacksmith making his own climbing gear to fund his personal expeditions. Now, Patagonia makes technical clothing and gear—with an explicit commitment to the environment. The company makes long-lasting products, repairs what breaks, and helps customers sell or recycle what they no longer use. In 2012, Patagonia went a step further to sign up for B-Corp certification. As part of this designation, Patagonia has a legally binding responsibility to do more than turn a profit; it must also take into account environmental concerns in business decisions.
Location: Ventura, California
Number of Employees: 1,098
Company Culture: The Ventura headquarters of Patagonia is wedged between the surf and mountains ripe with climbing, hiking, and biking trails. Staffers stay active throughout the workday with free fitness classes, an on-campus volleyball court, company bikes, and free surfboard storage. Plus, the company's "Let My People Go Surfing" policy means hours are flexible when the surf is right or the mountains call.
Sweet Perks: An Environmental Impact Program lets employees take up to two paid months off each year to work for an environmental group of their choice. At the office, staff enjoy gourmet meals prepared by an on-site chef who also teaches monthly cooking classes, free yoga classes, subsidized on-site child care and a weekly parking lot farmers' market. The company's Drive-Less Program reimburses employees $2 for every office commute using sustainable means.
Giving Back: Company founder Yvon Chouinard is also a co-founder of the 1% for the Planet movement, through which Patagonia donated more than $6 million to environmental organizations last year. Patagonia also encourages customers to repair, hand down, or recycle clothes they already own to limit their impact as consumers.
In Their Own Words: "At Patagonia, I like that we take an honest look at the environmental harm caused by manufacturing. We're encouraged to apply our personal values to find creative ways to reduce our business footprint, and we're also inspired through our work to bring those values home and share them with our communities." —Nikki Musto, production manager of lifestyle
93. Deckers Brands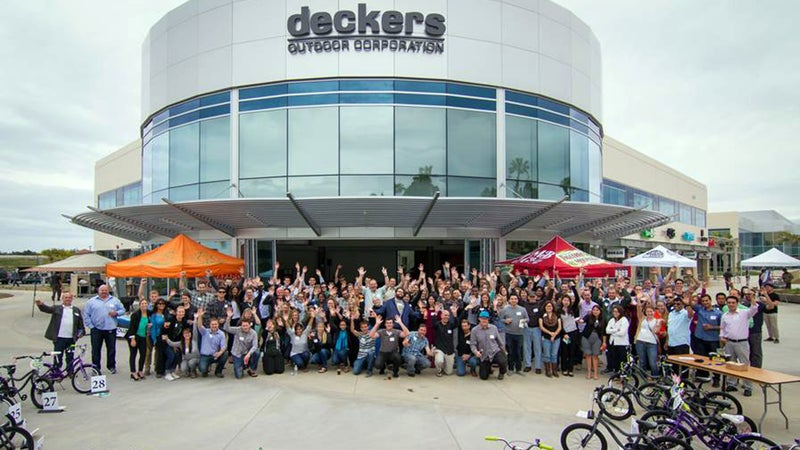 Even if you haven't heard of Deckers, you've seen its work. The company designs, markets, and distributes footwear, apparel, and accessories for brands like Ugg, Teva, Sanuk, Ahnu, and Hoka One One. The products are great, but the staff loves the company's commitment to the environment, giving back, and personal growth.
Location: Goleta, California
Number of Employees: 1,560
Company Culture: Deckers Brands' corporate headquarters are a short bike ride from the beach. A new 3,490-square-foot fitness center is stocked with machines, weights, medicine balls, and yoga mats—plus personal trainers and 10 weekly classes. Prefer the sunshine? There's the beach, cruisers, surfboards, and paddleboards.
Sweet Perks: Getting paid to volunteer and to commute (up to $2 a day for anyone who walks, bikes, carpools, or takes the bus or train). Individuals who hit personal and company objectives are eligible to receive bonuses and nonvested stock units. And everyone can take advantage of the bike fleet, dry-cleaning drop-off, and showers.
Giving Back: Through the Deckers Goods volunteer program, company staff will donate a total of 7,000 hours in 2014. The motivation? The "Good Games" is an internal contest that divided the staff into competing teams to see who could volunteer the most hours. The payoff: $5,000 to benefit the team's charity of choice. Plus, employees who volunteer 100 hours a year can donate a company-provided $1,000 to their charity of choice.
In Their Own Words: "Burn my résumé! Free food Friday means doughnuts and there is a darn carnival in the parking lot! There's no way it could possibly be any better!" —Pam Buckingham, senior manager, process development and systems alignment
92. CamelBak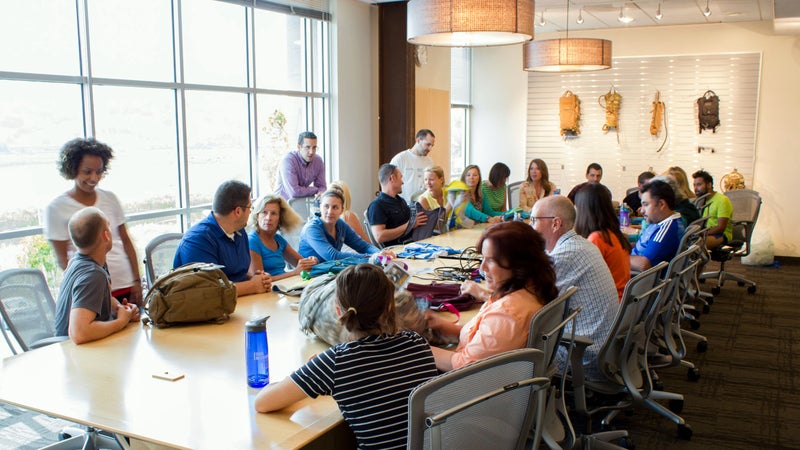 The hydration revolution began in 1989 when Michael Edison, frustrated by the lack of hands-free hydration solutions, stuffed a water-filled IV bag into a tube sock, dropped it into his jersey, and threw the clamped hose over his shoulder for easy access. The company's products have been through more than a few design iterations since then, but CamelBak's focus on innovation remains central to the brand.
Location: Petaluma, California
Number of Employees: 133
Company Culture: The LEED-certified CamelBak offices are accessible through public transit and have healthy snack stations, a fitness facility with medicine balls, yoga mats, and a basketball court, plus an on-site personal trainer and masseuse. Nearby, there's Shollenberger Park, a popular destination for walks, runs, and bike rides. Don't have a ride? CamelBak has a fleet of bikes, offers tune-up classes, and gives away gear in company raffles.
Sweet Perks: Discounted products; a monthlong sabbatical after seven years with the company; and, for the stressed, yearlong fitness classes and two paid volunteer days.
Giving Back: Music festivals can be hot, muggy affairs, so concertgoers burn through water—and disposable bottles. That's where the company's filtered water stations come in. In 2013 alone, they offset more than 1,000,000 disposable bottles.
In Their Own Words: "I love working at CamelBak because it's a great environment for personal and professional growth. The company and people in general give me the right amount of push to strive for my goals without being suffocating." —Heather Keady, international sales coordinator
91. Smith Optics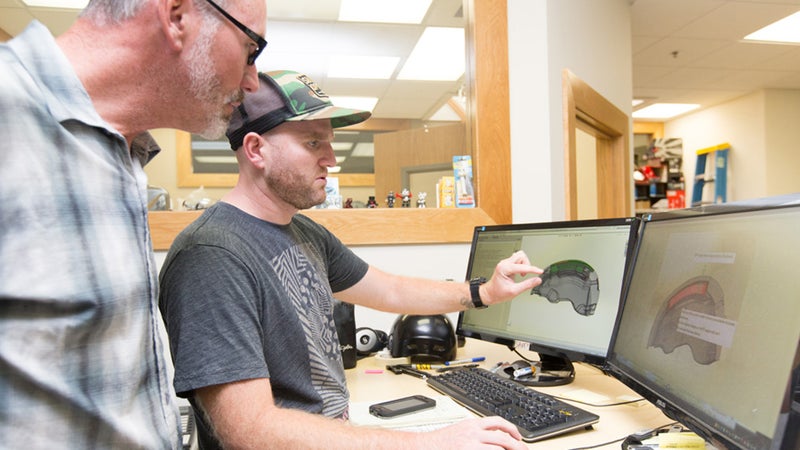 Smith Optics' claim to fame? The sealed thermal lens and breathable vent foam, which were a first-to-market coup in 1965. The company now produces a diverse line of sunglasses, snow and bike goggles, snow and bike helmets, and protective eyewear. The staff puts all that gear to good use while hiking, biking, paddling, skiing, or playing coed soccer in the shadows of Bald Mountain.
Location: Ketchum, Idaho
Number of Employees: 138
Company Culture: Smith's headquarters are less than a mile from the base of the mountain at Sun Valley, making the outdoor lifestyle an integral part of its culture. Lunch breaks are filled with skiing, hiking, and biking. A gear shed and locker room—with showers—make the transition from commute or ski hill to desk easier. And the office is dog friendly (hello, skijoring). Managers encourage exercise and frequent breaks to help balance health and deadlines. Plus, there are company-wide ski days and beer outings.
Sweet Perks: Powder? Go skiing (flexible work schedule). Need new glasses? Just grab a pair (yearly allowances toward Smith product). What about a new board? (Cash in that $1,000 wellness stipend that's good for gear, ski passes, or anything else that gets you outside and active). Bonuses? Do good work and you'll be rewarded come time for your annual performance review.
Giving Back: Smith donates products, money, and volunteer time to Higher Ground for disabled veterans, Sun Valley Adaptive for disabled athletes, and Camp Rainbow Gold, a children's cancer camp.
In Their Own Words: "Smith provides an amazing blend of working for a world-class brand while still having easy access to mountain activities right out our backdoor." —Chatham Baker, art director
90. Cane Creek Cycling Components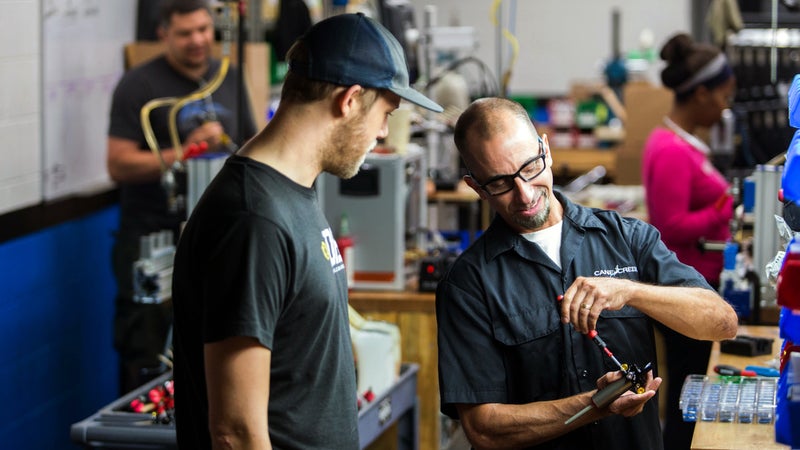 Cane Creek manufactures high-end cycling components like suspension systems and headsets used by Specialized, Trek, BMC, and Santa Cruz. Since settling in the Blue Ridge Mountains of western North Carolina, the 100 percent employee-owned company enjoys nearby winding mountain roads and world-class trails—which translates to a lot of lunchtime gear-testing rides.
Location: Fletcher, North Carolina
Number of Employees: 40
Company Culture: The Cane Creek team designs what they want to ride and rides what they make. The result? Great gear. And a lot of off-road testing in the nearby Pisgah National Forest, featuring some of the best mountain biking in the country. And the road riding isn't rough, either. The daily lunch rides follow the same roads where Greg LeMond trained. Post-ride celebrations occur at any of the area's 18 craft breweries (that's the highest per capita density in the United States, in case you were wondering).
Sweet Perks: Enjoy that long weekend. With a compressed workweek, staff can take Fridays afternoons off to ride or relax.
Bonus Points: The team boasts a large posse of cyclists, including Brandon Blakely, one of the Cane Creek engineers, who's also a top-ranking pro mountain biker. In part because they love to ride them, the Cane Creek crew also participates in frequent trail maintenance programs.
In Their Own Words: "I spent 16 years in architecture before I joined Cane Creek. It would be a weak cliche to say that I found my passion job. What Cane Creek gave me was an amazing opportunity to love what I am doing so much that it really doesn't feel like work." —Holly Colson, director of marketing
89. Appalachian Trail Conservancy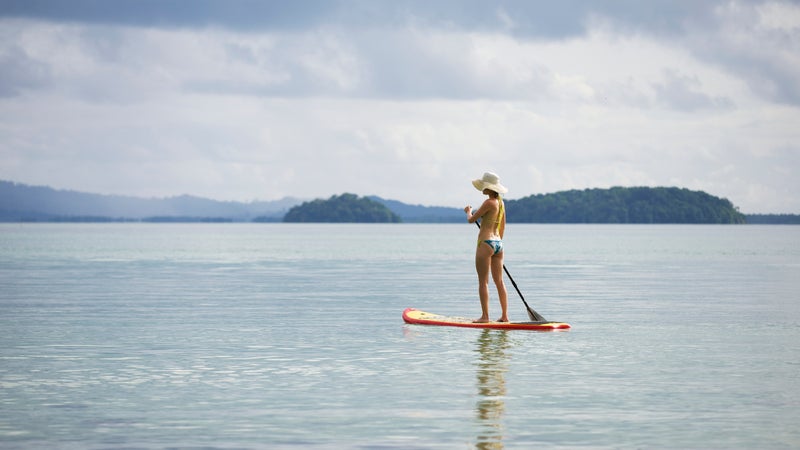 Established in 1925, the Appalachian Trail Conservancy is a nonprofit that preserves and manages the Appalachian Trail to ensure that its natural beauty and cultural heritage is showcased for generations to come. Your thru-hike is a priority, but so too is monitoring hundreds of rare, threatened, and endangered plants and animals along the trail's corridor.
Location: Harpers Ferry, West Virginia
Number of Employees: 46
Company Culture: With headquarters just three-tenths of a mile from the AT and near the Chesapeake & Ohio Canal, Appalachian Trail Conservancy staff have plenty of opportunities for day hikes on lunch breaks and to bike to work through a national historic park. Organized hikes and cookouts are frequent, and staff retreats give everyone a chance to regroup. In the office, flip-flops and casual dress are encouraged. Monthly "Cake Days" celebrate all the birthdays of the month.
Sweet Perks: A sabbatical for tenured employees, 35-hour work weeks, annual staff retreats, summer hours, and all the AT day hikes you could want.
Giving Back: The Harpers Ferry headquarters has served as an auto repair garage, private school, opera house, and a meeting place for a 32-man cooking club and holds a photo archive of every visiting hiker since 1979.
In Their Own Words: "The Appalachian Trail Conservancy is full of enthusiastic and passionate individuals who work to maintain and protect the Appalachian Trail. Every day, people walk through our doors from all across the world to share in the experience that is the trail. There's no greater thing than interacting with the people who share a passion for our cause." —Javier Folgar, director of marketing and communications
88. Deschutes Brewery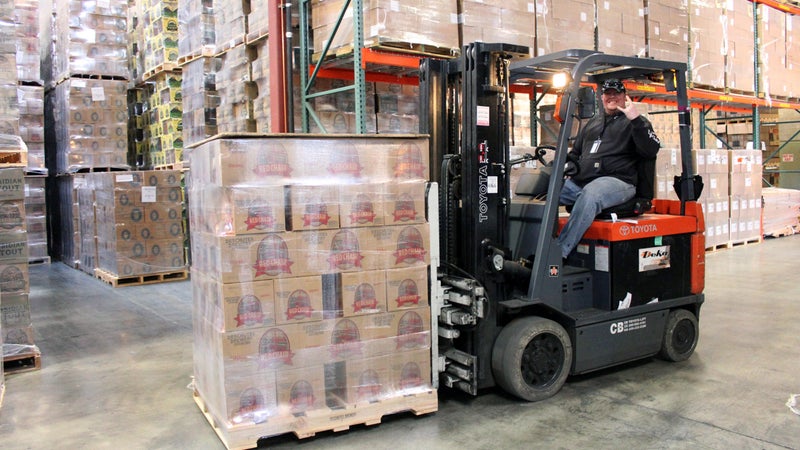 You know of Deschutes Brewery for its beer. The landmark of northwest brewing crafts year-round favorites like Black Butte Porter, Mirror Pond Pale Ale, Inversion IPA, and Chainbreaker White IPA. It constantly strives to improve its brews through experimentation, and employees bring that same drive to their outdoor endeavors.
Location: Bend, Oregon
Number of Employees: 442
Company Culture: These brewers are also cyclocross fanatics, mountain bikers, skiers, and adventure racers. For all-around endurance junkies, the Deschutes Brewery team puts on frequent basketball and soccer games and organizes a Twilight 5K every summer. This year, the run had more than 30 staffers competing, partying on the company lawn, and then heading to the neighboring amphitheater for the Bend Beer Fest. In the winter, anyone looking for a quick powder fix can make tracks for Mount Bachelor or any number of trailheads that cut all the way to the Cascades.
Sweet Perks: Comprehensive healthcare plans, stock ownership, and continuing education and innovation venture programs. Did we mention lots of free beer?
Giving Back: The Deschutes sustainability team just set up a program with a local farmer—who uses the brewery's spent hops and malt—to deliver fresh veggies each week. Furthermore, Deschutes dedicates $1 per barrel of beer sold to charities like CASA of Central Oregon, and it supports the Deschutes River Conservancy by leasing back one billion gallons of water to the Deschutes River to restore stream flow and improve water quality.
In Their Own Words: "During lunch, I can be on the river within three minutes for a run or a paddle, and there is always a free damn-tasty beer available for me at the end of my shift!" —Geof Hasegawa, production planner manager
87. The Honest Kitchen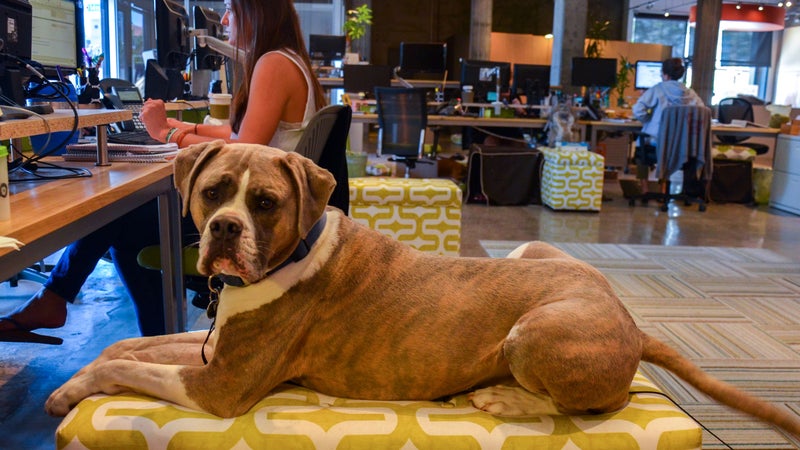 Your dog needs to eat well too. The Honest Kitchen produces a line of all-natural, 100 percent human-grade whole foods, supplements, and treats for dogs and cats. Yep, this pet-lovers' office is full of dogs (they celebrate dog birthdays), and the environment is decidedly food-centric. As you might expect, their belief in good nutrition doesn't stop with their pets, which is why employees get monthly community-supported agriculture deliveries with fresh produce, eat meals together, and make educational visits to local farms.
Location: San Diego, California
Number of Employees: 31
Company Culture: Yes, dog beds are abundant. And it's true: The staff does yoga with their dogs. What you don't expect: The Honest Kitchen office is filled with stainless-steel and reclaimed-wood desks built by a local artisan in San Diego's East Village and boasts an outdoor space with cornhole and a pool table. Plus, it shares a building with Mission Brewery, where staff can grab a quick pint of craft beer.
Sweet Perks: Monthly on-site massages and chiropractic visits. And beer: 30 on most Fridays with the Mission Brewery crew.
Giving Back: It starts with Pawlanthrophy, the company's charitable giving arm. Each year, the company donates a percentage of its profits to animal welfare, environmental, and humanitarian causes. There are also fundraising events for local animal shelters, and employees get three paid hours each month to donate time to charitable causes.
In Their Own Words: "I love having 14 pups around us all day. It's a constant reminder of why we do what we do. And there is no stressful email or problem that a quick puppy cuddle can't fix." —Kate Fenner, online marketing manager
86. Arizona Outback Adventures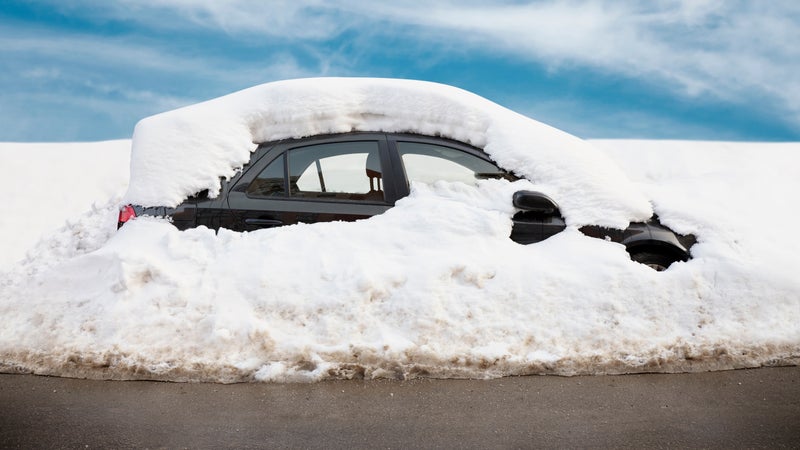 When your job is promote outdoor recreation, there's always a good excuse to get outside and stay active. Arizona Outback Adventures specializes in adventure-filled tours and vacations, from one-day kayak trips in the Salt River to multiday backpacking excursions in the Grand Canyon, Yosemite, and Death Valley. Naturally, staffers spend ample time outdoors. When not outside and on the job, they're doing yoga, rock climbing, biking, or hiking. Staying in good form helps them create best-ever vacation memories for their guests.
Location: Scottsdale, Arizona
Number of Employees: 28
Company Culture: AOA offices are adjacent to the McDowell Sonoran Preserve, meaning easy access to more than 100 miles of trails and pristine desert. The company supports flexible schedules for lunchtime hikes or climbs at the neighboring rock-climbing gym. Gear sheds full of equipment like SUPs, bikes, rafts, kayaks, and camping gear are always available. On weekends, employees join forces for the "Sunday Adventures" road and mountain bike group ride.
Sweet Perks: Free rock gym and yoga studio membership, plus gear reimbursement ($350 after five years, $500 after eight).
Bonus Points: The AOA staff includes a pro cyclist, an Everest summiter, a Leadville 100 finisher, multiple Ironmen, and an adventure racing team. On top of that, the company participates in regular cleanup days in the nearby national forest, donates products to charities, and works with the Tour de Cure, the American Diabetes Association's bike ride that raises more than $26 million to find a cure for diabetes.
In Their Own Words: "This is a dream job for me. After wearing a suit and tie for 30 years, I get to come to work in shorts every day, every day is 'bring your dog to work' day, and I am surrounded by a lot of enthusiastic young people who love the outdoors, truly enjoy working with our guests, and are committed to caring for the wilderness." —Rick Hill, chief financial officer
85. Nei-Turner Media Group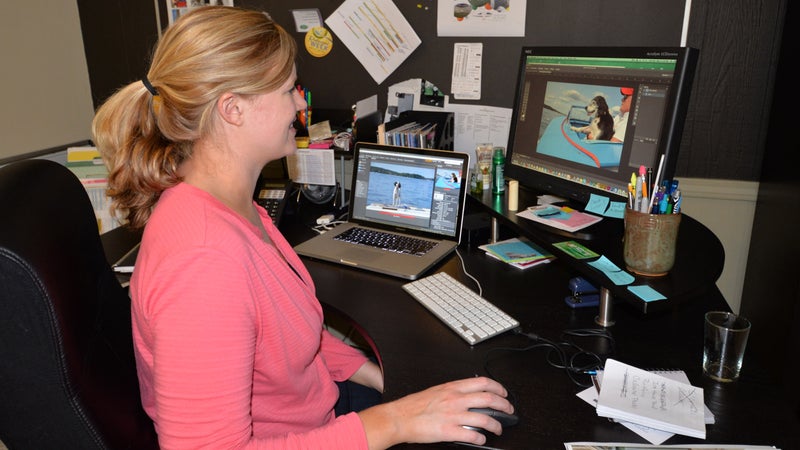 Ever wonder how regional magazines and guides get made? If you live in Wisconsin, you've likely seen the work of the Nei-Turner Media Group—which publishes travel-related magazines and guides like At the Lake and Experience Wisconsin magazines—even if you didn't notice the name. Beyond print media, the company offers marketing (including design, branding, and social media management) and public relations services. Nei-Turner also provides event services, including two Wisconsin beer-tasting festivals (with suds from more than 25 craft breweries like Dark Horse, 3 Sheeps, and Jolly Pumpkin) and a WellExpo to promote healthy living.
Location: Williams Bay, Wisconsin
Number of Employees: 15
Company Culture: Publishing can be a hectic world, but Nei-Turner Media Group staffers stay sane with team activities like boat rides, walks, and zip-lining. The periodic wine tastings, cocktails, and free Wisconsin beer and cheese at company events don't hurt, either.
Sweet Perks: Put in your time, and you'll be rewarded. The sales staff can earn extra cash and gift cards for each project that exceeds its goals. Full-time non-sales employees are eligible for profit sharing after spending one calendar year with the company. The company also offers half-day summer Fridays and uses incentives—like an all-expenses four-day trip to Las Vegas—to help hit targets.
Giving Back: Staffers are encouraged to serve on the boards and committees of local nonprofits. At hosted events, the company holds silent auctions to help give back to selected nonprofits.
In Their Own Words: "You can punch in and punch out at almost any job. It's the job that makes you want to stop to say, 'Hello. How are you?' and 'Have a nice weekend,' that makes it more than just a job. You enter NTMG in a good mood and leave the same way." —Alex Dahlstrom, marketing and special events
84. Dealer.com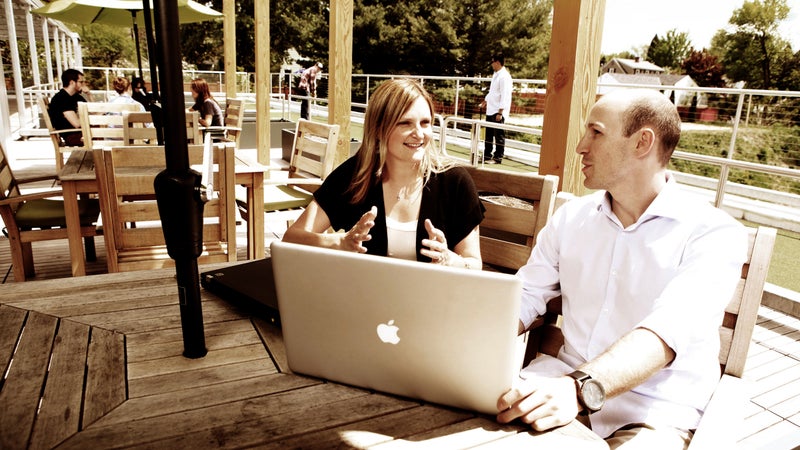 Dealer.com aims to make the car-buying process better by focusing on two central tenets: Streamline the auto industry with technology, and create a fun workplace environment that nurtures creativity. The company offers car dealerships an arsenal of digital marketing tools, including advertising, website development, and social media products. It also offers its employees a bunch of health and wellness perks, including access to loaner bikes and local organic food.
Location: Burlington, Vermont
Number of Employees: 859
Company Culture: We love Dealer.com's emphasis on full-body holistic fitness. Staff have access to more than 50 fitness classes a week, and you'll find a CrossFit box, indoor basketball and tennis courts, Ping-Pong table, and weight room all on-site at the Vermont office. Employees chow down at their choice of two cafes, both with locally sourced food.
Sweet Perks: It's a meritocracy. Managers and directors are eligible for performance bonuses that range from 20 percent to 30 percent of their salaries.
Bonus Points: The original founder, Mark Bonfigli, and his wife (an early Dealer.com employee) play professional beach tennis on the global circuit and are ranked as top national competitors. The president and CEO is also an avid mountain biker who takes frequent trips to hit the trails around Vermont and the Adirondacks.
In Their Own Words: "Working for Dealer.com allows me to be fulfilled both professionally and personally. My job challenges me, and if I need to take a break and recharge, I walk literally 100 yards to the waterfront and look across the waters of Lake Champlain and gaze at the outlines of the Adirondacks. I sit quietly, take a breath, and realize that this is my life and I get to work and play here." —Kevin Willetts, product owner
83. Aspen Skiing Company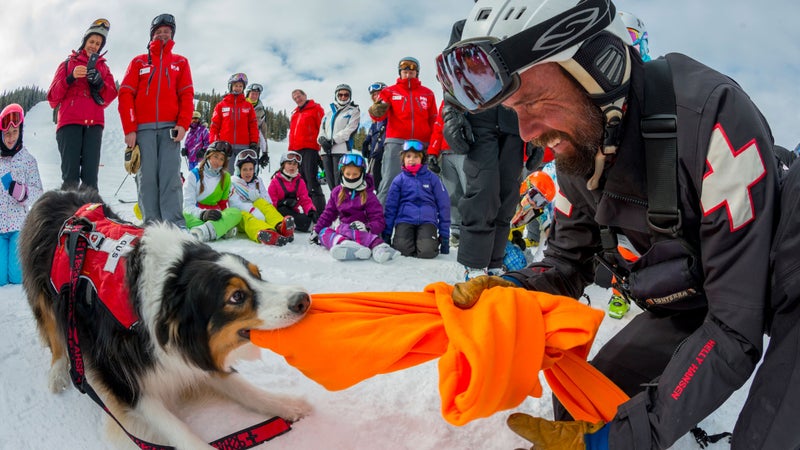 For most of us, working at a ski resort is a dream job: endless powder, free lift tickets, and crowd-free weekday runs. Aspen Skiing Company, one of the world's last remaining independently owned and operated ski resorts, is a great place to live out that dream. The company owns lodges, restaurants, retail shops, and, oh yeah, world-class mountains at Snowmass, Aspen, Buttermilk, and Aspen Highlands. Its ultimate guiding principle: to renew the human spirit by sustaining what it dubs the "Aspen idea," in which mind, body, and spirit are all nurtured.
Location: Aspen, Colorado
Number of Employees: 935
Company Culture: These folks like to spend time in the mountains, no matter the season. ASC employees compete in everything from ski mountaineering to mountain biking and trail running. The company sponsors a bike racing team and holds monthly health awareness campaigns, including ones on strength conditioning and yoga. Dogs are welcome in the office.
Sweet Perks: Staff and their dependents get free passes at all four Aspen mountains. They're also eligible for the Mountain Collective pass, which gets them free days and discounted lift tickets at resorts in Wyoming, Utah, California, and Canada.
Giving Back: ASC donates more than $2.4 million per year in cash and product, including $200,000 to projects that protect the local environment. All employees get two paid days off per year to volunteer; if everyone took advantage of this perk, the company would collectively contribute 15,500 hours and more than $330,000 in wages through volunteering.
In Their Own Words: "Everyone from the CEO on down embraces the Aspen idea of cultivating the mind, body, and spirit. That means everything from company raft and mountain bike trips to an email from the boss telling everyone it's a mandatory powder day." —Jeff Hanle, director of public relations
82. Renters Warehouse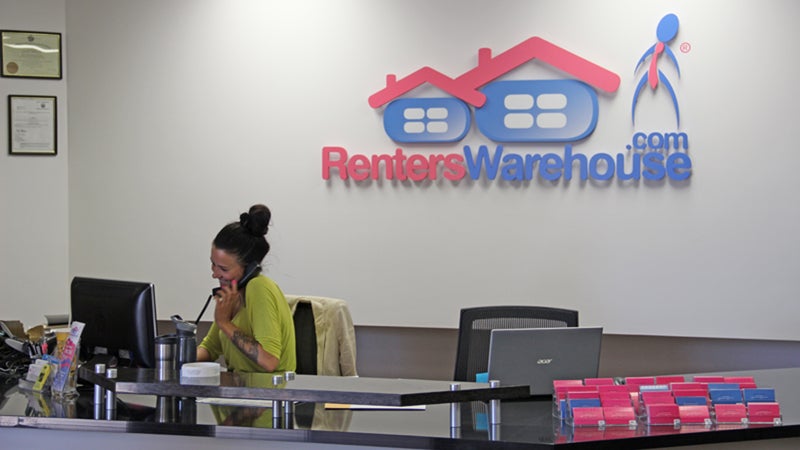 Renters Warehouse, a property management company that helps owners rent and manage real estate in Minnesota, is advancing at an astronomical pace. It made Inc.'s list of the fastest-growing private companies in the United States, and Entrepreneurnamed founder Brenton Hayden was named one of the top five emerging entrepreneurs in the country. These aren't the company's first accolades. Renters Warehouse is ranked third in the nation among other property management companies and was voted one of the best places to work by the Minneapolis/St. Paul Business Journal in 2010 and 2011.
Location: Minnetonka, Minnesota
Number of Employees: 43
Company Culture: Employees are their own managers at Renters Warehouse, which means they have plenty of autonomy in the office to, you know, slot in a lunchtime ride. The company sponsors running, basketball, volleyball, and kickball teams, and staff can tap into their inner children and compete in paper-airplane-throwing contests. Nobody goes hungry with monthly catered food plus the free pizza and ramen bar in the new cafe, and it's easy to stay active on the miles of biking paths around the office.
Sweet Perks: Company outings to Twins games, plus polo matches and boat cruises.
Giving Back: Minnesota winters are cold, so staffers spend two weeks each year collecting mittens, hats, scarves, and money for the annual Mitten Drive. They also volunteer once a month with People Serving People, which provides shelter and food to homeless children and their families.
In Their Own Words: "Our company is like a small family, and our reputation throughout the community attracts top talent who want to work at a fun, fast-paced, and growing organization" —Kevin Ortner, CEO
81. Backroads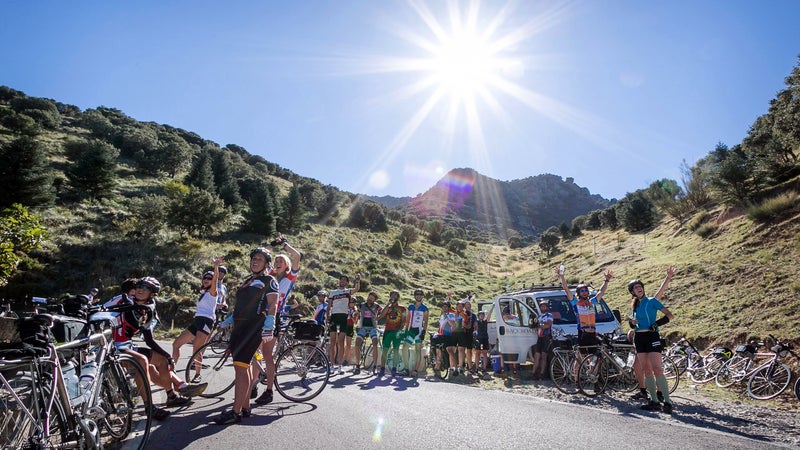 If you want to travel the world and get paid for it, Backroads is the employer for you. The organization puts together more international biking, hiking, walking, and multisport tours than any other company in the world. Trips include everything from family getaways to solo expeditions and range from four to 11 days in destinations scattered across the Americas, Europe, Africa, and Asia. So it should come as no surprise that the people who work here are high-energy travelers who take advantage of Backroads' workouts in the park, lunch rides, and commuter incentive program.
Location: Berkeley, California
Number of Employees: 183
Company Culture: It pays to know your product, which is why Backroads staff get generous trip credits and an extra week of paid time off each year to experience one of the company's trips firsthand. Back at the California-based office, employees can work at the treadmill desk and participate in lunch rides, yoga sessions, and fitness classes at the on-site facility. No matter where they go, they'll have the gear to get them there: Employees are eligible for some 170 pro-deal discounts. And when the team meets sales goals, everyone celebrates with a keg.
Sweet Perks: The company celebrates the end of the season with its annual Staff Ride, a free rolling party that has taken place in Andalucia, Crete, Big Sur, and Thailand, to name just a few recent examples.
Giving Back: Backroads partners with local Panamanian guide Garceth Cunampio Tocamo to provide school supplies and uniforms to a tiny indigenous community on the Chagras River. The company is also raising funds to build a new kitchen and clean drinking-water supply at the Chorten Nebu Monastery in Bhutan, and it recently donated 30 bikes to Trips for Kids, a program that's introduced more than 100,000 at-risk youths to riding.
In Their Own Words: "There are close to 60 trip leaders married to each other, with some 100 children around the world. Really, it's no surprise our leaders are attracted to each other, since they've been hired for their outgoing personalities, intelligence, and downright sparkle and their shared love for travel and the outdoors. " —Mike Louvau, human-resources manager
80. Development Counsellors International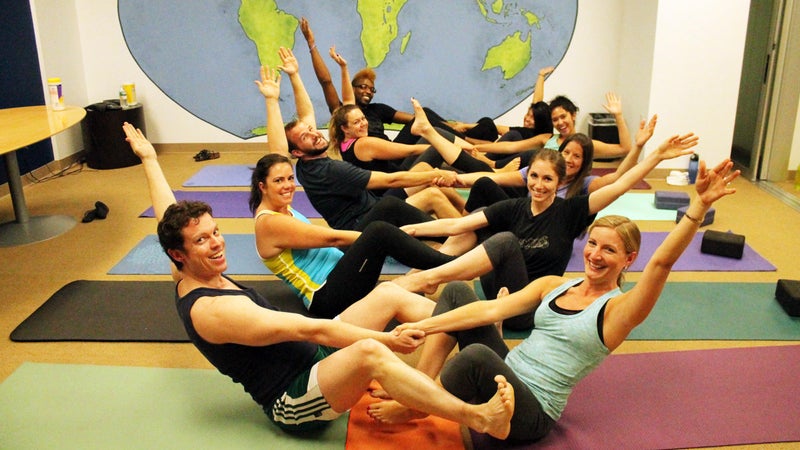 Development Counsellors International is in the business of finding and supporting great destinations. The economic development and travel marketing firm has worked with more than 450 cities, regions, states, and countries to help them attract investors and tourists. As DCI puts it, in telling the stories of all these great places to the media, the company helps to create prosperity and economic growth for the locals. Sound lofty? Perhaps. But every year, DCI helps clients position their communities to attract visitor dollars and development projects.
Location: New York, New York
Number of Employees: 50
Company Culture: DCI staffers participate in six-week yoga, boot camp, and spinning classes. Some opt to race in sponsored 5Ks, 10Ks, or half marathons during the year, while a committee organizes activities such as happy hour, Ping-Pong tournaments, ugly sweater parties, and weekly social outings. In the Denver office, which is surrounded by lots of parks and trails, employees have access to a Vitamix and smoothie supplies as well as exercise equipment, including free weights, kettlebells, resistance bands, jump ropes, and exercise balls. Plus, everyone's invited to the off-site annual retreat with games, food, drinks, and dancing.
Sweet Perks: Take advantage of summer with the Summer Hours Program, which gives employees five paid Fridays off from June through Labor Day.
Giving Back: DCI gives a day of paid leave to employees who participate in DCI Cares, a program that encourages the staff to support a cause or community.
In Their Own Words: "Sure, I love that we get to explore and promote places near and far, but what really gets me jazzed are my colleagues. They are smart, curious, creative risk takers who are passionate about places and the work we do. Plus, they are all a little competitive. Seriously, the smack talk that's thrown around the office is enough to get me off my butt and get moving." —Susan Brake, digital-media director
79. DPS Skis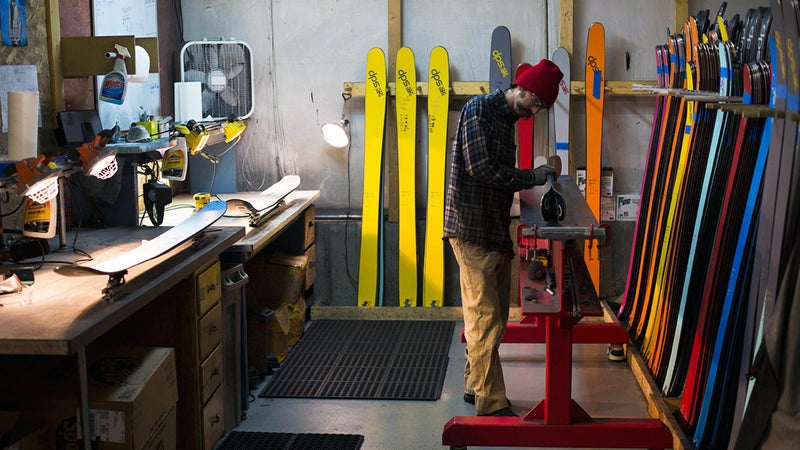 DPS makes some of the world's best powder skis, and when you work here, you get free access to all of them. And not just powder boards: The company makes an entire quiver of super-high-tech skis, with a résumé that includes the world's first (and only) pure prepreg carbon sandwich ski, the first 120-millimeter powder pintail, and the first rockered ski with sidecut. With headquarters wedged at the bottom of the Wasatch Range, employees have plenty of opportunities to test the cutting-edge designs at Utah's world-class ski resorts.
Location: Salt Lake City, Utah
Number of Employees: 30
Company Culture: Not only do DPS employees get access to loads of skis, they also get to try brand-new prototypes. Thankfully, Alta and Snowbird are less than 30 minutes away for on-the-snow product testing. Then there are the quarterly retreats to spots like Baja, Aspen, Engelberg, and Alaska. In the summer, employees can join a group mountain bike ride, walk dogs together, or hang out at one of the company parties in the showroom.
Sweet Perks: Employees get discounts on DPS skis, discounted season passes at local resorts, and flexible ski time (ski whenever you want as long as you get your work done). The company also offers in-house bike and ski mechanics and an entire range of skis at your disposal.
Giving Back: DPS staffers pull invasive weeds at Alta and plant trees around Salt Lake City in partnership with nonprofit TreeUtah.
In Their Own Words: "It's a fine balance to work and still be a ski bum/powder junkie. Working at DPS has allowed me to do both and lets me work with like-minded folks, all committed to building the most tricked-out skis on the market." —Erme Catino, public relations and team manager
78. Brooks Sports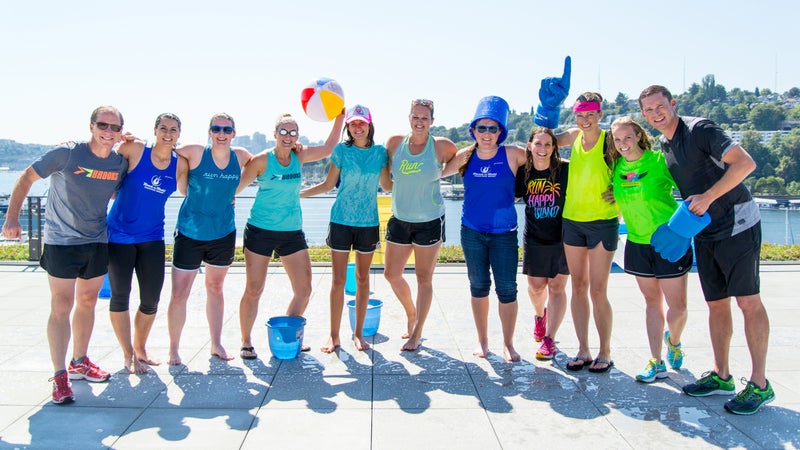 Brooks Sports makes high-performance running shoes, apparel, and accessories for men and women. Its mission? Inspire people to run through gear that makes them faster, more comfortable, healthier, and happier.
Location: Seattle, Washington
Number of Employees: 391
Company Culture: You'd expect the Brooks crew to be obsessed with running, but they take things a whole step further with themed Friday Run parties, where everyone hits the pavement (or trail) in '80s garb or back-to-school attire, then retires to the Beastro for snacks and beer. The company's new headquarters—on the Burke-Gilman Trail—makes training easier than ever. The target? The Passport Plus program. Run three organized races and volunteer at a fourth to earn a dinner for two at Teatro ZinZanni, a local restaurant.
Sweet Perks: Start by cashing in your $100 yearly wellness allowance, then pick up some free or discounted Brooks running products, train with your buddies at the on-site gym, and taper from home before your big race while taking advantage of the telecommuting and flexible work schedules.
Giving Back: Through the Run B'Cause program, employees get $300 each to donate to a cause of their choosing. On top of that, everyone gets eight hours of paid time off per year to volunteer.
In Their Own Words: "Besides the amazing view [from our brand-new global headquarters that overlooks Lake Union, Queen Anne, and the Seattle skyline]? Brooks is a fun place to work because the work environment is so relaxed and fun that if you do dress up, everyone thinks you're interviewing for a new position." —Keely O'Neill, events coordinator
77. Omelet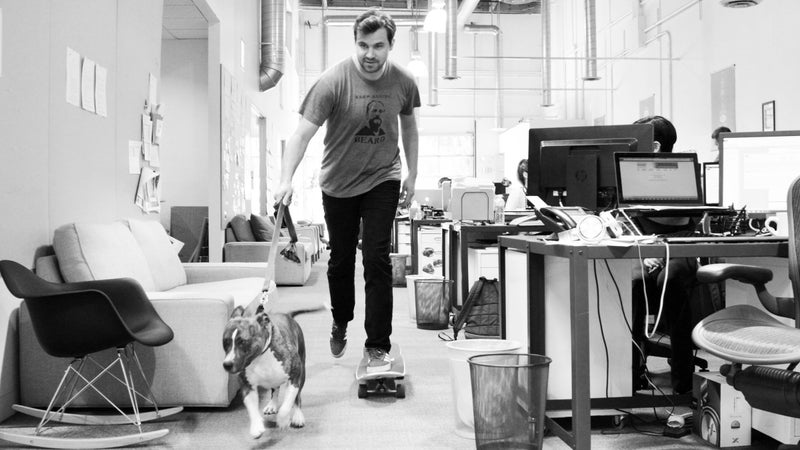 Why do ad agencies get to have all the fun? Omelet, which creates campaigns for brands like Coca-Cola, AT&T, and Microsoft—is based in sunny Los Angeles. You're bound to find this eclectic bunch outside at any hour, skateboarding in front of the office or taking bikes out for a spin. If they're not playing or working on high-profile projects, the Omelet crew is likely working on passion projects to help dream ideas come to life.
Location: Culvert City, California
Number of Employees: 96
Company Culture: The Omelet's backyard bar is a favorite spot for outdoor meetings, brainstorming sessions, and happy hours. Dogs are always welcome, and, because we're talking L.A., everyone gets quality outside time. The company recently launched 60/60, a program that sets aside two hours each week for employees to cultivate a passion project. A few examples: a food blog come to life, a Tour de France results website launched, and a children's short story collection written.
Sweet Perks: There's the unlimited personal time off, free lunch Fridays, and quality of life committee (dedicated to, you guessed it, improving company culture). And then there's the backyard bar, complete with two taps that are always open for Omelet staffers—because sometimes a beer is the best way to end a day.
Giving Back: This company of creatives includes screenwriters, an architect, a trapeze artist, a motorcycle land speed record-holder, a former Miss Indiana, a DJ, an all-American fencer, and an Arthur Murray dance instructor.
In Their Own Words: "Sometimes I look around, and it dawns on me just how cool it is to work at a place where you don't just go home at five. You head out to the backyard bar and have a beer with your friends." —Sean Tidwell, junior copywriter
76. Horny Toad Activewear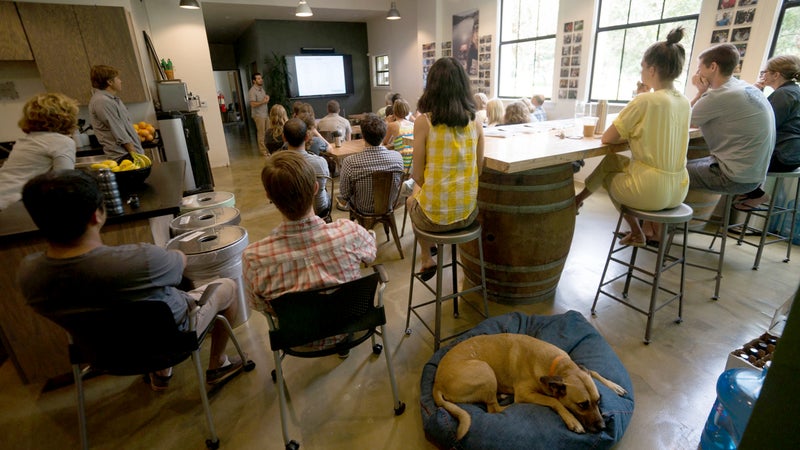 Urban and outdoor adventurers want to look good, too, so Horny Toad designs, manufactures, and tests—on staffers' runs, rides, and beach days—clothing and accessories that make an active lifestyle more stylish and comfortable. The goal? Inspire people to live well-balanced lives.
Location: Santa Barbara, California
Number of Employees: 57
Company Culture: Horny Toad's casual and fun-loving offices are equipped with Sonos sound systems, a Ping-Pong table, a 24/7 gym, and a communal electric bike. Dogs roam the halls, and employees take part in themed cooking competitions, monthly lunch-and-learns, and the occasional documentary screening. There's also the monthly activity—such as museum trips or cooking classes—organized by a rotating group of employees. Want to get away? Two SUPs are up for checkout, nearby trailheads make lunchtime hikes easy, and the company holds outdoor yoga classes when the weather's clear.
Sweet Perks: After a year with the company, staffers get to choose between a toy, a bike, and a car-camping package; after three, they get a paid trip to Telluride; after seven, it's a two-week trip to Nepal. There's also a regularly updated online library of industry pro deals to keep gear closets up to date.
Giving Back: Each May, the staff competes as a company in CycleMania and Ride Your Bike Off, collaborating with other outdoor-industry companies and local bicycle coalitions for good fun, prizes, and charitable contributions.
In Their Own Words: "I think Julia Child said it best: 'A party without cake is just a meeting.' So we have a lot of parties at Horny Toad, and not too many meetings!" —Carlynn Rose, human-resources manager
75. Hydro Flask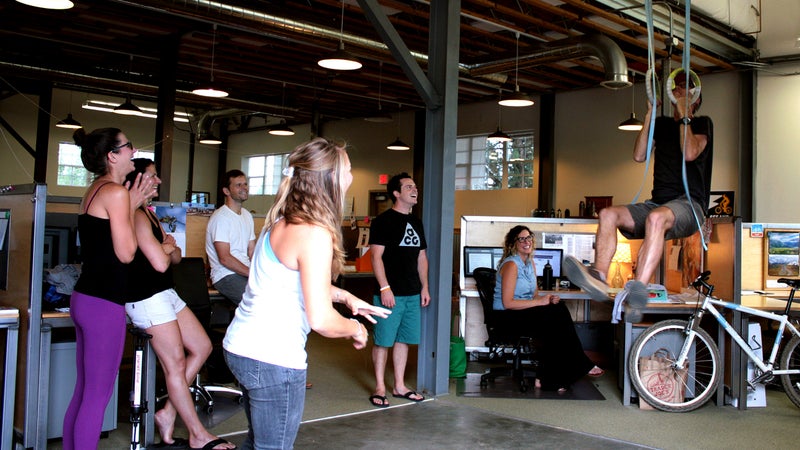 Inspired by the lack of insulated, toxin-free, and easy-to-clean reusable bottles on the market, Hydro Flask set out to design stainless-steel, double-walled, and vacuum-insulated flasks. And it has succeeded. Its marquee product can keep drinks cold for 24 hours or hot for 12 hours. The company is based in Bend, so you can bet employees put their bottles to good use.
Location: Bend, Oregon
Number of Employees: 31
Company Culture: This isn't your average communal office. Good news to share? Ring the hanging growler with a wrench. Time to burn off some energy? Hop on the CrossFit-style rings hanging in the office. Or go walk your dog—pups are welcome in the office. Need to get someone's attention? Pull out a Nerf gun and shoot at their computer. Antics keep things fresh at the Hydro Flask office. When someone needs a breath of air, there's the deck with views of the Cascades.
Sweet Perks: Yes, you get free gear (four Hydro Flasks per year) and beer. Everyone can participate in a profit-sharing program (divvied out quarterly at 5, 10, or 20 percent of gross pay). You also get eight paid hours a year to volunteer anywhere you like.
Bonus Points: The team's graphic designer recently rode the Tour Divide to set the women's and single-speed record. Hydro Flask's product design engineer helped her out by making her a bivvy sack, fashioning custom bag buckles, and making her aerobar more aero.
In Their Own Words: "I get my face licked multiple times whenever I am in the office!" —Tim Rouillard, vice president of sales
74. Fuse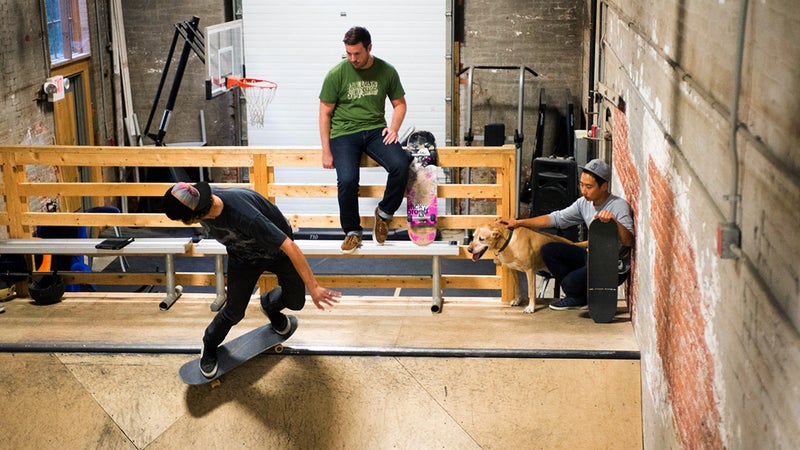 Fuse is a marketing agency that helps clients like Gatorade, Harley-Davidson, New Balance, and Amazon Student reach the teen and young adult demographic through music, sports, and gaming. The firm combines public relations, event marketing, brand strategy, and design and digital services to provide a comprehensive take on marketing. The staff stays creative with a spacious recreation space boasting a half-pipe, basketball hoop, and Ping-Pong tables.
Location: Winooski, Vermont
Number of Employees: 37
Company Culture: Situated in a 19th-century mill on the Winooski River, the Fuse headquarters is a playground. There's the SUP stash—perfect for lunchtime escapes on the nearby Lakes Champlain and Winooski—and the rec room. But it's the vibe that keeps staff happy. Everyone is encouraged to get outside on group runs and bike rides during lunch or to hit the slopes with their free ski pass at a local resort.
Sweet Perks: Start by enjoying the dog-friendly digs, the half-day summer Fridays, and the season resort pass. Stay on for the five-year awards. Employees get a customized gift, like a skate trip to Barcelona or a surf trip to Costa Rica.
Giving Back: The Fuse team provides discounted or gratis services to worthy causes like Boarding for Breast Cancer and Athlete Recovery Fund. They've also launched their own Service Grant Program through which they donate $25,000 in services to selected charities. Every holiday season, Fuse makes a donation to a youth-focused charity and commemorates the gift by commissioning an artist to create a limited-edition print for clients and colleagues.
In Their Own Words: "I moved across the country to Burlington from San Diego just to work for Fuse. Most people think I'm crazy for doing that, but the quality of life here in Vermont and the employee respect that Fuse offers is really hard to match anywhere else." —Lauren Machen, public-relations manager
73. Namasté Solar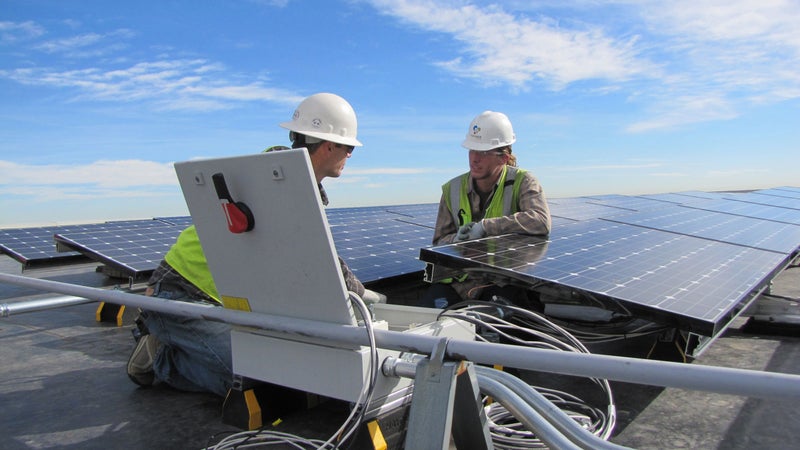 Namasté Solar provides a full suite of solar services—design, engineering, installation, maintenance, and consulting—to customers in Colorado. Given the company's specialty, it's fitting that its office is a LEED Gold Certified building. The staff is just as obsessed with their own health as they are with the environment. Almost all of these Boulderites are competitive athletes.
Location: Boulder, Colorado
Number of Employees: 80
Company Culture: About that building—its green specs include recycled and reclaimed building materials, fuel-efficient vehicles, daylight-responsive lighting controls, zero-waste recycling and compost centers, and (naturally) two solar photovoltaic systems. The fun at Namasté Solar is gold-certified, too: Big Wheel races in the warehouse, "guess the co-owner" games (the company is employee-owned), karaoke nights, and beer socials, plus annual retreats, group bike rides, and conference room exercise classes.
Sweet Perks: The highlights include a month's worth of vacation time with an extra two weeks tacked one when you become a co-owner. But the small details matter, too. The company has flexible hours—the rule: just get your work done—and pushes staff to work no more than 45 hours a week. Because health is a core component of productivity, the company has a budget for team sports (registration fees, uniforms), equipment, and gym memberships.
Giving Back: This is an active company, but its giving résumé might be even more impressive: donating cleanup days and funds to the Boulder Flood Relief, and donating 20 percent of its annual profits to community giving, which includes donations to the Namasté Solar Foundation as well as contributing to local nonprofits and volunteering time to help install solar panels around town.
In Their Own Words: "At Namasté Solar, I get to save the world and play with my friends!" —Cassady Osterweil, Co-owner, business administrator
72. Denali/Trailblazer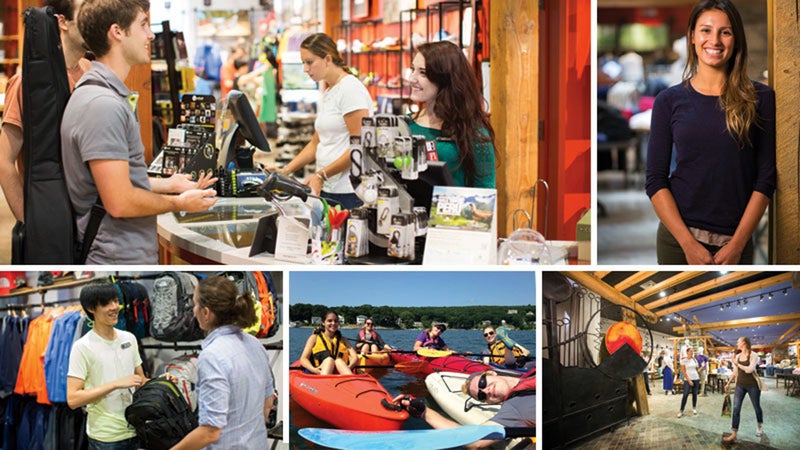 Some retailers just get it. One of them is Denali/Trailblazer, which sells premium outdoor products from the North Face, Patagonia, Marmot, Merrell, and Nike. The goal? Get you outside. And to help, the company produces its own adventure races—Run the Gauntlet—in the spring and fall.
Location: Guilford, Connecticut
Number of Employees: 76
Company Culture: The Denali/Trailblazer office—right near wetlands, a beach, and hiking and biking trails—sports a clean, well-lit break room with a Ping-Pong table and loaded with coffee and tea. Every department gets an allotment of $25 per person to plan events ranging from dancing and bowling to hiking, rock climbing, and ice climbing.
Sweet Perks: Reimbursement for any race or sporting event, and lots of inexpensive gear (discounts of up to 70 percent off are common).
Bonus Points: Twice a year, Denali/Trailblazer sponsors Run the Gauntlet, an extreme obstacle race that benefits local nonprofits. Employees build obstacles, man the event, organize, promote, and provide financial support. The company recently scored nonprofit designation for its Denali Foundation, which seeks to encourage youth engagement and stewardship of the outdoors to help preserve green spaces for future generations.
In Their Own Words: "Mark Twain once said, 'Work and play are the same thing under differing conditions.' Well, at Trailblazer, the conditions are great. When you treat your employees like you treat your best customers, you create excellent working conditions. Trailblazer and Denali have treated me like their best customer for almost 10 years." —Emily Bennett, store manager at Trailblazer Mohegan Sun
71. Haberman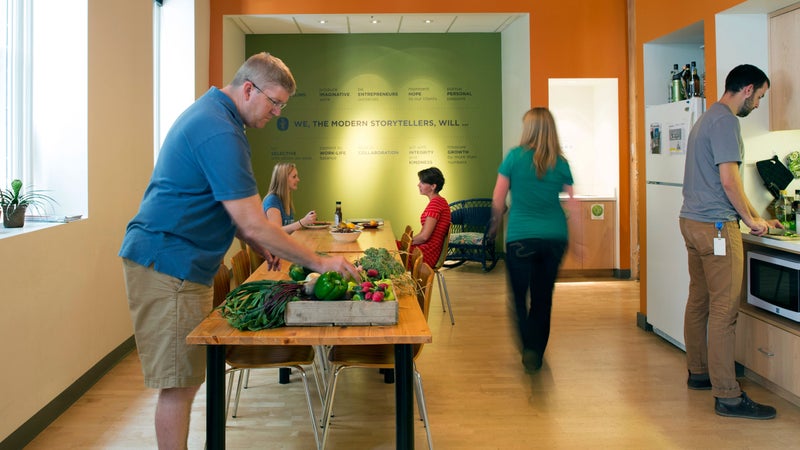 Everyone wants to be a storyteller. The folks at Haberman do it for a living. The ad agency partners with leading entrepreneurs, innovators, and heroes to bolster brands like Earthbound Farms, prAna, Traditional Medicinals and Organic Valley. Haberman believes that a good story well told can change the world. The first step: making an emotional connection.
Location: Minneapolis, Minnesota
Number of Employees: 46
Company Culture: The Haberman office is spacious and airy, with hardwood floors and floor-to-ceiling windows, which fuel the in-office microgardens. The company's dude ranch is complemented by a garden and community-supported agriculture program. Back in the main office, a Fun Committee hosts periodical revelries in the form of Olympic games, pancake breakfasts, baseball outings, and Oscar parties. There's also the occasional impromptu dance party, end-of-season family harvest party, and garden dinner to look forward to. Lots of employees bike to work in summer and (yes) winter, and staff has access to the city's Nice Rice bike rentals for lunch-hour excursions.
Sweet Perks: The agency boasts a new USDA-certified organic aquaponics facility, Urban Organics, located in the former Hamm's Brewery in St. Paul, which provides the team with learning opportunities and fresh produce year-round. So if the in-office microgardens fail, staff can pick up herbs and greens from the farm. Employees also spend time with their families at the company's dude ranch, weeding, planting, and harvesting anything from Swiss chard to cucumbers, beets, and tomatoes
Bonus Points: An annual company retreat—a full day and a half away from the office—gives everyone the chance to reflect on the past year with snowshoeing and group competitions.
In Their Own Words: "For me, it's all about the way in which we select our clients. We struggle over questions like what is the social benefit of their business? How do they align with our mission? How much good are they really doing? Asking those questions matters. It's important to me that I leave the at the end of the workday not feeling like I sold out my values. It's important that I leave saying I did something good." —Jesse Ross, director of digital technology
70. ShipCompliant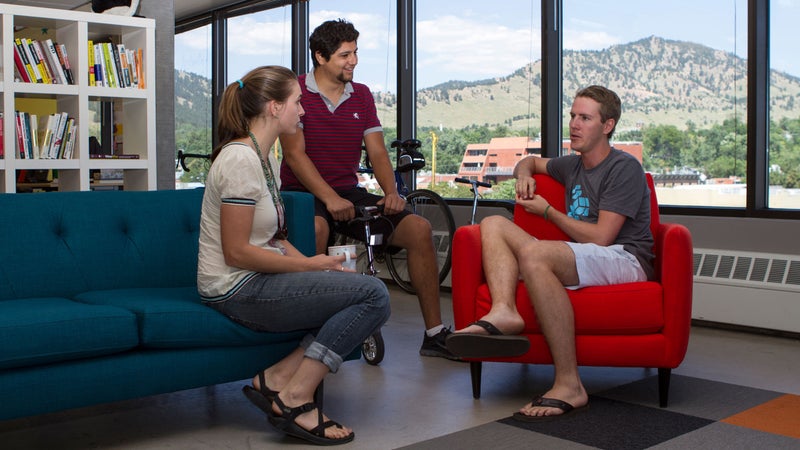 Shipping wasn't always easy. Taxes and varying regulations made it difficult for anyone working with alcohol to sell and ship their products. Enter ShipCompliant. The company helps change the way wineries, breweries, distilleries, and importers do business through compliance (that is, staying up to date on laws) and transaction platforms. The goal: Let the client focus on making great wine, beer, or spirits.
Location: Boulder, Colorado
Number of Employees: 42
Company Culture: Flatiron views. Wine hour every Friday. Ping-Pong, foosball, darts. A kegerator and a massage chair. Bottom line: It doesn't get much better than that at a nine-to-fiver. Unless you throw in weekly breakfasts, office dogs, annual ski trips to Steamboat Springs, a ski cabin in Vail, office yoga, kickball and volleyball teams, and company paid yearly trips to a conference in Napa Valley, complete with wine tastings. Okay. That's better.
Sweet Perks: After hitting a company-wide sales goal last year, ShipCompliant took the whole team to an all-inclusive beach resort in Mexico. Enough said? Not so much. There's also the annual ski trip to Steamboat Springs.
Giving Back: Team members participate in a Strava Startup Challenge to see who can run or bike the most miles during the month of May. The winning team earns $2,000, which gets donated to charity. Post-flood last year, the company partnered with a local restaurant to host a Glass Half Full event and raised $3,000 for the relief effort.
In Their Own Words: "My father is a pretty realistic guy from the 'nine-to-five' cubicle working generation, so when I first got hired, he made it a habit of asking every time I phoned home if work had become a four-letter word yet for me. He stopped asking about a year ago. I guess when your work-related stories include foosball tables, office tricycle races, and wine tasting in Napa after your annual company conference, you get tired of asking." —Jessamyn Boltz, head of research
69. Two Rivers Marketing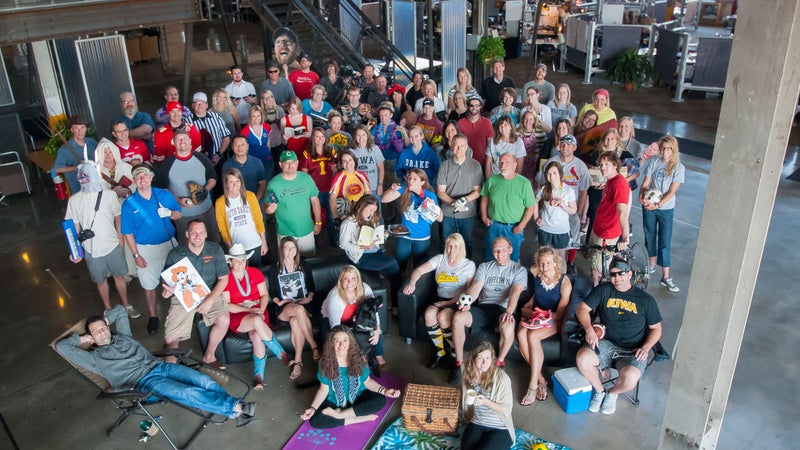 Two Rivers Marketing is a leading business-to-business agency that provides advertising, public relations, media, and interactive services. Its motto: Associates always come first. Why? Happy associates take care of clients, and happy clients will pay for services. That explains the office pool and Ping-Pong tables, beer kegs, arcade games, and dartboards.
Location: Des Moines, Iowa
Number of Employees: 101
Company Culture: Set in Des Moines' trendy East Village, the Two Rivers building is optimized for collaboration: A mezzanine overlooks wide-open spaces, and the only two offices in the place come sans doors. If the staff need some extra vitamin D, they make tracks for the large nearby network of running and biking trails along the Raccoon River and Grays Lake. When the weather is unaccommodating, the communal kitchen area houses loads of diversions, including, of course, a keg of beer.
Sweet Perks: The fun: Associates get a framed caricature of themselves on their one-year anniversary at the agency. The unexpected: The last Friday of each month is dedicated to having fun. The awesome: Agency directors are given a budget to spend on team members who go the extra mile. The life-changing: Flexible summer hours, extended lunches, and employee stock options.
Giving Back: Associates work with Children's Cancer Connection, volunteering and putting on drives to stock camps. They also volunteer with Special Olympics Iowa and support the Animal Rescue League of Iowa through silent auctions and photo contests.
In Their Own Words: "It's easy to make a difference at Two Rivers, whether bringing new ideas and thinking to our clients, improving the agency's operations, or helping each other keep a healthy balance in our lives. Anyone within our agency can improve it, and that makes it a dynamic and positive place to work." —Patrick McGill, marketing insights director
68. The Mission Continues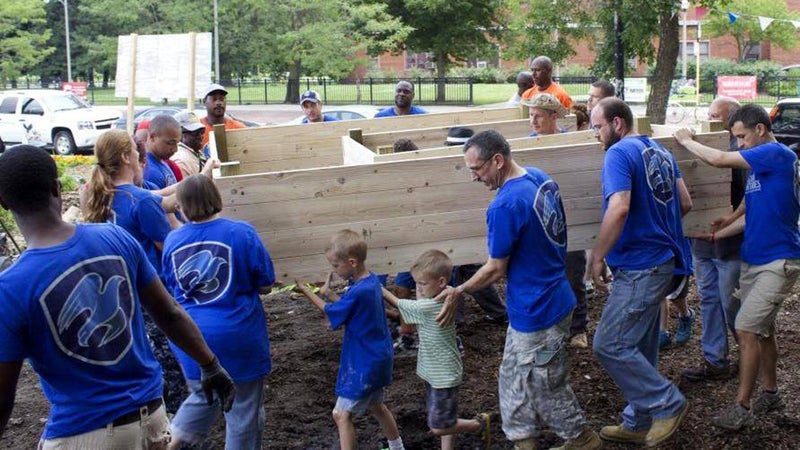 The Mission Continues facilitates smooth transitions from deployment to civilian life for veterans by placing them in nonprofits and action-oriented programs. The company offers two main programs: a fellowship that harnesses veterans to volunteer with nonprofits on a daily basis; and the service platoons that bring together teams of veterans and partner them with communities to tackle pressing issues. It's a win-win for veterans returning from overseas and for their communities, which are strengthened by the values of action and service.
Location: New York, New York
Number of Employees: 38
Company Culture: Nerf wars (ammunition courtesy of Fogo de Chao) are balanced with tea and trivia. Free healthy breakfasts (fruit, nuts, yogurt, oatmeal) fuel workouts in the fitness center (open 24/7). The team likes a bit of healthy competition, which comes in handy at staff retreats, physical training days, and field days that include trampoline dodgeball, obstacle courses, hula hoop challenges, and an epic water balloon fight.
Sweet Perks: Personalized health and wellness coaching, daily healthy breakfasts with monthly lunches, walking meetings, and professional media training, and daily tea from 3:00 to 3:15 p.m.
Giving Back: TMC thrives on service. To that end, its large-scale fellowship program empowers hundreds of veterans in 48 states to serve with more than 650 nonprofits of their choosing. It also helped to plan a national running day for 4,000 veterans with Team Rubicon and Team RWB, and employees are outside every week working on national service projects with the Service Platoons.
In Their Own Words: "I come to work every day motivated. And I leave the office inspired." —Caitlin Shapiro, staff member
67. Infinite Energy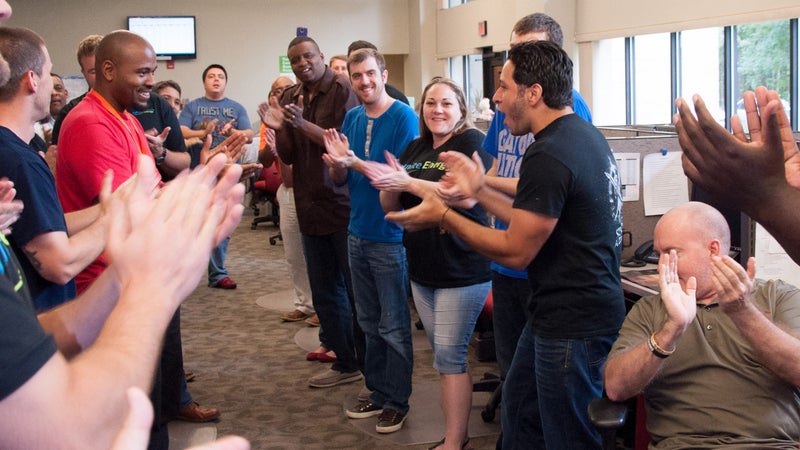 Infinite Energy is staffed with athletes, but this supplier of natural gas and electricity is focused foremost on customer experience. The company runs a full-service customer care center and sales call center and develops its own software. Back to the staff: The CEO is an Ironman, and the culture of fitness trickles down through the entire company.
Location: Gainesville, Florida
Number of Employees: 340
Company Culture: The buildings on the Infinite Energy campus sport huge windows that let in ample doses of natural light. Need more sun? The campus is a short jog away from a park filled with trails and soccer fields where staff can blow off steam. Back inside, the state-of-the-art gym makes it easy to stay motivated and active.
Sweet Perks: Most companies hold holiday parties, but nobody does it like Infinite Energy. The company gives out $100,000 in random drawings, including a $50,000 grand prize.
Giving Back: There's an employee-created team with a mission to support the local community. Through various initiatives, the staff raised more than 35,000 pounds of food for Bread of the Mighty Food Bank. The company also matches up to $1,000 in employee contributions to charitable organizations.
In Their Own Words: "For me, Infinite Energy started as career change, and the company quickly became my extended family. I am engaged and motivated both mentally and physically on a daily basis, which then bleeds into so many other aspects of my life. The culture at Infinite Energy builds you up to be the person you want to be, both personally and professionally." —Hillary Stormant, marketing and event coordinator
66. Hanson Dodge Creative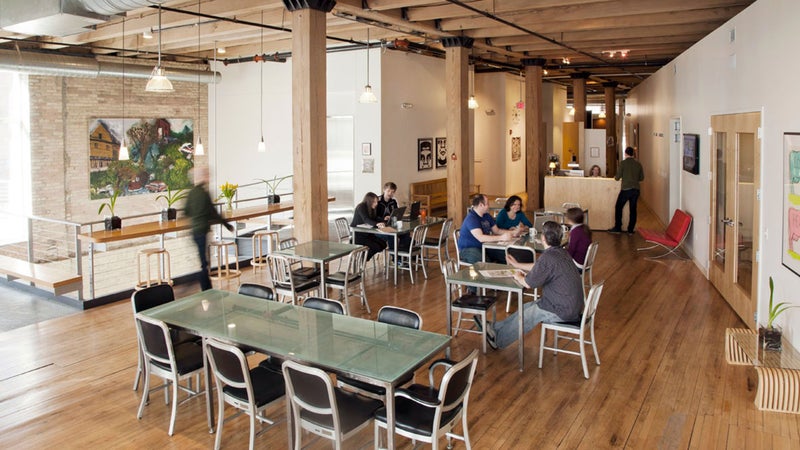 For more than 30 years, Hanson Dodge Creative has pushed to make the world a more active place. The marketing firm specializes in integrating social media, branding, and relationship marketing to promote brands like Trek, Burton, and Wilson Sporting Goods. It also walks the walk. More than 90 percent of the company's employees get after it each week, according to an internal survey.
Location: Milwaukee, Wisconsin
Number of Employees: 73
Company Culture: Set in Milwaukee's arts and fashion district, the Hanson Dodge offices sport a yoga studio where staff can perfect their downward dogs during lunch or train with a certified instructor on Thursdays. No lunch? A hassle-free program lets staff order from local restaurants that deliver to the studio. No cash necessary. The cost is deducted right from the employee's paycheck. On the more adventurous side, one team competes every year in Ragnar, a 200-mile relay race.
Sweet Perks: Paddle? Check out a kayak, walk across the street, and hop on the Milwaukee River. Ride? Borrow a bike and hop on the trail. When you get back, hit the gym, shower up in the locker room, and then recover with the fresh produce that's delivered from farm to desk each month.
Giving Back: Hanson Dodge works with Common Ground, an organization that identifies and tackles tough problems like youth employment, education, and healthcare inequality. The staff also rides in the Trek 100, a gran fondo and century that winds through the Wisconsin countryside. Donations from the event have raised millions to fight childhood cancers and blood disorders.
In Their Own Words: "I love working here because of the sense of team. There is an awesome collaboration of knowledge that makes me excited to work here. At Hanson Dodge, creativity is a real thing, and you have the opportunity to exist as an individual while contributing to a larger goal." —Katie Grundl, interactive developer
65. Pacific Market International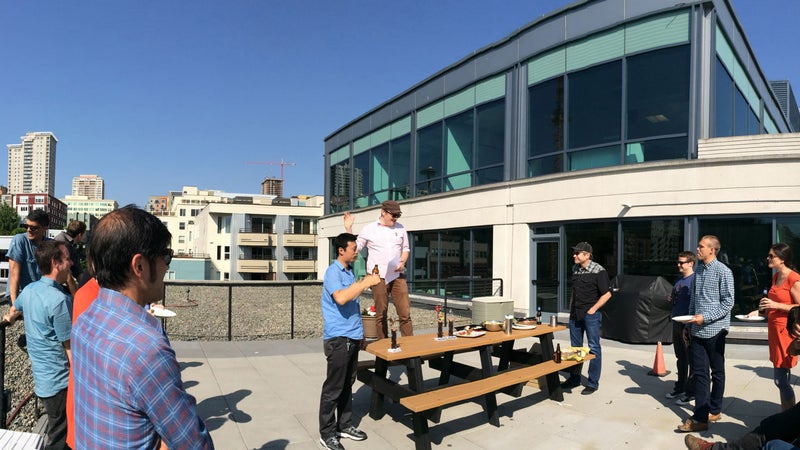 You probably own a green Stanley thermos, but you probably don't know about the company behind the classic bottle maker. Pacific Market International designs, builds, and markets food and drink containers—including products from Stanley, Aladdin, and MiGo. PMI was founded on five principles: innovation, commitment to excellence, culture, environmental stewardship, and social responsibility. Those big ideas guide everything the company does, from local park cleanups to donating its products to charity.
Location: Seattle, Washington
Number of Employees: 109
Company Culture: One side of the PMI office overlooks Elliott Bay. The other faces the Space Needle and downtown Seattle. The office has a shower room with storage and a dedicated bike room full of racks for commuters. The company will pay initiation fees for any employee who joins the neighboring Seattle Athletic Club. Fresh fruit is delivered biweekly, and PMI holds a monthlong wellness challenge every year that includes a health fair, fitness seminars, and walk and exercise groups.
Sweet Perks: It's a good thing the company gives employees flexible work hours and plenty of opportunities to exercise—they have unlimited access to snacks, candy, soda, coffee, and other beverages.
Giving Back: PMI annually donates either $50,000 or one percent of net profits (whichever is greater) to nonprofits working with children, schools, and the environment. This year, the company's team was the largest private fundraiser for Walk for the Rice, an event that raises money for Seattle's ACRS Food Bank.
In Their Own Words: "The people, the people, the people. We also have awesome products that are imagined, created, and produced by amazing individuals. Who couldn't be more proud and passionate about that!" —Dolores Shines, account manager
64. Ontraport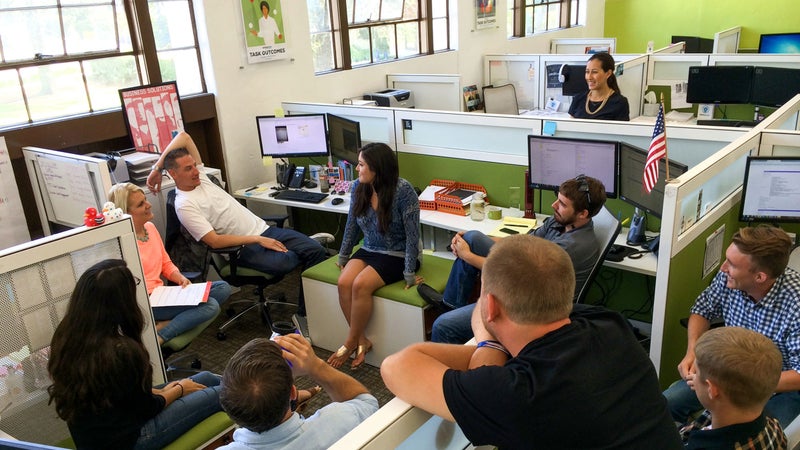 Ontraport believes in the little guy. The business automation software developer has powered more than 4,000 entrepreneurs and small businesses around the world, and employees do it all from the company's home base in Santa Barbara. As you might expect, there's plenty of surfing, sunbathing, and hiking right outside the office doors, but that doesn't stop Ontraport from treating staff to outdoor retreats in places such as PachaMama, Ecudador.
Location: Santa Barbara, California
Number of Employees: 90
Company Culture: The Ontraport campus (built as the first UC Santa Barbara campus) sits just 2.5 miles from the beach and boasts ocean views from the balcony. The company kickball team plays at the beach every week, and a handful of staff frequently run Tough Mudders. Walking meetings, catered lunches and snacks, and monthly parties with food and games help employees relax.
Sweet Perks: The company sponsors camping and hiking trips to places like PachaMama, Costa Rica. It also pays 100 percent of your tuition should you decide to go back to school. Employees get free catered snacks and lunches every day and can attend monthly parties and participate in contests with sweet prizes (like a Vespa).
Bonus Points: Before becoming an entrepreneur, the CEO used to be a hippie selling flowers at the local farmers' market. Now he teaches pro bono classes in entrepreneurship to local small business. In that vein, employees nominate exceptional peers to a lottery every week; they can win prizes like extra paid time off, gift cards, and company happy hours.
In Their Own Words: "What excites me about coming to work is the positive culture of idea sharing and collaboration at Ontraport. When no idea is considered a bad idea, it's amazing how your thinking and creativity opens up." —Katlyn Gangi, content writer
63. Charles Cunniffe Architects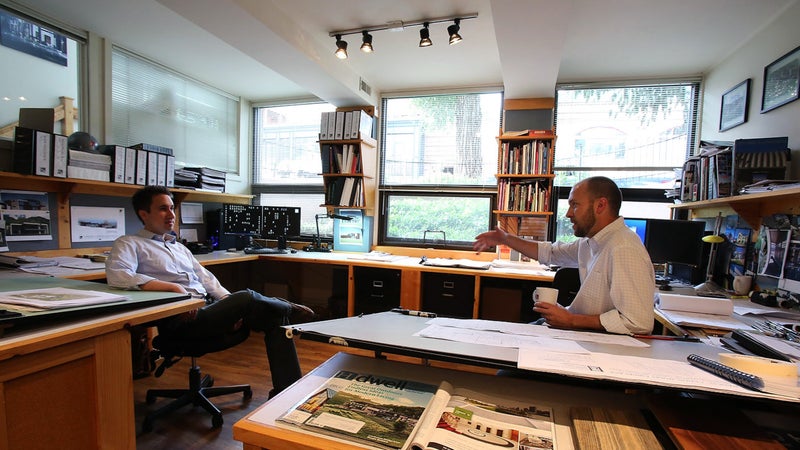 Some firms design gorgeous homes. Others specialize in sustainability. Charles Cunniffe Architects marries both approaches to create socially responsible and sophisticated residential, mixed-use, and commercial projects. The culture of design is at the company's core, and the outdoors is often the inspiration—which is why you'll find the staff on the snow, bike, or hiking trails.
Location: Aspen, Colorado
Number of Employees: 20
Company Culture: CCA employees find themselves skiing fresh Aspen powder before work or during lunch breaks in winter (they're two blocks from Aspen Mountain), and hiking and biking in the Rockies in summer (nearby trail systems include Hunter Creek, Four Corners, Smuggler Mountain, and Airline Trail). No matter the season, they gather for twice-monthly Beer:30 outings. Did we mention they're just two blocks from Aspen Mountain?
Sweet Perks: For 30 years, the company has opted for a holiday bowling party, complete with Secret Santa gift exchanges. Throughout the rest of the year, the company adheres to a flextime schedule—go skiing when you want, and hit the gym whenever works best for you—and offers a wellness package that covers the cost of gym memberships and ski passes.
Bonus Points: These architects are also mountain bike racers (18 Hours of Fruita), enthusiastic skiers (the intern clocked 100 days last season), pro salsa dancers, and Cessna pilots (they occasionally take Charles' turbo Cessna to job sites). They also work with and support the American Institute of Architects, Theatre Aspen, and the U.S. Green Building Council.
In Their Own Words: "The flexibility of schedules and proximity to world-class skiing, biking, hiking, rivers, and bus system make it a rewarding place to work hard and to play even harder." —Karen Woods, project manager/designer
62. BCF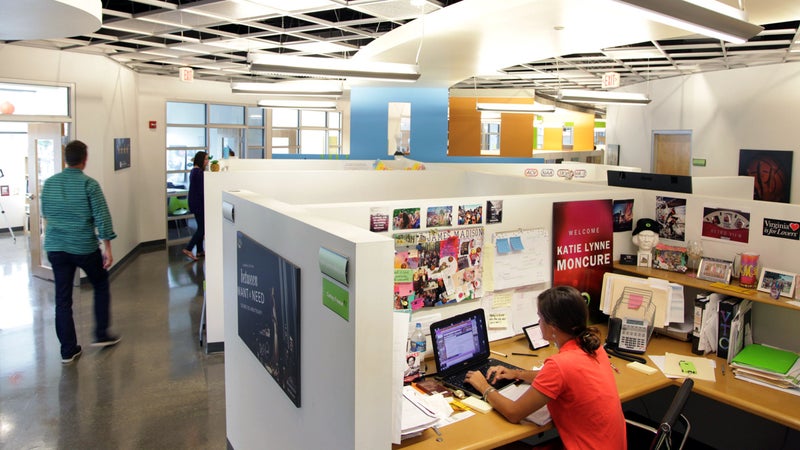 To market a destination, you need to know its secrets. So you visit, explore, and learn. Work for BCF and you get to market destinations like Aspen, Virginia Beach, and the Caribbean. Those visits get to be very exciting and, of course, educational. There's no better way to ensure quality than to test it yourself, especially when it's paragliding from mountaintops, sea kayaking, or volunteering.
Location: Virginia Beach, Virginia
Number of Employees: 45
Company Culture: With offices a stone's throw from the Atlantic Ocean and Chesapeake Bay, nearly everyone in the BCF crew surfs, paddleboards, and kayaks locally—but they get wet around the globe. And they drink up on Final Fridays, a once-a-month happy hour. Exercise? Yes, very much. The company's surf club meets regularly to catch post-work waves.
Sweet Perks: It's pretty much in the job description—get paid to be a professional tourist. The staff get frequent travel opportunities to become intimate with the agency's travel destinations: paragliding off mountains, kayaking, island hopping the Virgin Islands, running with buffalo, skating with Tony Hawk, helping change kids lives in Honduras with OpSmile, and shooting cannons with Civil War reenactors.
Giving Back: The owner and CEO is a hard-core climber and former Orvis fly-fishing guide, and a few serious hikers on the team have summited Kilimanjaro and Grand Teton. One even proposed at the top of Devil's Tower. Clearly, they don't get stuck in the office.
In Their Own Words: "I like that titles are titles, but, meh, who cares. I have no problem waltzing into Greg's office—who is a partner, mind you—and talking about my crazy weekend or venting about a project I'm working on. I think it's awesome that the director of PR and I are making plans to take archery lessons and perfect our Katniss Everdeen. My supervisor is my real-life neighbor, and that's not weird." —Allison Affeldt, account executive
61. FullContact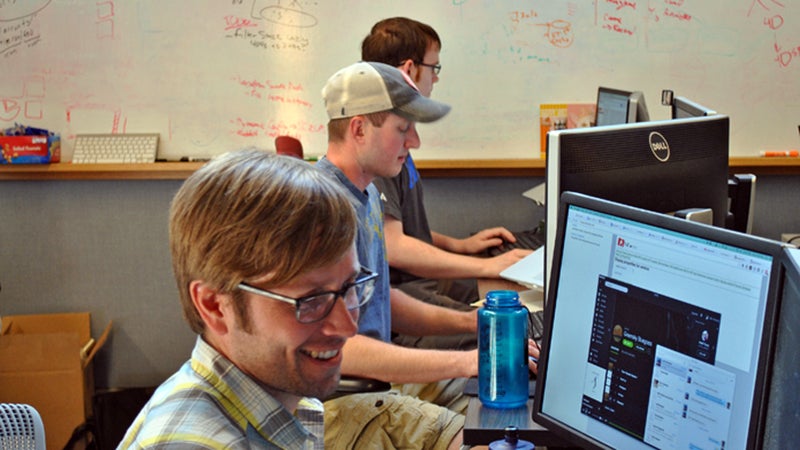 Admit it: Your address book is a mess. There is, however, a solution. FullContact hopes to follow in the steps of Dropbox (files) and Evernote (reminders and notes) to revolutionize the address book with an in-the-cloud solution that gathers your contacts from all places—Facebook, Twitter, LinkedIn—and centralizes them in one up-to-date resource. But big breakthroughs don't come without inspiration, so to keep ideas flowing, the staff takes hiking meetings and the company supports policies that make indulging personal passions easy.
Location: Denver, Colorado
Number of Employees: 41
Company Culture: The powder-day policy is a wonderful thing. Great snow? Skip work and get it done later. The free beer and personalized stein can't hurt company morale, either. And frequent games of ladder toss, cornhole, and Frisbee in the park on "Fresh Air Fridays" keep work fun. Plus, the FullContact staff hits up plenty of events together, like Film on the Rocks at Red Rocks in a stretch limousine or paintball followed by dinner and beer at a local brewery.
Sweet Perks: Unlimited vacation. Check. And paid vacation in the truest sense of the phrase, meaning: Take this $7,500 and go. The catch? Stay the hell off the grid: no emails, no phone calls, no work.
Bonus Points: The CEO prefers hiking meetings to grabbing coffee, which means getting it done while doing what you love. Dogs welcome.
In Their Own Words: "I work at a brewery here in Denver for a little side job in my neighborhood, and I'm throwing a fundraiser to benefit a Denver-based dog rescue. All FullContact employee donations will be matched by the company, per our CEO. Have I mentioned I love this company?" —Jaclyn Pickard, office manager
60. Shine United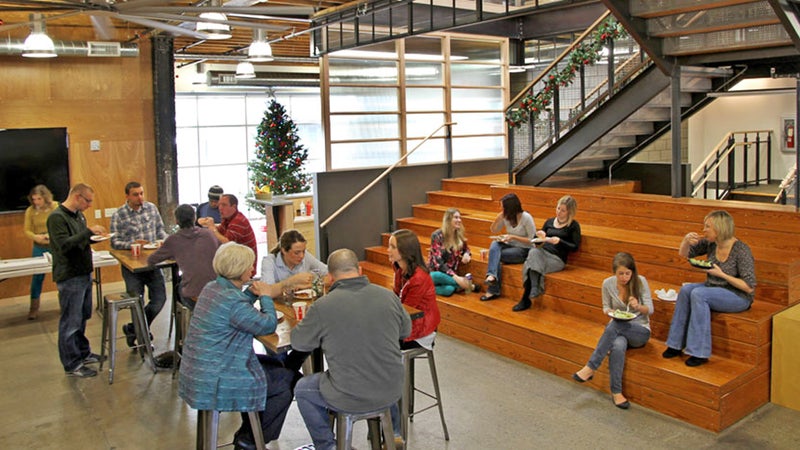 A pedal-to-the-floor digital, design, and ad agency hell-bent on generating ideas for brands like Harley-Davidson, Everlast, and Jones Soda, Shine United stresses science just as much as common sense. Another bit of scientifically supported common sense: It pays to take care of employees. That's why Shine pays 100 percent of staff healthcare and home Internet access costs. And because creative employees are more productive employees, the company funds their efforts to learn new skills through the Shine Arts Initiative.
Location: Madison, Wisconsin
Number of Employees: 35
Company Culture: Shine staff celebrate Beer:30, summer Fridays, and Festivus. They fuel up on catered pizza lunches and bagel Wednesdays. But the biggest perk? The Shine Arts Initiative, which supports employee creativity by reimbursing for artistic pursuits like dance lessons or screen-printing classes. One day every summer, Shine closes down the office to make way for tournaments, board games, and food trucks.
Sweet Perks: In it for the long haul? After 10 years, employees earn a $10,000 bonus and an extra week of paid vacation.
Giving Back: The agency partners with Outreach for World Hope to donate school supplies, food, and medicine to schoolchildren in Guatemala. It also supports University of Wisconsin Athletics and its annual Crazylegs Classic 8K race (staff also design shirts for it and compete in the event). That helps explain the company's dedication to fitness—30 percent of the staff bike or walk to work daily.
In Their Own Words: "When we started the company in 2001, our main goal was to create a place where employees have fun, have room to grow, and feel like partners. We believe the result is a workforce that's committed, confident, and, ultimately, more creative." —Mike Kriefski, founder and COO
59. McGarrah Jessee
This is an ad agency that likes to think of itself as an idea shop. What's so special about that? The company prioritizes people and work-life balance over business growth, which means job satisfaction—and creativity—is always high. The day-to-day includes conducting consumer research, focusing on analytics, planning social strategy, and making media buys.
Location: Austin, Texas
Number of Employees: 100
Company Culture: Putting people first can occasionally complicate business decisions, but the long-term dividend in creativity and morale is worth the investment. To buttress this people-first culture, the company provides profit sharing to all employees as a percentage of salary—historically ranging anywhere from 0 to 45 percent (average is 17 percent)—and hosts an annual boat party, golf tournament, and Thanksgiving Turkey Bowl touch-football game. The collegial atmosphere extends to the office, where employees regularly work from the Wi-Fi-equipped rooftop and take small-group walking meetings.
Sweet Perks: A benefit of having outdoor clients like Costa Sunglasses and Yeti? Trips to places like Guyana, Guatemala, Belize, and the Yucatan Peninsula for photo shoots and filming conservation expeditions are considered work. Also part of work: the $1,000 holiday bonus, Beer:30 rooftop happy hour, and corporate gym discounts (free for anyone who's been with the agency for 10 years or longer).
Giving Back: The agency participates in mentorship and hiring programs for talented but underserved youth through the nonprofit E4Youth. It also offers job shadowing to local high schoolers.
In Their Own Words: "I've been with McJ for almost nine years. What makes this place compelling to me is the mix of quirky personalities—passionate artists, obsessive tinkerers, problem solvers, mathematicians, musicians, and craftsmen. Those differences all come together so that we sharpen one another like iron on iron." —Brian Jordan, creative director
58. Flathead Beacon Productions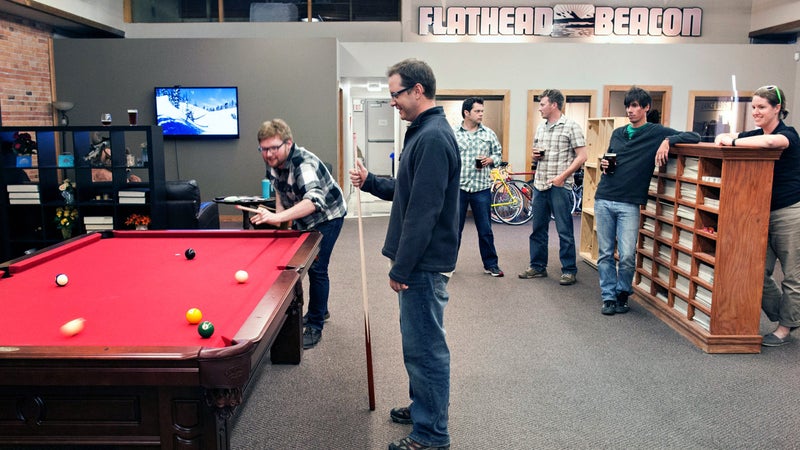 What makes a company a Best Places to Work nominee? Sometimes, it's the benefits or the perks. Other times, it's the location or the work itself. All those things pushed Flathead Beacon Productions onto this list, but "bleeding Beacon"—the intense employee pride in the publishing company—elevated it to number 58 on the list. The reporters, editors, and other staffers at FBP are neighbors to Whitefish Mountain Resort and Flathead Lake, the largest body of freshwater west of the Mississippi. With only a million residents in all of Montana (fewer than 90,000 in all of Flathead County), they don't worry about bumping elbows on the clear waters or empty trails of the region's pristine wilderness.
Location: Kalispell, Montana
Number of Employees: 18
Company Culture: Nestled in the Flathead Valley and flanked by the peaks of Glacier National Park, the FBP office bustles with bikes, brews (three kegerators stocked with local product), and the always-on energy of a newsroom. The Flathead team recently started a running club that meets weekly for group runs and, on Thursday evenings, takes to the trails in the Whitefish Range of the Flathead National Forest.
Sweet Perks: Free ski passes to Whitefish Mountain Resort for staff and family. And the peaks of Glacier National Park, just 20 minutes from the front door. Plus, all employees receive year-end bonuses.
Giving Back: FBP donates $25,000 to local charities like homeless shelters, food banks, battered women shelters, youth homes, and literacy groups. The company also sponsors many of the area's events and fun runs.
In Their Own Words: "I've never worked at a place that is so well respected in the community like the Flathead Beacon. When you throw in a pool table and three beers on tap, I can see why lots of people desire to work here and employees rarely leave." —Lance Fahrney, general manager
57. IslandWood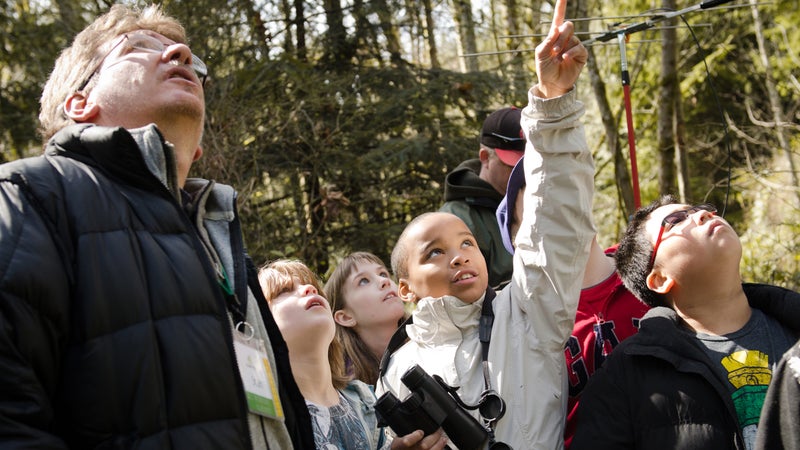 It started with a simple premise: to love and protect the outdoors, children must be exposed to nature. IslandWood, an outdoor learning center, is now the regional leader in outdoor education. Each year, more than 12,000 students are introduced to the outdoors through programs at the main campus at Bainbridge Island and elsewhere. Visitors are guided by the 25 to 30 University of Washington graduate students who spend 10 months at the facility working toward their master's in education.
Location: Bainbridge Island, Washington
Number of Employees: 85
Company Culture: To design the company's main campus, architects enlisted the input of more than 250 children and University of Washington landscape architecture students. The facility, located on 255 forested acres near the south end of Bainbridge Island, is sustainably built (LEED Gold certified). It features a canopy tower, suspension bridge, organic garden, art studio, and two tree houses. Making the most of the property, employees hold outdoor meetings and lunchtime hikes around the facility.
Sweet Perks: There's a floating classroom—but it takes muscle to move. The hand-powered raft runs on a steel cable out to the middle of Mac's Pond and is a great way to build a little upper-body strength.
Giving Back: During the school year, the company's education team supports student-driven service learning projects at schools in Seattle. The program culminates with a summit in May where students present their projects.
In Their Own Words: "We all have roles to play as instructors, fundraisers, cooks, and hosts. But the goal is always the same. Every day, we open the door a little bit wider for kids to fall in love with the great outdoors. The bonus is knowing that the world they inherit from us will be in good hands." —Thatcher Heldring, director of marketing and communications
56. G5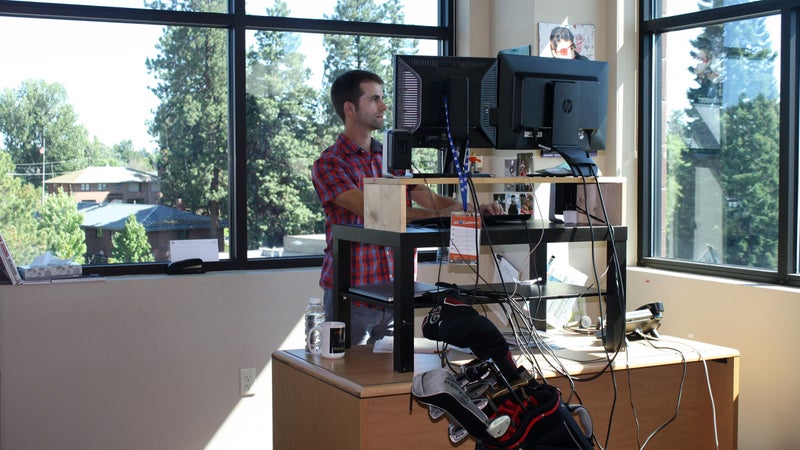 In this one-click-away digital ecosystem, customers need to be engaged from their first exposure with a company to their last. G5 develops software for property managers that makes winning and retaining clients easy. The secret weapon? People. A well-motivated and energetic staff builds better software and develops smarter solutions.
Location: Bend, Oregon
Number of Employees: 150
Company Culture: The G5 crew know how to get after it. They shred, mountain bike, and aren't shy about their caffeine consumption. Hydrate? Often and well at the office keg and wine fridge. The staff-led fun committee enforce the culture of play. Hence the darts, pool table, office Wii, summertime yoga, and staff-favorite Pole Pedal Paddle six-leg charity race: a mix of alpine and cross-country skiing, biking, running, canoe and kayaking, and sprinting in one day.
Sweet Perks: The requisites: Reduced-cost gym memberships, dog-friendly digs, quarterly rewards for hitting goals on the company wellness plan, short summer Fridays (leave by 1 p.m.), and weekly deliveries of fresh fruit and veggies (and sometimes cheese) through a community-supported agriculture program. The over-the-top: Show-up-late powder days announced by the email subject line "First Tracks."
Bonus Points: They are competitive. Really competitive. This season's kickball injuries include concussions, twisted knees, a broken hand, pulled hamstrings, and countless contusions (they take winning seriously). Need more proof? One of the graphic designers is a Patagonia-sponsored ultramarathoner, another employee wins bikini and bodybuilding contests, and another one dives with sharks.
In Their Own Words: "Sometimes powder days trump work. I'm glad to work for a company like G5 that understands that." —Brian Steuble, senior accountant
55. Slice of Lime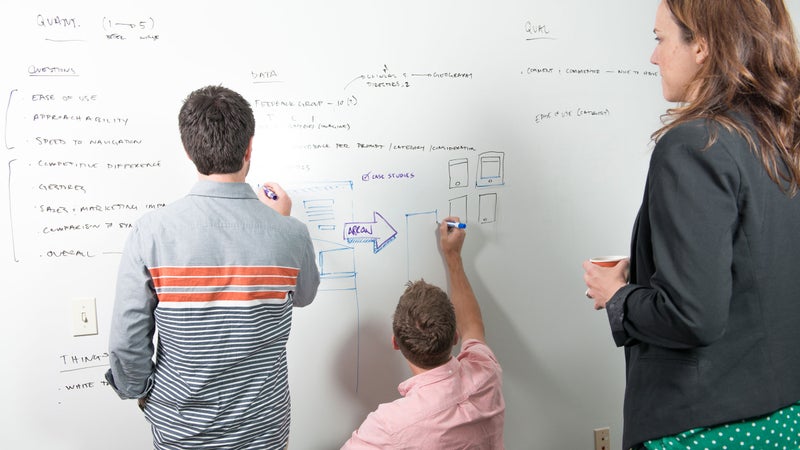 Slice of Lime is a user-experience design agency that creates intuitive and engaging experiences on web apps, mobile apps, and connected devices. The goal? A product that's as functional as it is attractive. The team is great with design, but they're also hard-chargers. In a recent competition among Boulder-based companies, they logged the sixth most miles on the bike and in running shoes (beating 15 other squads). Among its competition: the bike-obsessed apparel company Pearl Izumi.
Location: Boulder, Colorado
Number of Employees: 15
Company Culture: Great things happen when people get to focus on what they love. At Slice of Lime, 20 percent of the workweek is allotted to passion projects, and the company grants each employee a $2,500 allowance for conferences and other skill development opportunities. Cornhole Fridays, homebrew beer challenges, and regular company outings keep things light.
Sweet Perks: Fight for the "Slice of Lime High 5." This staff-decorated prize means you're due for an amazing experience, like a company-comped helicopter ride.
Bonus Points: Once-in-a-lifetime experiences aren't supposed to happen at work. But Slice of Lime hasn't gotten that memo. As part of its "Create Amazing Experiences" initiative, the staff has visited Conan O'Brien in his dressing room, climbed 14ers, and rented suites at an Avalanche hockey game.
In Their Own Words: "When you have this level of attention and dedication from your leaders, you feel like you are part of a family, not a company." —Christy Cattin, UX designer
54. StoneAge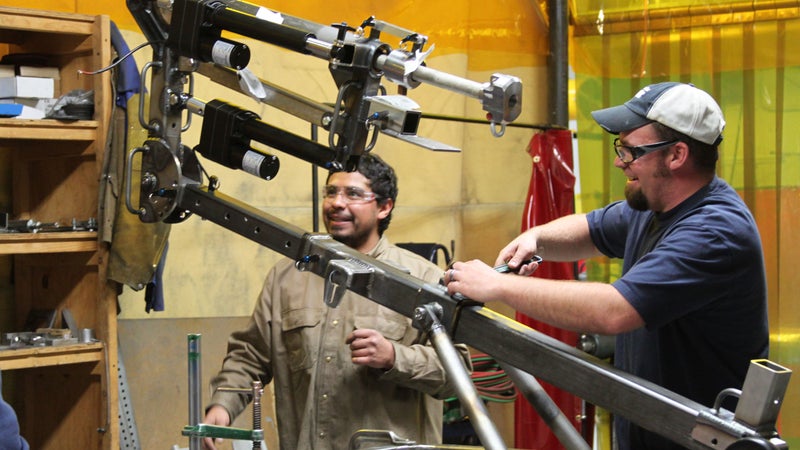 StoneAge designs and manufactures high-pressure water-blasting tools—durable, high-tech, and powerful products used to clean things you never imaged were cleanable (pipes, tubes, and tanks). All of the company's products are designed, manufactured, and assembled in the United States and exported to dealers in 47 countries. The company is staffed with athletes who hit the Durango trails hard on wheels, skis, kayaks, horses, and their own two feet.
Location: Durango, Colorado
Number of Employees: 87
Company Culture: The StoneAge cubicle-free office is stationed near the end of the Durango River Trail, making for easy lunchtime or post-work river walks and runs. Despite being perched above a steep climb, the company has won Durango's Clean Commute challenge four years running. If you're not biking to work, the fully equipped fitness center is open to staff 24/7 and features first-rate equipment, showers, and lockers. Employees can earn an extra $500 through the company's wellness program. Bottom line: Nobody is counting calories on the random ice cream days.
Sweet Perks: Profit sharing (10 percent of the company's net profits get distributed), plus weekly yoga classes and twice monthly chair massages (both at half cost). Bonus: Spouses can use the company gym during work hours or when accompanied by staff after hours and are eligible for up to $250 in cash rewards as part of the company wellness program.
Giving Back: Each quarter, employees vote for their four favorite causes. The company offers a number of paid and unpaid community services events, including blood drives, charity golf, and preparing food at a soup kitchen. Because the company depends on applicants with science, technology, engineering, and math skills, it offers internships to high school and college students.
In Their Own Words: "To me, the fact that you can call in well is the best thing ever." —Deanna Manzer, order fulfillment team member
53. Usana Health Sciences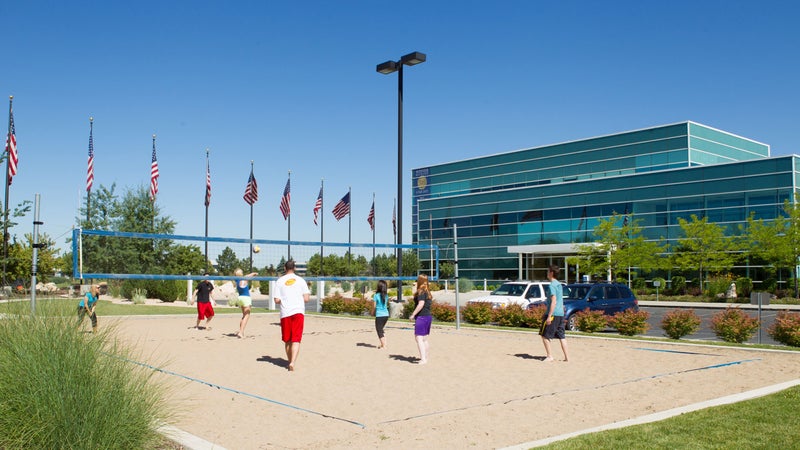 Branan/USANAAs we noted in the 2012 version of this list, you'd be forgiven for thinking Usana is a health club with a supplement business on the side. Between developing and manufacturing nutritional supplements, employees can run off the stress at the in-house gym or outdoor volleyball court.
Location: Salt Lake City, Utah
Number of Employees: 727
Company Culture: The company is green (1,722 solar panels on Usana's corporate office prevent 390 tons of CO2 emissions annually and generate enough electricity to power for 53 homes), fitness obsessed (in addition to a slew of intramural sports, the company's wellness program offers CrossFit, Zumba, yoga, and boot camp classes with certified instructors), and fun loving (employees participate in annual summer parties at the Lagoon Amusement Park, Halloween costume parades, "Mustache May," and concerts at the company's annual Usana fest).
Sweet Perks: Free 15-minute massages offered every Tuesday, monthly supplies of vitamin supplements, plus $50 in Usana bucks every month toward health products (and an additional 50 percent off after that).
Giving Back: The Usana team came in first place in the corporate category at this year's Ragnar Wasatch Back 200-mile relay race, raising $7,500 for the Usana True Health Foundation, which supplies critical necessities like nutrition, clothing, shelter, medical assistance, and health education to those in need around the globe.
In Their Own Words: "Usana really lives by its motto—helping you love life and live it—and works tirelessly to create a positive and engaging work environment for its employees." —Kevin Guest, president of Usana Worldwide
52. Overland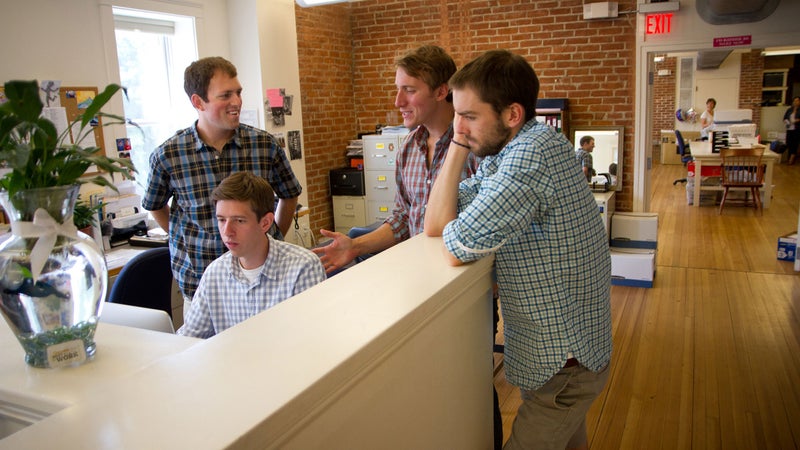 A great summer camp can change lives. For more than 30 years, Overland has strived to be that camp. The company offers a series of small-group (12 campers max) programs for students in fourth through 12th grade. Summer session options include biking the Canadian Rockies or hiking through the Swiss Alps, among others, and are led by two counselors with wide-ranging backgrounds.
Location: Williamstown, Massachusetts
Number of Employees: 18
Company Culture: The staff meet every Friday morning for an hour-long coffee and breakfast "break" before strolling up the street to work. The LEED-certified green office sits atop the Purple Pub, the natural Friday afternoon watering hole. Active lunch breaks are common (the $100 gym or ski pass credit helps), and at summer's end, Overland brings in a band to celebrate with seasonal staff.
Sweet Perks: Every year, staff scout and develop trips around the world. Last year, they went to Yukon Territory, Patagonia, the Canadian Rockies, Colorado, biking in Europe, and hiking the AT. They also get three weeks paid vacation in August and pro deals on outdoor gear. Closer to home, employees have access to the Williams College fitness center (just 100 yards from the office). Every week, teams of three people provide treats to everyone in the office.
Giving Back: In 2002, the company launched a free summer program for elementary students in Williamstown focused on reading, recreation, and fun. Closer to Outside headquarters in Santa Fe, New Mexico, the Southwest Service program partners with Santa Fe National Forest rangers for six weeks to help maintain recreation opportunities in the mountains overlooking the state capital.
In Their Own Words: "The staff here are the most fun-loving, caring, genuine group of perfectionists I have ever had the privilege of working with." —Nate Eberly, Logistics and Admissions
51. Cornerstone OnDemand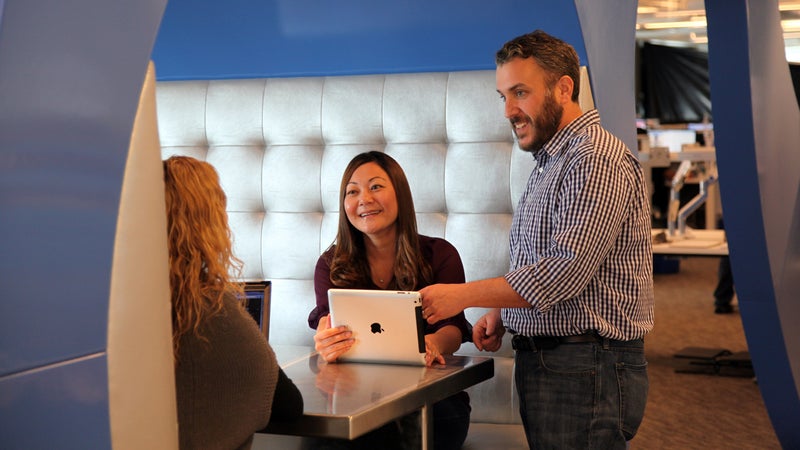 Cloud-software company Cornerstone OnDemand helps more than 1,600 organizations around the world—including New Belgium Brewing, Pandora, and BP—maximize their productivity. Clients use the software for everything from recruiting talent to engaging employees to supporting customers. Back home, the SoCal-based company encourages its team to celebrate personal wellness and the California lifestyle with more than eight sponsored sports teams and a 70-person marathon-running contingent.
Location: Santa Monica, California
Number of Employees: 807
Company Culture: The Cornerstone offices house a theater, a meditation room, and yoga studios (complete with pro instructors). There are plenty of culinary options with free daily breakfasts, Friday lunches, and catered meetings. For the athletically inclined, there's a wide variety of sports teams to choose from, including kickball, basketball, and soccer. Plus, employees get comped entry to any competitive sports league or event.
Sweet Perks: Unwind with a complimentary on-site massage, yoga class, or chiropractor session. You can even sign up for acupuncture services if things get dire. And did we mention the unlimited vacation hours?
Giving Back: On its 14th anniversary, Cornerstone booked a keynote speech by human rights activist John Prendergast and a panel discussion with nonprofits such as SCORE, Walk with Sally, Vet2Vet, and Spark. If that wasn't enough, the company then donated volunteer hours to each group, plus $50,000 in cash. It also raises $55,000 for men's health awareness every year in "Movember."
In Their Own Words: "We're constantly evaluating and evolving our work environment to ensure we're able to bring our best selves to work." —Kimberly Cassady, operations and human resource leader
50. Spyderco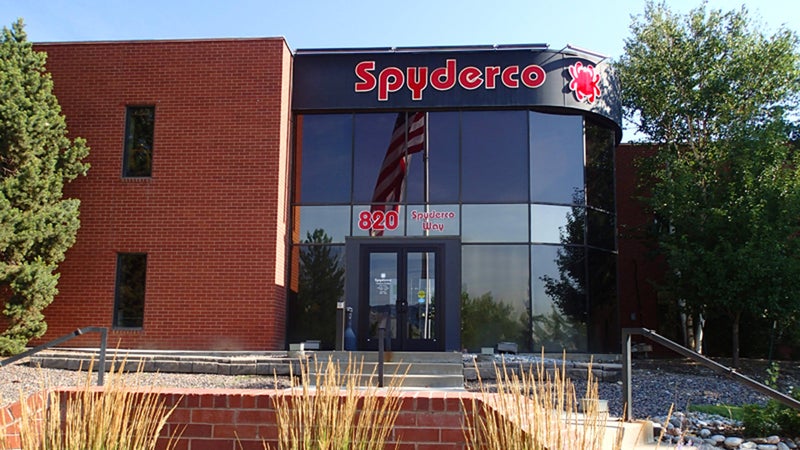 In 1976, Sal and Gail Glesser bought an old bread delivery truck and hit the road, roaming from one state fair and campground to the next, selling knife sharpeners. The company's first big hit was a thin ceramic triangle that made sharpening serrated blades easier. Soon, the company began designing knives with a flair for one-handed opening. Now, the family-owned Spyderco makes a range of knives, from kitchen cutlery to backcountry survival blades to knives used by law enforcers and soldiers.
Location: Golden, Colorado
Number of Employees: 70
Company Culture: The upsides to working at a Front Range-based company are as numerous as they are obvious: easy access to the mountains and to the big city of Denver. Closer to home, staff play on the basketball court outside the office and on a softball team—when they're not running Tough Mudders.
Sweet Perks: To fuel the company's go-get-it lifestyle, the kitchen is stocked with organic fruit (delivered twice a week), and healthy recipes accompany each paycheck.
Giving Back: Each month, the company donates 50 Tan Knives—which are available only to active-duty soldiers in Afghanistan—to troops overseas through a lottery. Spyderco also sponsors a variety of local programs and donates a portion of sales to charity.
In Their Own Words: "The team at Spyderco is unbeatable. Our small size allows everyone to work closely together and look out for each other while completing our work with a high level of personalized service." —Hilary Lockhart, sales
49. PartnersCreative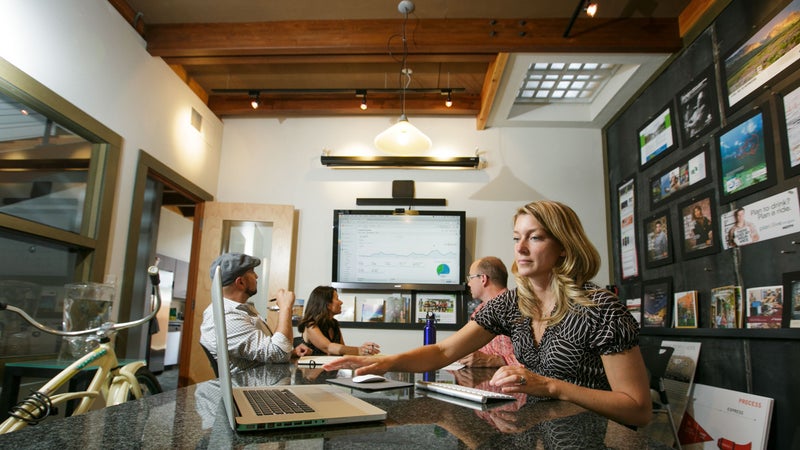 Like many marketing agencies, PartnersCreative provides digital, PR, and social media services. Unlike most agencies, PartnersCreative works with organizations that push economic development, public safety, social change, recreation, and conservation. This community-first passion begins with the company's partners—who left the big city for Missoula—and trickles down to the company's pro bono work for conservation movements.
Location: Missoula, Montana
Number of Employees: 17
Company Culture: PartnersCreative purchased an abandoned lot behind its Missoula office and decked it out with flowers, canopy, lawns chairs, and a grill. The Party Park, as employees now call it, is a spot for outdoor meetings, parties, and potluck summer lunches. Out of the office, the staff jumps between rowing dragon boats, racing marathons, volunteering to restore wildlife habitat, and cranking out the occasional 130-mile, single-day bike race for charity.
Sweet Perks: How do you start the day? At PartnersCreative, it's with coffee and doughnuts. Beyond the morning treat, the agency pays out yearly bonuses, throws monthly birthday bashes, and promotes a flexible workday schedule. Stay with the agency for 10 years and you'll be treated to a sponsored getaway.
Giving Back: The agency has done pro bono or reduced-fee work for several state and national conservation movements, including a bid to secure open-space lands in western Montana and a campaign to remove the Milltown Dam and restore the free-flowing confluence of Norman Maclean's family river. An account executive on the team created the Montana SUP Cup, the town's first SUP race, to raise funds for the Watershed Education Network.
In Their Own Words: "I dress in a style that I like to think of as 'retro chic' but others might consider 'thrift-shop reject.' Every day, my co-workers cheerfully look past the tragedy of my attire and treat me as if I were a perfectly normal person. It's kind of weird, but I'm glad about it." —Joe Nickell, public relations account executive
48. Bluetent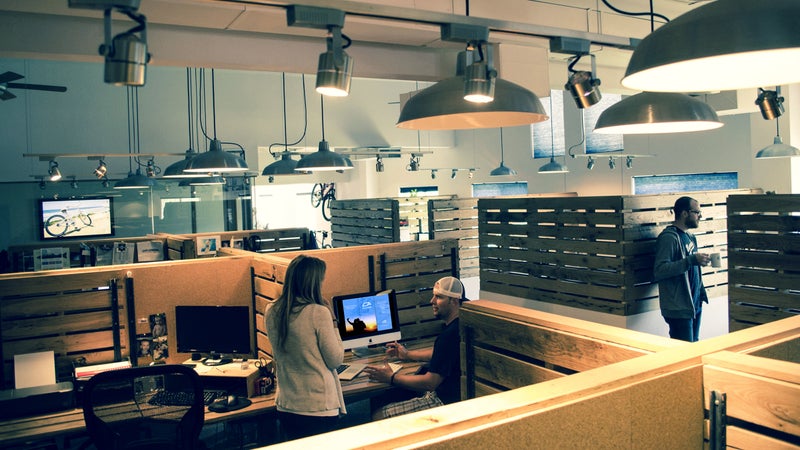 Marketing has changed. Digital agencies like Bluetent, which specializes in travel, tourism, and hospitality industries, aren't just sending out press releases; they're also developing strategy, building gorgeous and responsive sites, and digging into analytics to provide data-driven marketing solutions. The Bluetent team has easy access to world-class hiking, biking, and skiing trails. And it makes a difference—they play hard to work harder.
Location: Carbondale, Colorado
Number of Employees: 35
Company Culture: The Bluetent crew works out of a reclaimed barn-wood loft and has access to both a microbrew-stocked fridge and mini yoga studio. To celebrate team successes, the agency puts on Great Work Wednesday, with free lunches included. Just outside the office, a park offers cross-country ski trails, tennis courts, and basketball courts. The staff takes frequent mountain biking and hiking trips together (thanks, flextime) or, come winter, skin up the mountain and ski down before work.
Sweet Perks: Want to join a gym? Bluetent covers 50 percent of the membership fee at a nearby facility. And you can get fit on the mountain with discounted season ski passes.
Bonus Points: Collectively, the agency team has climbed more than 70 14ers and skied more than 350 days last winter. They also claim two resident adventure racers and 17 office dogs. Their secret? Caffeine. The agency was recently informed that they consume more coffee than any entire restaurant in the vicinity. To give back, Bluetent pairs community youth with senior members of the team to learn Web design and development. They also do pro bono marketing work for local nonprofits.
In Their Own Words: "We're all world travelers, adventurers, and thrill seekers who planted our roots here—and love it!" —Sam Campise, director of sales
47. North Carolina Outward Bound School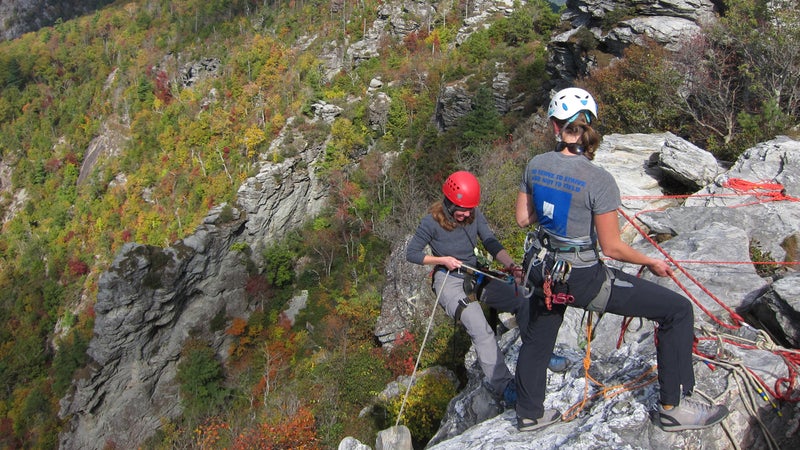 NCOBS is one of the leading wilderness-education schools in the United States. Its mission: to change lives through challenge and discovery on outdoor adventures around the country (and in Patagonia). Courses range from four to 72 days long and are offered in mountaineering, backpacking, whitewater canoeing, rock climbing, coastal canoeing, and sea kayaking. Students learn more than just basic outdoor skills: They come away from an NCOBS program with a greater ability to step outside their comfort zones.
Location: Asheville, North Carolina
Number of Employees: 300
Company Culture: Many North Carolina Outward Bound School educators consider the outdoors their office. When they're not leading wilderness trips, at the crag, or running rivers, they might be found attending a professional development climbing or paddling day to hone their skills. Staff come back to headquarters for regular "Work Weeks," periods when the team commits to the upkeep of the surrounding forest. Plus, this company likes dogs (some Outward bound pups have their own Facebook pages) and encourages staff to bring canine companions to the office.
Sweet Perks: Aside from ample time working in the wild? Staff get travel stipends and can enroll in sponsored wilderness first responder, ACA, and AMGA courses.
Giving Back: With the help of partnerships and donations, 40 percent of North Carolina Outward Bound students receive financial aid (582percent of all charitable proceeds go toward student scholarships). The company offers veterans and struggling teens tuition-free courses.
In Their Own Words: "Three things: the quality of our student experience, amazingly compassionate educators, and a strong culture of safety!" —Corey Hadden, safety and education resources coordinator
46. Zozi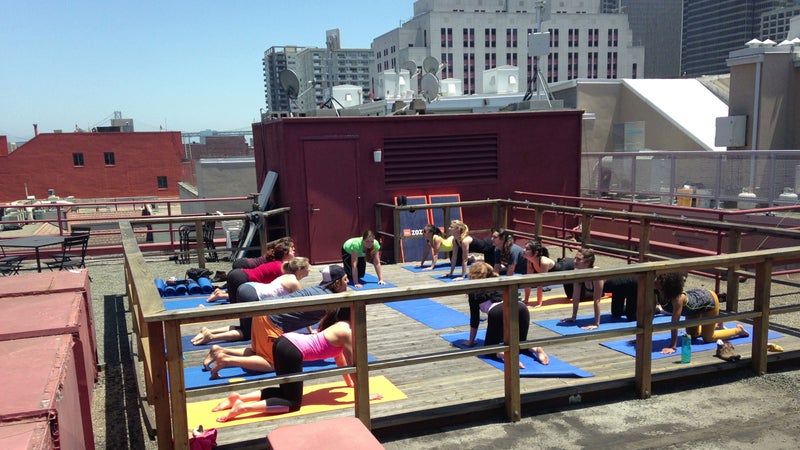 On Zozi.com, you can book incredible trips around the world and in your own home town—and buy the gear to get you there. In-house experts pick each of the company's trips, including full-moon paddles, vineyard bike tours, and surf excursions with private villas. Zozi staff get their own fixes on sailing trips under the Golden Gate Bridge, kayaking in the bay before sunset, or doing yoga on the roof. Company headquarters house a team of travelers: collectively, Zozi staff has visited more than 80 countries.
Location: San Francisco, California
Number of Employees: 49
Company Culture: Zozi offers employees more perks than we can count, including the Fun Fund, which gives employees $400 in Zozi credits every quarter to experience a trip firsthand. There are also dog- and bike-friendly offices, an on-site massage therapist, rooftop yoga sessions, whiskey tastings, and frequent "pop-up" lunches at headquarters by some of the best chefs in the city. The top floor of Zozi's North Beach office overlooks the Transamerica Pyramid and Bay Bridge and lets in plenty of natural light.
Sweet Perks: Through the Fun Fund, employees get $400 every quarter to take a Zozi trip. Unlimited vacation hours gives them plenty of time to take advantage of the offer. The company also sponsors regular happy hours at favorite neighborhood bars.
Bonus Points: Zozi's Friends & Family Program lets staff give Zozi credits to their loved ones so they can also take advantage of the company's activities. Find someone who could be a great new co-worker? You're eligible for a $15,000 referral bonus.
In Their Own Words: "We like to turn the music up on Friday when we crack open a beer to toast the week's end." —Lily Kwong, senior accountant
45. The Trade Desk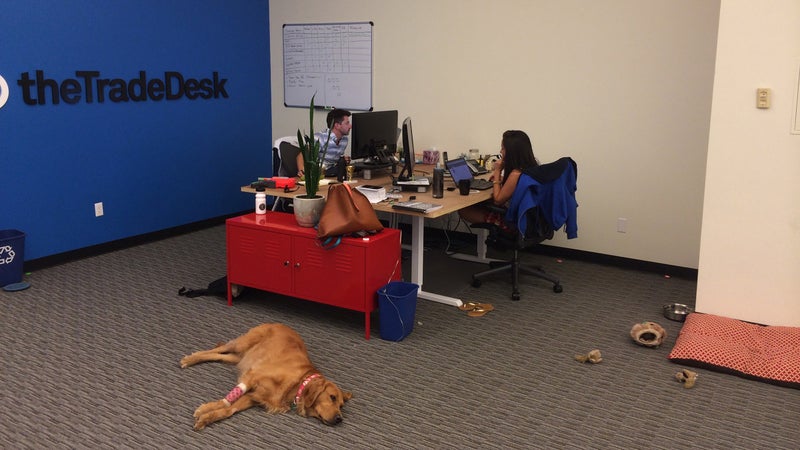 Founded by pioneers in real-time bidding for online ad spaces, the Trade Desk powers media buyers to manage video, social, and display advertising campaigns. That ad on your Facebook news feed? It was likely bought and placed by the Trade Desk or one of the company's competitors. The firm prides itself on taking care of its employees, hence the company's comprehensive healthcare plan, outdoor new-hire orientation, and seemingly endless perks.
Location: Ventura, California
Number of Employees: 150
Company Culture: Staff at The Trade Desk say the company could try to be more awesome, but it would likely fail. Folks in the New York office get a kegerator, regular happy hours, and discounted gym memberships. Boulderites have easy access to world-class skiing, biking, and running trails. The Ventura staff, with Ping-Pong tables and surfboards at the ready, work four blocks from the beach. There's also the Bay Area crew, who hit up outdoor music festivals; the L.A. staff, who spend time beachside; and the Chicago team, who can be found doing yoga, meditation, and stand-up comedy. Everyone comes together in Ventura once a year for a company-wide "Palooza."
Sweet Perks: Flexible work schedules, 100 percent free healthcare, dogs in the office.
Bonus Points: New hires attend a midyear event in Park City, Utah, for a slew of outdoor activities like downhill mountain biking and hiking.
In Their Own Words: "It's pretty sick, but I often look forward to Mondays. Never have I ever loved a team more." —Stacy Bohrer, senior director, Midwest
44. Insivia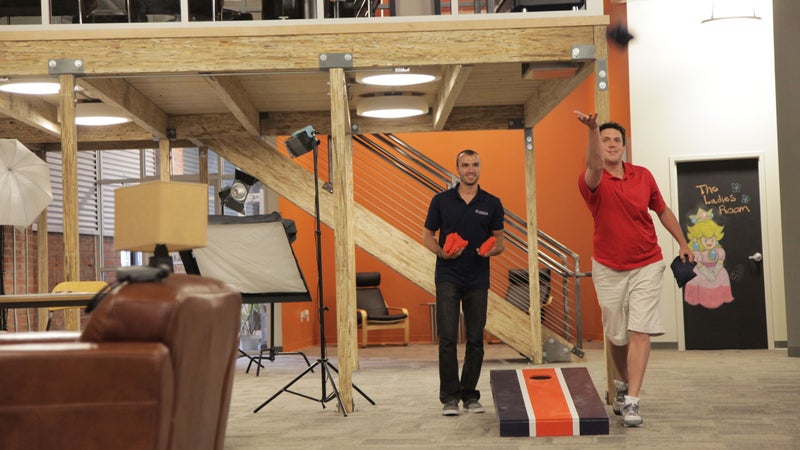 A strategic marketing and sales agency, Insivia excels in driving prospects (through social media, and search optimization), converting leads (where great Web design and A/B testing comes in), and closing sales (ecommerce tools). The agency strives to be passionate, and the staff is fueled by the open, collaborative workspace, green patio space, and, naturally, the occasional air hockey diversion.
Location: Cleveland, Ohio
Number of Employees: 15
Company Culture: Insivia's dog-friendly offices, set in the historic Cleveland Agora Theatre Complex where bands like Bruce Springsteen, U2, and ZZ Top made early appearances, are framed with a glass garage door and extend to an outdoor patio. The beer-stocked fridge, air hockey table, skee-ball table, and cornhole boards keep everyone relaxed during breaks. Fruit and veggies are always on hand, and employees hold monthly lunch parties or take lunchtime walks through Cleveland's Midtown district. The weekly Thursday happy hour keeps the week flowing and team members gelling.
Sweet Perks: Insivia's time-off policies are almost too good to be true. Full-time staffers get unlimited paid time off and the option to work home from home all summer. At the end of each quarter, employees also earn bonuses as long as the company hits its revenue targets.
Giving Back: The agency regularly donates money and services to the Leukemia and Lymphoma Society. Plus, employees train together for races like the annual MidTown Cleveland Healthline Classic 10K.
In Their Own Words: "Whether it's getting involved with graphic design, strategic planning, or learning to code features of a website, Insivia encourages individual growth and aligns everything with my personal goals, and that to me is what makes this place so great." —Matt Benedetti, project manager
43, Butler, Shine, Stern & Partners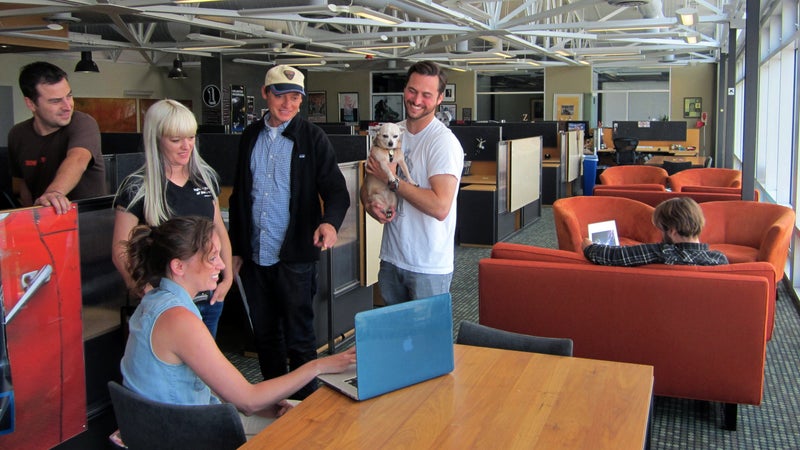 You haven't heard of BSSP, but you've seen its work. We promise. Remember the T-Mobile Super Bowl ad featuring Tim Tebow? All BSSP. Or the Save the River campaign featuring Will Ferrell? Again, Colorado can thank BSSP. How is this agency so creative? We like to think it has to do with its front yard, which abuts the water, and employees' tendency to blow off steam by kayaking in the bay near Angel Island State Park and Alcatraz.
Location: Sausalito, California
Number of Employees: 141
Company Culture: This ad agency is about as far from Madison Avenue as it gets (other than its New York office, that is). It has boats and seals in its front yard and fishermen, kayakers, and artists as neighbors. Its office was a World War II-era Liberty Ship manufacturer that still bears the tracks where ships pushed into Richardson Bay. Make no mistake: These folks work hard. But that's exactly why they get four weeks of annual vacation, monthly summer concerts in the parking lot with beer and food trucks, and paid volunteer days.
Sweet Perks: A partnership with Sea Trek Kayaking Center means anyone on staff can blow off steam in the bay free of charge. And new mothers get a full 12 weeks of paid maternity leave.
Bonus Points: This year, seven teams of employees competed at the Escape from Alcatraz Triathlon. CEO Greg Stern did the whole thing alone. The team also builds houses with Habitat for Humanity, packs food for the needy with the Marin-San Francisco Food Bank.
In Their Own Words: "The word collaborative is thrown around by companies a lot, but BSSP is a place that actually lives up to it. It's a place where people respect one another and truly value each other's opinions and ideas." —Samantha Bartelloni, account supervisor
42. Datalogix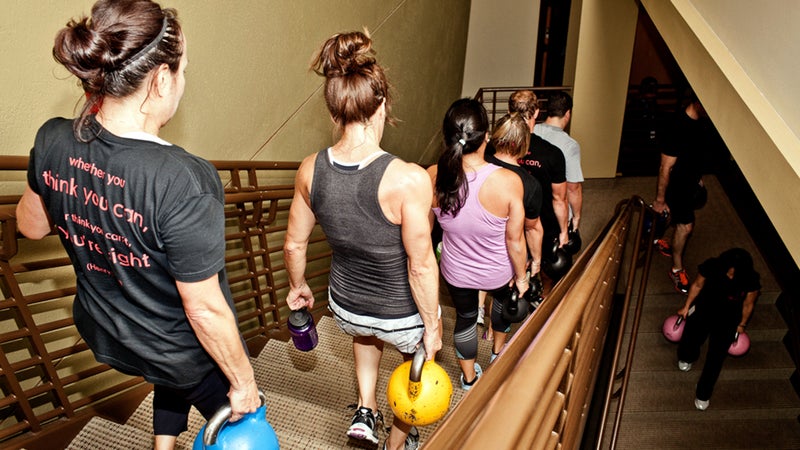 To interest advertisers, social networks have to prove they can drive sales with stories. That's where Datalogix comes in. You buy Axe deodorant at the store with your loyalty card. Datalogix partners with Facebook so one of Axe's competitors can purchase ads targeted to you. It's a game-changing service that convinces advertisers to spend their money where it actually makes a difference. When the staff isn't reinventing advertising, they're bonding through health: walking meetings, an on-site CrossFit box, unlimited "recharging" time, bike commutes, and weekly farm-to-table barbecues keep the crew tightly knit and motivated.
Location: Westminster, Colorado
Number of Employees: 430
Company Culture: On-site fitness programs include CrossFit, yoga, kickboxing, self-defense, nutrition seminars, and Zumba. The company hosts weekly farm-to-table barbecues and an annual field day for staff to get outside and romp with kickball, dodgeball, ultimate Frisbee, and calisthenics. Since the office happens to sit right between sweet dirt trails, a golf course, and a rec center, staff can pick their poison.
Sweet Perks: This company takes its workforce seriously. It boasts an unlimited vacation policy and even has a full-time dean to invest in employee education.
Giving Back: Last year, the agency partnered with local charity A Precious Child, and staff sponsored 60 children in need to fulfill their holiday gift wishes.
In Their Own Words: "When I accepted a position with Datalogix, I worried I would feel too removed from the mountains and the outdoors and looked at the opportunity as a test of how long I would last in a company culture. I was pleased to discover that I entered into a world of like-minded people who both value their leisure activities and encourage others to continue to pursue their passions outside of work." —Kalin Jaffe, senior analyst
41. TrainingPeaks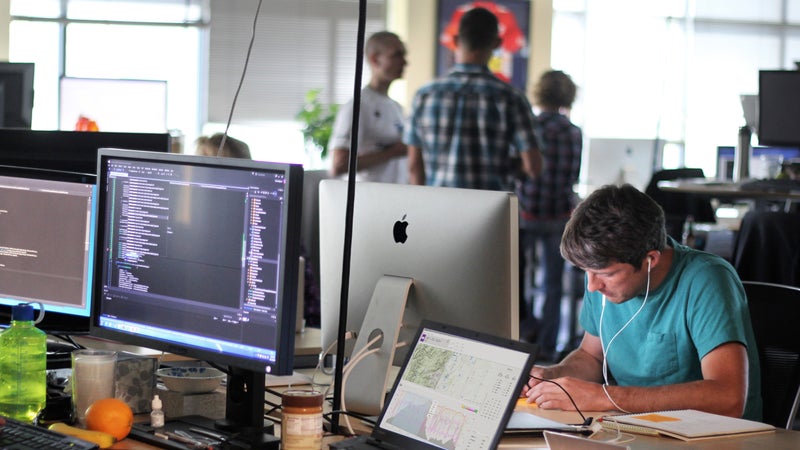 Have a coach? Chances are she uses TrainingPeaks to help you hit new personal bests. The company provides field-leading Web, mobile, and desktop training products to plan, track, and analyze workouts for athletes and coaches, including Tour de France teams, Ironman champions, and Olympians. The company is filled with fitness-obsessed people, like co-founder and chief evangelist Dirk Friel, himself a former pro cyclist. With a fully functional workout room stocked with state-of-the-art equipment and an athlete recovery room, work and working out go hand in hand.
Location: Boulder, Colorado
Number of Employees: 47
Company Culture: It's all about health, fitness, and quality workouts. The Pain Cave, the state-of-the-art on-site gym at TrainingPeaks, helps these fitness nerds train for monthly fitness competitions—longest plank, fastest pedaler, fastest runner. The top-tier equipment includes bike trainers, treadmills, weights, kettlebells, and Vasa swim ergometers. Look out for competitive lunchtime runs, rides, and a lot of shaved legs. After workouts, employees take to the athlete recovery room with, among other things, NormaTec compression boots.
Sweet Perks: Employees get $1,200 annually to spend on anything fitness related—and too many gear discounts to count. Flexible schedules. Fitness-obsessed co-workers plus all the right support: bike storage, locker rooms, towel service, showers.
Giving Back: TrainingPeaks financially supports Bicycle Colorado and participates in food drives for Community Food Share. The crew also helps repairs trails and is part of the local adopt-a-highway program.
In Their Own Words: "Our number one operating value is passion for what we do, balance in how we do it. We go out of our way to make sure that our employees have everything they need to work hard and play hard." —Keith Watson, COO
40. Sterling-Rice Group
Sterling-Rice Group is a brand-building firm that specializes in consumer insights, business strategy, innovation, advertising, and design. Its work has a bent toward brands that promote healthy living—clients include Qdoba, Pur, Bolthouse Farms, and Earth Balance.
Location: Boulder, Colorado
Number of Employees: 111
Company Culture: The firm's recently renovated downtown building near the Boulder Creek Path is filled with natural light and features sweeping views of the Flatirons. In the chef-staffed commercial kitchen, employees can work up meals and tinker with concepts for Sterling-Rice Group's many food-focused clients. There are regular on-site yoga classes; in the winter, the courtyard is converted into an ice rink. The company covers employee entrance fees to numerous athletic events and even gives extra days off to take part in several of them, including a three-day bike ride in July. The staff is loaded with creative and intrepid characters. Among them is company president Buddy Ketchner, who has traveled to more than 40 countries and spent nine days on an adventure motorcycling trip in Ecuador, following a route from the High Andes to the Amazon.
Sweet Perks: Weekly massages, passes for Boulder public transit, and free tickets to athletic events and music concerts.
Bonus Points: For this creative crew, surprise perks are a constant: espresso carts, Cinco de Mayo parties, opportunities to throw pies in leaders' faces (for charity, of course), and a recent National IPA Day celebration with a slew of hoppy brews.
In Their Own Words: "The difference is in our people; we are highly collaborative and share a diverse set of perspectives. There's a unique energy in the way we work together." —Lance Reed, creative director
39. Crestone Capital Advisors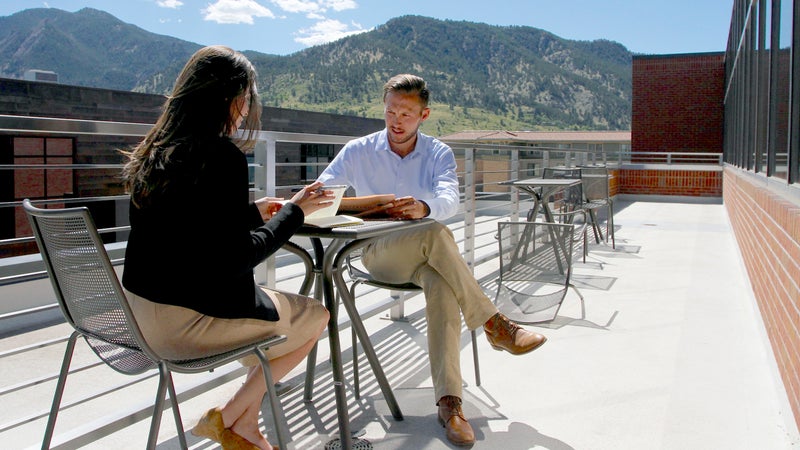 Crestone is an employee-owned fiduciary wealth management firm that offers global investing expertise and comprehensive service to entrepreneurs, CEOs, multigenerational families, and foundations with soaring net worths. Crestone seeks to deliver clients peace of mind in their financial lives by combining a sophisticated investment platform and a high-touch service model with exceptional security, transparency, and comprehensive reporting.
Location: Boulder, Colorado
Number of Employees: 36
Company Culture: Crestone's current downtown office is steps away from Boulder Creek and looks out at the nearby mountains. New offices under construction will include locally sourced materials, active rooftops (that is, solar energy), and a high-tech automated parking system. The company is stocked with badass athletes (ultrarunners, elite cyclocross racers, backcountry skiers) and fun-loving people: In the summer, there are regular happy hours with cornhole. The staff also takes dirt biking trips and cat-skiing adventures.
Sweet Perks: Yearly staff trips to support an organization, like this year's trip to Tijuana to build homes for ColoradoUplift. All full-time employees receive laptops and iPads as part of an effort to support paperless meetings and presentations.
Bonus Points: The CEO (skier) and president (snowboarder) are board members of Steamboat Powdercats, a backcountry skiing company that operates at Buffalo Pass, near Steamboat, Colorado (about three hours from Boulder). The upshot: regular cat-ski ski trips!
Giving Back: Every year, a Crestone team completes a challenge in support of a non-profit organization. Last year, a team rode the Copper Triangle, a strenuous 78-mile loop connecting Fremont Pass to Tennessee and Vail Passes, to support and raise money for First Descents, which provides outdoor adventure experiences for young adults with cancer.
In Their Own Words: "The people! Crestone has created and fostered an incredible culture of entrepreneurial (and fun) individuals that includes our internal team as well as the clients and professionals that we engage with every day." —Taylor Davison, client advisor
38. Pellucid Analytics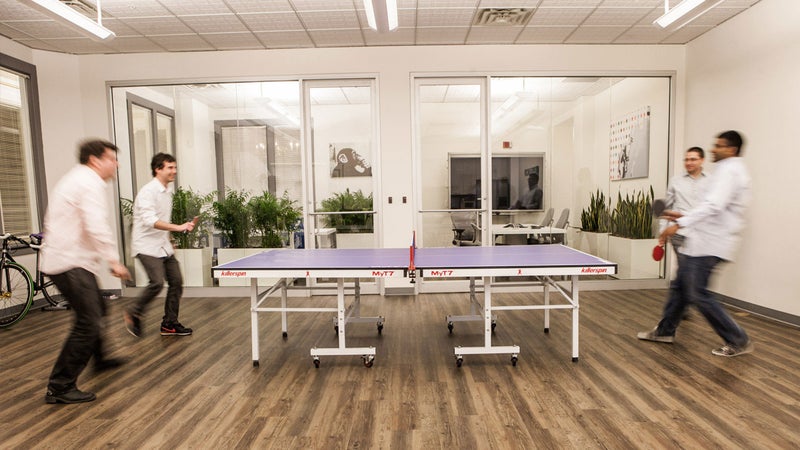 Simply put, Pellucid fixes pitch books for investment bankers with an iPad- and browser-based platform. The founders cut their teeth on Wall Street before mellowing out in the Rockies, which is why staff strike a balance between hard work and sufficient play—be it on the nearby Boulder Creek bike and running path or the Wii on the office big screen.
Location: Boulder, Colorado
Number of Employees: 41
Company Culture: Pellucid HQ is just miles away from the nearest ski resort (Eldora Mountain) and close to a trail system . The newly renovated office offers employees large workstations and comes equipped with table tennis, pullup station, catered lunches, 80-inch LED gaming TV, Wii, an electronic whiteboard, and—hey, why not?—a company fixed-speed bike. The company fields an indoor soccer team in a local league and recently sent a squad to compete in a dodgeball tournament. Energy bars and organic fruit are provided daily, and lunch is catered twice a week. Regular company outings include bowling and bubble soccer (exactly what it sounds like). Pellucid follows a flat personnel structure.
Sweet Perks: Unlimited paid time off, plus a monthly stipend for active lifestyle pursuits and significant annual funds for education. All employees also get a free pass for local public transportation.
Giving Back: The team makes furniture donations to local schools and volunteers to prepare Christmas lunches in Denver.
In Their Own Words: "More and more people are telling me this is the best job they've ever had. And frankly, this is the first place I've worked where that could actually be true. Now it's up to all of us to keep it that way." —Adrian Crockett, Co-founder and CEO
37. Foothold Technology
Foothold offers AWARDS, Web-based record-keeping software for human service providers that tackles tasks like scheduling and alerts, audit reports, facilities maintenance, and automated billing for 850 agencies nationwide. While the Big Apple might not seem like the best place to get outdoors, the company keeps active with fitness challenges, two nearby city parks, and jostling elbows with the Manhattan masses on lunchtime rides and runs.
Location: New York, New York
Number of Employees: 50
Company Culture: A cool open-space loft in Greenwich Village, Foothold's floor used to house a jazz musician, and its bathrooms are covered floor to ceiling in mirrors (jury's out on whether the two are related). They've got one guy in his 30s still playing rugby, a marathoner in her 40s, and another guy in his 20s bumping people with his bike in the cramped NYC elevator. Staff can hit Union Square Park (two blocks away) or Washington Square Park (five) for lunch break strolls to boost their numbers for the company Fitbit step challenge. Prize: $500 and a gift certificate to a sporting goods store.
Sweet Perks: Unlimited vacation once you hit your 10-year anniversary.
Giving Back: The whole company took an afternoon to refurbish an elementary school garden in Bed-Stuy, Brooklyn, clearing weeds and building flowerbeds with GrowNYC.org.
In Their Own Words: "The founders have worked hard to make Foothold the kind of place that we want to work. We don't like a lot of bureaucracy, so we try not to have it. We treat employees with respect, so we get it back. We like to have fun. We like to eat sandwiches, so we order a lot of them for all the staff, from the best places in NYC, on Sandwich Fridays." —Nick Scharlatt, co-founder
36. SolidFire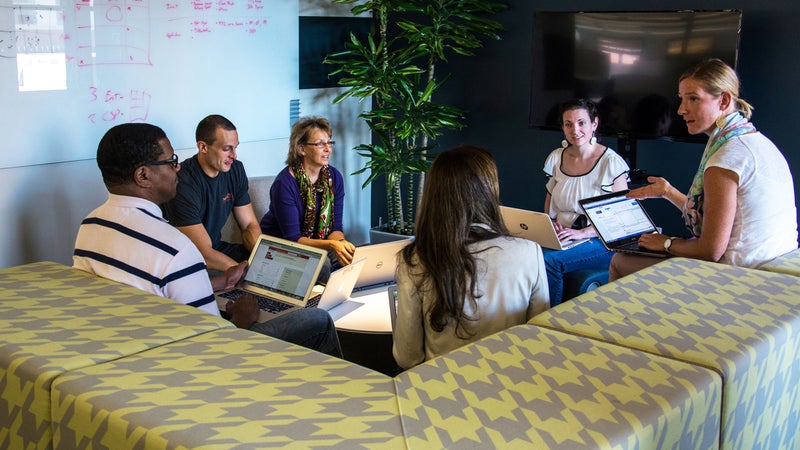 SolidFire builds cloud-based, all-flash storage systems for next-generation data centers to deliver high-performance applications with fully automated management and scale-out capabilities.
Location: Boulder, Colorado
Number of Employees: 250
Company Culture: SolidFire's Boulder digs offer easy access to the Front Range. So, yes, there's plenty of Lycra in the office. The crew hits the trails around Mt. Sanitas, just a mile away, for weekly hikes, bikes, and runs. When they return to the office: catered lunches and happy hour flash mobs (dancing and drinks). On Wednesday mornings, a group meets at the park for boot camp workouts, and there are company softball and kickball teams. SolidFire cyclists can be seen sporting the company's custom kits from local company Panache Cyclewear, and in case anyone's hankering for more, there's talk of transforming the conference room into a workout-yoga studio. Which is, you know, more fun than conferencing.
Sweet Perks: Unlimited paid time off and 100 percent covered healthcare costs, which is good if you get overzealous on the slopes at the company-paid holiday party in Vail. Paid gym memberships help staff get workouts in when the weather's off, which in Boulder is not terribly often. Through the company's Alternative Transportation Incentive Program, staff get $75 per month to forego their parking pass to walk or bike to work instead.
Giving Back: SolidFire staff participate in community cleanup days, frequent (highly oxygenated) blood drives, canned-food drives, and coat donations.
In Their Own Words: "I love working at SolidFire! Our company has an energy of forward momentum, which is absolutely contagious to everyone who works here." —Kelsi Cooke, marketing events manager
35. Foundant Technologies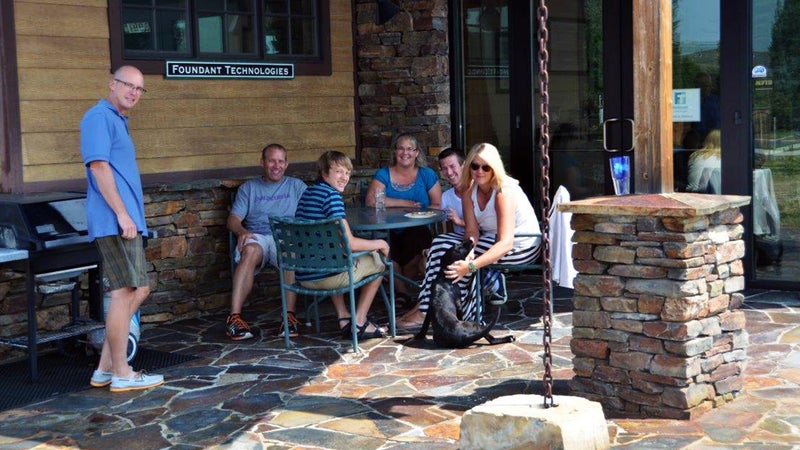 Foundant offers the Grant Lifecycle Manager, an online grants management program that streamlines the application process, application review, and annual audits for some 600 domestic and international grantmakers.
Location: Bozeman, Montana
Number of Employees: 25
Company Culture: Base a company in Bozeman and you're almost guaranteed to attract serious outdoor athletes. On staff are a number of former elite skiers (including one who competed in the Junior Nationals in cross-country skiing), five former NCAA athletes, and one of Montana's top-ranked tennis players. Management's expectation is that this crew of hard-charging employees will get work done, which is why they allow employees to make decisions on when, where, and how they want to work—or take a break. The office recreation area features Ping-Pong, darts, and mini golf, plus yoga classes to keep staff active. Lunchtime means disc golf time—the company recently formed a league—and the office sits next to a health club where staff have free membership. When the company meets revenue targets, everyone goes on a free office trip to, say, San Diego for four days. Each quarter, three staffers get an MVP award that banks them $500, and one percent of annual profits go to local nonprofit organizations.
Sweet Perks: Unlimited vacation policy, paired with a $1,000 reimbursement program to encourage staff to take time away from the office.
Giving Back: The company recently launched its Pay It Forward policy, which allows employees to expense any random acts of kindness while traveling for business. Staffers are encouraged to dedicate 40 business hours a year to volunteer with their favorite charity or local organization.
In Their Own Words: "It's a place where everyone supports you to be the best you that you can be, both professionally and personally. The fun, flexible, laid-back culture also make coming to work each day a new adventure." —Sammie Holzwarth, client success manager
34. The Frontier Project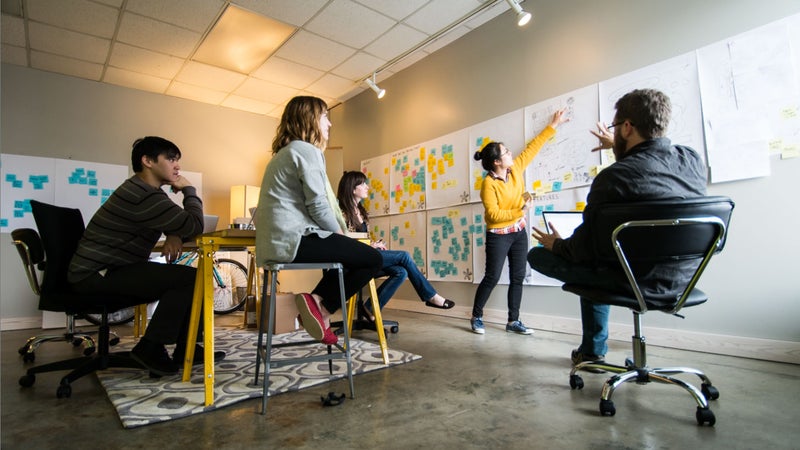 The Frontier Project is a consulting firm for the publishing, healthcare, corporate event, and learning industries that likes to get its hands dirty with more than simple advice. The cyclists, nutrition nuts, surfers, marathoners, and mountain climbers who work here aspire to be the most sustainable professional services firm in the world.
Location: Richmond, Virginia
Number of Employees: 31
Company Culture: The staff works in an open floor plan; employees tend to camp out at communal tables or desks built from doors and sawhorses and topped with plants and locally made candles. When they're not immersed in impassioned creative sessions, they're off running marathons, cycling, teaching yoga, becoming certified health coaches, climbing Kilimanjaro, or surfing Virginia Beach. (A flexible work schedule helps make it all possible.) To get around town, employees share a community bike. As a team, Frontier Project staff compete in races like the Monument Avenue 10K and the Sports Backers Corporate 4-Miler. One staff member is a certified yoga instructor who leads workshops in business settings, presumably to the advantage of her co-workers.
Sweet Perks: The company covers 50 percent of employees' membership fees at a local gym and offers an on-site personal trainer who gives free one-hour group sessions four times a month.
Giving Back: Every quarter, the Frontier Project donates $10,000 in consulting services to a local nonprofit. The company also donates $5 to Bike Walk RVA for every employee's round-trip bike commute, volunteers to work the polls on election days, and volunteers time to local nonprofits with Greater Richmond Hands On.
In Their Own Words: "I have never before worked in an environment where I respected everyone and also enjoyed their company." —Becky Crump, consultant
33. Intrepid Travel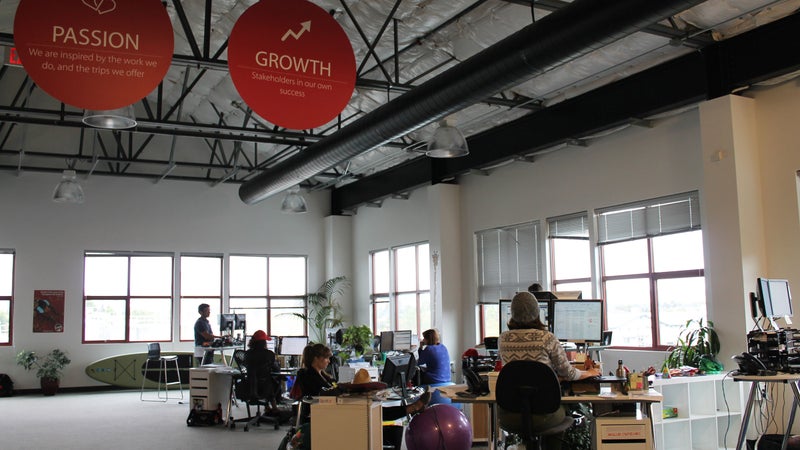 Intrepid Travel is a global leader in adventure travel, operating some 1,000 small-group trips in more than 100 countries around the world, with an eye toward ultralocal experiences and responsible travel. Clients travel in small groups, stay at locally owned lodges, and eat at locally owned restaurants to support the economies of the places they're visiting. Intrepid was one of the first companies in the sector to introduce carbon-offset trips.
Location: Petaluma, California
Number of Employees: 18
Company Culture: The Intrepid building radiates with natural light and overlooks the Petaluma River and the hills of Sonoma County, with a mini garden in the front window. Staff walk around downtown Petaluma (the setting for American Graffiti) for farmers' market harvests, while regular team-building activities like Redwoods zip-lining, bike rides, and murder mystery dinners (think Clue minus Tim Curry) keep the fun going. A flexible work schedule allows employees to take advantage of the region's top-flight mountain and road biking, paddleboard on the Petaluma River (literally in the company's backyard), or take long ski weekends to Lake Tahoe.
Sweet Perks: Steep discounts on Intrepid tours, plus annual "familiarization trips" that allow staffers to get to know the company's international employees in amazing destinations like Burma, Kenya, Galapagos, and Morocco.
Giving Back: Staff clean up rivers and participate in Bike MS Waves to Wine, a two-day, 104-mile ride through rolling hills from San Francisco to Sonoma. The company's nonprofit arm, the Intrepid Foundation, supports NGOs around the world.
In Their Own Words: "A casual work environment, plus cupcakes or other goodies to celebrate birthdays (we have a few great resident bakers!) make this a fun place to work." —Mandy Morrissey, U.S. sales manager
32. C1S Group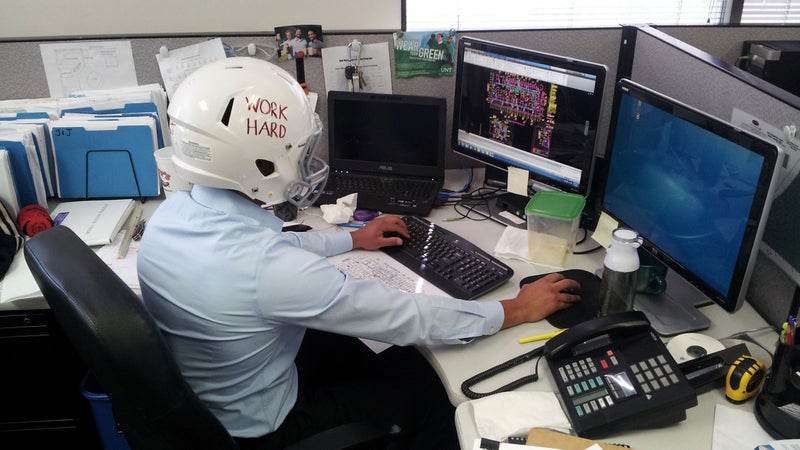 C1S Group, an engineering and construction management firm serving commercial and industrial clients, aims to improve the way facilities are run, with energy-efficient solutions and environmental stewardship.
Location: Dallas, Texas
Number of Employees: 21
Company Culture: The C1S office backs up to a city park with a pond and walking trail ideal for lunchtime strolls or staff meetings when the fancy strikes. Tired of sitting all day? No worries here. Standing cubicles are available for those who want them and five office workout stations are equipped with hand weights, medicine balls, and resistance bands so staff can stay active. C1S also has standing-only "collaboration stations," set up on elevated surfaces, to encourage people to gather for quick face-to-face meetings. Friday breakfast tacos fuel company-sponsored fun runs, and frequent celebrations include chili cook-offs, Halloween costume contests, and Thanksgiving potlucks. Led by the C1S Motion Team, staff train together for local races like the Oktoberfest 5K and the Wildcat Prowl 5K, though hardly anyone can keep up with one of the owners, a Coeur D'Alene Ironman.
Sweet Perks: Summer hours from Memorial Day to Labor Day (compressed workweek with a noon departure on Fridays), 22 paid days off per year, and the gift of adventure every Christmas. Last year, every employee received a $300 gift card to Cloud 9 Living, which offers skydiving, sailing cruises, hot air balloon rides, race car driving, and many other thrilling experiences.
Giving Back: At the annual Green Apple Day of Service, C1S employees volunteer with public schools to improve their green space, working on with projects like outdoor learning centers, community gardens, playgrounds, and landscaping.
Bonus Points: C1S's office has achieved LEED Gold certification from the U.S. Green Building Council. All of the space's appliances are Energy Star rated, all cubicles were purchased used, and all paper products are minimum 30 percent recycled content. Additionally, one of the company's key business metrics is the amount of energy savings generated by their engineering and construction projects. They track this on a scorecard, calculated in kilowatts saved, and communicate it quarterly to the entire company.
In Their Own Words: "If you make a sale, you get to ring this obnoxiously loud cowbell!" —Julie Strong, CEO
31. Elgee Rehfeld Mertz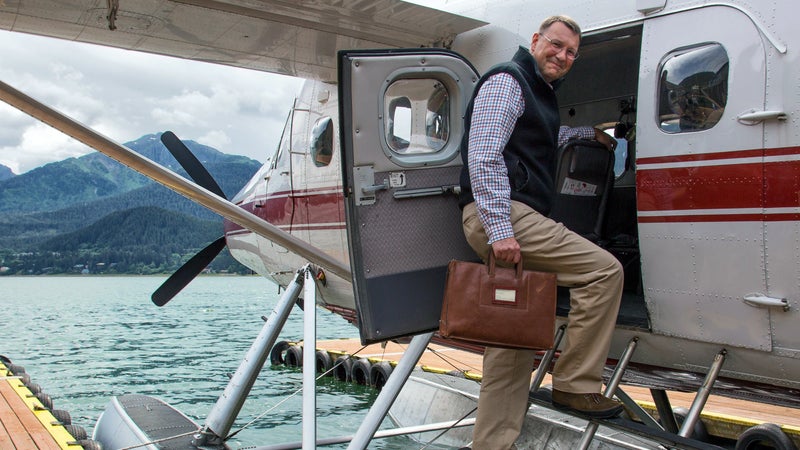 Elgee Rehfeld Mertz is a full-service public accounting firm that handles tax compliance and accounting as well as advisory service for both government and private clients in the Last Frontier. Sound fun? The firm insists it is. Credit that to a crew of outdoor lovers paired with the King Kong of adventure playgrounds: Alaska.
Location: Juneau, Alaska
Number of Employees: 20
Company Culture: Taxes: sometimes boring (sorry, guys). The ERM folks: not so much. Staff activity days include sea kayaking, whitewater rafting on the Mendenhall River, zip-lining, and snowmobiling in remote Nome. Employees get free passes on the scenic Mount Roberts Tramway and free concert tickets. The office is located in the Mendenhall Valley, five miles from the Mendenhall Glacier and a slew of Coast Range hiking trails and wild streams loaded with salmon and trout, and adjacent to the Inside Passage, which offers world-class sea kayaking among whales and porpoise. There's also a staff softball team.
Sweet Perks: Flexible schedules make it easy to jump in the heli for impromptu powder days. Not to mention all the zip-lining, snowmobiling, bush hiking, and water play you could ask for.
Giving Back: ERM offers pro bono accounting services to a host of Juneau nonprofits.
In Their Own Words: "We have clients all over Alaska, which results in a bit of an adventure feel to work travel–especially when traveling via floatplane or auditing up in the Arctic Circle." —Sam Roche, senior accountant
30. Team One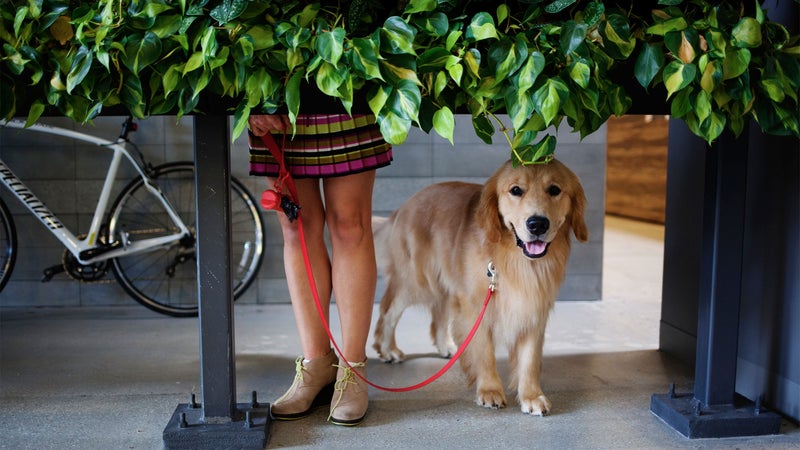 Team One is a full-service ad agency offering marketing, graphic design, social media planning, and PR. The company helps launch ideas, brands (including Lexus, in 1989), products, and careers. Yet it's nothing like your typical your typical Madison Avenue agency. Think monthly beer and cake parties, plus office concerts with big-name bands.
Location: Los Angeles, California
Number of Employees: 401
Company Culture: Team One's dog-friendly headquarters is just two miles from the beach in Playa Vista and include an on-site volleyball court and a HUMAN Healthy Vending Machine packed with healthful foods and drinks. Staffers are granted a $200 yearly stipend for fitness endeavors and have access to an office gym and weekly on-site yoga classes. The crew here sets aside plenty of time to party. Recent examples: This year's World Cup matches kicked off with pro samba dancers, plus beer and food from competing countries and a concert that included bands from this year's Coachella lineup.
Sweet Perks: Every year, five to seven rockstar employees get an extra weeklong paid vacation—and $5,000 to help make sure they really enjoy it.
Giving Back: Staff cyclists participate in Fireflies West, a six-day, 550-mile charity ride up the California coast. The company also hosts Do Good Fridays, where employees are encouraged to donate or volunteer their time during business hours for a selected charity. And there's an annual Day of Good, in which the Team One office shuts down and invites clients to join the staff in volunteering with a local charity or nonprofit.
In Their Own Words: "I watched three Coachella artists perform live in our communal space! If that's wrong, I don't want to be right." —Nathan Smith, group account director
29. Colle+McVoy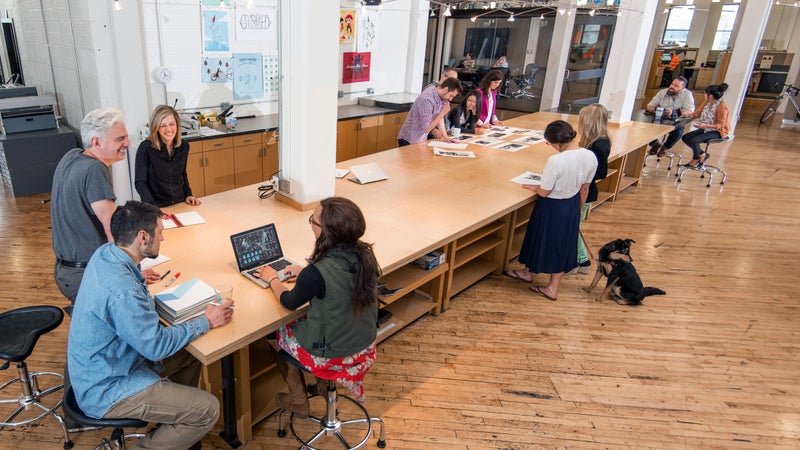 Brands need facelifts, too, and Colle+McVoy is the expert in modernizing iconic companies like Cannondale, Caribou Coffee, and Indian Motorcycle through media planning and buying, Web development, and brand strategy. The company is staffed with bikers, kayakers, mountain climbers, triathletes, and runners who love playing hard in the Land of 10,000 Lakes as much as they love the freedom inspire others.
Location: Minneapolis, Minnesota
Perfect For: Working hard, playing hard
Number of Employees: 240
Company Culture: Colle+McVoy has listening parties (read: staff-DJed workdays). Weekly yoga and Pilates classes. Summer rooftop music series headlined by local bands. Winter rooftop snowball fights. The customized Friday beer trike. A "Zen Den" with yoga mats and meditation pillows. Daily foosball and Ping-Pong. 'Nuff said.
Sweet Perks: Weekly shiatsu massages, rooftop shenanigans, the Friday beer trike. The hours are also great: The office is closed between Christmas and New Year's, and the company adopts short-Friday hours each summer. Employees are eligible for an annual stipend through the company's wellness program to fund a fitness-related purchase, like a ski pace pass or race registration fee.
Giving Back: The agency's staff is an eclectic crew. Example: the bike commuter who braves minus-20-degree winters. So, when Minneapolis public schools shut down for days during last year's extra-frigid winter, Colle+McVoy transformed its cafe into the C+M Polar Vortex Day Camp where kids huddled together for pizza, movies, arts, and crafts. It's how they do things. When Typhoon Haiyan hit the Philippines earlier this year, the company hosted an impromptu, staff-led fundraising event called Tacos for Typhoon to donate to the relief effort.
In Their Own Words: "Community giving is ingrained in the Colle+McVoy culture. From long-term partnerships with organizations like Free Arts Minnesota and Greater Minneapolis Crisis Nursery to employee-led fundraisers, like the Tacos for Typhoon lunch, our purpose-driven commitment feeds the souls of employees and enables the company to give back." —Christine Fruechte, CEO
28. Emma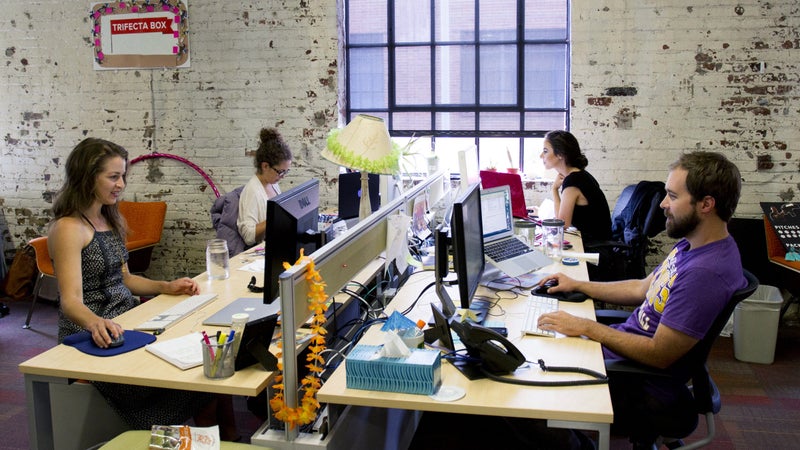 Emma's email marketing software and personalized services have helped more than 45,000 clients worldwide, including pro chef Mario Batali and Bridgestone Tires. The company has a sense of humor to boot: It designed office "pods" in the shape of Nashville landmarks, and it encourages a staff-wide obsession with Ping-Pong.
Location: Nashville, Tennessee
Number of Employees: 127
Company Culture: When Emma moved into its new offices—the renovated Trolley Barns of Rolling Mill Hill—two years ago, the conference rooms were, well, boring. So the company divided staff into eight teams, each tasked with redesigning a pod based on a Nashville landmark. Staff chow down three times a week on free lunches provided by local restaurants, and to keep waistlines trim, employees have their pick of three office bikes.
Sweet Perks: A monthlong sabbatical after five years at the company to, say, hike the Appalachian Trail, ride through Germany's Rhine Valley, or tour America's national parks.
Giving Back: Emma has raised thousands of dollars for multiple sclerosis research (the team frequently rides in the 110-mile MS Society's Ride to Jack & Back from Franklin to the Jack Daniels Distillery in Lynchburg), planted trees around town with local nonprofit SoundForest, partnered with St. Luke's Community House, including sponsorship of biweekly Meals on Wheels, refurbished bikes for underprivileged kids, and offered free lifetime service to 25 nonprofits. Plus, each staffer gets $250 every winter to donate to their favorite charities.
In Their Own Words: "When you set out to create an environment that is full of brilliant, charismatic people who champion collaboration, you build a space that doesn't feel like work. It feels like your favorite record. It's enchanting." — Jason Bynum, director of engineering
27. GeoEx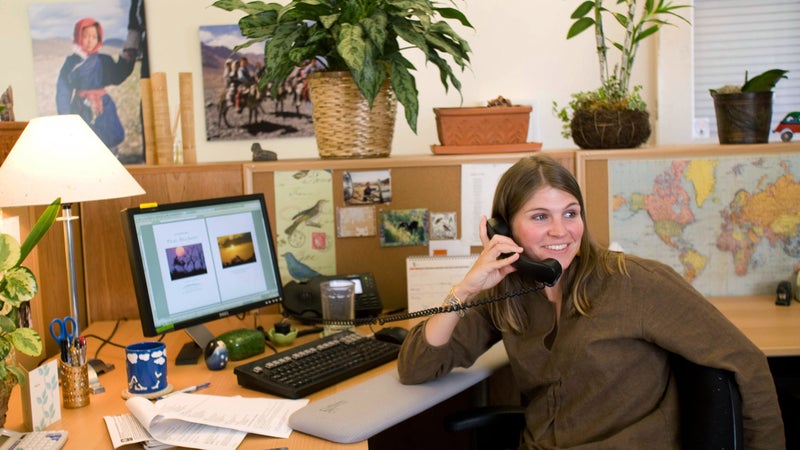 When you're planning a trip to a remote, challenging destination, who do you call? GeoEx. The first U.S. company to convince the Chinese government to allow group travel in the Tibetan backcountry, GeoEx leads customized tours to more than 100 spots around the world, including Asia, South America, Africa, the Middle East, and more. These travel pioneers are smitten with adventure—a lifestyle they encourage back home in the company's California-based offices.
Location: San Francisco, California
Number of Employees: 49
Company Culture: GeoEx headquarters is located in the Presido Thoreau Center for Sustainability, a former military hospital that's now part of the Golden Gate National Recreation Area. Staff chill out with subsidized yoga and meditation classes and drinks from the cocktail cart, while a culture committee organizes frequent lunchtime hikes, SUP and kayak trips, and film screenings. Teams host themed parties every quarter—the South American team put on a Brazilian party for the World Cup, with caipirinhas and samba dancers.
Sweet Perks: An annual work "familiarization trip" to one of the company's far-flung destinations. Staff experience the trip just as a guest would, but they also get the chance to scout new experiences, find new trip points of interest, and discover entirely new trip destinations.
Bonus Points: Once a quarter, team members nominate and reward a high-performing staff member with a free plane ticket to anywhere in North America. Plus, the company donates time, money, and support to get employees into the field where it operates trips: Time in the office is rewarded with time out of it.
In Their Own Words: "Not only does GeoEx fuel my passion of wanderlust, but every day I get to work with some of the best people I've ever met!" — Alysa Pakkidis, social media and digital marketing manager
26. TrackVia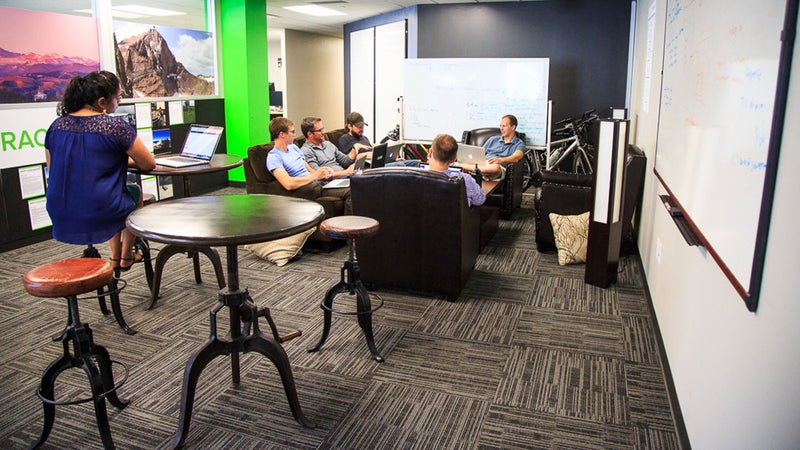 Don't let the IT guy read this. TrackVia aims to empower nontechnical people (that's you) to build business applications tailored to their unique needs—tracking sales, managing projects, eliminating paperwork, and collecting data. The advantage: It's faster and less expensive than working with an outside partner, and the end-product is customized to your exact needs.
Location: Denver, Colorado
Number of Employees: 47
Company Culture: TrackVia calls Denver's hip LoDo neighborhood home and features a lobby mural painted by a local artist. The staff's into biking, which you might guess by the 30-strong array of office bikes at any given time (including winter). To keep fresh on outdoor pursuits, they hold monthly "Lunch-n-Learns" on skiing, hiking, and camping. Each employee sets his or her own schedule (including paid time off), and the whole office celebrates company milestones with events like go-kart racing.
Sweet Perks: Annual $500 scholarships to pursue your personal passion, be it building your own beehive, donating to animal shelters, or dirt-track auto racing. The company also subsidizes gym memberships for up to $75 a month.
Giving Back: Following the Arapahoe High School shooting last December, one employee sent his $500 Personal Passion check to the school and its victim.
In Their Own Words: "If you've ever worked at a company that tells you how much vacation to take, when to show up, what to wear, and you can't make a decision without 10 approvals, then you know how much of a drag that is. TrackVia treats employees like the highly educated, skilled grown-ups that they are and empowers them to do awesome stuff." —Charles Var, vice president of marketing
25. Wilderness Adventure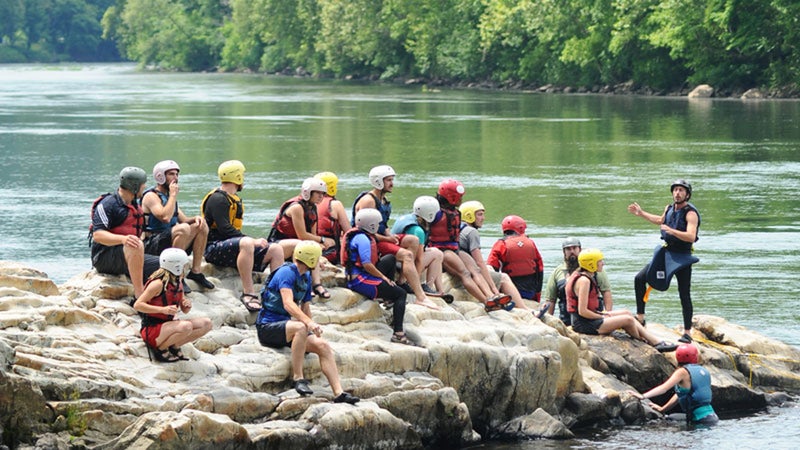 Operating year-round and located in the Blue Ridge Mountains, Wilderness Adventure at Eagle Landing (WAEL) is an adventure camp, conference, and retreat center. Unlike many organizations, WAEL offers a series of customizable programs ranging from summer camps and weddings to weeklong school trips and gourmet wine-and-dine events. The goal? Build self-confidence and foster leadership through character-building educational experiences. Where they do it: a Roanoke base camp that's a mini-paradise.
Location: New Castle, Virginia
Number of Employees: 25
Company Culture: The base camp for this sylvan retreat is both a 1800's farmhouse and a staff-built log cabin featuring a wraparound porch, huge stone fireplace, Wi-Fi, and satellite TV. But the real fun happens in the camp's 500 wild acres, replete with ropes courses, a 900-foot zip line, climbing wall, miles of trails, and a canoe pond. Plus, opportunities to climb, cave, and mountain bike abound in the neighboring Jefferson National Forest. Employees can use kayaks, bikes, and any other gear on the property during their daily paid 30-minute workouts.
Cred: Founder Gene Nervo is a retired Marine colonel with 35 years of service plus another 15 years as a Boy Scout leader. Staff fall so hard in love with the place after all their summer adventures that many have settled in nearby Roanoke, running or working for local businesses like UnderDog Bikes, Roanoke Parks and Recreation, Roanoke Outside, and River Rock Climbing Gym.
Sweet Perks: Pro deals (50 percent off) on any new outdoor gear, from mountain bikes to sleeping bags.
In Their Own Words: "We're able to bring our pets to work, and most days we have around six staff dogs on property, the smallest being a miniature poodle, and the biggest is a great Pyrenees." —Molly Hagan, director of operations
24. Ecology Project International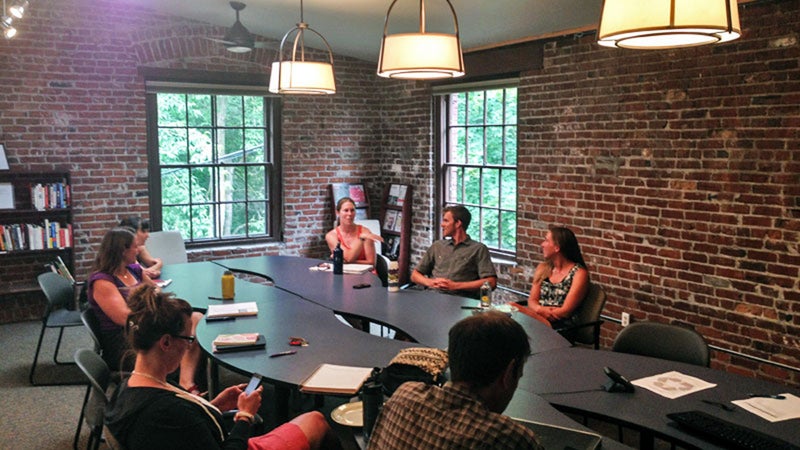 What do you get when you combine field science with travel to remarkable places? Ecology Project International, a nonprofit educational organization focused on creating the next generation of conservationists. In the past 14 years, more than 15,000 students from around the globe have enjoyed hands-on instruction in six countries: Costa Rica, Galapagos Islands, Baja, the United States (Yellowstone), Panama, and Belize. EPI's exquisite Missoula setting (yes, a river runs through it) might help explain its employees' passion to preserve the outdoors.
Location: Missoula, Montana
Number of Employees: 18
Company Culture: Located in the heart of Missoula, just steps from the Clark Fork River and its riverfront trail, the EPI headquarters keeps tubes handy for summer lunchtime floats and office bikes ready for spontaneous rides. (The bikes are housed in a new student-designed shelter.) The historic office used to be a 1900-era railroad warehouse; now it's greened-out with 10 solar panels, recycling station, energy-efficient windows, drinking filtration system, and native plants watered via a drip irrigation system. Out of the office, employees keep it real with meetings on the river, group hikes, and powder days.
Sweet Perks: Discounted products and a month-long sabbatical after seven years with the company. And, for the stressed, year-long fitness, meditation, and relaxation classes.
Giving Back: EPI supports twice-monthly Ecology Club of Zootown meetings where local teens come together to learn about conservation, ecology, and the environment. They also get their hands dirty with activities like building therapeutic gardens and cleaning up the Clark Fork River.
In Their Own Words: "Being able to float down the river, working from a beautiful office, having multiple retreats, an inspiring mission, and international travel opportunities don't hurt." —John Kamman, admissions director
23. Balihoo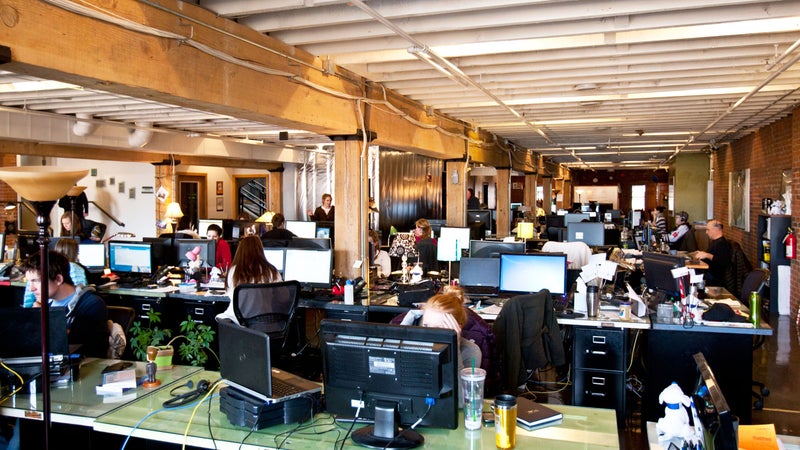 National brands like Aflac, Geico, and New Balance need to stay connected with consumers at the local level to remain successful. Balihoo, a cloud-based marketing platform, helps by launching digital and traditional ad campaigns for more than 350,000 local outlets. But employees here keep themselves grounded, too, with daily excursions to trails in the Boise foothills, yoga mats, or the downstairs wine and tapas bar.
Location: Boise, Idaho
Number of Employees: 92
Company Culture: Balihoo's office used to be a 19th-century grocery store, and though they've kept the brick facade, local artists redesigned its interior with reclaimed materials—desks made from old doors, shower-door conference rooms, stairs lined with recycled street signs. The company's digs sit a block from the Boise River Greenbelt, a 25-mile, tree-lined scenic path. Good thing, because Balihoos bike a collective 200 miles to and from work each week. And they're only a few minutes from the trail-clad Sawtooth foothills, where the staff's mountain bikers can play during lunch and recover with local microbrews (or employee homebrews) from the office kegerator.
Sweet Perks: Unlimited paid time off, plus a $40 per month bike maintenance reimbursement program. Add to that twice-weekly yoga, massage days, annual campouts at "Camp Balihoo" (the founder's mountain cabin), and annual bike repair seminars, and it's no wonder these folks love their jobs.
Giving Back: Balihoo holds an annual steampunk-themed gala/auction that last year raised $57,000 for Family Advocates, a nonprofit for victims of sexual assault and abuse. Also, on a monthly basis, Balihoos contribute time to the Boise Ronald McDonald House.
In Their Own Words: "Working at Balihoo is like being on a movie set: cool, crazy, professional people all working toward a focused, awesome goal. But there's more typing and not quite as much drama." —Chaya Knopp, office coordinator
22. Vavi Sport & Social Club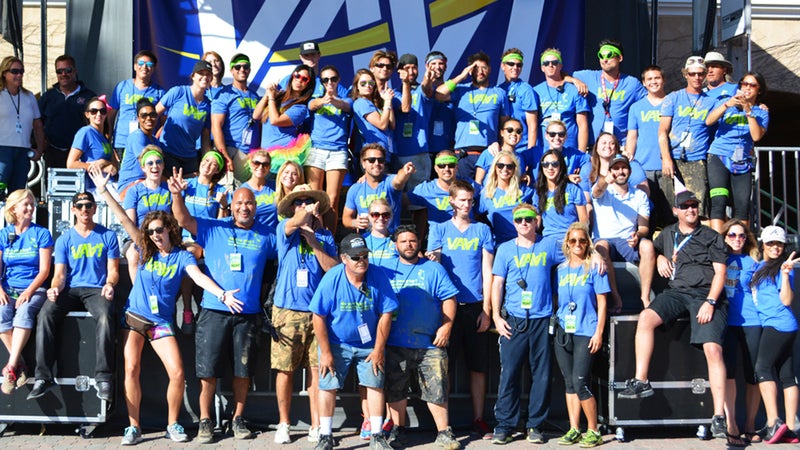 The biggest sport and social club in the country, VAVi produces more than 600 coed adult sports leagues every year. So it's no surprise that the competitive VAVi staff, who get the run of any league or fitness event that interests them, are perpetually engaged in a slew of competitions. Occasionally, they even run into participating celebrities like Seth Rogen, Danica Patrick, and the various Real Housewives of Orange County.
Location: San Diego, California
Number of Employees: 26
Company Culture: VAVi lives its motto, "Bring fun to life," every day in the office. You see that ethos in its open, creative environment, where weekly meetings are followed by "Lord of the Ping" table tennis tournaments. Team-building activities include go-kart outings, Las Vegas trips, and company barbecues. Staffers are encouraged to participate in fun events (softball tournaments!) and join groups like VAVi's Marathon Training Club. Also on the workday menu: "runches" (lunchtime runs) and "Latsanity" (a modified Insanity office workout created by VAVi president Latane Meade).
Sweet Perks: Free unlimited participation in sports leagues, events, fun runs, and fitness classes, from kickball to kickboxing. We should also mention the comped tickets to Padres and Chargers games, plus free entry to Mardis Gras parties.
Giving Back: The company has committed to raising $100,000 for the Challenged Athletes Foundation. It also volunteers staff time to local San Diego beautification projects and beach cleanups. When they're not on the job, employees play in a slew of sports leagues and run 5Ks, marathons, and triathlons alongside the company's president.
In Their Own Words: "When you work for VAVi, you are automatically a VIP around town." —Deanna Frediani, accounting assistant
21. Spong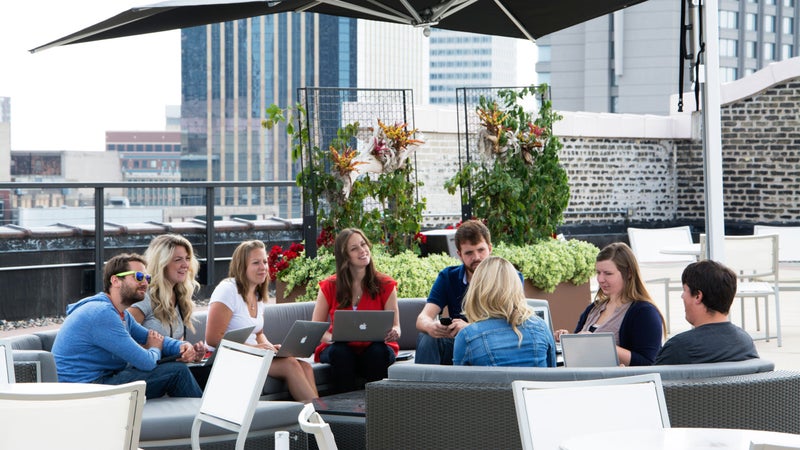 Spong PR believes in the game-changing powers of creativity. To that end, the firm launches big ideas and connects consumers to big brands like Thermos, Jack Link's Beef Jerky, and La-Z-Boy. The company also gives its employees plenty of room to grow professionally with development plans that let them pursue their passions. Think everything from industry conferences to book clubs and cooking classes.
Location: Minneapolis, Minnesota
Number of Employees: 60
Company Culture: Spong also believes in sustainable living. In its LEED-certified workspace—which once housed the Prince-owned nightclub Glam Slam—you'll find recycled panels, carpet, and chairs. Plus, it offsets 100 percent of its energy use with wind-power credits. Employees recharge with a bit of solar energy during weekly summer yoga sessions on the roof. They also attend Roofstage Pass concerts, where local artists rock out on Spong's rooftop—complete with sweet views of downtown Minneapolis. An on-site massage therapist offers biweekly massages. In Spong's annual O'Gong Show, new employees perform skits for gong-happy judges.
Sweet Perks: Free access to the agency's fleet of hand-built, limited-edition Artcrank bikes from local bike shop Handsome Cycles.
Bonus Points: Spong staffers participate in a community-sponsored agriculture program to sustainably grow affordable organic food. They get a weekly share of the communal bounty. If that weren't enough, they get even more greens from their private 17,000-square-foot rooftop garden at the office.
In Their Own Words: "You spend so many hours at your job each day, so it has be fun. At Spong, I enjoy our vibrant office space and the opportunity to do great work with so many talented, creative, hardworking colleagues." —Grete Lavrenz, senior principal and chair, food and beverage practice
20. Adaptive Sports Center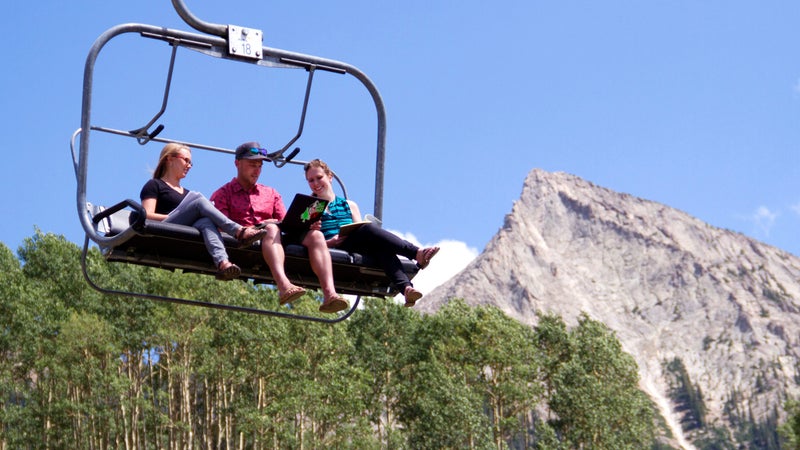 A nonprofit with a penchant for bombing down mountains, the Adaptive Sports Center aims to enhance the quality of life for those with disabilities through instructor-guided outdoor activities. That means a lot of paid time spent skiing, snowboarding, ski biking, ice climbing, mountain biking, and kayaking.
Location: Crested Butte, Colorado
Number of Employees: 15
Company Culture: Office? These glorified ski bums occasionally find roofs over their heads—somebody has to get the skis out of the shed—but mostly they're on-piste leading students down the hill. Off-duty, there are group mountain bike rides, townie bike tours, and ski posses, followed by brews at the nearby Brick Oven Pizzeria. Spending too much time off-mountain? The executive director of Adaptive Sports Center checks frequent reports detailing staff ski days. If your name is at the bottom of the list, he remedies that with required work-time skiing. On powder days (more than six inches), it's decreed that all employees must spend the morning skiing and arrive to work no earlier than 11 a.m.
Sweet Perks: Year-round season passes give staff unlimited access to skiing and biking at Crested Butte Mountain Resort. Also, free access to the gear arsenal, chock-full of camping equipment, skis, snowboards, kayaks, and climbing gear.
Giving Back: ASC staff extend their services with ski and snowboard lessons to local at-risk youth through their Community Kids program and volunteer to build new bike trails alongside the Crested Butte Mountain Bike Association.
Bonus Points: Staff regularly compete in Vail's GoPro Mountain Games and tick off the odd Grand Traverse, a 40-mile backcountry ski race from Crested Butte to Aspen.
In Their Own Words: "Working hard in a profession you truly believe in is an amazing thing. Add the benefit of seeing our clients' lives changed day in and day out and working with great people in a beautiful place, and this gig is hard to beat." —Christopher Read, program director
19. Drake Cooper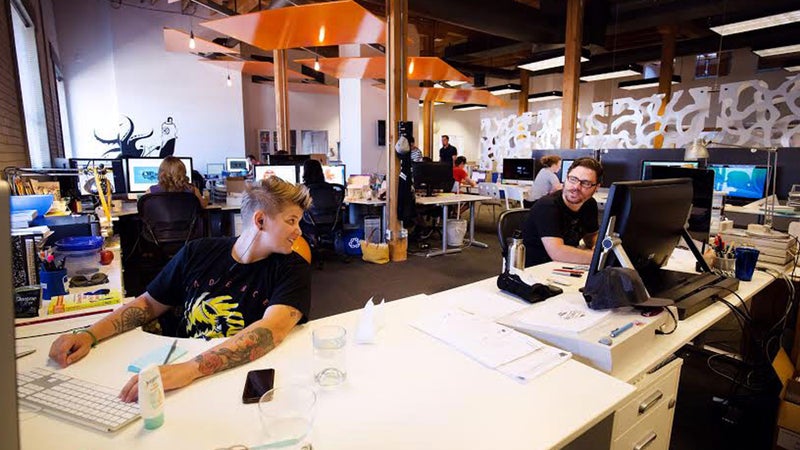 An ad agency that builds brands for companies like local breweries, distilleries, and nonprofits, Drake Cooper has updated logos for clients like 44 Degrees North Vodka and Boise Bicycle Project. Its average client relationship spans more than a decade, which is about three times that of most agencies.
Location: Boise, Idaho
Number of Employees: 30
Company Culture: Located on the edge of the Sawtooth Range, Drake Cooper holds frequent company bike rides and campouts for its active employees. Staff can earn financial rewards by slashing their personal carbon footprints and receive quarterly incentives to go off the grid and bike, walk, or carpool to work. The company keeps a fleet of bikes for employees to use and hosts an annual evening on the Boise Bike Bar to promote exercise and, well, hydration.
Sweet Perks: Local, organic meals and snacks from the Boise Co-op.
Giving Back: The agency's Dream Big program gives a staff-picked nonprofit pro bono client work for an entire year. Staff reap the goods, too, with an in-house educational forum they call Drake Cooper University, a monthly roundtable on an industry-relevant topic led by an architect or, say, the executive director of a dance company that bolsters the tools in their marketing kit. Lunch is included.
In Their Own Words: "It's all too easy for people to take for granted just how much Jamie Cooper (the President and CEO) cares about his staff—who they are on the clock and off; trying to make sure that they really enjoy where they work. He cares as much about the work that goes out the door as the workers that come in it every day." —Dan Ronfeld, office manager
18. TDA_Boulder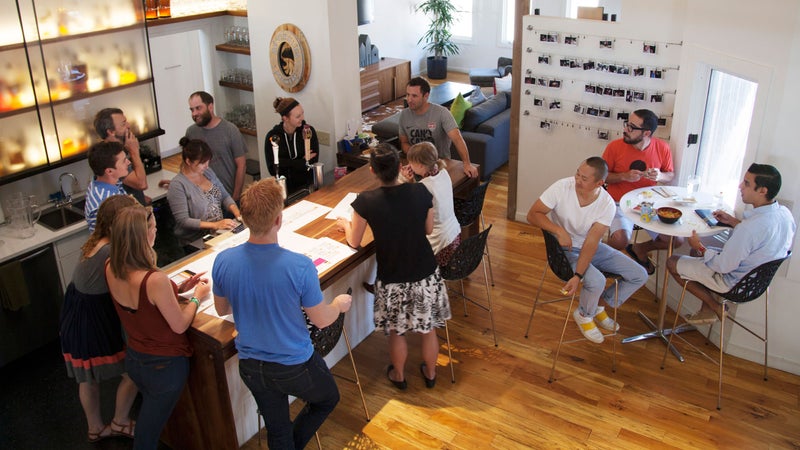 A full-service advertising and design agency, TDA_Boulder provides advertising, marketing, account planning, branding, market research, and logo design for companies like Patagonia, FirstBank, Deschutes Brewery, and Noodles & Company.
Location: Boulder, Colorado
Number of Employees: 25
Company Culture: The so-called family room, equipped with couches and a TV, is where TDA_Boulder staff kick back and have Xbox battles, watch sports, or take advantage of the fully stocked bar. The company provides everyone access to an office bike-sharing program and encourages participation in the annual BolderBoulder 10K with paid race fees. Everyone gets a paid powder day each year, which can make for an empty office when the white stuff falls.
Sweet Perks: Monthly fitness stipends and one paid powder day per ski season, plus registration for the BolderBoulder 10K or any other race entry fees.
Bonus Points:The agency's founder and CEO, Thomas Dooley, is a top-ranked masters mountain biker with a top ten finishes in the Cape Epic, Swiss Epic, and a 9th place overall in the 2007 Leadville Trail 100.
Giving Back: The team gives more than sweat with donations and participation in the Special Olympics Polar Plunge, plus one paid day a year to volunteer with any charity.
In Their Own Words: "I doubt I'll ever work at a place as wonderful as TDA. And given that I'm only 25, I find that quite depressing." —Daniel Colburn, copywriter
17. BrainStorm, Inc.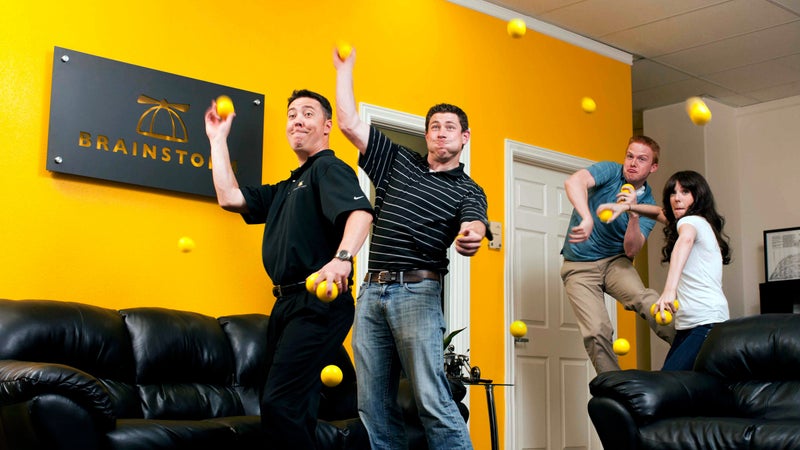 BrainStorm teaches users to get the most out of software like Microsoft Office through reference guides and video- or instructor-led training. The company's goal? To empower employees and ensure that every organization, from Fortune 5 companies down to mom-and-pop operations, is more productive.
Location: American Fork, Utah
Number of Employees: 38
Company Culture: Lodged in a renovated former theater and car dealership, BrainStorm's digs claim sweet Wasatch Range views and quick access to climbing, biking, caving, water playgrounds like Utah Lake and Bridal Veil Falls, and Salt Lake–area ski resorts. An internal culture club organizes group activities like outings to amusement parks, dodgeball games, indoor soccer matches, spin classes, Rock Band lunches, and tubing trips down the Provo River.
Sweet Perks: Company passes to Sundance Mountain Resort.
Giving Back: Every employee gets $50 per month to make a difference for someone they personally interact with, plus bimonthly company-wide service activities with charities like Habitat for Humanity, the local animal shelter, and Toys for Totsemphasize giving back to the community. Additionally, a corporate giving committee sponsors local sports teams and gives $100 to each employee to donate to the cause of their choice during the holidays.
In Their Own Words: "Working at BrainStorm is fun yet demanding. I love the intellectual challenge, and the people here are amazing! The regular non-work activities allow us to get out of the office, have some fun, and serve the community." —Seth Smith, operations manager
16. Cloud 9 Living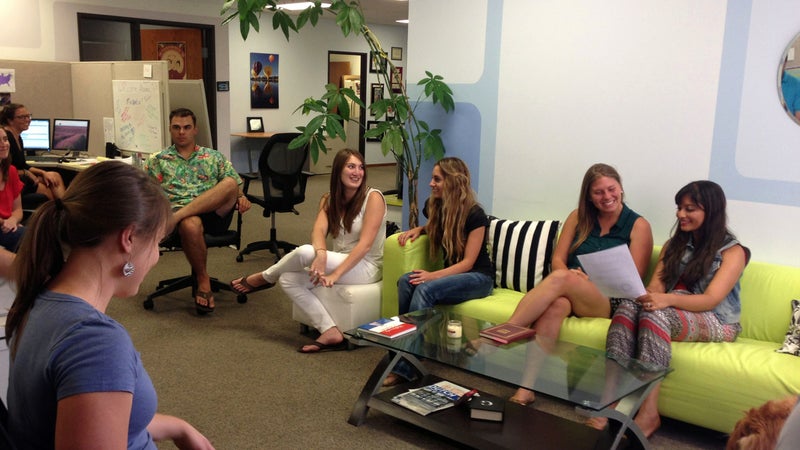 Tandem paragliding in New York? Done. Sunset catamaran cruise on the San Francisco Bay? No sweat. Cloud 9 Living offers more than 1,800 U.S.-based experience gifts, ranging from kayaking lessons and hot air balloon rides to Ferrari racing and urban food tours. Best of all, employees get to cash in on four yearly company experiences.
Location: Boulder, Colorado
Number of Employees: 17
Company Culture: The Cloud 9 Living office sits right on the Boulder Creek Path, so it's easy to jump out for a ride or run. Other recent employee pursuits: sailing to the Galapagos and Australia; skiing in the Alps, Andes, and Alaska; surfing Fiji, Brazil, and Tahiti; thru-hiking the Appalachian Trail; instructing scuba divers in Mexico, Bali, and Australia. But sometimes you have to work, too. Easy. The office has a Ping-Pong table, and everyone joins for monthly lunches and happy hours.
Sweet Perks: Quarterly company "experiences" where staff try out their experience gift offerings—including zip-lining, whitewater rafting, snowmobiling, and indoor skydiving.
Giving Back: Last year, the company ran a "Giving Really Is Better Than Receiving" promotion in which entrants explained why they agree. The winner scored a $5,000 gift certificate, and Cloud 9 Living matched that with a $5,000 donation to the winner's favorite charity.
In Their Own Words: "One of the best things about working at Cloud 9 Living is hearing from our customers who are out there every day having fun, exploring new places, experiencing new activities, and living life to the fullest. If you can't be outside living it every day, at least we can help others get after it 365 days a year!" —Bobby Augst, executive vice president
15. RoundPegg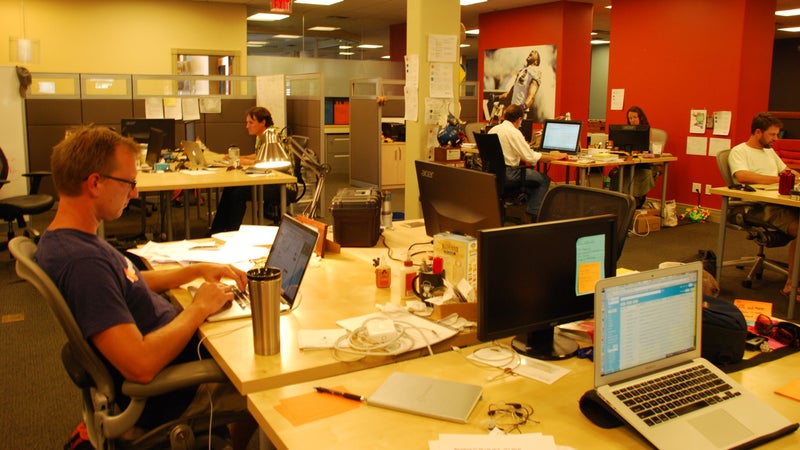 RoundPegg uses software to help companies manage in-office culture. Thinking of hiring a new employee? The company has a quantitative analysis of how well that person might fit in. Looking to develop young staffers? It has coaching and development tools. Translation: RoundPegg helps make sure that offices mesh and are firing on all cylinders.
Location: Boulder, Colorado
Number of Employees: 18
Company Culture: Located right on the Pearl Street Mall, RoundPegg employs a team of typical Boulderites: CrossFit junkies, fly fishermen, yogis, skiers, cyclists, motocross racers, triathletes, and hockey players. They all participate in quarterly democratic "State of the Pegg" sessions, where everyone points out company flaws and suggests remedies.
Sweet Perks: In addition to a company ski pass and a "take what you need" vacation policy, staff get quarterly "Hack Weeks" to work on anything that interests them.
Bonus Points: New employees get a rad action figure of themselves upon hire. Indoor bike racks mean the staff's commuter wheels stay well protected, and daily walks along the Pearl Street Mall and outdoor meetings keep everyone moving. And team members have a say in just about everything to make sure everyone's happy and work is done efficiently.
In Their Own Words: "People spend the majority of their waking hours in the office. By making their professional lives better, we're making their real lives better." —James Omdahl, director of marketing
14. Global Works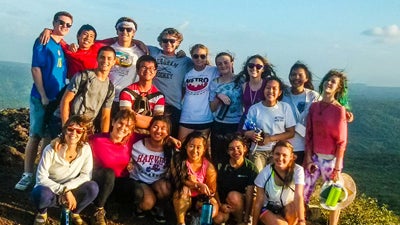 Global Works runs two-week to monthlong adventure travel programs for high school students, as well as custom group trips in more than 20 countries. On every excursion, Global Works partners with local communities and organizations to organize grassroots service projects for its travelers. Global Works staffers get to partake in the same travel experiences they create.
Location: Boulder, Colorado
Number of Employees: 17
Company Culture: With 6,863-foot Mount Sanitas right outside the office door, Global Works employees hit the summit on weekly sunrise hikes and seize ample opportunities for midday hikes, runs, yoga sessions, ski laps, or bike rides. Because it's Boulder, they also have a marathon/ultra training group and a therapeutic garden (with chinup bar) on office grounds. Expect pickup soccer games, early morning runs, "stick, rock, throw" challenges, and group competitions to see who can ride their bike to work most often.
Sweet Perks: Annual staff training weekend in the Rockies, gear discounts, and the opportunity to travel to every continent except Antarctica. Plus, flextime hours accommodate runners and triathletes in summer and avid skiers in winter.
Bonus Points: Global Works' executive director is a two-time Hawaiian Ironman, and staff have notched first ski descents in Alaska's Denali National Park. A team of employees also competes in adventure races on the side, and just about everyone in the office boasts their own athletic prowess in marathons and ultramarathons, trail races, mountain bike enduro races, and yoga teacher training courses.
In Their Own Words: "I have an adventurous, meaningful, fun, and dynamic job that keeps me on my toes, my hands dirty, and working with amazing communities." —Katie Morrow, Peru/Ecuador/Guatemala country director and trip leader
13. Geocaching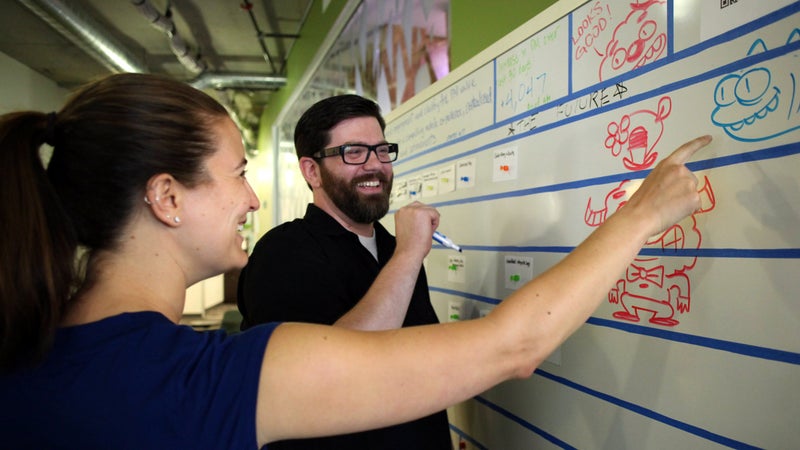 Geocaching's smartphone app and website help treasure hunters locate more than two million cleverly hidden geocaches around the world. But these modern-day Magellans don't stop at designing apps and maps—they're also geeking out on their own games whenever they get the chance.
Location: Seattle, Washington
Number of Employees: 78
Company Culture: Wrangling these exploration and adventure nuts might just be the hardest part of the job. Just steps from Seattle's Burke-Gilman urban trail, Geocachers step out for runs, hikes, and even geocaching sessions during work (using complimentary GPS gadgets). Employees get daily catered lunches, including gluten-free and vegan options, and a fully stocked kitchen. January is wellness month, which sees a boost in office massages, yoga classes, meditation sessions, and geocaching outings.
Sweet Perks: Unlimited reimbursement for ski and snowboarding lift tickets and adventures during work hours. Plus, free catered family-style lunches, bagel Mondays, and a four-week paid sabbatical for every seven years of service.
Bonus Points: The company's Cache In Trash Out environmental initiative encourages geocachers worldwide to clean up parks, eradicate invasive species, and build trails. An employee-run council also ensures everyone's having fun and staying positive with frequent events like bowling, karaoke, Mariner's ballgames, and classes in yoga and stress relief.
In Their Own Words: "There's a very strong culture of collaboration and mutual respect. People are empowered to think big and try out new ideas." —Ben Hewitt, product owner
12. Realeflow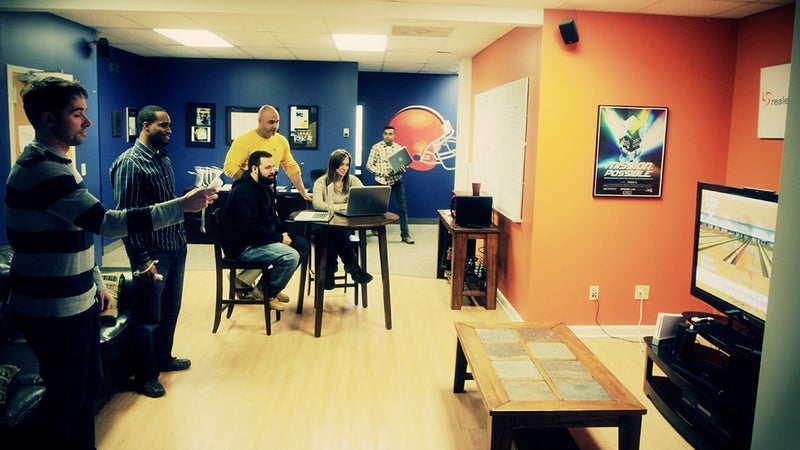 Realeflow offers management tools for real estate investors. The company's 35 apps are aimed at streamlining processes and making them more efficient. It also teaches prospective investors both fundamental and advanced investing methods.
Location: Parma Heights, Ohio
Number of Employees: 29
Company Culture: Located near Cleveland's Metroparks system, Realeflow's offices are outfitted with a Wii and big-screen TV in the common room and a new team lounge with a bar, pool table, and couches. Staff head to the beaches on Lake Erie in the summer, and scheduled "Realefun" days include outings for Jet Skiing, bowling, Mad Men–themed karaoke parties, or playing on the owner's 117-acre adventure farm, complete with huge apple orchard (an annual Johnny Appleseed Festival takes place here), 32-acre corn maze, concert stage, restaurant, and 311-foot slide.
Sweet Perks: If annual sales goals are met, everyone goes on an all-expenses paid trip to Mexico. Plus, everyone's eligible for profit sharing and company stock.
Giving Back: Realeflow staff regularly donate to pancreatic cancer research. They also plant trees and educate kids about environmental stewardship at the annual Earth Day for Apples.
Bonus Points:The health-conscious crew compete with each other in daily plank and squat challenges, do juice cleanses, and run 5Ks together. One team member even recently opened a yoga studio where groups practice their asanas every week.
In Their Own Words: "As the newest member of the Realeflow team, I could not be happier to be a part of a community of such kind, caring, and creative people. Being at work is like hanging out with a group of friends—who are all really smart." —Nolan Cavano, implementation manager
11. ReadyTalk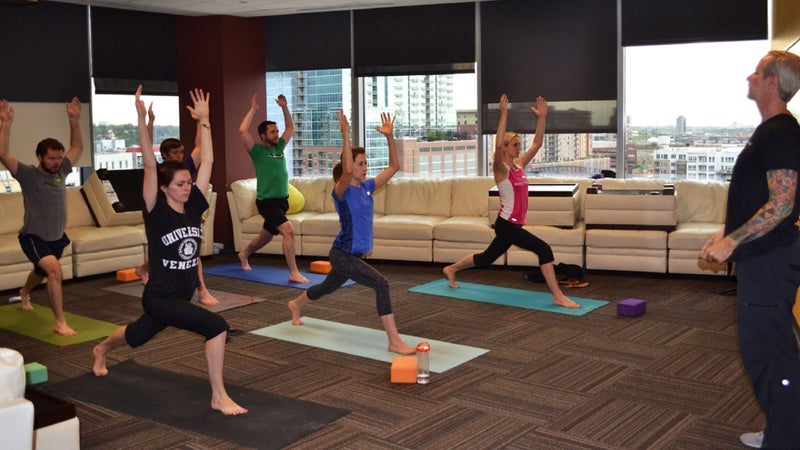 ReadyTalk provides user-friendly audio and Web conferencing services for everything from small ad hoc meetings to large online events. It offers a full suite of tools for training, collaboration, and webinars. But with 14ers calling from the looming Front Range—not to mention the diversions in the office gaming room—don't expect employees to stay glued to their screens. There's on-site yoga and massage therapy, and even the occasional staff meeting at Rockies games or on the ski hill.
Location: Denver, Colorado
Number of Employees: 170
Company Culture: Headquartered in a LEED Gold–certified building in Denver's Union Station, ReadyTalk boasts a gaming room (Nintendo Wii with Guitar Hero; Xbox 360), smoothie machine, healthy food, and, of course, beer. When staff members aren't climbing 14ers or participating in daily fitness challenges, they kick back with Nerf wars, Jenga, and Friday afternoon happy hour jam sessions.
Sweet Perks: In addition to 100 percent paid health care for employees and dependents, ReadyTalk staffers score annual $300 race entrance fee allowances, twice-weekly in-office yoga sessions, a $25 monthly health and wellness benefits, and massage therapy during work hours.
Giving Back: The company's Charitable Contributions Committee donates more than $60,000 a year to nonprofit Front Range organizations. Each employee gets 20 paid hours per year to volunteer for charities like Habitat for Humanity and Clothes to Kids of Denver.
In Their Own Words: "It's great to be part of an organization where everyday laughter is as big of a part of your workday as helping your customer." —Cassidy Smock, customer care representative
10. SportRx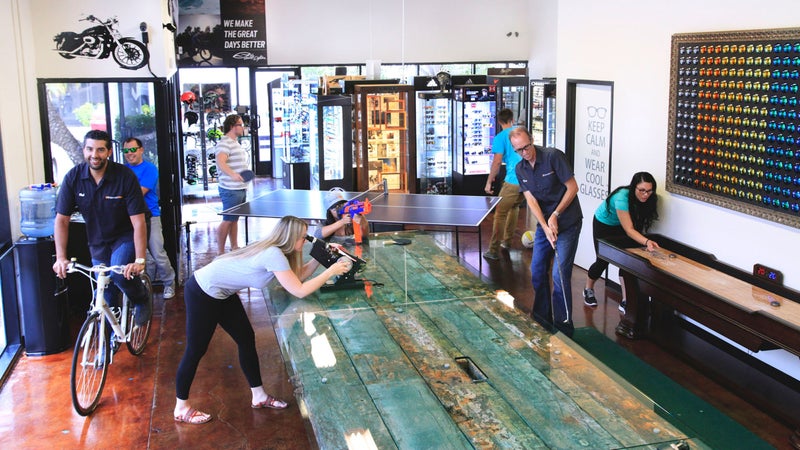 SportRx creates custom prescription optics tailored to any sport, from ski and scuba goggles to mountaineering and motorcycling sunglasses. It shouldn't be surprising, then, that the Southern California–based company was created by opticians who love to ride bikes, run races, push jogging strollers, and bomb down slopes.
Location: San Diego, California
Number of Employees: 15
Company Culture: Ping-Pong. Shuffleboard. In-office biking. Nerf wars (20 office guns and more than 1,000 rounds of ammo—protective eyewear required!). Kegerator. Considering all of the on-site distractions, it's amazing this crew gets anything done. But healthy doses of play are integral to SportRx's motley squad of athletes. They even created an entire line of Summit sunglasses based on their mission to hike all 100 of San Diego's peaks.
Sweet Perks: Free trips to sporting events like Alaska's Iditarod, and lots of group playtime—indoors and out.
Bonus Points: Seven days a week, the company stocks a free sag stop for cyclists on the Rose Canyon Bike Path, complete with fruit, energy bars, water, sports drinks, and Chamois Butt'r. They also incentivize sales through contests that reward winning teams with bowling or a day at the trampoline park.
In Their Own Words: "Outside of work, the crew gets together to play softball, mini golf, and hit up the trampoline park. We like to call it 'team building,' and we always make sure to strap on a GoPro to catch all the action." —Dan Bruton, president
9. MercuryCSC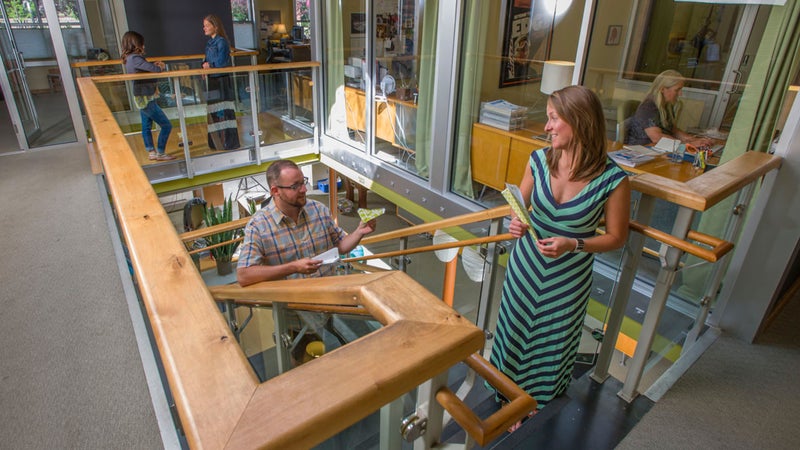 MercuryCSC is a creative marketing agency specializing in the travel and outdoor industry, representing brands like Vasque, the Montana Office of Tourism, and Orvis. The president was once a river guide in Chile, so it's no surprise the company's crew inspires the community to stay active.
Location: Bozeman, Montana
Number of Employees: 21
Company Culture: In the heart of downtown Bozeman, MercuryCSC staff set their own schedules and can work remotely hassle-free (with the latest software, computers, and iPads, no less), leaving plenty of time for things like lunchtime hiking, skiing, or yoga sessions. Staff also participate in an annual October ice-axe pullup contest to prep for the upcoming ice-climbing season. One employee recently finished fifth in the two-day, 190-mile Gran Fondo Kootenai.
Sweet Perks: Frequent ski days, river floats, and staff retreats with scavenger hunts to win lift tickets. Everyone gets an opportunity to win a $500 travel voucher every quarter.
Giving Back: At Bozeman's annual Christmas Stroll last December, the agency raised $3,452.40 for the city's warming center with its inaugural Pedal4Power event, a stationary-bike-a-thon in which staff powered Christmas lights and generated enough pledge-matched watt hours to provide shelter for 90 homeless people over the winter.
In Their Own Words: "When you walk through the doors or into a meeting at MercuryCSC, you don't dread it. In fact, you look forward to it. You know you're about to laugh, learn something new, and get some major work done with awesome, big-brained people that love the same things you do. Every day is a surprise—in a good way." —Jill Shinn, account strategist
8. Coast Law Group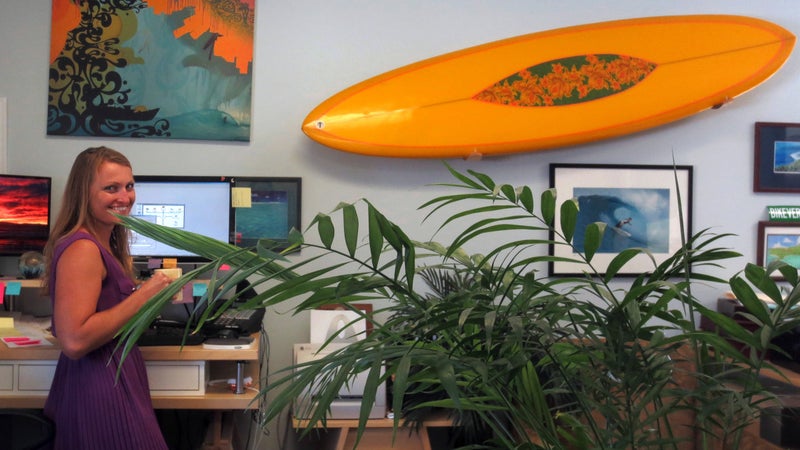 This Southern California–based boutique law firm tackles issues to protect the environment, businesses, and technology. These renegades are lawyers you can like, and they're out to make things right when it's all on the line, serving entrepreneurs, executives, activists, artists, businesses, and underdogs.
Location: Encinitas, California
Number of Employees: 21
Company Culture: Just one block from world-class surf at Swami's, Coast Law Group is rife with surfer-lawyers (plus an ex-pro bodyboarder and a pro snowboarder) who dip out for regular surf sessions and floating "board meetings" in the ocean. A dedicated surfboard room houses boards, wax, and a drying rack for wetsuits. Staff have access to electric bikes, skateboards, and weekly Pilates classes. No need to leave your dog at home, but don't even try living in the office—partners intervene if you spend weekends or evenings at the office; they even offer financial incentives for a healthy work-life balance.
Sweet Perks: There's an annual partner retreat in Baja, Mexico, where meetings are squeezed in between surfing sessions.
Giving Back: Coast Law Group donates legal services to a local domestic abuse shelter. Last year, the firm won a victory for the Encinitas School District that allowed its schools to continue their yoga programs as a form of nonreligious instruction. The firm also donates money and services to various environmental causes.
In Their Own Words: "We participate in the Del Mar Mud Run every year in full costume. This past year, we were dressed for the running of the bulls in Pamplona, with one of us dressed as a bull." —Seyamack Kouretchian, managing partner
7. New Belgium Brewing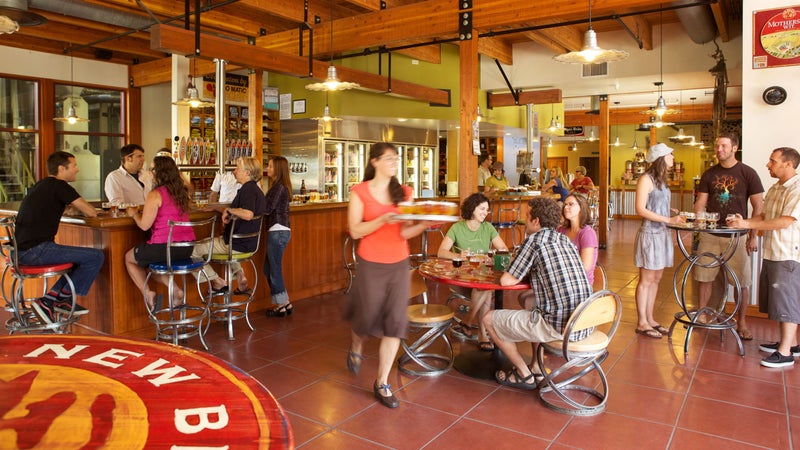 An employee-owned craft brewery, New Belgium crafts Belgian-inspired brews and three new seasonal beers every quarter. Some of its well-known year-round varieties include Fat Tire Amber Ale, Ranger IPA, and Trippel. New Belgium also happens to be one of country's the longest-running producers of craft sour beers.
Location: Fort Collins, Colorado
Number of Employees: 570
Company Culture: The New Belgium complex boasts an on-site gym, climbing wall, table tennis, volleyball courts, a cyclocross dirt-bike track, covered bike parking, showers, a wrench stand (to fix your commuter), and yoga classes. Employees get complimentary shift beers after work and become part owners after staying on for a year. When the team feels like giving back, it's no sweat. For every two hours of volunteer work, they get one hour of paid time off. The Beer Scouts, a group of co-workers who sponsor volunteer events, have logged more than 7,800 volunteer hours in the past three years. Did we mention the free beer?
Sweet Perks: Employees are presented with a New Belgium cruiser bike after one year. After five, they get a free trip to Belgium.
Bonus Points: New Belgium employees have completed a collective 20 Ironmans, five ultramarathons, nine 200-mile team relays, 10 Tough Mudders, and one RAGBRAI skateboard ride across Iowa.
Giving Back: For every barrel of beer sold, the brewery donates $1 to various nonprofits, which totals a staggering $6 million in donations to date.
In Their Own Words: "New Belgium is the kind of place where you walk through the front door, high-five your co-workers all the way to your desk/lab/machine, and laugh out loud all throughout the day. At the same time, you're working harder than you ever have at anything else, and it somehow means more. That's a powerful alchemy." —Bryan Simpson, New Belgium spokesmodel
6. Zen Planner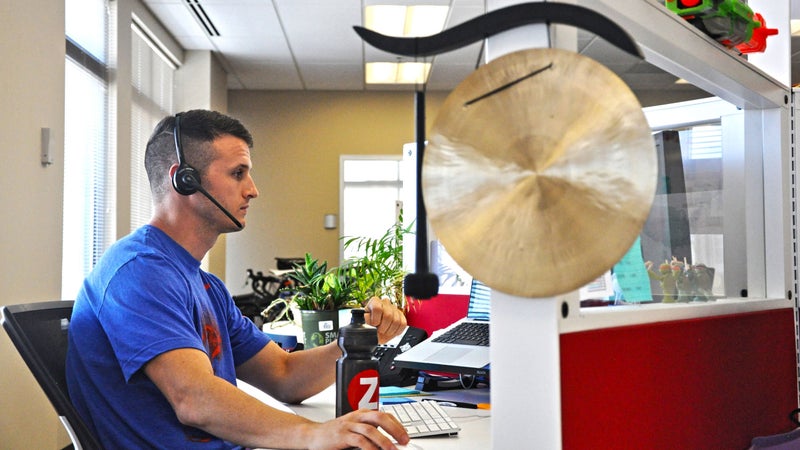 Zen Planner creates online management software designed specifically for businesses in the fitness industry. Its all-in-one software offers integrated payment processing, scheduling, membership management, email, and website templates.
Location: Highlands Ranch, Colorado
Number of Employees: 45
Company Culture: Nerf wars spontaneously erupt at Zen Planner ("Any time is a good time for a Nerf fight"), housed in an open workspace with Nerf guns stationed at every desk. Also dutifully manned: the office kegerator and tiki bar. When not working or playing at work, the staff—who wear gym clothes and sweats more often than not—organize activities like stand-up paddle boarding, brewery visits, and in-office yoga. This being Colorado, dogs are also welcome. These folks come to work psyched about fitness—everyone on staff is a legitimate competitor—which makes them work hard and stay positive. Even if they didn't get comped gym memberships and reimbursed race fees, employees here would still be toeing the line on weekends. And winning.
Bonus Points: Employees include yoga instructors, nutritionists, an MMA fighter, bikini fitness competitors, an Olympic lifter, an Appalachian Trail thru-hiker, and a professional dancer. Yeah, this office can probably kick your office's ass.
Sweet Perks: Catered healthy lunches every Friday and a $100 monthly fitness stipend. Plus, employees get a $225 bonus when they sign up a new customer during off-hours.
Giving Back: To top it all off, Zen Planner employees volunteer for the Wounded Warrior Project, Colorado Action for Healthy Kids, and the National Center for Disabled Sports.
In Their Own Words: "One of my favorite things about the Zen Planner team is that they are all just so naturally jazzed about fitness and wellness. We are lucky enough as a company to share the excitement and support them in their personal endeavors." —Casey Steiner, director of culture and team engagement
5. Spawn Ideas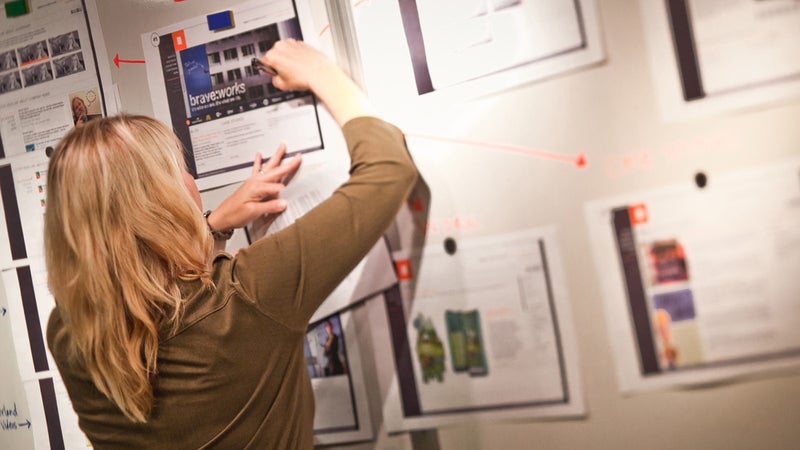 What's in a name? At Spawn, everything. This employee-owned ad agency develops brands and generates ideas for companies like Midas and the University of Alaska with the goal of creating Alaska-inspired work that builds brands and businesses. The secret to doing that successfully? Making sure Spawn's employees have everything they need to live an active life in America's wildest state.
Location: Anchorage, Alaska
Number of Employees: 42
Company Culture: There's a reason Anchorage was voted our #4 Best Place to Live in 2014. There isn't a single sport you can't master when you're just minutes away from the water, the 76 ski runs at Alyeska Resort, or the mountain bike trails at Kincaid Park. Spawn's new downtown office building has views of Cook Inlet and the Chugach Mountains and is just a block away from the 11-mile Tony Knowles Coastal Trail. But seeing all of that nature isn't nearly as good as getting out into it. The staff participates in regular outings from ski weekends and Kenai River trips to yoga Fridays and soccer games on the company team. Best of all, frequent three-day summer weekends free up time to explore the Alaskan bush.
Sweet Perks: Company ski passes to Alyeska Resort, comped racing fees, and free gym memberships. With stock allocation in the company and discretionary 401k matching, employees can fund their retirement adventures to boot.
Giving Back: The firm donates one year of marketing to a local non-profit each year, like the Alaska Winter Olympians Fund. The office also helps out one needy family each Christmas—a letter from one such single mother with eight kids hangs right in the office.
In Their Own Words: "Not only do you get to have a great career in advertising, but you get to do each weekend what others dream to do in a lifetime." —Kate Slyker, executive vice president
4. GroundFloor Media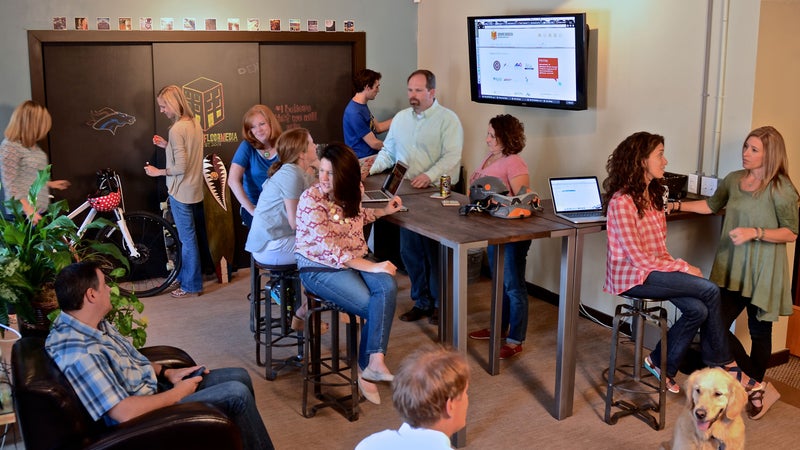 A small PR firm, GroundFloor Media handles strategic communications, marketing, and digital and social media campaigns for companies like Oskar Blues Brewery and Cabela's—and employees don't even have to show up to the office to do it.
Location: Denver, Colorado
Number of Employees: 16
Company Culture: The light-filled brick-front office in downtown Denver is outfitted with beanbag chairs, treadmill desks, fitness ball chairs, an on-site gym with Apple TV, and a kegerator. If that's still too stifling, the GroundFloor Media staff holds frequent walking meetings, monthly "Bruise and Booze" workout sessions, and an annual Outward Bound Professional event with ropes courses, rock climbing, rappelling, and rafting. Co-workers are friends on the weekends, too, hanging out together at out-of-town yoga festivals or half marathons or, come winter, hitting the slopes side by side.
Sweet Perks: Employees get a monthly wellness stipend for gym memberships or new gear and have the freedom of a freelancer but with more stability—work anywhere, anytime as long as the work gets done. Plus, annual Groundhog Day celebrations mean a getaway for staff and their spouses, and "surprise" time out of the office for random fun events.
Giving Back: GroundFloor gives each employee four hours of paid time off for volunteer work each month and donates $10 to the employee's chosen charity for every hour of service outside business hours.
In Their Own Words: "GFM is a group of smart, fun people who love working close to the mountains and in downtown Denver. It's kind of what you hoped your job would be like when you were graduating from college." —Jon Woods, senior director of social media and digital strategy
3. Sphero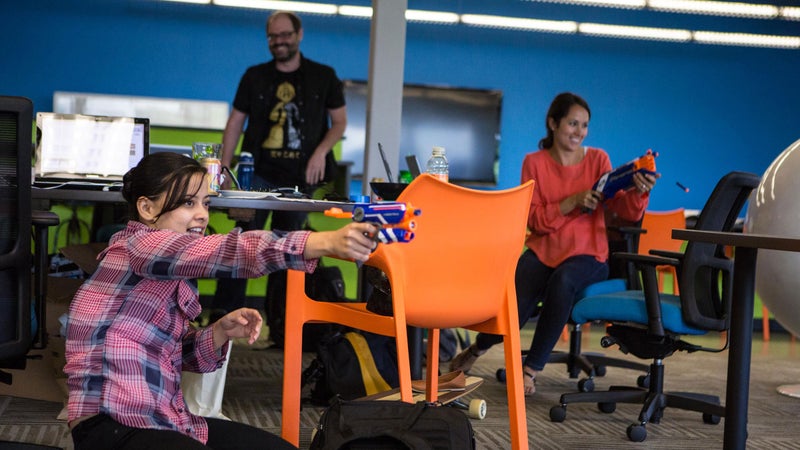 Sphero fuses games with robotics to create its smart toys, Sphero and Ollie, two rolling robots that you can control with your smartphone. It's no surprise that Sphero encourages plenty of goofing off on the job.
Location: Boulder, Colorado
Number of Employees: 58
Company Culture: Dress codes are for boring jobs. At Sphero, the staff rides scooters and skateboards around the office—a modern building near the Boulder Creek Path—and the marketing team holds dawn-patrol snowboarding sessions before work. Playtime is encouraged, whether with the company's robots or the in-house Xbox or PlayStation, and employees can win prizes in weekly trivia games.
Sweet Perks: Thrice-weekly catered meals, along with kegs and fully stocked fridges, plus full benefits to employees and their families.
Giving Back: Sphero works with the STEM Education Coalition to teach coding to local schoolkids. Employees can donate company products to any charity they choose.
In Their Own Words: "Take robots, kids, solder flux, smartphones, and Boulder, Colorado; build the most advanced, programmable, and connected toys in the universe; mix in some great success in the marketplace, and you have Sphero. How can this not be a fun place to work?" —Paul Berberian, CEO
2. Ergodyne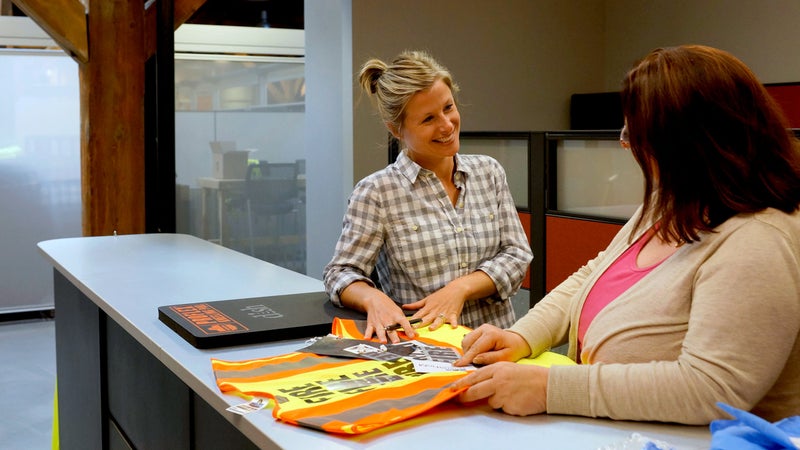 Ergodyne designs ergonomic and protective work gear. From gloves, kneepads, duffel bags, and reflective clothing to innovative products like evaporative cooling vests that prevent overheating and fire-and-rescue gloves that protect against water and blood-borne pathogens, the equipment is made for folks who toil in the trenches.
Location: St. Paul, Minnesota
Number of Employees: 37
Company Culture: Ergodyne's St. Paul headquarters are housed in a renovated historic Northern Pacific Railway repair shop. The employee-run Wellness Team hosts twice-weekly company walks and lunch-hour yoga sessions in a private gym. The company also sponsors four annual health-related competitions in which teams participate in cook-offs, floss for the most consecutive days, or go weeks without eating junk food. Prizes for the winners range from gift cards for Whole Foods, Lululemon, and American Express to tablets and laptops.
Sweet Perks: Employees receive cash incentives throughout the year for reaching fitness and nutrition goals.
Giving Back: The entire company hosts the annual 65 Roses Golf Classic, which has netted $2.6 million in donations for the Cystic Fibrosis Foundation. The employee-run Giving Team manages outside requests for gear and dollar donations and installs sanitary facilities at schools in remote Nepalese villages.
In Their Own Words: "I wake up every day excited to go into work. You can tell from your first day here that they care about you and want you to succeed and do great things. There is a wonderful feeling of respect that starts with the CEO and trickles all the way down to the intern level. It is truly the best place to work, hands down." —Nicole Schoen, senior events specialist
1. Seeley Lake Elementary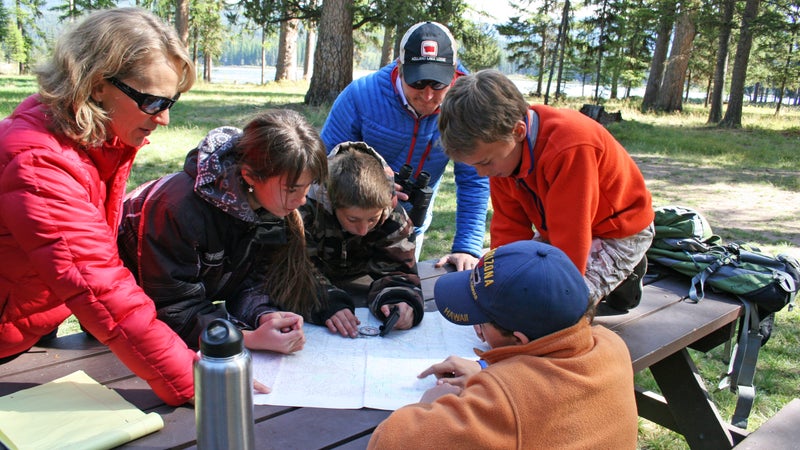 Like any public school, Seeley Lake Elementary teaches basic academics to kids from pre-K through eighth grade. Unlike most, it practically requires them to get outside with active programs in Nordic skiing, hiking, biking, and canoeing. The school, just an hour from Missoula, is flanked by the peaks of the Rockies and bolstered by a lakeside alternative campus, so it's not hard for staff to instill a love of the wilderness in their students.
Location: Seeley Lake, Montana
Number of Employees: 29
Company Culture: Located at the edge of the 2 million-acre Lolo National Forest, Seeley Lake Elementary offers storage for bikes, Nordic skis, and snowshoes so that both staff and students alike can cruise the surrounding groomed trails. Everyone leaves campus early on Thursdays to get a head start on the weekend. Beginning this year, the staff leads overnight wilderness trips to places like Glacier National Park. When they can't get away, there's always nearby Camp Paxson, the school's campus on Seeley Lake's mountainous shores.
Sweet Perks: Tuition reimbursement for any professional training (from master's degree to ski-instructor certification), plus health benefits, gym membership, and staff lunch.
Bonus Points: As if the new running club, Nordic races, and 40-mile group hikes in the Bob Marshall Wilderness aren't enough, the staff will next summer host a 50K run between fire lookouts, spanning two mountain ranges and featuring 15,000 feet of elevation change.
In Their Own Words: "We take our work extremely serious while trying not to take ourselves too seriously. This philosophy allows us to do good work while still having fun. Education is more than sitting behind a desk listening to a lecture; education is getting out, doing, being a part of something." —Chris Stout, superintendent