The Unforgettable Lesson from Lady Gaga's Oscars Performance
It was a tribute to being human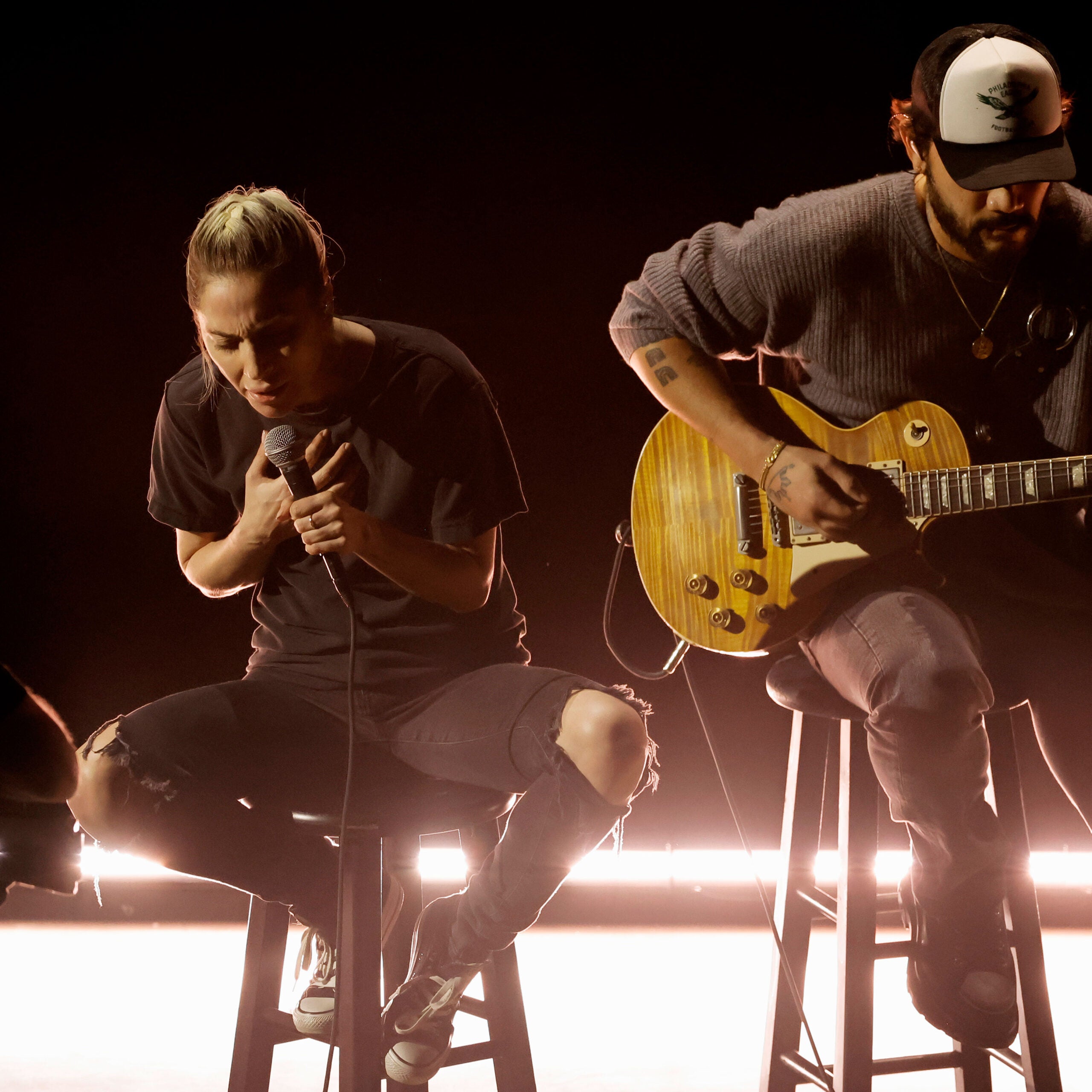 Kevin Winter/Getty
Heading out the door? Read this article on the new Outside+ app available now on iOS devices for members! Download the app.
0Some of us watch the Oscars for the fairytale-like fashions. Many tune in to end the obvious suspense. Maybe a few turn to it for the comedic banter.
Probably no one attends expecting a reminder of what it is to be, well, human. Yet that's what we all were privy to as we witnessed Lady Gaga's subdued appearance at the Academy Awards on Sunday evening.
The songwriter, singer, and actress walked the red carpet in Versace and diamonds along with eyeliner artistry and hot red lipstick. Later, Lady Gaga quietly appeared onstage to perform sans make-up, wearing a black t-shirt, ripped black jeans, and Converse. Her tattoos were her most outlandish accoutrement as she sat and delivered a soulful and acoustic rendition of "Hold My Hand," prefaced with a musing about the need to show up for others as well as yourself in life.
It was a gutsy move to emphasize emotion over glam. To appear almost nakedly herself on a night where the estimated expenditure for a look is anywhere from $1.5 to $10 million is, quite simply, an exhibition of feminine vulnerability and strength. Cinderella in reverse.
The Moment
Even though the moment seemed to take place with grace and ease, there was considerable thought and effort that went into the making of it. Prior to Sunday, it had been widely reported that Lady Gaga wouldn't perform at the Oscars due to scheduling conflicts with the filming of the Joker sequel Folie à Deux. "It didn't feel like she could get a performance to the caliber that she is used to," said Academy Awards executive producer and showrunner Glenn Weiss in an interview with The Hollywood Reporter.
That changed late last week. "Thursday, at four-something, we got a text that she wanted to try something, didn't have time to put together a big performance, but wanted it to be raw and people to see the real Gaga," said executive producer Ricky Kirshner.
That seems to define the contemporary female we all aspire to be. Knowing her boundaries, needing her space, and making the decision to show up selectively. And on her terms.
That is wellness—staying true to yourself even when it means changing your mind, shattering some people's idea of who you should be, and perhaps even questioning your sanity as you do so.
The Message
When the cameras unexpectedly cut to Lady Gaga on a darkened stage, she was sitting on a stool accompanied simply by a guitarist, bassist, and drummer. Before playing "Hold My Hand," Lady Gaga quietly shared a few words.
"I think that we all need each other," she said. "We need a lot of love to walk through this life, and we all need a hero sometimes. There's heroes all around us, in unassuming places, but you might find that you can be your own hero, even if you feel broken inside."
The song, which Rolling Stone describes as a "power ballad," was co-written by Lady Gaga and is featured on the soundtrack for Top Gun: Maverick. Her performance was a tribute to the late Tony Scott, director of the original Top Gun, who died by suicide in 2012. It was nominated for Best Original Song.
Her lyrics reiterate the inherent vulnerability of being human. They reassure us that being an individual doesn't need to mean being isolated. And they remind us that wanting someone to stand alongside you while you face your demons is not a weakness.
"You might find that you can be your own hero, even if you feel broken inside." Lady Gaga introduces her performance of "Hold My Hand" at the #Oscars. https://t.co/ndiKiHeOT5 pic.twitter.com/n04D232RP0

— Variety (@Variety) March 13, 2023
The Woman
Whereas some saw an insufficiency in the seeming nothingness between her and her audience, it was everything that was right about the moment. That Lady Gaga, known for her outlandish fashions, slipped into a less ostentatious version of herself as a performer seemed aligned with the solemnity of the tribute.
More importantly, she seemed aligned with herself as a human. She's someone who detoured on the red carpet Sunday night to help a photographer when he stumbled. Someone who has spoken out about the chronic pain and psychological breakdown she experienced as a result of experiencing sexual assault. Someone who has mentioned on Instagram the role meditation plays in her life, citing that it helps her stay calm and feel safe in her body. Someone who has been more and more real in her portrayal of herself so that others might feel compelled to do the same.
"I love authentic people," said Lady Gaga in an interview for Vogue's 73 Questions several years ago. When asked what she would say to her followers, she replied, "To my young female fans, I would say, your body belongs to you, your mind belongs to you, your emotions belong to you, and just always be true to yourself."
And perhaps most revealingly, Lady Gaga expressed that she has "a very emotional reaction to fashion. I like that fashion can both be a form of expression and a form of hiding."
In a 2020 interview with Oprah, she expressed that creating "Lady Gaga" allowed her "to create a superhero for myself." Who we saw on stage may not have been Lady Gaga but rather a glimpse at Stefani Germanotta. And that might have been the most appropriate lesson we can take away from Sunday night.
In response to disappointed Oscars watchers voicing their complaints on Instagram, one supporter of Lady Gaga cited her Netflix documentary, Gaga: Five Foot Two."She expressed that someday she wants to try stripping back the costumes and theatrics, and that she'd hope her fans would appreciate that she's still the same Gaga without it."
Another woman silenced further critiques by defending Lady Gaga's look with a statement as strong and understated as her appearance itself. "This nothing is everything."
Lead Photo: Kevin Winter/Getty
Trending on Outside Online