Meet the Doctor Inside Your Smartphone
A new startup wants to take sports medicine digital. Is it a good idea?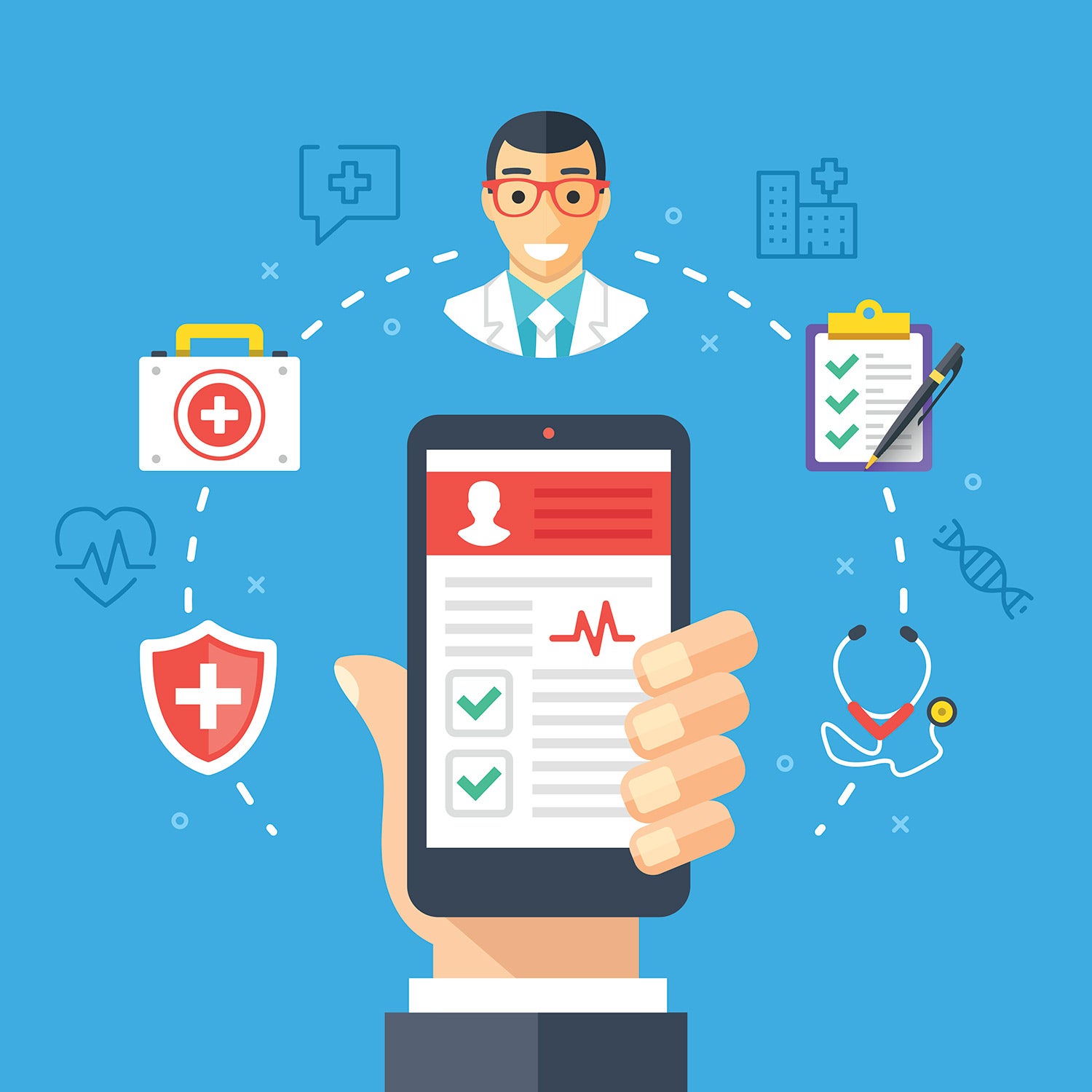 Jane_Kelly/iStock(Photo)
Heading out the door? Read this article on the new Outside+ app available now on iOS devices for members! Download the app.
Debra Hexsel never had a poor relationship with her doctor, but as an athlete, she often felt misunderstood. Hexsel, 61, is a legal assistant in Houston and a five-time Boston Marathon qualifier who finished ninth in her age group in 2016. She began running seriously in 2011—before that, she had been a cyclist—and a few years ago, feeling run down from training hard, she became concerned about her iron levels. Hexsel asked her local primary care physician to have her blood checked, but the doctor always declined, perhaps skeptical that he would find anemia in a postmenopausal woman or unfamiliar with running-related iron deficiency. Frustrated, Hexsel decided to take an iron supplement anyway.
This fall, Hexsel heard about a virtual medical startup called SteadyMD, which connects athletes with primary care doctors familiar with their sport. Hexsel signed up, and began working with a family medicine doctor named Josh Emdur, based in Boulder, Colorado. After speaking with Hexsel over video chat, Emdur, himself a 2:53 marathoner, ordered a blood panel, a standard test that is especially important for female runners, who are at higher risk of developing anemia. But the panel showed that Hexsel was not anemic. In fact, in her attempt to self-medicate, she had been taking far too much iron, which has the potential to cause serious issues. "I was basically ODing on iron," Hexsel says. "I was fighting tooth and nail with my primary, and he would never do that test."
Most primary care doctors don't have formal sports medicine training and, at least anecdotally, the athlete-doctor relationship is fraught. Hexsel's story reminded me of a friend who struggled with leg pain this year: Her primary care physician diagnosed a muscle strain, and my friend hobbled around for months on what she later learned was a femoral stress fracture. (An MRI would have caught the fracture must faster.) Another runner I know went to her doctor with pain in the side of her foot and was sent home with stretches for plantar fasciitis; it turned out that she also had a fracture. I've had similar experiences, too.
If the primary care system is broken for athletes, SteadyMD thinks pairing patients with doctors based on expertise, and encouraging regular communication by text, will be the fix. (The company also has physicians who specialize in treating weight loss and LGBTQ patients, in addition to doctors who are triathletes and weightlifters.) In the United States, a shortage of primary care doctors has pushed the doctor-patient ratio above 2,000 to one. As a result, many doctors don't have time to see patients more than once a year for a few minutes, and many young adults, who move and switch jobs often, don't have a relationship with a doctor at all. SteadyMD charges patients $79 a month and doesn't take insurance, and caps its ratio at 600 to one. In theory, patients have unlimited communication with doctors, and Emdur tries to respond to every text or call within a couple hours. The company hopes that better communication will lead to better care.
Hexsel and Emdur talk via text or video chat through an encrypted, HIPAA-compliant app that's built around the popular messaging platform Slack. Emdur aims to contact all of his patients at least once a month, even when they're healthy. Many doctors believe that this kind of incremental contact, with a focus on preventing illness or treating it before it becomes serious, is key to effective primary care. "Primary care revolves around the patient-doctor relationship," Emdur says. Only seeing patients once things go awry, he says, "is not an effective way to keep people healthy." Emdur also believes that better communication will help solve a chronic problem in medicine, where healthy people get more tests than they need. "Once you start doing testing, you just order more tests," he says; ideally, doctors and patients will have time to talk through medical questions, rather than throw tests at them.
Most primary care doctors don't have formal sports medicine training and, at least anecdotally, the athlete-doctor relationship is fraught.
Over the past five years, as technology has improved and regulations about its use have evolved, telemedicine has become an $18 billion industry. Some innovations, such as allowing generalists in rural areas to consult with specialists on tricky cases, have already lowered costs and raised quality of care. Primary care telemedicine is less well established, and research that could guide doctors is limited. In a 2015 policy paper, the American College of Physicians wrote that it "supports the expanded role of telemedicine," but cautioned that there is an absence of evidence-based guidelines for doctors practicing virtually.
"I don't think we know, in terms of evidence base, if this is a good idea for sports," says Nathan Jones, a family and sports medicine physician and a professor at Loyola University Stritch School of Medicine. Sports doctors, in particular, are reliant on a physical exam when evaluating injuries, Jones says, and some insurance companies may balk at approving an MRI or CT scan for a patient who hasn't been seen in person. Patients will have to weigh those uncertainties against the convenience of having a doctor on call who more closely grasps their background, Jones says. "I think it's reasonable, as long as people are aware of its limitations."
Emdur, who occasionally sees his Boulder-based patients in person, agrees: "The ideal option is to have the best of both worlds—a doctor in person when you need it, and online when you don't."
Still, for athletes, the appeal is obvious: Effective sports medicine is medicine delivered quickly by a doctor who understands the sport. "I've had physicians before be like, well, just stop running," says Margaret Spring, a Denver-based ultrarunner who is Emdur's patient. That advice is commonplace and, for many running injuries, outdated. Neely Gracey, a SteadyMD ambassador and 2:34 marathoner, says that prior to linking up with SteadyMD, she was so frustrated with the experience of scheduling appointments with doctors that she didn't bother finding a primary care doc for three years after moving to Colorado. "If you need an MRI, and you have a race coming up, you can't wait a week or two and then wait for an appointment to get results," Gracey says.
SteadyMD patients still need insurance policies to cover specialist visits and testing. But Guy Friedman, one of SteadyMD's co-founders, says that many people will be able to scale back their insurance polices, as most routine care will be covered under the monthly fee. That strategy will work best for people who are otherwise healthy, and less well for people with chronic or recurring health needs—yet another reason the service could be so attractive to athletes.
All the SteadyMD patients I spoke to commented on their initial interview, which usually lasts between 90 minutes and two hours, and how often they heard from Emdur.  "Even if I don't reach out to him, he'll send me a text," Hexsel says. "Last week, we texted for ten minutes. That's not what you'd get from a regular doctor."
Lead Photo: Jane_Kelly/iStock