Menopause Is Hell. It Also Made Me a Better Climber.
Change offered an elite athlete an opportunity to better understand herself—and what she still wants from her sport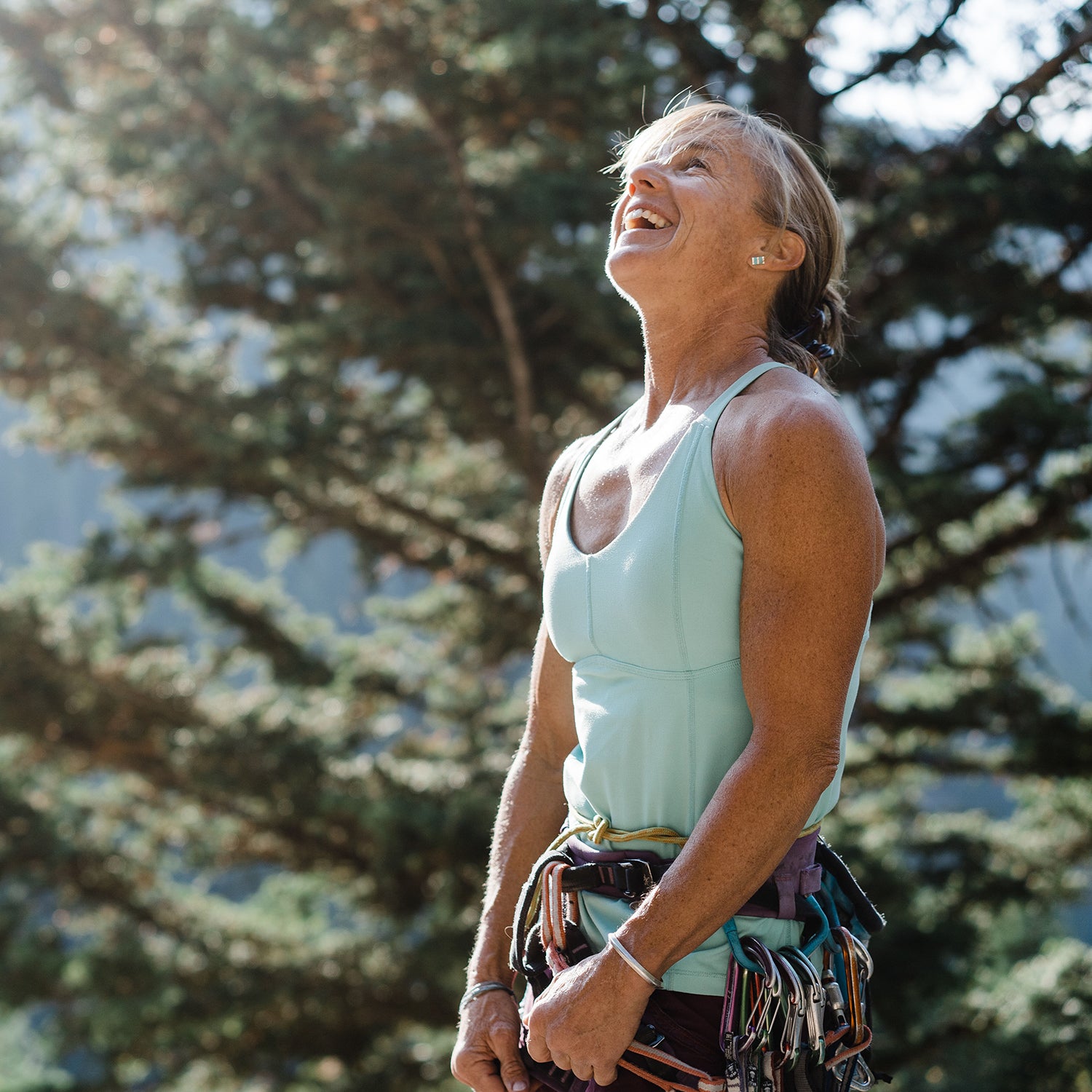 Tori Pintar
Heading out the door? Read this article on the new Outside+ app available now on iOS devices for members! Download the app.
When I was younger, I used to joke that women entering menopause would make badass ice climbers. Yes! I thought. Bring on the hot flashes! I'd finally get a reprieve from bone-chilling belays and the screaming barfies.
I am fortunate to live five minutes from the entrance to one of the lower 48's most reliable places for winter climbing: Hyalite Canyon, near Bozeman, Montana. One morning last November, a cold spell settled in overnight. I woke to shockingly low temperatures and wind. Not much ice had formed yet, but winter had arrived. It was time to let go of the comfort of warm rock and embrace the annual suffering of ice and mixed climbing.
My friends Lindsay and Gavin, both passionate and proficient ice and mixed climbers, joined me that morning for our first day of the season. We gingerly stepped across icy logs bridging a creek and hiked up through a snow-dusted forest to the base of one of Hyalite's cliffs. Somewhat trepidatious about winter's onslaught, we donned harnesses, clipped spikes, and grabbed ice tools. Normally stoic, my two younger partners were whining about the cold. I was emanating heat from my normally frigid body. It was 20 degrees, with a wind chill in the single digits, but I felt hot.
Oh God, I thought, this is it—I've arrived at the final stage of perimenopause. This term for the lead-up to menopause can last anywhere from a year to a decade and can feel like PMSing for months on end. Menopause is official only once you've actually gone a year without your cycle. For many of us, that's when the hot flashes really fire up.
It turns out this temporary reprieve from the cold is just a small consolation for the rest of menopause's sufferings. (The joke's on me, though: I wasted that rare moment of comfort in frigid temperatures terrified that the hot flash was a COVID-induced fever rather than the first few notes of the menopausal blues.) I wish I could say that the reason nobody ever tells us what to expect from menopause is because it's some cool, top-secret rite of passage. It's not. As an endurance athlete and a climber, I'm familiar with discomfort, and I can honestly say that perimenopause and menopause are not for the weak of mind or body. There's not much we can do to make it easier, but I want to share more honestly about this wild ride—and offer assurance that you'll come out OK, even richer, on the other side.
---
I'm no stranger to the unique challenges faced by female climbers, especially in alpine areas. I've spent decades climbing all over the world—in the Andes, Alaska, the Himalayas, and throughout North America—and while some of my favorite routes were climbed with women, including Patagonia's Fitz Roy and the Nose on Yosemite's El Capitan, most of my early trips were spent climbing with men, throwing these challenges into greater relief.
I've battled the hassles of my menses on big mountains while it was 20 degrees below zero and bled through (yellow!) climbing pants on a technical alpine route on Alaska's Mount Huntington. After summiting Canada's Mount Logan, the second-highest peak in North America, my two male partners and I got stuck in a five-day storm near 17,000 feet. I was unprepared for my period and resorted to sticking dirty wool socks down my pants for days. I ditched the socks in a crevasse on our way down after Joe commented on a peculiar new odor in our tent.
It's a relief to look forward to my next alpine adventure without a period. But this newfound freedom comes at a cost. Hot flashes are admittedly nice at the start of a cold climb, but they wreak havoc on my sleep, even in the comfort of my own bed. I routinely wake up in a sweat, whip my comforter off, guzzle water, and wait to drift back to sleep in my damp cocoon. My thirtysomething climbing partners, having slept like the babes they are, can't imagine why it's so hard for me to rally for predawn starts.
While I've always been intense—a bit of a whirling dervish, as my friends have described me—menopause has made me a stranger to myself. One morning after burning a muffin, I let loose a litany of swear words directed toward my partner. "It's not about the muffin, is it?" he asked. He was right. I was in the middle of a hurricane of emotions that I could barely manage.
It's now been just over a year since my last menstrual cycle, which means I'm officially in menopause, according to my doctor. There is no standard medical treatment for this physical and psychological upheaval, because there is no standard for what each woman experiences. Some go on the pill during menopause to try and stave off the effects of plummeting estrogen. Others, like myself, search for Chinese herbs or bioidentical hormonal creams that feel less invasive, with mixed results.
I have had to reevaluate other tried-and-true methods of coping, like my favorite, a glass of wine or beer. While calming in the moment, my doctor explained that alcohol can exaggerate menopausal symptoms. Instead I try to meditate and practice acceptance (and moderation). Climbing and the wilderness provide my best solace and joy, but accessing those spaces looks different now.
For two years during perimenopause, I would randomly lose my sense of drive and confidence as a climber. I wouldn't want to take the sharp end and lead. Then, just as suddenly, I would swing the other way and feel invincible, sending routes I'd never dreamed possible at any age. The days and weeks were filled with emotional and physical extremes, impossible to gauge or predict. But eventually the transition to menopause brought a welcome transition in climbing: my focus shifted. When I was younger, I pursued an incredible number of climbs and adventures in order to "feed the rat," as Al Alvarez wrote so poignantly of climber Mo Anthoine's insatiable thirst for epics. My body's slowing has curbed that craving for constant movement, and I'm learning to choose more carefully where I put my vital and limited energy. I accept that I need rest. I feel more focused on sharing inspiring routes with great partners, and taking the space I need in between to truly process those experiences and partnerships.
Menopause has also helped me start to quiet my ego. Though I still feel strong and young on stone, ice, and trails, a glance at a mirror has me reeling: Who is that older woman staring at me? I confess that I used to enjoy living behind a nice facade: a cute, young, strong female athlete. Now I understand that it was a waste of energy—my source of power runs much deeper than my appearance. I've had to let go of my self-image and dig into how to be more compassionate to myself. I am learning to embrace that woman who stares back at me from the mirror. Hot flashes are firing up my id.
I'd be lying if I said that I don't still struggle with it all, but I'm learning to be patient, to find calm in chaos, and to give in gracefully. The saying "let go or be dragged" rings truer than ever. And climbing, as always, helps me express my physical self with a focus on the present, demanding openness, reflection, and gratitude for this body and the life it's living.
Incidentally, I'm climbing harder than ever, sending routes I'd only fantasized about, like the Fugitive and Rusty Nail in Montana's Gallatin Canyon. I fall on most of them first, of course. But what I'm capable of continues to surprise me, even as my body and my mind shift and change. And ticking routes, while exciting, still feels less important than the relationships that support me while I'm out there—with my climbing partners, with wilderness, and with myself.
---
Jeannie Wall is a climber, runner, skier, gardener, and advocate for both women's empowerment and sustainable food systems. She is based in Bozeman, Montana. Her newest venture is an online forum for women in the mountains, Broad Beta.
Lead Photo: Tori Pintar
Trending on Outside Online