Welcome to College. Plus Meditation, Minus Drinking.
At the University of Vermont, an unusual initiative wants to help students discover the benefits of well-rounded healthy living. Is it working?
Heading out the door? Read this article on the new Outside+ app available now on iOS devices for members! Download the app.
The tattered, brain-shaped football immediately begins flying around the classroom. It's just past 2:30 p.m. on a Tuesday in early September, and Dr. James Hudziak, a professor of child psychiatry and pediatrics at the University of Vermont, tosses the foam ball around his auditorium like a quarterback marching his team down the field. Deep throws. Quick slants. Lasers down the middle. Seemingly every one of the more than 200 first-year students get a hand—or, in some cases, a face—on the object. Even those who sit directly in front aren't spared the good doctor's aim.
On it goes. Hudziak's marksmanship and occasional wobbles are accompanied by a soundtrack—a little Frank Sinatra, some Billy Idol—that belts from the room's speakers. As students find their way to their seats to the growling tones of "White Wedding," the atmosphere feels more like a playoff contest than a college course.
"This is the most unusual class I have," says a student sitting next to me while she scans the room for friends and unexpected flying objects. Then it gets quiet.
Hudziak, a barrel-chested man with a penchant for quoting movies like The Jerk and Pulp Fiction, instructs his class to put away their phones and notebooks before turning the room over to the yogini, who leads the group in a five-minute meditation. It's standard stuff—a closed eyes, deep breaths, embrace-the-present kind of session. With a seeming flip of a switch, this collection of fidgety pre-meds and confident Division 1 hockey bros sits still. The 75-minute lecture will end the same way.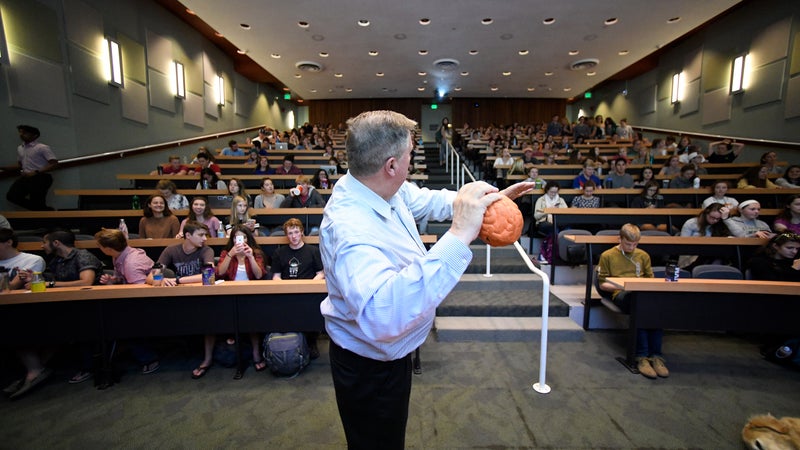 These meditative breaks are an essential component of Hudziak's "Healthy Brains, Healthy Bodies" course, which goes deep into the science and benefits of clean living. This class is the signature component of the university's three-year-old Wellness Environment (WE) program: an incentivized health-promoting substance-free community, founded by Hudziak, that motivates first- and second-year students to engage in various healthy behaviors. The doctor's lectures are fast-paced and heavy on the science, and he doesn't allow his students to take notes. A calmer mind, the thinking goes, is a more focused mind.
On this hilltop campus in Burlington, Vermont, Hudziak is making a preemptive strike against the lifestyle issues—booze, drugs, lack of sleep—that exist at schools across the country. According to the National Institutes of Health, one in four U.S. undergraduates report academic issues as a result of drinking, and some 1,800 college students die from alcohol-related injuries each year.
"What we've been doing isn't working," says Hudziak, who received a $1.8 million grant in July from the Conrad Hilton Foundation, a Los Angeles–based nonprofit that funds social programs around the world. "Universities around the country have a five-year graduation rate below 50 percent, [a ton of] kids are getting hurt every year at universities because of alcohol, one in five women experience negative sexual interaction, almost all due to alcohol and drugs. That's why we're doing this."
---
In WE, students sign a contract to not introduce drugs and alcohol into their dorm. In return, they're given free access to classes on meditation, mindfulness, yoga, cooking, and nutrition, and even music lessons. Gym passes are free for those who commit to working out 40 times a year. So are Apple Watches for students who file nightly reports on things like what they've eaten, how much they've slept, and whether they worked out. The WE course catalog reads like a lesson plan for better living: "The Science of Happiness," "Adversity and the Brain," "Sex, Love, and the Neuroscience of Relationships." It's science-meets-lifestyle stuff with everything built around Hudziak's "four pillars" of health: exercise, nutrition, mindfulness, and mentorship.
"We can all change who we are, and we can change who we are by changing our brain," says the 60-year-old neuroscientist, who has authored more than 180 peer-reviewed papers and holds professorship positions at the University of Washington at St. Louis and Erasmus University in the Netherlands. "The way we change our brain is by changing our environment."
Universities are often allergic to quick pivots, but during its short existence, WE has grown from a niche program of just 120 students into one that welcomed nearly 1,200 first- and second-year students this past September. A majority of them live in a new, $55 million residential building that's exclusive to WE students. It features a gym as well as yoga and meditation rooms on each of its seven floors. The neighboring dining hall allows WE members to eat locally sourced food and learn to cook. On-demand fitness is available throughout the day, and each student is given a violin for the year and offered free lessons.
In WE, Hudziak has built something that's integrated into his students' lives. There are iBeacons, for example, throughout the WE buildings that allow students to seamlessly check in at the dining hall, gym, and yoga studio via a custom mobile app. The tech allows WE participants to monitor their activity while also pushing the data, anonymously, to Hudziak so he can study WE's impact. The students' participation in WE activities earns them virtual WE coins to buy program swag like sweatshirts and hats. These may sound like cushy perks, but there's a science behind the offerings.
---
Hudziak's launch of WE was borne out of the same anxiety many parents face when they first send their children to college. A Chicago native, he attended medical school at the University of Minnesota and completed his residency program at Washington University in St. Louis, where his research included studying the effects of genetics and environment on 450 sets of twins. He and his wife, Theresa, moved to Burlington in 1993, and Hudziak started work at UVM's Larner School of Medicine. There, he launched the Vermont Family Based Approach, a child psychology practice that incorporated much of what he later used in WE. Hudziak worked with parents on navigating their own stresses and helped their children dial back their use of medications and steered them into music, yoga, and meditation.
But it wasn't until Hudziak, who has four daughters, saw his second-oldest child fail to secure space in one of UVM's limited substance-free dorms that he turned his attention to the lifestyle issues affecting college students and their particular period of brain development. The more he researched, the more he wondered if he could apply his findings to this age group.
A calmer mind, the thinking goes, is a more focused mind.
In the late fall of 2014, Hudziak sat down with Annie Stevens, UVM's vice provost of student affairs, and Dr. Jon Porter, the school's director of the Center for Health and Wellbeing, and outlined how he wanted to bring the Vermont Family Based Approach to UVM's undergraduate population. At a university consistently listed in Princeton Review's "top party schools" in the nation, Hudziak's ideas dovetailed with the university's recent efforts to roll back student drinking. In the spring of 2014, Hudziak taught his first "Healthy Brains, Healthy Bodies" class. That fall, WE officially kicked off.
The program's success stems in part from Hudziak's sheer will. He is both WE's visionary and its biggest booster. He's part professor, part doctor, part football coach. A stroll through the dining hall becomes a round of check-ins with his students, most of whom he knows by name. Popular phrases include "Are you building community?" and "Win the week." His enthusiasm is infectious, and rather than getting eye rolls from skeptical students, Hudziak is greeted with high-fives and handshakes. They comfortably interrupt his lunch to ask a question ("So when are those Apple Watches coming in?") or update him on their WE progress.
"His passion, his personality, his genuine care for students—those are the things I think helped us change so much so quickly," says Stevens. "He would remind us if it feels hard, it's because we're changing systems. We're not just changing residence hall environments, but changing the systems around those environments to make this work."
---
While UVM is on the vanguard of student wellness programs, in recent years an increasing number of colleges and universities have incorporated more healthy practices into campus life. In September, NYU launched the Wellness Initiative (WIN), a small program loosely based on WE's tenets. At Loyola Marymount University in Los Angeles, students can take advantage of nutrition counseling and massage therapy. Yoga, tai chi, and qigong classes are offered at Bowdoin College in Maine. And in 2013, Spelman College in Atlanta went so far as to scrap its athletic department in order to fund yoga, Pilates, and swimming programs. As WE has taken shape, Hudziak has had conversations with fellow neuroscientists and psychologists at universities like Georgetown, Tulane, and Virginia Commonwealth about replicating his program.
But before any of that happens, Hudziak has some grand ideas for expanding the WE program at UVM. There's talk of more classes and other extensions, like a WE run, WE triathlon, and a WE a capella group. Eventually, Hudziak would like to spread the program's tentacles beyond first-year students, even to those who live off campus. And then beyond. He envisions building a WE institute to help other schools bring the program to their schools.
Returning rates among WE first-year students are 6 percent higher compared to UVM students not involved in the program.
Big plans, to be sure, but the neuroscientist in Hudziak believes that by giving students a better understanding of who they are, how their brain works, and the reasons they're feeling the way they feel, WE is helping them embark on a life after college that is much less likely to include common American ailments like obesity, diabetes, and depression.
And between the perks, lifestyle choices, and the academic curriculum, students have embraced all angles of Hudziak's program. "I wanted something beyond an alcohol- and drug-free dorm," says Cameron Digiacomo, a first-year student from New Hampshire, as he prepares to do some squats at the WE gym with his friend and fellow first-year student Halle Sullivan. "It offers an incentive to stay healthy and have that college experience," he adds. "I've always been academically and athletically competitive, and I wanted to keep that going."
Sullivan, who grew up outside of Boston, nods her head in agreement. "You hear about people going to college and eating pizza all the time, the freshman 15 or whatever, but here it's so different," she says. "WE makes it so easy to sustain your health goals."
Just across the room, Solenne Kriner, a second-year German student who returned to the program this fall to work as a residential assistant in the new dorm, is in the middle of an arms and back session. "[WE] was probably the biggest thing for me for feeling at home here," Kriner says. "It also taught me to step back in moments that feel super stressful, like an exam, and say to myself, 'This is not as important as my health and personal well-being. I'm going to be fine.'"
These aren't isolated success stories. Returning rates among WE first-year students are 6 percent higher compared to UVM students not involved in the program. And coupled with programming the university already had in place, such as incorporating more substance-free events during high-risk drinking weekends like Halloween, WE has helped drive down student-reported binge drinking by about a third over the past five years. Overall, UVM officials see WE as being a crucial component in reducing undergraduate alcohol consumption and diminishing the university's well-established reputation as a party school.
"Promoting health is far more powerful than preventing illness," says Hudziak. "The transitional age brain—we think of it as this incredibly toxic space. Drug abuse, depression, suicide, horrible accidents. But my response to that is to think of it as a reactive space. And if you're reacting to health-promoting things, it's like the greatest opportunity for positive health outcomes."
Maybe that sounds overly optimistic, but it sure seems like it's working.
Lead Photo: Marta Pantaleo