What clothing will protect me from the sun's UV rays?
I will be going hiking and kayaking in Hawaii next summer, but I concerned about the sun because of my very fair complexion. What are some good choices for clothing to help protect me from the ravages of the sun? Jeff Minneapolis, Minnesota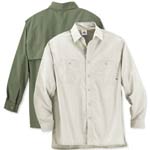 Heading out the door? Read this article on the new Outside+ app available now on iOS devices for members! Download the app.
You're not short of choices here. Concerns about skin cancer and UV rays have created a pretty sizable industry churning out sun-blocking clothing.

Safari Shirt

The company that really specializes in this is Sun Precautions. They sell a long-sleeve Safari Shirt for $80 (www.sunprecautions.com); it has a sun protection factor of 30 and comes complete with a mesh panel in the back for extra ventilation. Very light, breathable material, with sleeves that easily roll up for when you're in the shade. You can pair it with a pretty stylin' Solumbra Sun Hat ($49) and go a long way toward deflecting the sun's rays (the thought of that much sun is making me misty-eyed as I near a long, gray Pacific Northwest winter).
I wouldn't worry much about special shorts—most are made of material that will block lots of sun, and your legs would be exposed, anyway. Pants might be a good choice, perhaps something in the convertible arena such as Ex Officio's Amphi Pants ($59; www.exofficio.com), which have a lower leg portion that zips off. The light nylon material is also fairly cool and will dry quickly.


Your kayaking adventures will pose a challenge because of the sun glare off the water. So be sure you have a good hat like the Sun Hat, or one with an extra Foreign Legion-style neck flap, such as the Outdoor Research Sahara Cap ($37; www.orgear.com). Supplement this setup with a simple bandana over the face and nose, plus of course, some waterproof sunblock on any remaining exposed skin.
And curse you for going to the tropics…