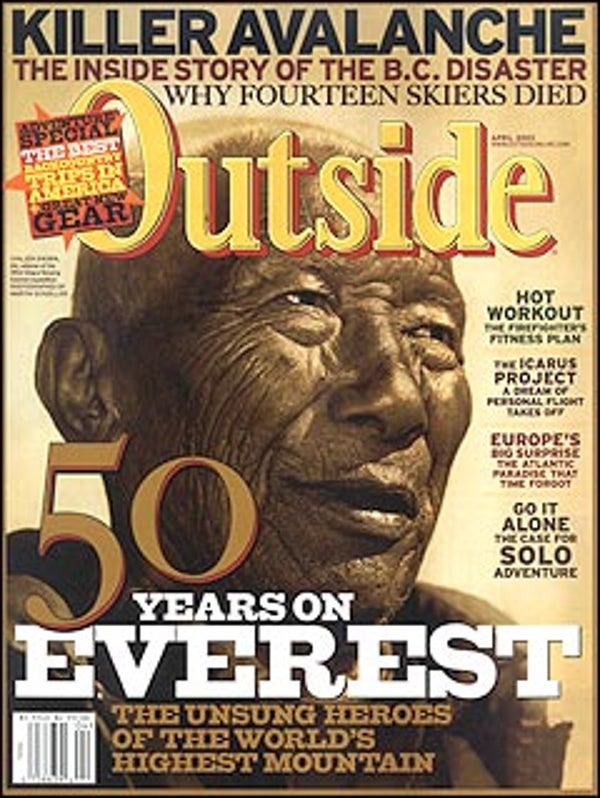 Outside Magazine, Apr 2003
---
F E A T U R E S
*CAMPING SPECIAL 2003*
WHERE THE WILD THINGS ARE
To satisfy your adventure jones, here are 21 sweet campsites, all matched with cool trips you can take by bike, boat, foot, horse, and plane.
PLUS: Gourmet camp grub and our picks of the best new gear.
THE SOLITARY WAY
A meditation on the rewards of going it alone in the wild, from one of America's most eloquent backcountry wanderers.
By Jack Turner
TIGERS OF THE SNOW
Who are Everest's greatest climbers? By any reckoning, the legendary Sherpas, the often overlooked mountaineering heroes who have made the top of the world their own. An epic portfolio of three generations.
Photographs by Martin Schoeller/text by Jenny Dubin
A THIN WHITE LINE
In one two-week period, two massive avalanches in British Columbia's Selkirk Mountains killed 14 people. Are these the accepted risks of backcountry skiing, or did somebody make a fatal error? Through exclusive interviews with the survivors, our report reveals what really went wrong during B.C.'s deadly ski-touring season.
By Ted Kerasote
THE GIRL CAN'T HELP IT
Juliet Draper's the fittest firewoman alive, and she's transforming her colleagues into elite athletes. When she's done with them, she's coming after you.
By Robin Chotzinoff
D E P A R T M E N T S
DISPATCHES
Do America's HELI-RESCUE pilots have the mountain expertise to do the job right? PLUS: THE APPALACHIAN TRAIL gets extensions, Sean Glaccum's quest to KAYAK NEPAL'S 8,000-METER PEAKS , a GIANT SQUID attacks a racing yacht, BOOK REVIEWS , this month's RADAR , and more.
THE WILD FILE
Are animals right- and left-handed? Why don't we have to trim our eyelashes? Do eels migrate to the Sargasso Sea?
By Brad Wetzler
DESTINATIONS
AZORES UNVEILED: A transatlantic stopover for centuries, this remote Portuguese island chain is EUROPE'S SECRET HUB for world-class sailing, coastal hiking, and deep-sea fishing—and there's even a running of the bulls.
OUT THERE
Ever imagine the adventures you could have in a lightweight personal FLYING MACHINE ? Our man did—then made it his goal to build one.
By Larry Gallagher
BODYWORK
Hallelujah! A trio of ENDURANCE-TRAINING programs—designed by the experts for century rides, marathons, and triathlons—that work around your busy schedule.
OUTSIDE STYLE
They're here: APRÈS-SPORT SHOES that have the cosmopolitan flair to go anywhere—without sacrificing comfort or fit.