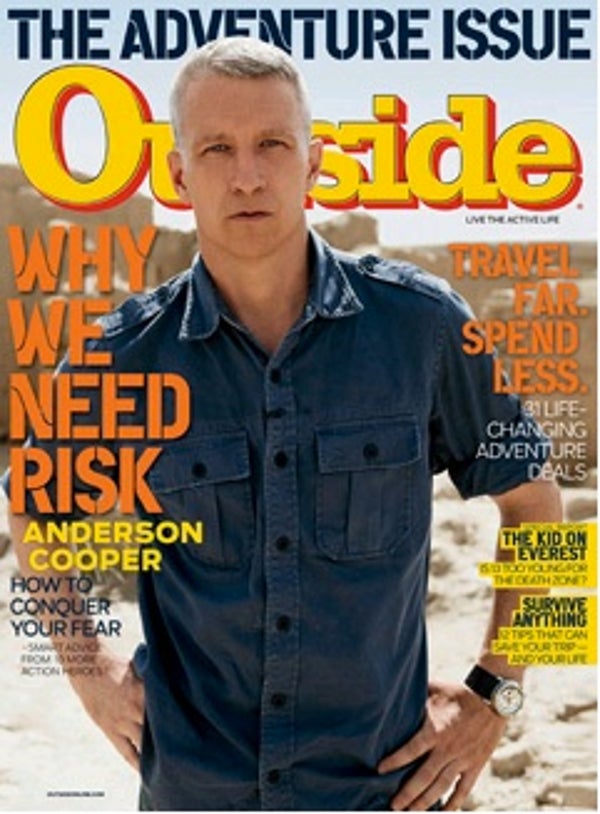 Outside Magazine, Apr 2010
Stories
The list of seven summits climbers used to read like an alpinist all-star team. Now there are kids who can include it on their college applications.
Outside editor Chris Keyes sits down with TV's most adventurous anchor.
---
Into Teen Air
Jordan Romero is 13 going on 29,000 feet. And he's just one of a new vanguard of super-groms posting monster feats at ever younger ages. By BRUCE BARCOTT
Destinations Special
GO BIG OR GO HOME
In the U.S., there's only one place that's still synonymous with epicescapes and endless horizons: Alaska. Here's how–and where–to drop in on the Last Frontier.
Trips of the Year 2010
BEST IN GO
Our compendium of the world's best new trips–everything from bush trekking in the Serengeti to paddling the Greek Isles to hiking to Everest's north and south base camps. PLUS: The best new Web sites, travel tools, and more.
Exposure Special
GOING ROGUE


Eleven intrepid adventurers share their motivations for surfing waves (with skis), hucking 100-foot waterfalls (while promoting conservation), running a marathon in the jungle (for fun), and otherwise breaking the mold.
The Greatest
GAME CHANGERS
Our editors make the case for the best adventurers of the modern era.
You Wish You Were Here


How I scored a trip to Antarctica, skied glaciers and volcanoes with Chris Davenport, became fluent in social media, and pleased our corporate sponsors. By ROB STORY
Vogalooooonga
We reunite WELLS TOWER and beloved brother Dan for another fiasco adventure, this time paddling the craziest "race" in Venice, the Vogalonga canal run.
In the Land of the Human-Sucking Bogs


In 1934, Mao Zedong and 86,000 Red Army troops attempted one of history'smost brutal high-country crossings. About 10,000 made it through. DEAN KING walks in their footsteps, and finds a trekker's paradise along the way.
Departments
THE ESSENTIALS
» Adventure Tech: The best new GPS units, radios, phones, and photo gadgetry.
» Knives and Tools: Indispensable implements to get you out of any rough patch.
» Good to Go: Travel-ready apparel as good on safari as on an urban adventure.
BODYWORK
» Adventure Medic: Our guide to surviving and thriving off the beaten track, with actionable advice on everything from malaria to toothaches.
Columns
DROPPING IN
Having decided he can (and therefore should) walk on water, thanks to a stand-up paddleboard, surf nut BUCKY MCMAHON embarks on a six-day expedition through North Carolina's Outer Banks.