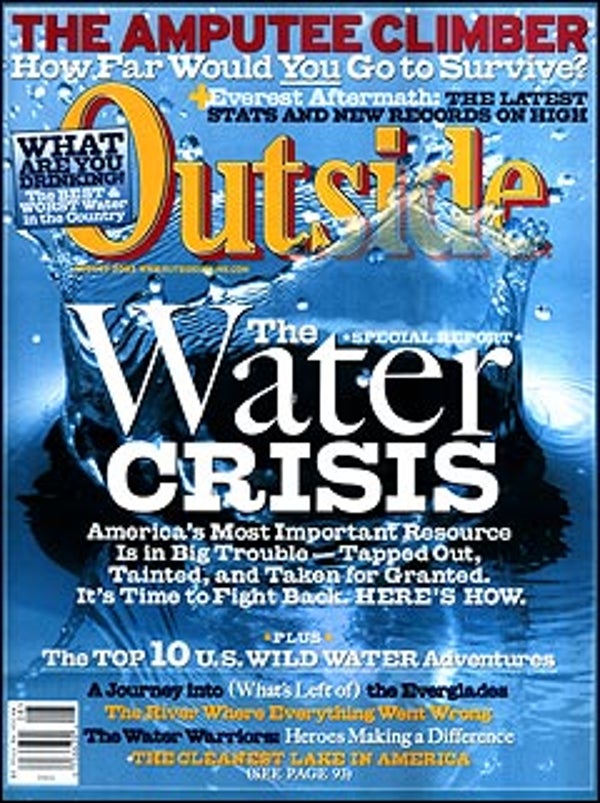 Outside Magazine, Aug 2003
---
F E A T U R E S
THE WATER ISSUE
The wet stuff is always there for us—it grows our food, puts splash and spirit in our adventures, and (by the way) keeps us alive. But what have neglect and insatiable demand done to the supply? A special report on the health of America's most vital resource.
GOOD OLD BOY GONE GOOD
When Louisiana Cadillac dealer Harold Schoeffler isn't moving inventory, he's closing deals to save wetlands in the Atchafalaya Basin and teaching the Deep South to see green.
By Peter Heller
WITHOUT A PADDLE
After decades of abuse, the Everglades is now part of the costliest wetland restoration project in history. Can a hapless journey into its wet heart offer hope that the effort is worth it? Well, yes. And no.
By W. Hodding Carter
WATER IN THE BALANCE
Crucial fights are heating up all over the country. We look at how their resolution could steer major policies for years to come.
BIG WINS
Our feel-good roster of inspiring victories: How the Gauley River got its flow back; against-all-odds dam removal; saving a California surf break; and more.
TAPPING THE SOURCE
A survey of America's drinking water, from the murky to the crystal clear.
THE WILD-WATER LIFE LIST
Float the Salmon ; sail the Maine Island Trail ; sea-kayak the San Juans ; surf Waikiki ; fly-fish the Alaskan wilderness ; snorkel Florida's most pristine park ; and more. PLUS: Water crises by the numbers ; next-generation environmental heroes ; How to get involved ; ten amazing beaches ; ten perfect swimming holes ; and the nation's cleanest lake!
D E P A R T M E N T S
DISPATCHES
A crusading archaeologist and powerful environmentalists go head to head over a plan to develop MAYAN RUINS in Guatemala. PLUS: Running the numbers on the WORLD'S TALLEST MOUNTAIN ; and this month's RADAR .
THE WILD FILE
Is it safe for dogs to run long distances? Does cloud seeding really make rain? Do cell phones work better if you're on top of a mountain?
By Brad Wetzler
DESTINATIONS
Easy-access scuba: Keep your flippers close to home and explore NORTH AMERICA'S WILDEST DIVES : from Hawaiian lava chambers to Lake Superior wrecks to Floridian springs. PLUS: Pay a visit to SCUBA CAMP on a desert island in Baja's Sea of Cortez.
THE HARD WAY
In which we unfold the inside story of Aron Ralston, who cut off his hand to free himself from a fallen boulder, and explore the universal obsession with his grisly, inspiring ordeal.
By Mark Jenkins
REVIEW
Don't get caught without an ULTRALIGHT SLEEPING BAG for your balmy summer overnights. PLUS: The latest backcountry FLY-FISHING gear: a packable rod, reel, and tackle that won't weigh you down; and Litespeed's TITANIUM TRIKE FOR TYKES .
BODYWORK
We have a winner! Add a competitive edge to your aquatic adventures with WATER GAMES guaranteed to hone swimming, kayaking, surfing, and rafting skills—and leave a big smile on everyone's face.