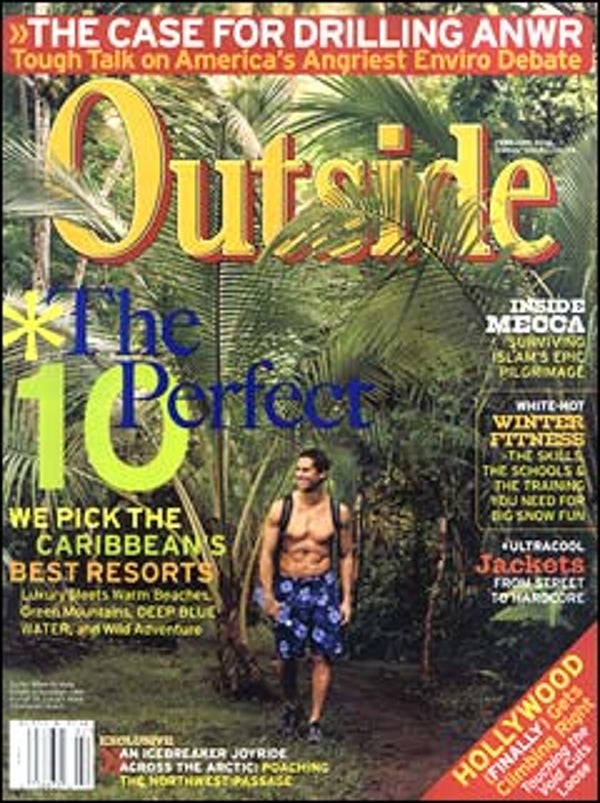 Outside Magazine, Feb 2004
---
F E A T U R E S
BREAK ON THROUGH
The Arctic's ice-choked Northwest Passage has spelled disaster for ships during centuries of exploration. But things may be changing. Is global warming about to turn this 900-mile route into a viable sea-lane?
By Natasha Singer
IF IT DOESN'T KILL YOU FIRST
During the annual pilgrimage to Mecca, two million Muslims brave desert heat, exhaustion, and the specter of death by trampling—all during a harrowing ritual of devotion. A survivor's tale from the greatest trek on earth.
By Murad Kalam
I DID IT FRIEDL'S WAY
Take a veteran Everest climber and ski patroller looking for fun on his day off. Add an imperious heli-ski guide eager to be masterful. Throw in some Canadian powder and simmer for a day. What do you get? A surefire recipe for humble pie.
By Dave Hahn
CRUDE REALITY
It's the most acrimonious and polarizing environmental fight in years: Do we drill in the Alaska National Wildlife Refuge, or do we keep the energy companies out? A writer and former oil worker proposes a bold new idea: compromise.
By David Masiel
LICENSE TO CHILL
Not all tropical idylls are created equal. Just ask our editors and writers, who combed through hundreds of prime locales to select our Caribbean A-list: ten handpicked resorts that are rich in sun-drenched beauty, high on adventure, and fine-tuned for luxury. PLUS: Swimming in Mosquito Bay , sailing the Grenadines , climbing 10,000-foot Pico Duarte , and five other don't-miss dream outings.
D E P A R T M E N T S
DISPATCHES
In the best dramatic mountaineering film in years, TOUCHING THE VOID , Joe Simpson and Simon Yates relive climbing's most incredible survival story. Returning to the Peruvian Andes after 17 years, they face their nightmare all over again. PLUS: Marmot introduces a NEW ELECTRICALLY ILLUMINATED PARKA , and this month's RADAR .
THE WILD FILE
What's the difference between talus and scree? Which spider spins the toughest webs? Where is the world's most ancient river? Why are some animals colorblind?
By Brad Wetzler
NATURAL ACTS
The front-yard soap opera of MA AND PA OSPREY raising their chicks on the author's Montana spread proves there's no need to meddle with nature—it's got family values all figured out.
By Bill Vaughn
REVIEW
We sorted through the SOFT-SHELL onslaught this winter to help you pick the right jacket for every temperature range and sport. PLUS: 21st-century SNOW SLEDS built to shred.
BODYWORK
Winter shouldn't limit your fitness fun—just hit the backcountry. Our guide to the WORKOUT WONDERLAND . PLUS: Three top athletes face Outside's challenge: Who's the fittest of 'em all?