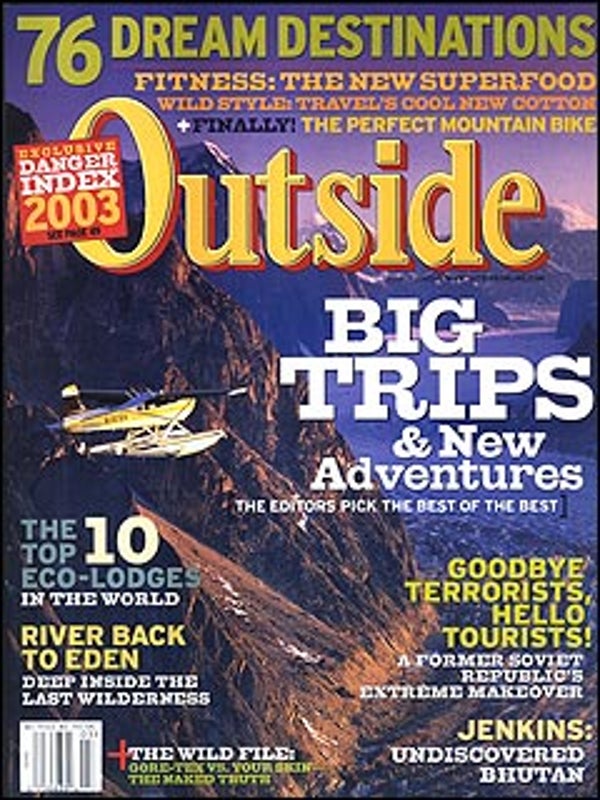 Outside Magazine, Mar 2003
---
F E A T U R E S
2003 DESTINATIONS SPECIAL
BIG TRIPS & NEW ADVENTURES
Nomads Have More Fun
Get out, get wild, with 53 awe-inspiring, soul-soaring journeys
Sign up now for a Mexican adventure with REINHOLD MESSNER , trips to the sweetest international MOUNTAIN-BIKE MECCAS , up-close wildlife encounters in BELIZE , TONGA , and BOTSWANA , cultural immersion in VIETNAM and MOROCCO , and multisport escapes from FIJI to NORWAY .
PLUS: Life-changing epics, SCENIC HIDEAWAYS you can reach only by chopper, the coolest active vacations CLOSE TO HOME , and more.
A Trip Is Born
A first descent of MOZAMBIQUE'S LUGENDA RIVER —a mystery world of riotous natural beauty, incredible paddling, rare wildlife, and more than a few deadly waterfalls—underscores a timeless truth: You never know what you'll find around the bend.
By Peter Stark
TRAVEL'S NEXT FRONTIER
Resort to Virtue
Looking for big fun, but you want to leave a small footprint? Follow our guide to the world's TEN BEST ECO-LODGES .
By Natasha Singer
PLUS: Taking the devil out of the details-how to build an earth-friendly, guest-comfy ECO-RESORT ; Outside's GREEN AWARDS for adventure outfitters; and catching up with THE CLASSIC ECO-DESTINATIONS .
Hot Spot
Adventure travel is way, way down in GEORGIA —not surprising, given that the former Soviet republic is broke, still smarting from civil war, and possibly home to a few Al Qaeda guerrillas hiding in its hills. Can the new entrepreneurs of the Caucasus change all that by selling their wild outdoors?
By Fen Montaigne
D E P A R T M E N T S
DISPATCHES
A team of Belgian canyoneers makes an unsupported, no-way-out assault on Low's Gully, a flash-flooding 6,000-FOOT CHASM on Borneo. PLUS: Adventurer Mike Horn circumnavigates the ARCTIC CIRCLE by foot, sail, and ski-kite; author Marc Reisner's posthumous warnings about CALIFORNIA'S INEVITABLE BIG QUAKE ; and this month's RADAR .
THE WILD FILE
Is your skin waterproof and breathable? Who's steering that single-minded flock of birds? Do fish drink?
By Brad Wetzler
THE HARD WAY
With tight controls on all tourist traffic, Bhutan has protected its Himalayan mountain treasures from being overrun by the masses. But those few who do venture to these sacred peaks soon learn it's not the government you need to worry about—it's the gods.
By Mark Jenkins
REVIEW
The new full-suspension MOUNTAIN BIKES get everything right—they're lighter, plusher, and faster than ever. PLUS: Cotton, the original outdoor fabric , has never looked this good.
BODYWORK
Power potions and carbo bars have revolutionized the athlete's diet—maybe too well. It's time to heed the latest research on FRUITS AND VEGETABLES , peak performance's oft-forgotten secret ingredients. PLUS: how painkillers may undermine strength gains ; and Viagra , the mountaineer's new secret weapon.