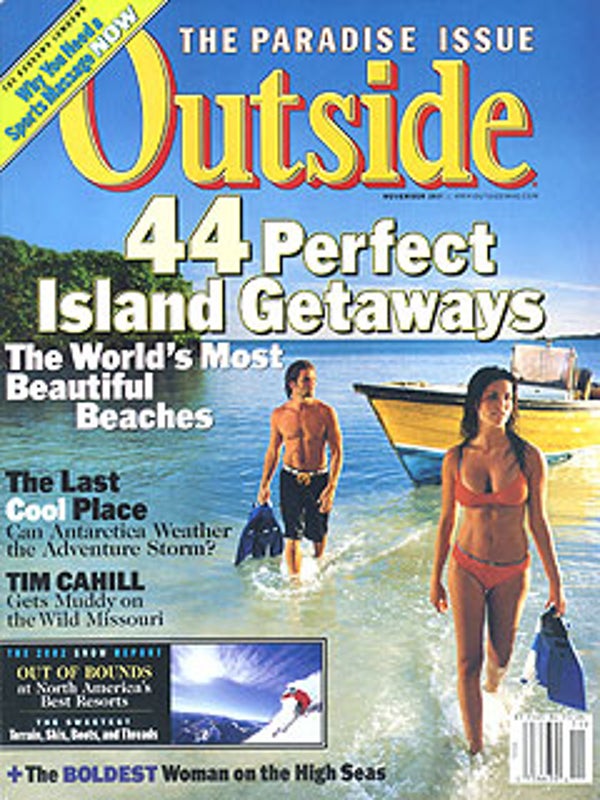 Outside Magazine, Nov 2001
---
F E A T U R E S
Beat the Crowds. Antarctica Now.
For decades, the Last Continent has been a private preserve for governments, scientists, and top-shelf explorers. Now a horde of newcomers is crashing the party—expedition travelers offering big bucks for both high adventure and canned thrills. Their presence raises a touchy question: Who gets to play in the coolest wilderness on earth?
By Rob Buchanan
Floating the Mighty Free and Easy
The Missouri River can get under your skin. Its waters flow through your dreams. Its canyons flood your imagination. And its greasy mud creeps between your toes, oozes into your car, and (somehow) turns up in your tub two months later. Notes on the finest, grimiest float you'll ever take.
By Tim Cahill
Paradise Found
Lead Us into Temptation
Every island is a world unto itself, whether it's a stone's throw from the mainland or a green jewel in the watery outback. Here are 44 of the best sun-soaked nirvanas where you can escape your cares and rediscover the slacker within.
La Digue, Seychelles
On an Indian Ocean outpost, a lonely guy finds a sleek, dark, well-built object worthy of his love. By Rob Buchanan
Rarotonga, Cook Islands
You're looking for indolence, the perfect beach, and the True Essence of Nowhere? This is the place. By Jay Stowe
Cat Island, Bahamas
No need to dress up for the mail boat to the Atlantic's most unapologetically unscrubbed isle—the folks on Cat like you just the way you are. By Elizabeth Hightower
Grenada, British West Indies
When Carnival comes to the Caribbean, drive slowly and surrender to the psychedelic fever dreams. By Mike Grudowski
PLUS: The best islands to paddle a kayak, dive a reef, troll for lunkers, watch wildlife, pilot a mountain bike, surf the wind, launch a paraglider, and more.
She Rules the Waves
When 25-year-old Ellen MacArthur posted the fastest time by a woman in the history of the Vendée;e Globe, solo sailing's toughest around-the-world sprint, she became the sport's newest prodigy. A conversation with the skipper who is taking the high seas by storm. By Tim Zimmermann
D E P A R T M E N T S
Dispatches
Stymied in Chile by red tape and xenophobia, environmental carpetbagger Doug Tompkins takes his conservation crusade to Argentina, securing 240 square miles of prime Patagonia for a breathtaking new national park.
On the Great Barrier Reef, armed-to-the-teeth divers wage holy war against coral-gobbling starfish..
Fleece that's good enough to eat! A corn-based, farm-fresh fabric hits the marketplace. sounds off on his adrenaline addiction.
Meet Sarah Schleper, the U.S. Ski Team's bad-girl slalom threat in Salt Lake City.
Plus: Customized med kits let travelers strap an ER on their backs; Palm Pilot inspires a new pocketknife; and surfers get barreled at the Vans Triple Crown in Hawaii.
The Wild File
Does the early bird really get the worm? Is it possible to survive by eating snow and (gulp) drinking your own pee? Do lakes really die? Why do paragliders' shadows look like they're glowing? By Brad Wetzler
The Hard Way
Ditch the fancy clothes! Notching a light-and-fast first ascent in the Wind River Range alongside Yvon Chouinard, the writer taps into the pared-down philosophy driving this pioneering climber, activist, and entrepreneur. By Mark Jenkins
Ski and Snow Report 2002
SPECIAL PACKAGE
Destinations
Lift-Served Launchpads: From the chest-deep powder stashes of Vermont's Jay Peak to the steep chutes on California's Mammoth Mountain, 20 top North American ski resorts that are leading the off-piste revolution by throwing open forbidden terrain. Start your winter right with our trail map to the gnarliest runs on the continent.
PLUS: The first lift-served backcountry ski area opens in Silverton, Colorado; and a stay-alive guide to keeping safe beyond the boundary lines.
Review
A Cut Above: After years of experimenting with hourglass shapes and radical widths, ski manufacturers have found the magic sidecut formula . We've tested the best planks made by Atomic, Dynastar, Fischer, K2, Rossignol, Salomon, Volant, and Völkl—for every condition from fluff to slush.
PLUS: Cushy new boots , liners , and footbeds that take the pain out of carving; and soft-shell outerwear and accessories built to withstand downhill thrills.
Bodywork
Fitness touch-up: Good news for back-rub junkies —sports massage can speed muscle recovery and prevent injury. If you want to stay competitive, it's time to surrender to the first training regimen that actually feels good.
PLUS: Professional advice on DIY massage; and a look at luxury adventure spas designed for active rest.
How an exercise-and-sunlight cocktail will combat midwinter insomnia.
Books: This Cold Heaven, by Gretel Ehrlich; Above the Clouds , by Anatoli Boukreev; In This We Are Native , by Annick Smith; and The Coldest March , by Susan Solomon. Plus: John Muir's Last Journey: Unpublished Journals and Selected Correspondence , edited by Michael P. Branch.