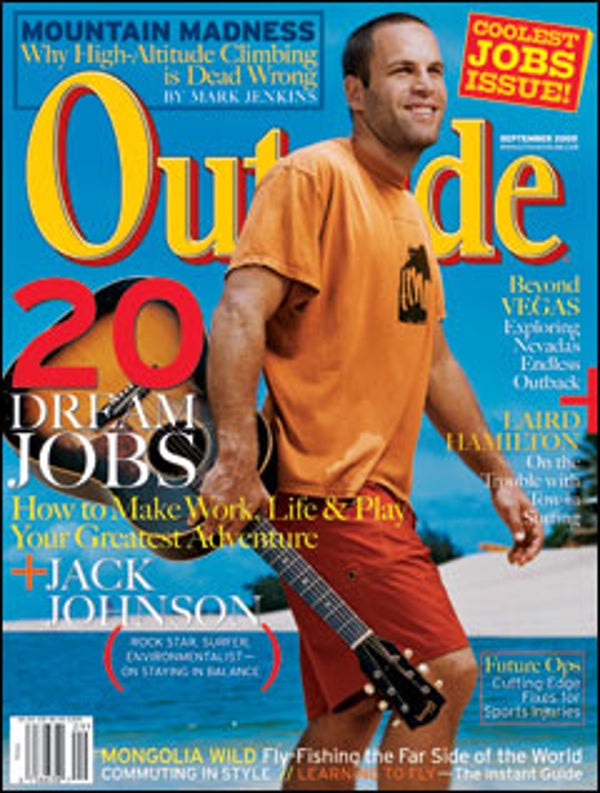 Outside Magazine, Sep 2005
---
F E A T U R E S
DREAM JOBS 2005
THE LIFE-EXPANDING, 24/7, WORK-AND-PLAY (AND CHANGE THE WORLD!) ADVENTURE PLAN
It's time to power up and push your vocation to its full potential. We've assembled the ideas, strategies, insider secrets, and inspiring tales of transformation that will help you seamlessly blend biz and pleasure, nab real success, and ride out your wildest ambitions.
PLUS: How rock supernova Jack Johnson keeps his balance on the ride of his life; the work guru who says leave your job (but just for a month); and tools to propel you along your own rut-busting path, including books, Web sites, trips, tips, and more.
EXPOSURE SPECIAL
VISIBILITY UNLIMITED
Bradford Washburn's mountain photography is a marvel of technical imaging and epic detail. Now, at 95, will he concede that he's also one of the past century's greatest living artists?
By Kurt Markus
DESTINATIONS
JACKPOT
Think Nevada is all about the Strip, strippers, and stupendous hangovers? Think again. We light out to explore the state's secret-stash escapes and infinite outback.
By Brad Wetzler
ADVENTURE
A PEACEFUL ANGLE
In which a veteran war photographer and writer grab fly rods and a fifth of Scotch and drop into Mongolia in search of a monster fish called the taimen. It's the perfect wilderness idyll—except when real life gets in the way.
By Patrick Symmes
D E P A R T M E N T S
DISPATCHES
» THE LORD COMES TO DOGTOWN: Before finding Jesus in jail, Christian Hosoi was something of a god himself—on the vert ramp. Now his act is clean, but can he still roll with the best?
» BODY BY BOND: An L.A. gym has decided that a tuxedo and some training in covert ops, martial arts, and gunslinging is just the thing to get you in shape.
» CHRIS CARMICHAEL hits the bottle and shows you how to get the most from the best sports drinks.
» IN OVER THEIR HEADS: Tow-in surfing's popularity has attracted a mob. LAIRD HAMILTON weighs in on the growing mayhem at the world's biggest break.
» Layovers shouldn't be a terminal bore. We dream-build the IDEAL AIRPORT with real-world amenities like 24/7 movies, a spa, a bike trail, and an indoor rainforest.
» Finding Orwell's inspiration in modern-day MYANMAR ; turning Japanese; and the final opus of naturalist ELLEN MELOY . PLUS: A new bio goes ape over KING KONG 's creator.
» THE WILD FILE investigates yawning whales, tick fasting, and launching nuclear waste into space.
BODYWORK
Sooner or later all athletes sustain a season-ending injury, but rehab is where the real suffering comes in. That's all about to change: We suss six new surgeries to get you back in the game fast—and good as new.
REVIEW
All-access adventure is only a hop away when you're at the yoke of your own plane. We present the buzz and beta of learning to fly. PLUS: A pilot needs a plan. Spy the coolest wings, then learn how to get off the ground without going broke.
STYLE
Friend, is your journey to and from work a daily drag? It's time to soup up your commute with the spiff duds and cool modes of transport we prescribe to heal that tired old transit.
THE HARD WAY
As oxygen canisters, abandoned gear, and fixed lines spread across the world's highest peaks, it's time for a radical reform of climbing ethics.
By Mark Jenkins