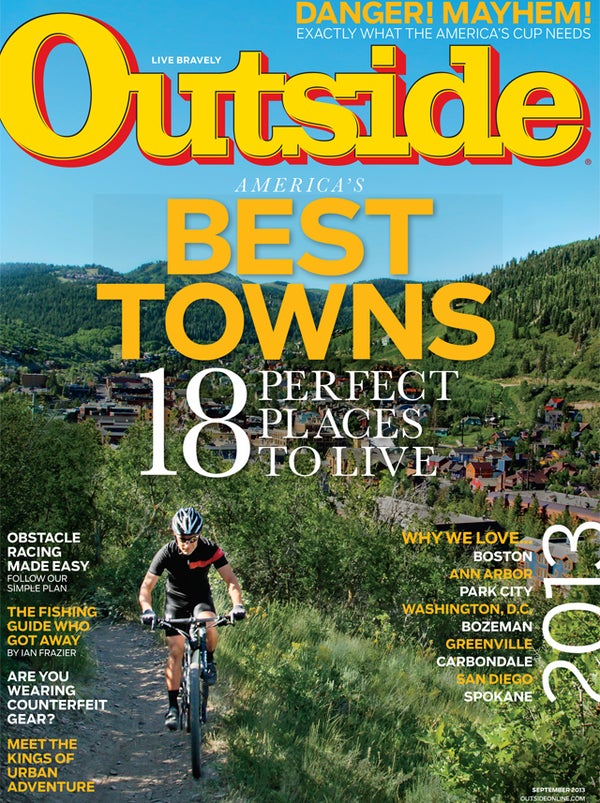 Outside Magazine, Sep 2013
The Best Towns in America
Stories
What do you get when you combine six eye surgeons, thirteen runners, six educators, two nonprofits, 871 cataract patients, 63,000 students, two of the fastest men on the planet, and one trail race in the remote highlands of East Africa? Accelerate Ethiopia. Welcome to the brave new world of adventure philanthropy.
The Deschutes River fly-fishing guide called Stealhead Joe was an angling master with a long list of devoted clients. But as Ian Frazier, who fished with Joe last fall, learned, off the water, Joe's life was a tangle of troubles that ultimately overwhelmed him.
The tortured life of a globe-traveling picky eater.
---
Miracle Miles
Combine six eye surgeons, 13 runners, 871 cataract patients, 63,000 students, and two of the planet's fastest men in a remote slice of Ethi-opia, and you get a new recipe for adventure philanthropy. By Christopher Keyes
Empire State of Mind
How do you find real outdoor adventure in the middle of New York City? Start with the right attitude and then don't give up. These and other lessons from seven of the city's boldest inhabitants. By Abe Streep
I Am Gonna Hate Your Food
Hold the halibut ovaries and octopus eyeballs. The cuttlefish and yak milk, too. As picky eater chuck thompson has discovered, a traveler makes few friends when his answer is always, "No thanks, I'm good."
The One That Got Away
Stealhead Joe was a legend on Oregon's Deschutes River—a master angler and the best guide his devoted clients had ever seen. But off the water, his tangled troubles overwhelmed him. By Ian Frazier
DISPATCHES
First Look: Larry Ellison's America's Cup has been beset by disappointing sponsorships and even a tragic training death. Will all be forgiven if the billionaire's bold vision for extreme sailing comes true?
Primer: Gear companies are crying foul at booming sales of counterfeits.
Books: Heavyweights Bob Shacochis and Scott Anderson spin tales—fictional and otherwise—of global intrigue.
Rising Star: Seventeen-year-old running phenom Mary Cain laps the competition.
Sport: Outside's Backyard Pentathlon.
Covet: Can you pull off the cagoule?
BODYWORK
Races: Obstacle-course racing is the nation's fastest-growing sport. Our comprehensive guide will help you find the right race and jump into the fray.
The Plan: An eight-week regimen for total race domination.
Fuel: Endurance beast Hobie Call's wheatgrass smoothie.
Tools: Must-have training gear.
My Body: What lugging rocks has done for Cody Moat, king of the Spartans.
DESTINATIONS SPECIAL: BEST TOWN EVER 2013
From Boston to Bozeman and beyond—aloha, Honolulu!—these 18 active towns are your favorite places to live healthy, with plenty of trails and unrivaled access to surfing, climbing, paddling, and cycling. Your votes are in, and the winner is…
ESSENTIALS
Ode: A watch with a built-in locator beacon.
Hike: Minimalist trail shoes.
Stress Tested: Bombproof fall jackets.
Field Trials: Satellite phones with truly global coverage.
plus
EXPOSURE
BETWEEN THE LINE
PARTING SHOT