Bob Breedlove: Life of a RAAM Legend
Dr. Bob Breedlove, 53, one of the country's top endurance cyclists and one of the sport's most beloved figures, died on June 23 while competing in the RAAM transcontinental bike race. Frequent Outside contributor Stuart Stevens trained and raced with Breedlove on several occasions and spoke with him just hours before his death.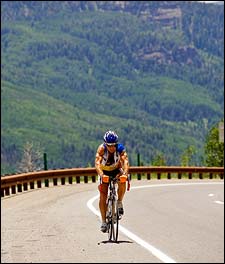 Heading out the door? Read this article on the new Outside+ app available now on iOS devices for members! Download the app.
When I first saw him, I had to laugh.
Bob Breedlove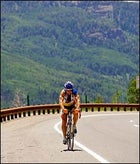 Bob Breedlove
It was in the middle of Arizona on the first day of a training camp, hot and windy, and most of us were suffering. But there was this one guy who kept riding up and down, smiling and waving, easily doubling our distance. Though he wasn't a big guy, his muscles bulged out of ragged shorts and a jersey with hacked-off sleeves, as if the Incredible Hulk had taken up cycling and was suddenly bursting out. And he was wearing these bright orange gloves.
I assumed, of course, he was a total nut.
That night, I was looking forward to a lecture at the camp by Dr. Bob Breedlove, a fellow I'd never met but a legend in the cycling world. He was the Eddie Merckx of ultra-cycling, a guy who had done it all. He was a veteran of several Race Across Americas (RAAM), including first place finishes on a tandem, and was the only human who had ever completed a RAAM and then turned around and raced back across the country. They called that little feat a "double crossing," and Bob Breedlove had done it in 22 and a half days. Plus, he was an orthopedic surgeon and expert on the arcane sciences of endurance sport. Clearly a very impressive human.
And in walks the same guy I'd seen imitating the Incredible Hulk in orange gloves. "I'm Bob Breedlove." The packed room burst into applause. He gave a big grin and looked embarrassed. "I like to ride bikes."
It's no secret that athletes who can perform at the top level of super endurance endeavors may not lead the most balanced of lives. The same obsession that blesses them with hyper-intense moments is often an excuse to lead sharply focused and limited lives. But Bob was a guy who burst through life like a kid running through a sprinkler on a hot Iowa day, full of infectious joy and curiosity.
He had this way of making the ordinary seem extraordinary…and the extraordinary almost ordinary. That middle America, that Iowa stuff, like family and community, he embraced with a fierce, almost giddy enthusiasm-married to a wonderful woman he met when he was six, father of four, a Deacon in his church, a non-stop Iowa booster. Bob was the kind of guy who thought it was so great that Des Moines got a minor league hockey team, he not only went to every game, his family invited young players to live with them during the season. Over the last few days, The Des Moines Register has been full of letters from former patients Bob had operated on and refused payment from. "I had lost my insurance but Dr. Bob still…"
Of his truly superhuman cycling feats, he was perpetually modest and almost nonchalant, more interested in you than himself. In 2003 he asked me to ride the 750-mile Paris-Brest-Paris (PBP) event with him when his tandem partner dropped out at the last minute. I had never ridden a tandem and had no desire to ride one, but, of course, I said yes. It was like Michael Jordan calling and asking if you wanted to play in a pick up game.
Bob showed up in Paris with his longtime support crew; a brand new Calfee tandem painted in red, white, and blue and cases of Spizz, the liquid diet he lived on for long rides. It was a traveling endurance circus radiating this unlikely mix of confidence, good will, and sheer silliness that was Bob's unique style. We laughed and joked across France. At one of the final control points, Bob stopped a Swedish woman rider who was in the process of turning in her number, abandoning the race.
"What are you doing?" he asked with that big smile of his.
"I'm finished with PBP," she announced, sounding angry and relieved.
Bob nodded. "Sure. Hey, what's your favorite 100-kilometer training ride back home? An easy one."
This exhausted woman stared at Bob as if he were mad, but then he gave her that grin and she described a beautiful ride of rolling hills near her home.
"Fine," Bob nodded. "So that's the ride you're going to do today. Forget about PBP. All you do is get on your bike and ride that ride in your head. You can handle that ride any day, right?"
She stared and then started to smile, if only a little. "That's all you have to do today," Bob said gently. "Just ride that little 100k ride you love. Easy as pie."
Later that day, back at the finish outside of Paris, I saw her hug Bob and burst into tears.
I spoke with Bob during this last RAAM and he was in terrific spirits, having a great race. "We should do RAAM as a team," he teased. "That way I can slow down and see more of the country."
There's a photo of Bob on the RAAM site as he climbs Wolf Creek pass in Colorado. He's got that focused look, a hint of a smile, muscles glinting, a big vista behind him, and 2,000 miles yet to go. That's Bob Breedlove. My hero.
For more on Breedlove and the accident that took his life, read "Cyclist Killed in Transcontinental Race."