Boredom Is Indoor Cycling's Biggest Enemy. Can Zwift Defeat It?
Indoor rolling on a bike trainer used to be a heinous chore. Now there's an app that turns it into a video game—and puts you on a fast track to aerobic fitness.
Heading out the door? Read this article on the new Outside+ app available now on iOS devices for members! Download the app.
I'm just starting to play around with Zwift, the program that makes a game out of riding your bike indoors, when I think of a suggestion for the company's code writers. It comes to me while I'm pedaling furiously to keep my avatar on the tail of some player from Sweden: Why not build an emoticon for coughing up a lung?
It's a Sunday morning in late fall, and I'm at home in Austin, Texas, participating—barely—in one of Zwift's many virtual group rides. The game successfully emulates the sport of road riding in that every pedal stroke a player takes on his real bicycle, which is attached to a stationary trainer and wirelessly connected to his computer, is a pedal stroke taken by his cycling avatar. So a mile ridden on Zwift equals a mile ridden outdoors. The game, which comes to players via some impressively detailed graphics, is just a couple of years old, but the cycling community's response has been noteworthy. According to Zwift, people from over 150 countries have logged more than two million rides on the game's digital roads, accumulating approximately 39 million miles.
Outside Fitness Special

127 radical tips for total health.
The privately held startup says it's closing fast on profitability, and plans exist for Zwift to capture an increasingly wide audience—perhaps by adding spin-class-style experiences. Already gamers have created dozens of Zwift-themed Facebook pages, and some of cycling's biggest brands participate via product placement. There are also multiple organized rides available to recreational and newbie cyclists. All in all, Zwift has generated real excitement around a solitary indoor activity that many riders will tell you has always thoroughly sucked.
I'm a longtime roadie, and I hate indoor training. But after a few weeks of introductory, mildly compelling, but largely solo Zwift riding, I decided to seek more interactivity. Up until then, I'd sent occasional in-game messages to other riders, executed using Zwift's smartphone app. No doubt, indoor cycling is more fun when others share your pain, even if your fellow riders are strangers from who knows where. So I went deeper into the mix by joining that Sunday's RGR, or Richmond Group Ride—a demanding 90-minute effort through Virginia's capital city that comes with an intimidating message: "No waiting for slower riders."
Zwift has generated real excitement around a solitary indoor activity that many riders will tell you has always thoroughly sucked.
The Best Workouts Are Child's Play

How the jungle gym could be the secret to ultimate fitness.
I've never been a gamer, but gamification—employing game-like features and incentives to keep people engaged—is infiltrating the world of health and fitness, as it has with everything from business to military recruiting. In the fitness market, think less Wii Sports Resort and more Run the Edge, which sells a game that coaches players through marathon training. Nowadays, games and phone apps employ zombies to chase runners or make gamers pay—with real money—if they miss workouts.
Other cycling-specific indoor products have emerged recently, but Zwift, with its multiplayer platform and impressive social-networking reach, intrigued me most. Could a video game transform the heinous chore of indoor training?
---
I can always quit, I thought, soon after launching Zwift and warming up ahead of the RGR.
With my setup in the den and the game beamed to my TV, I'd pedaled to the group ride's meeting place just ahead of the scheduled start. Others stood around, straddling their bikes. Zwift players can personalize their avatars, mostly by tinkering with the look of their cycling clothes or brand of bike.
Almost immediately the going was tough. The venue, one of three available to play on Zwift, offers the same 10.5-mile circuit that in 2015 hosted the prestigious UCI Road World Championships. While the hardest part—the climbs—comes near the loop's end, our pack was jumpy from the start.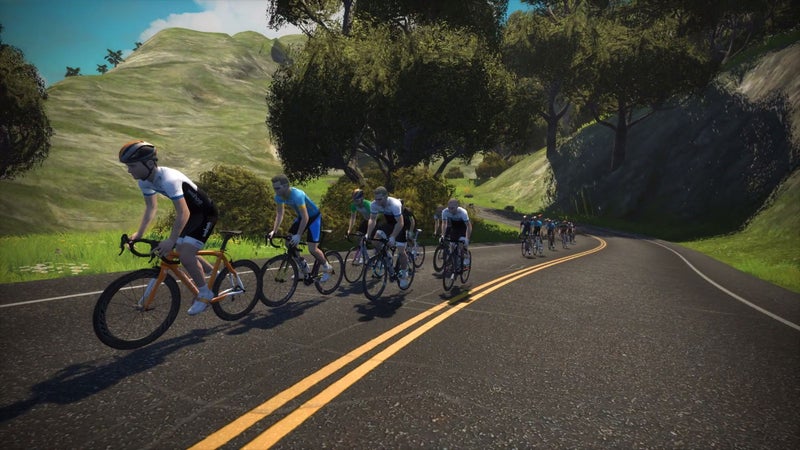 In order to best gauge rider performance, Zwift asks players for their body weight. The game can also capture effort, or the amount of power generated by pedaling, as measured in watts. Then it uses those two numbers to continuously calculate an avatar's cycling speed. Cyclists call this metric the power-to-weight ratio. The ratio I can comfortably sustain (3.8 watts per kilogram) and what I have to crank out during the RGR's early miles (often 4.5 watts per kilogram) are painfully incongruent.
My legs feel the strain.
My nerves tweak at the sight of 30 avatars clustered tightly together ahead of me. Boxes with rider names and nationalities—identified with country flags—rapidly pop up and disappear. M. Ma from Israel. W. Slater from South Africa.
I manage to stay with the main group for a lap. But on lap two I weaken along the James River and then crater on the Governor Street ascent. Just like that, the group is gone. For a while I ride alone.
After cooling down, I look at my numbers: nearly 27 hilly miles ridden in 1 hour 12 minutes. Never have I experienced such a potent workout indoors, and because I badly wanted to stick with the others, the game was as consuming as a real group ride. But Zwift was far more convenient; my shower and kitchen were right down the hall at ride's end. I feel some of the satisfaction that Zwift riders—of all levels—often cite.
Zwift CEO Eric Min says that the curtain has barely lifted. "Crosswinds—we don't have those yet," he tells me later over the phone.
"There are a lot of interesting things for us to do."
Later that day, I click on the Zwift group-ride calendar. I want to do it again.
---
Zwift began as a way to escape reality. In early 2013, Min, who had tracked the technology sector at J.P. Morgan before starting a software company, was just another middle-aged, time-crunched cyclist who wanted to ride more. Certainly, the London-based, 49-year-old father of three wasn't the hotshot road-racing kid he'd once been, and indoor bike training wasn't the solution. Riding inside and alone, even with an assist from iTunes, Netflix, or Tour de France footage, often isn't enough for at-home cyclists to embrace hour-long efforts, let alone 60-mile rides.
Min says he realized that indoor training begged for reinvention. "I thought, Am I the only one struggling to keep myself entertained?"
Min had stayed active in cycling by sponsoring elite young riders, and for months he talked up the notion of an interactive, multiplayer indoor game that could attract a global audience. Pros liked the idea; Min also found business leaders intrigued by the prospect of turning mainstream, often fair-weather cyclists into year-rounders.
"Historically, we've seen seasonality," says Mark Gainey, CEO of Strava, the social-networking site that keeps track of the mileage logged by millions of dedicated cyclists and runners. "Maybe some people don't stop during the winter. But they adjust."
By the end of 2013, Min found another building block: a talented gaming engineer who also rode. Jon Mayfield, 38, a Southern California–based programmer, was already into cycling when, in mid-2012, he posted screen shots on Slowtwitch.com, an online hub for endurance athletes, showing a prototype indoor-training video game he'd created. Like Min, Mayfield had a consuming career (working on popular gaming franchises like Ratchet & Clank) and a family. And like Min, he wanted better indoor-cycling options.
Mayfield had turned to Slowtwitch for support. His game, which he'd developed during his free time over a period of three years, featured 3-D-style roads to ride. Mayfield believes that cyclists, like many gamers, place heavy value on metrics—so the game also captured useful cycling measurements like speed, distance, and power. But Mayfield didn't have the business know-how to scale his project.
Min came upon Mayfield's old Slowtwitch posts in late 2013. After an introductory phone conversation, Min flew from London to California and showed up at the engineer's door. A partnership was born.
A year later, Zwift kicked off its beta program by inviting journalists for a virtual cycling race that occurred simultaneously in San Francisco, New York, and London. "One day," wrote a Wall Street Journal reporter who covered the company's debut, Zwift riders "might be able to participate in the Tour de France live."
---
My first Zwift experience wasn't quite so revelatory. Playing the game requires leaping multiple hurdles. Download a program to your computer. Download a second app to your phone. Buy a special dongle for your computer's USB port, so that a wireless network forms with your bike's pedal-cadence sensor, plus maybe a heart-rate-monitoring chest transmitter and a high-end stationary bike trainer, which requires calibration. You also need a cooling fan and (ideally) a television, which provides a bigger, more immersive image than most computer screens.
Zwift claims that $250 in dedicated equipment will get you started. Personally, I used about $1,400 worth of stuff. The Wahoo Fitness Kickr smart trainer, which I found to be an amazing tool, cost $1,200 alone. A Zwift subscription runs $120 annually.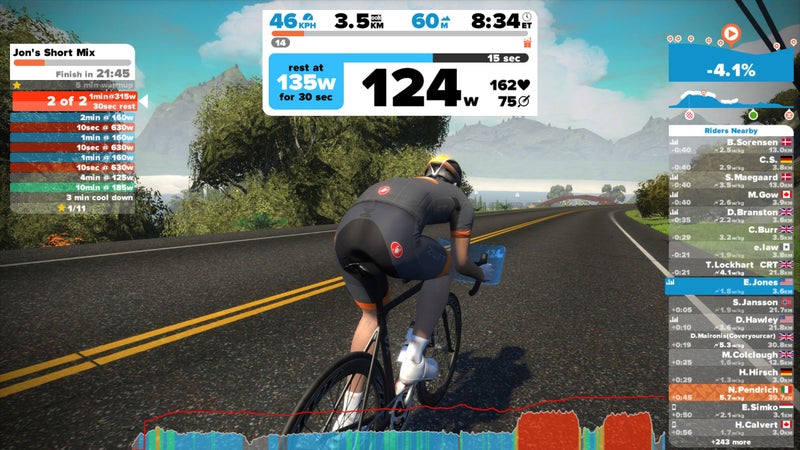 Once I started pedaling, I still felt challenged. Cyclists of different nationalities whizzed by, as did blue cyclist bots, intended to prevent Zwift roads from feeling empty. Data showing the fastest riders up hills and over sprint segments intermittently blinked on the left side of the screen. A long, ever changing list of cyclists, complete with snippets of texted dialogue, anchored the right side.
The whole game-prep experience was confusing and time-consuming. What did the multiple icons next to riders' names mean? Where did sprints start? Zwift's website didn't have a detailed user guide. Why?
I rode 22 miles in a haze and hadn't yet rolled into Watopia, a fictional island where players also sometimes ride. But as I later learned, Min and Mayfield wanted me spinning in a fog. They think the promise of sweat equity will convince cyclists to try Zwift and that curiosity will keep them coming back.
"There is no manual," Min would later tell me. "We want you to get sucked into a treasure hunt."
---
Mile after virtual mile, I pedal to understand Zwift. To appreciate Zwift. And yes, to love Zwift.
Even after the initial setup, there's some preliminary futzing around you need to do every time you want to get some miles in—reconnecting your bike to the trainer, launching the apps, turning on the TV—all of which takes time. I make peace with this process by dedicating an older bike to the cause, anchoring the trainer to it, and draping necessary wires, headphones, and clean workout towels over the handlebars after every ride in anticipation of the next. I shave my pre-ride prep time down to 15 minutes.
The on-screen data becomes more intuitive and useful. Course maps pinpoint my location and indicate what terrain lies ahead.
Leader boards rank rider performance for designated sprint and hill-climb segments, which I discover begin at faintly drawn start lines that I come to recognize. A window on the right tells me which 17 riders are nearby, if they're on their Zwift phone apps, and the time gaps that exist among us.
More than once, I spot cycling friends I know from real roads around Austin and happily pedal with them on-screen. We can't have an easy chat—texting between deep breaths proves cumbersome. But I feel a lift from the virtual socializing.
"A big part of the gaming experience is the opportunity to meet and work with other people," says Joe Hilgard, a research fellow at the University of Pennsylvania's Annenberg Public Policy Center who is an expert on gaming behavior. "Gamers enjoy community."
Hilgard says players also thrive on advancement—"the competence angle," he calls it. To that end, in mid-November I launch into one of the app's structured training plans, a 12-week program that features nearly 50 workouts.
I head into day one dutifully riding at a prescribed, mellow 140 watts, taking in the details of Watopia, a South Pacific paradise featuring a 5.5-mile up-and-down circuit created by Zwift. (And there's now a third venue, placed in London.) It has palm trees, butterflies, and commanding coastal views. Players also ride past skyscrapers, statues of cyclists, and a Ferris wheel, and at night the sky is starry. Something else I like: Watopia's roads have no cars, and there aren't any stoplights, ornery dogs, oblivious pedestrians, or flat tires.
Nobody at Zwift suggests that riding virtually is preferable to riding real roads. "I love to ride outdoors," Min says. "Zwift is competing with not riding at all."
But honestly, on the first day of my training program, I make a grudging admission: I'm awfully happy riding inside. Cycling in the real world at prescribed levels is trying.
Stop signs and traffic backups interfere with your workout, and unless you have a truly selfless riding buddy, you're doing the granular training solo.
On Zwift, I quickly appreciate the fact that the app controls the resistance of my computerized Kickr trainer. If Zwift sets my effort at 140 watts, I find that, short of not pedaling hard enough, I can't not ride at 140 watts. As I'm nearing the end of my 51-minute initial workout, I grow tired of looking at the scenery. But I keep pedaling, exactly as I should, and I simultaneously peck out an e-mail to my editor. Then I text my girlfriend.
Some cycling coaches well know what I discovered on my first day of dedicated training: Zwift is a valuable tool. Min won't name names, but he told me that there are coaches who require their top-caliber pros to train on Zwift. Nathan Guerra, an Oconomowoc, Wisconsin, coach and elite mountain-bike racer, puts his clients on it.
"I click on a rider and see all his numbers—wattage, heart rate, cadence," he says. "If I'm out coaching somebody in the real world? I'm just guessing at how hard they're working."
Personally, Guerra swears by Zwift training. As of early last December, he topped every other player, having logged more than 17,990 miles in a 19-month span.
"My wife and I will set a schedule," he says. "But if things get crazy, then I do Zwift after the kids get to bed. Like 9 p.m. to 1 a.m. I'm fairly committed."
---
By early January I had, increasingly and over a four-month stretch, found my own satisfaction in one Zwift ride after another, altogether rolling down 650 miles of computer-generated pavement. My Austin cycling buddies, the majority of them reflexive in their rejection of indoor riding, became perplexed by my shut-in regimen.
"Why are you doing Zwift when you can ride with us?" one pal texted me after I no-showed for yet another Saturday group ride.
I admit: I missed my friends and the fresh air. I'd also become hooked on Zwift's efficiency and convenience. I could ride at 8 p.m., while my kids did homework. I could ride at 5 A.M. I rode without wearing a helmet and without fear of adding another cycling-related scar to my collection.
Still, on that Sunday last January, I committed to returning outdoors after one more RGR ramble. But just when I thought I'd experienced most of what the game had to offer, Min and Mayfield surprised me with how compelling Zwift can be.
With my avatar dressed in a Digital Camo Jersey (a game-earned trophy), my bike touches gaming pavement in anticipation of the RGR. But Zwift's gatekeepers have switched things up, as they sometimes unexpectedly do. Today Watopia will host the ride. And Watopia has changed.
On December 30, Zwift's coders unveiled a new, optional spur on the Watopia ride. The relatively flat Ocean Route dives beneath the water's surface and into a virtual glass tunnel. The ocean features swimming dolphins and whales, and sunlight diffracts after hitting the water's surface. The new ten-kilometer loop offers pavement, wharf, and dirt sections, and it also incorporates part of the traditional Watopia course. Zwift's updated phone app allows players to follow one road or another via new turn buttons.
I notice a gathering of avatars standing over their bikes at the Watopia start/finish line, facing the direction opposite the one I'm riding in. I press the phone app's U-turn button—one can ride Watopia's roads in either direction—and soon I'm redlining just to stay with the group.
Without gaining an inch of real ground, I am once again consumed by the endeavor. My stomach flinches as the group rolls over abrupt dips. I hammer on the pedals to avoid losing contact through the blinding clouds of dust being kicked up in the route's dirt sections.
What's real about this ride and what's not—as the sweat flows off me and my muscles genuinely overwork, I couldn't care less. All that matters is that I don't lose the game.
Andrew Tilin (@atilin) is an Outside contributing editor.