Guerillas on Two Wheels
Frustrated with complacent city officials, some bicyclists are painting their own lanes, installing signs, and making mischief intended to send a loud message to motorists: it's time to take cycling safety way more seriously.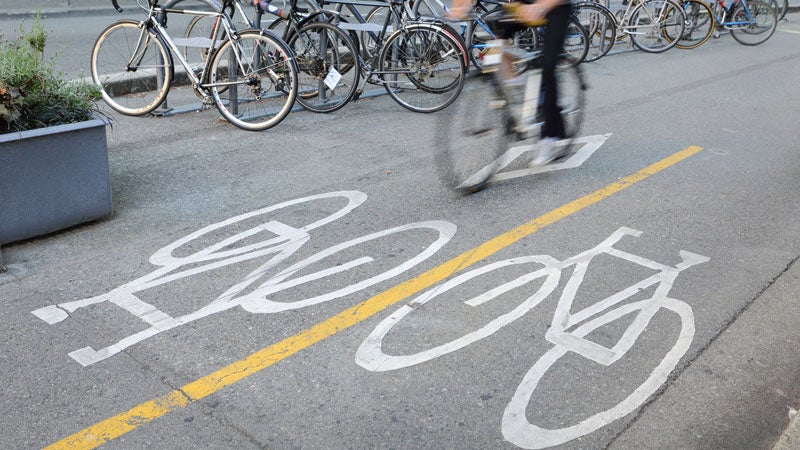 Maxvis/Getty Images(Photo)
Heading out the door? Read this article on the new Outside+ app available now on iOS devices for members! Download the app.
Last March, Charles Komanoff, a New York City-based statistical analyst and consultant, rode his bike from his home in Lower Manhattan to the Flatiron District to engage in some light vandalism. Looking fit, rugged, and energetic, Komanoff stopped his bike near the corner of 23rd Street and Madison Avenue to meet some co-conspirators. Everyone was on a bike, though unlike many city cyclists, everyone was wearing a helmet, and had travelled to the site in strict observance of their rights and responsibilities on the road: always riding with traffic, on the right side of the street, and obeying stop signs and traffic lights along the way.
Extreme
In 2012 two cyclists recorded video of perhaps the
world's angriest driver
, who honked at them for three minutes even as they rode single-file along the edge of the road.
On
Joe Simonetti bikes about 50 miles into New York City every day. One writer
joins him for his morning commute
and learns that sharing the road can feel a little like entering a war zone.
Ten days before, a woman riding her bike east, towards this intersection, had been struck and killed by a private dump truck pulling out into traffic. After seeing video footage from a nearby security camera, Komanoff and others in the bicycle advocacy group Right of Way concluded that the cyclist had had, well, the right of way. Knowing that no arrest had been made or summons served by the police officer investigating the collision, but believing that there should have been, the Right of Way-ers unloaded some pieces of cardboard from a trailer behind Komanoff's bike, taped them down to the ground, and set about spray-painting a message onto the pavement.
A few members acted as lookouts on either end of the street, while others used their bodies and their bikes to shield the spray-painters from public view. In a similar demonstration near the Barclays Center in Brooklyn a few months before, the group briefly co-opted a pair of traffic cones that happened to be sitting on the street, unused, and narrowly avoided a confrontation with police officers on their way to the Long Island Railroad station nearby. Then, as now, the phrases "NO CRIMINALITY SUSPECTED," and "WHY RAY WHY?" were neatly painted onto the blacktop when they were finished.
"Ray" was Ray Kelly, then the Commissioner of the NYPD; pointing to the fact that no charge was filed, the other stencilled message referred, ironically, to a phrase frequently used by the police to describe a collision involving a non-motorist, including those in which the motorist was driving recklessly or otherwise breaking the law. Later that day, the group would paint similar memorials around the city for pedestrians who had been killed by drivers who had been speeding, jumped the curb, or run a red light. In each of these cases, no driver had been charged with a crime.
[quote]"Last summer, a San Francisco a police officer deliberately parked his car in a bike lane during a Safe Streets rally, apparently to make the point that collisions involving cars and non-motorists were 'the bicyclist's fault.'"[/quote]
A running joke among riders in New York is that the best way to kill someone, and get away with it, is to run that person over with your car. Depending on who you ask, the hostility to cyclists is not limited to their hometown. In October, Toronto's mayor Rob Ford allocated $300,000 to remove a bike lane, having declared cyclists "a pain in the ass," and their deaths "their own fault at the end of the day."
Last summer, a San Francisco a police officer deliberately parked his car in a bike lane during a Safe Streets rally, apparently to make the point that collisions involving cars and non-motorists were "the bicyclist's fault." In Seattle, a lawmaker proposed a carbon tax for cyclists, on the grounds that cyclists, with their higher respiration, expel more CO2 into the atmosphere. And many people saw the colorful reaction of Dorothy Rabinowitz, a conservative columnist at the Wall Street Journal, to New York's Citibike bicycle sharing system (or its subsequent parody on The Colbert Report).
After watching a RoW intervention in Midtown, one cab driver rolled down his window to solemnly tell the group: "You know what you're doing is wrong." There is plenty of of acrimony to go around, so much that it's probably not stretching things to suggest that we are in the midst of a proxy culture war over the place of bicycles on our roads and in our cities, or that the occasionally illegal guerilla efforts by Komanoff and company is simply stoking the fire; at least after the confrontation with the cab driver, they were undeterred. "We're doing something for the public good," Stephan Keegan, Right of Way's chief organizer, told the NY Times last September, "So I think it's O.K., even if it's illegal."
---
FRUSTRATED WITH CITY OFFICIALS doing nothing or very little to protect cyclists, a growing number of groups around North America have taken to this kind of DIY activism, much of it unauthorized if not downright illegal—painting bike lanes, putting up speed limit signs, installing unsanctioned barriers, or drawing "sharrows" (chevron-shaped arrows meant to encourage motorists to share the road with cyclists), which they feel the authorities should be doing anyway.
Others, while still meant to provoke the police, have been more sanguine. In 2010, members of Right of Way wore white hazmat suits labeled "Bureau Of Organized Bikelane Safety (BOOBS)," and rode around with a set of portable speakers to play "The Safety Dance," by the 1980s synth-pop group Men Without Hats. A year ago, participants in a sister group called Times Up! dressed as clowns and handed out authentic-looking parking tickets to cars who were parked in bike lanes.
Stephan has been arrested multiple times, and at least once for his involvement in "clown rides," when he was accused of impersonating a police officer. (At the time, Stephan was wearing a comically fake-looking uniform, as was his accomplice, Barbara Ross, whose red, adult-sized tricycle was confiscated. The two countersued for wrongful arrest, and in January, the city settled in mediation, agreeing to pay Stephan and Ross $11,000 apiece.)
Stephan has an idea of what attracts attention, and of what's funny, even though when speaking about his work with Right of Way, his voice is usually flat and matter-of-fact. 286 people died in traffic collisions in New York last year, including 173 pedestrians, and while he is encouraged by the prospects of Vision Zero, a plan unveiled by the new mayor, Bill De Blasio, to end traffic fatalities by 2024, Stephan is at least a little skeptical, and a little indignant.
"We still have people dying," he told me in recently. "You have to constantly push the envelope forward, or you're going to go backward."
---
GORDON DOUGLAS, A PHD candidate in sociology at the University of Chicago, uses the term "DIY urban design" to describe some of the work Right of Way is involved in. Some of its practitioners describe themselves as "radicals," but most, he says, are simply private citizens working on their own to make public space more livable. "Often they'll pretty explicitly acknowledge that the city doesn't have the resources, or doesn't have the authority," he says. "So they say, 'We have 300 bucks, and we know how to go to Home Depot and buy a lane striper. So why not?'"
Douglas says the typical DIY urban designer is a practical, civic-minded person who isn't looking for trouble. This, by most accounts, was the attitude behind a bike lane painted by the Other Urban Repair Squad, an anonymous group in Toronto.
In the fall of 2005, members of the group turned their attention to a planned bike lane near the Huron-Sussex branch of the University of Toronto, which never came into being. Located near a subway stop, the stretch of Bloor Street between Spadina Avenue and Bathurst Street was a main artery for students. It had been a candidate for a bike lane conversion since the mid-1990s, and was singled out for a lane in the city's official Bike Plan in 2001. The OURS members believed they had waited long enough, and so in October, they intervened by laying down a stenciled image of a cyclist, complete with a diamond shape used by the city. They even donned orange vests to redirect traffic, while waiting for the paint to dry.
Martin Reis, a photojournalist who lives in Toronto, noticed OURS's work a few days later, and was chagrined when a manager of city road operations had it painted over (at the reported cost of $1,973.74).
"City council is bizarre in Toronto," Reis said over the phone. "They see cycling either as a fringe activity, or an inconvenient form of transportation that they have to deal with."
Members of OURS have described the 2005 action as "a test run." It was replaced by a pink stencil, on the same street, in March 2006. Reis posted a picture of the painting on his blog, and soon, he was receiving emails from cyclists around the world, with photographs of projects like the one he saw. Through Reis, OURS also shared a pdf of a do-it-yourself manual for people who wanted to copy them.
"Despite their small size, these interventions make an impact," Douglas wrote in an article last spring. "Even if these interventions are removed by authorities, they suggest the sort of city that residents actually want to see, something that authorities occasionally even recognize."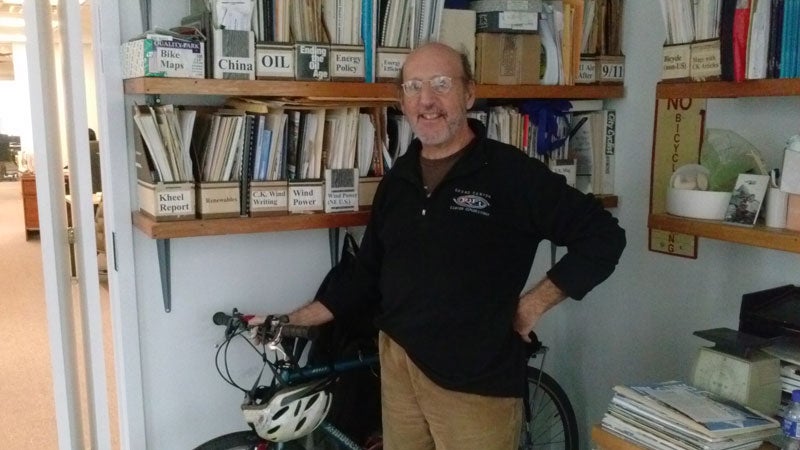 By and large, the projects Reis has documented are, indeed, small, but in cities where cyclists don't necessarily feel welcome, they tend to stand out. Jimena Veloz, a blogger who lives in Mexico City, heard about the project in Toronto around 2009, when she was still in school. She has since joined a like-minded collective called Camina Haz Ciudad, and has searched for places for them to install DIY bike lanes that will attract attention.
"What we concluded here in Mexico City is that even though we want it, we can't make the infrastructure ourselves," Veloz says. "It's too expensive, it's too big for us to do that. But what we have done are very strategic projects that can catalyze government action."
Rather than avoid police, members of CHC engage them deliberately, and in the past have painted bike lanes directly in front of the capitol, where the Congress of the Union meets. Most passersby—including a few members of Congress—spoke approvingly. When they were approached by the police, the group simply asserted that what they were doing was necessary and legal.
"It's also the Mexican context, where mostly everyone does whatever they like," Jimena says. "The police don't have much. Of course they can arrest you, but they usually don't, not even if you're doing something really illegal. But if you are, they will stop you and ask you for money."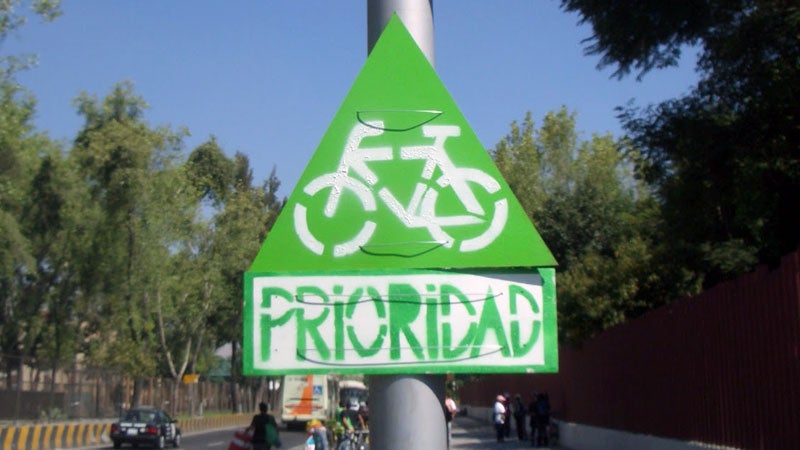 So far, no one in CHC has been arrested. Indeed, as much as stories about a "war on bicycles" (or, for that matter, a "war on cars") might gather public attention, it is a challenge to find even one cantankerous urban planner who actually hates guerilla bicycle groups. In some cases, city governments welcome the citizens' interventions, and say thank you.
---
THIS PAST APRIL, A GROUP in Seattle decided to modify a steep stretch of Cherry Street, a few blocks from City Hall. Tom Fucoloro, an Illinois native who moved to Seattle in 2009, rode through the area frequently, and while there had been a painted bike lane for a long time, he never felt entirely safe.
"It wasn't very comfortable to be huffing your way up the hill," he said, adding that the road was very close to on-ramps to I-5. "When you're only going a few miles per hour, it can be really unsettling."
With about $350 worth of equipment, members of the group Reasonably Polite Seattleites placed some plastic pylons along the path, photographed them, and then, like OURS, emailed their friendly local blogger. Fucoloro, who authors the Seattle Bike Blog, also received a few paragraphs explaining how the pylons would make riders feel safer, and noting that they were in any case put in place with a light adhesive (instead of epoxy, which is more permanent).
"If they so choose," the group added, "Mayor McGinn and SDOT [Seattle Department of Transportation] can remove these in a matter of minutes."
The pylons were, indeed, removed, but not without an equally polite response from Dungho Chang, Seattle's Traffic Engineer, followed by another email, a few months later, explaining that the barriers they had originally installed would be made permanent.
When I spoke to him over the phone, Chang was busy making preparations for a parade to honor the Seattle Seahawks, who had just won the 2014 Super Bowl. He sounded cheerful and heartened, said he'd "always dreamed" of having his current job, and described the RPS intervention as "very humbling."
"You are absolutely correct that there are low cost and simple ways to slow traffic, increase the sense of protection, and provide bicycle facilities that are more pleasant and accommodating for a larger portion of people who ride bicycles," Chang wrote in an email to RPS. "I am truly appreciative that you care enough to take time, money, and risk to send your message to me and my staff."

IN HIS OPTIMISM, his friendliness, and his eagerness to work with the anonymous group, Chang is in a minority. Perhaps because of the inherent pushiness of city life, or perhaps because the groups' strategy is innately subversive and sneaky, attempts at a detente between motorists, cyclists, and pedestrians have continued to feel like the opposite: confrontational, and, at times, nasty.
Last spring, while riding downhill on Troy Avenue in the Crown Heights section of Brooklyn, stencilers from RoW were tailed by the driver of a grey SUV, who honked his horn, frustrated at their taking up the whole lane, and accelerated when the vehicle finally sped past. A few blocks further down, he narrowly avoided two pedestrians, a Hasidic couple, who were pushing a stroller across the street.
When I asked Komanoff about it later, he shrugged. "It's like going to the zoo," he said. "You're observing some kind of some species that you know you're connected to, and yet it's quite alien."
Lead Photo: Maxvis/Getty Images
Trending on Outside Online