Monsters of the Cart Paths
Whatever you do, just don't tell these serious, old'ish cyclists that they're living in a retirement home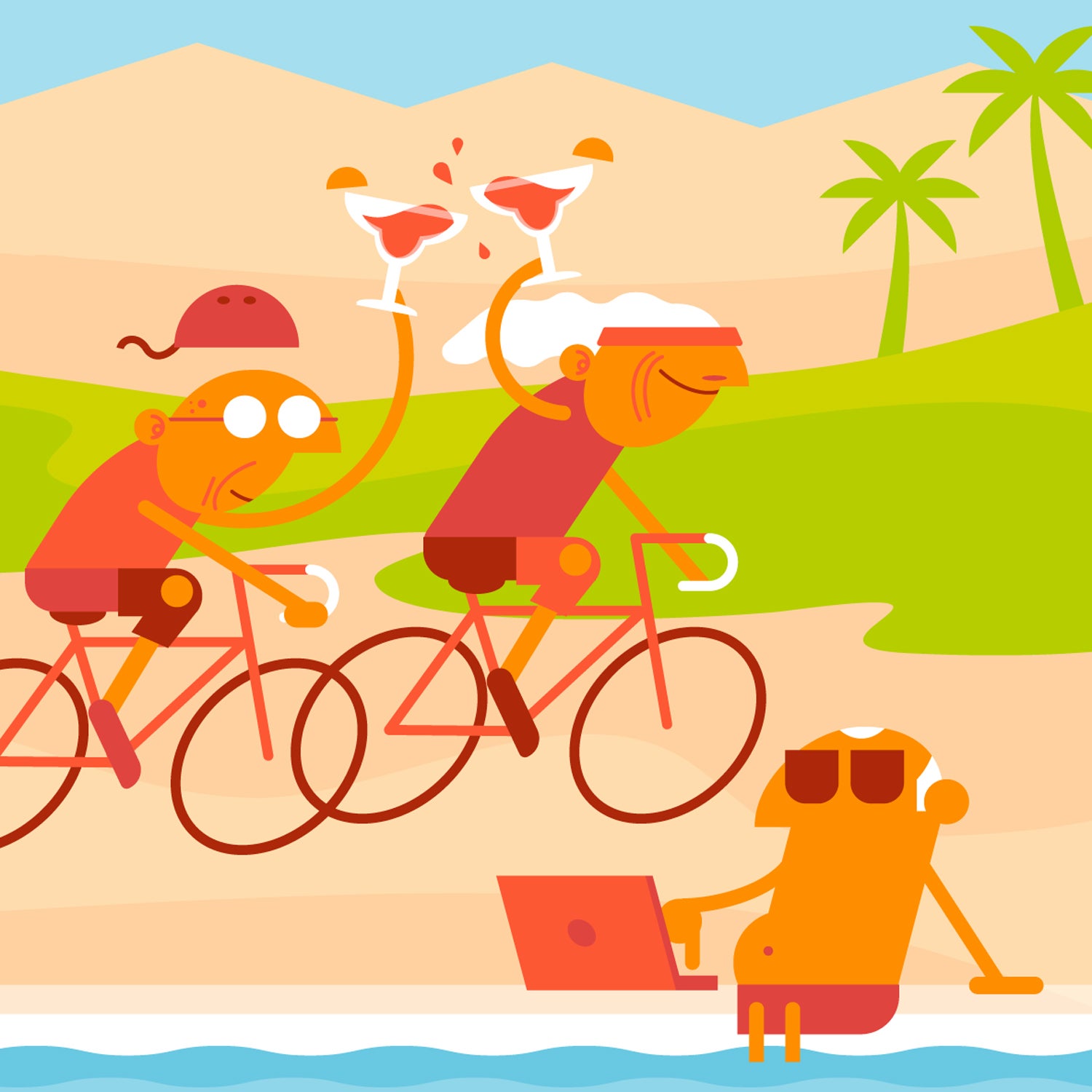 Heading out the door? Read this article on the new Outside+ app available now on iOS devices for members! Download the app.
It's just before 8 a.m. on a Friday morning in early June, and a group of 12 cyclists, many with more wrinkles and crows feet than hair, assembles in a central Texas parking lot. The lot has slots for cars and golf carts.
"Hey! Hey!" yells 67-year-old Phil Durham to his fellow riders as I fumble to grab the smartphone out of my jersey pocket. I want a group shot, and the collection of cyclists, most of them around Durham's age and belonging to the Sun City Texas Cyclists club, resist breaking off their pre-ride chitchat. Durham, a retired credit underwriter but only a semi-retired road racer, waves his arms. Conversations about epic crashes and helmet brands stall as club members start shuffling themselves and their road bikes into the beginnings of a cluster.
"Andrew's thinking of doing an article on an old-age home like the one we're in," Durham announces. "And how we're not all so old and ancient."
As I try to fit each of the fogeyish road warriors into one shot, the myth-busting indeed begins. Turns out that you shouldn't judge an athlete by his age, or the cart-path neighborhood in which he lives.
I'm 35 miles north of my home in Austin, Texas, in the sprawling planned community of Sun City Texas. Sun City, like many of the growing number of these tidy and swept developments across the country, is not an old-age home, or some clichéd retirement community. Instead these sometimes massive villages are built specifically for "55-plus" or "active-adult" living: the age-restricted facilities cater tightly to a sweet-spot demographic, with no bothersome kids, teen drivers, or frantic soccer moms. Yet no resident is compromised to the point of needing living assistance.
At Sun City Texas, one 57-year-old member of the 160-rider club puts 10,000 or more miles on her bike annually. Another has crisscrossed the country by bike multiple times. Earlier in the decade, Durham was one of the state's best 60-plus racers.
Hanging with the youngish older crowd has never been more in vogue. Fifty-five-plus communities started around 1960, but thanks to aging Baby Boomers, as well as new group-think that asserts fitness is the fountain of youth, 55-plus communities have swelled, making up an expanding share of the $66-billion retirement-community industry. Fifty-five-plus-living even made headlines last spring in publications like Forbes and Rolling Stone. The big news: Construction has begun on two ambitious, Jimmy Buffett-backed, active-adult communities. "Latitude Margaritaville," complete with a signature partying atmosphere, will soon open in both Daytona Beach, Florida, and Hilton Head, South Carolina. The new digs will, according to the International Council on Active Aging (and as of 2014), add to the estimated 2.7 million U.S. households already designated for 55-plus living. "About 10,000 people a day in the United States are now turning 65," says Danny Goodman, the chief operating officer of 55places.com, a home-listing site focused on the active adult market. "That trend will continue for the next 13 years."
More and more of the people populating these communities are, athletically speaking, pretty badass. They're fit and fit-minded; dismissive of canasta or bingo; and far more likely to hike, run, paddleboard, kayak, and practice yoga. There's also a new sport that is all the rage in 55-plus communities: pickleball, a detuned version of tennis (smaller court; paddles instead of rackets; no overhead serve), with its own national association and championships aired on network TV. "We're not anti-golf. But folks are migrating away from that," says William Bullock, a senior vice-president at Minto U.S., one of the leading 55-plus community developers.
A 2016 survey performed by 55places.com indicated that 67 percent of respondents said a fitness center was the top priority for an active-adult development. Tennis courts received 2 just percent of the vote.
Then there's cycling. At Sun City Texas, one 57-year-old member of the 160-rider club puts 10,000 or more miles on her bike annually. Another has crisscrossed the country by bike multiple times. Earlier in the decade, Durham was one of the state's best 60-plus racers.
With the Texas morning sun intensifying and the ride now officially late to start, Durham again tries to come to my rescue. Watching me struggle while attempting to squeeze everyone into one photo, he barks at his frisky club-mates once more.
"Hey! Hey!" he says. This time everyone looks at the camera, and smiles. "Now suck it in, guys!"
---
We ride, heading out on the quiet and seamless street of Cool Spring Way, with a golf course and near-perfect homes lining the route out of the 5,200-acre, 7,500-home development. It's easy to understand how such a path of little resistance might induce people to migrate to such a place. 
"The easy group-ride does 20 miles on the reservation," says 74-year-old Mark Geppert as we pedal past the umpteenth Sun City resident's golf cart. Some of the golf carts around here are used as everyday vehicles, and they're frequently customized, with bespoke paint, wheels, and tires. The carbon-fiber equipment underneath Sun City cyclists can be equally blingy.
"Those club members doing the 20 go round-and-round here seven days a week," Geppert adds with a shrug. Today, we're taking a very different 50-mile loop, which extends well beyond the community before returning for something of a victory lap.  
Folks like Geppert migrate to active-adult communities for a variety of reasons. Some move because many 55-plus developments are safe retreats located near major metros. Others come for the social scene, with loosened beer caps and peppy nightlife. People like the business centers and conference rooms (many in active-adult communities still work), the gyms that host wellness experts, the walking paths lined with exercise stations, the spotless streets, and the limitless clubs and camaraderie.
Some, like the Sun City Cyclists, like the riding. The cycling club started back in 2001. The members, some of whom ride five or six days a week and know a lot of the less-trafficked pavement in and around Williamson County, spend their days exploring backroads to spots like Salado and Lake Buchanan. 
"We know it's healthy and fun, and that's the combination that draws most of us out," says Bill McMillin, as a pickup truck swings wide around the group. McMillin is a retired CPA who, on this muggy day, is wearing special, white arm covers that are designed to work like sunblock.
"It's a big part of our social lives," adds Ted Koziell, who's been riding for over four decades, and has traversed the U.S., Canada, and, most recently, the Netherlands by bike. "Everyone just bullshits."
Soon a few of us line up behind an accelerating John Heckeroth, a semi-retired IBM marketing manager who lives just outside of Sun City but whom all the club members seem to know. They welcome Heckeroth, who's known as Too Strong John. We race to the Andice city limits sign. The peloton disintegrates.
A couple hard efforts later, Phil Durham pulls up alongside me, slightly out of breath but smiling. "My brain wrote the check," Durham says as we crest a rise. "But the body couldn't cash it."
Quiet roads, sunny skies, all day to ride and yuk it up with your pals, and a nice bike underneath you. The only thing missing, perhaps, is a little youth.
---
About 35 miles into our ride, we make a store stop at a deluxe Valero in Florence. The cyclists all sit down with hot coffee and fresh breakfast tacos inside the gas station's oversize convenience store. The wisecracking immediately begins.
"Around Christmas we have a little club party, and hand out trophies to the people that make their goal for the year," explains 69-year-old Howard Hammerbeck, who's nursing a bottle of Gatorade. "Everyone self-reports. One guy did close to 12,000 miles."
"Howard rode 85,000 in 2016," says Geppert with a crooked grin from behind his wraparound shades. "Self-reported."
But the jokes, the electrolytes, and the sausage and egg tacos aren't the biggest fuel source for these dudes. They stay young because they can still get on their bikes. One by one, the stories come out about physical setbacks that have been offset by cycling. Geppert can't jog because of arthritis. Koziell has AFib, or atrial fibrillation, which is a potentially debilitating heart condition. Tom Crawford was a runner, until he got hit by a car.
"Not that cycling is always good for us," says Geppert. "We still have people trying to bowl us over." 
Of course, lots of older Americans don't want to swap urban grit, street noise, and a nearby taco truck—or maybe a lone log cabin in the woods—for miles of empty farm road. And then there are those deeply concerned by the proliferation of 55-plus communities, like author Andrew Blechman, a former reporter for the Los Angeles Times and Des Moines Register who wrote a harsh assessment of such developments in his 2008 book, Leisureville: Adventures in a World Without Children. Blechman's book research focused on his month spent at north-central Florida's the Villages, which has an estimated 157,000 residents, and over 30 golf courses.
"I don't begrudge these people. It's hard to know where to retire in America," he told me in a phone interview days after I'd ridden with the Sun City cyclists. "But these folks aren't old, they're young. And they're checking out. It's societal secession."
Nearly a decade after Leisureville came out, Blechman still thinks similarly. In fact, the hedonistic choices, he says, have expanded—courtesy of the aging populations' growing obsession with fitness.
Quiet roads, sunny skies, all day to ride and yuk it up with your pals, and a nice bike underneath you. The only thing missing, perhaps, is a little youth.
"The kidney shaped dipping pools and shuffleboard? All gone," Blechman told me over the phone. "They want to attract people who are really into being sporty. The gyms aren't little rooms with fans. They're like something you'd see at an Equinox."
Goodman, the COO for 55places.com, admits that the developments promoted by his organization are allowed by law to restrict potential residents based on age and familial status. But he says that they also benefit a wide audience, and frequently in ways that have nothing to do with drink blenders or treadmills. Widows and widowers, he added, liked these communities because there are always folks around, and things to do. 
So yeah, active-adult communities may have their warts. They're manicured to the point of seeming hermetically sealed, and they don't fully embrace children. But the next time you're pedaling within striking distance of such a community, and you pass some cycling geezers with helmet-mounted rearview mirrors and dorky, fuzzy, little helmet-strap attachments that are designed to muffle wind noise, give them an attaboy or two. Salute them for holding onto their youth.
And, perhaps, prepare to be passed back.